A Bridge to Nowhere?
A look at the eternal question: What the hell are the Knicks doing?
In this newsletter…

---
When you walk into the Knicks locker room after a game, it usually looks like the aftermath of a shootout at the O.K. Corral.
It's basically the walking wounded who couldn't yet drag themselves away from the scene of the crime, or those too slow to the draw (i.e., to get on the bus). It's a rarity to get more than three or four players hanging around, and the ones that do often don't give up much of anything. This is 2020, after all, when even a 19-year-old like RJ Barrett knows enough to be able to speak a bunch of words without saying a damn thing.
The exception is Taj Gibson.
If you missed it, here's my SI.com story from last night. There's a bunch of great stuff from Taj in here - about culture, leadership, dealing with adversity - all the buzzwords we love as fans, the stuff that makes us hope what's going on behind the curtain is better than what we see on the court.
Taj comes off to me as someone who's seen the promised land, has the map to get back there and is constantly trying to show it to his younger teammates, but for one reason or another they refuse to stop and look - and worse, won't ask for directions.
Well, maybe "refuse" is too strong a word. I don't know what it is, honestly, but I sensed a certain frustration in his voice - the kind you hear in a parent whose kid would be on the honor role if only they'd take school a little more seriously. He also sounded encouraged, to be sure, and ultimately hopeful, but frustrated nonetheless, just because he knows what it takes, and can admit when it's not there, not yet at least.
So it was particularly interesting after our conversation ended to hear him speaking with Ian Begley, who, in the way only Ian can, was attempting to ask him about whether Tom Thibodeau is still a good fit to coach in a league many think has passed him by.
I won't spoil Ian's story, but one line of Taj's caught my ear. It was about Thibs absolutely still being able to succeed in the league today if he had guys willing to be coached.
I was thinking about this the whole way home last night, and wondered just how much what we don't see behind the scenes results in who we don't get to see on the court.
Mike Miller made his feelings pretty clear when I asked him about it after the game: 10 more minutes a game isn't the be all, end all where development is concerned. He admitted that "experience is the best teacher at times," but it's the "at times" part that got me thinking.
We were all pretty dismissive of David Fizdale's recent soundbite about how he wishes he had been harder on the young guys while he was here, but maybe we shouldn't have been so quick to judge.
This doesn't seem to be as simple as guys not working hard either (although when I see a picture of DSJ out with Spree at Tao posted at 5 am the morning of a game, I'd be lying if I said I wasn't a tad bit concerned. Four turnovers in six minutes of action did nothing to quell my fears. H/t to @bromleynyc for passing that one along)
It makes matters all the more confusing when we see a kid like Damyean Dotson – a player whose work ethic I've never once seen questioned, and who his trainer told me last year eats, sleeps and breathes with a chip on his shoulder – not get off the bench until the fourth quarter in a game that was already slipping away.
Of course, I'm also not so naïve as to think there aren't other factors at play. One NBA agent told me earlier this season that minute fluctuation can often be the result of a front office wanting to keep a guy's price down. Dot is about to enter restricted free agency. Maybe that's part of it.
Perhaps Frank, a highly imperfect player who some fans wish would get cut tomorrow just so they didn't have to hear yahoos like me scream and cry about his lack of playing time, is the poster child for this push and pull. His first play of the game last night was an assist. His next was a turnover when he stepped out of bounds. He'll wrestle away an offensive board…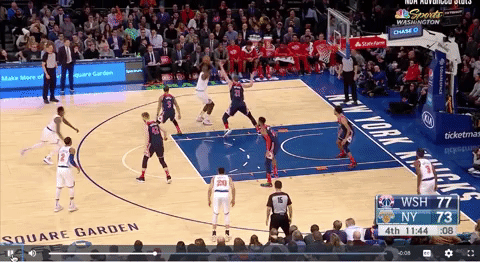 …and then give it right back to the other team.
(Not that he had anyone to pass to. Good job Bobby Portis, getting immediately into post up position amidst a sea of Washington players. Perhaps he got confused playing the Wizards and thought Frank was an actual wizard who could pass the ball through three human bodies. It's ok Bobby…I wish Hogwarts was a real place too.)
Regardless, it's hard to imagine a guy like Frank not putting in the work. Even Kevin Knox, who I'd guess David Fizdale was referring to, is on the court before every game getting up extra shots.
And then to make matters even more confusing, you see veterans not exactly pulling their weight. Wake me the next time Julius Randle gets back into a play after he makes the internal determination that it's over. And then when you have Portis running around doing Bobby Portis things, well…
All of this starts to swirl together at some point, and with an organization that is in as constant a state of upheaval as New York, it's easy to see why the culture Taj talks about building has never been able to take hold - not just this season, but going on two decades and counting.
I echoed sentiments like this earlier this season, about the need for stability more than anything else. I did it at a time when David Fizdale was coach and Steve Mills was in charge, which is perhaps why it (correctly) fell on deaf ears.
But if Knick fans are ever going to be able to throw the whole "Dolan will never own a successful basketball team in New York" thing right back in pundits' faces (and really, we have no choice, because he ain't sellin' anytime soon), it's going to take a regime that can stay in place for more than a New York minute. Maybe Leon Rose provides that stability.
Or maybe it's just another ride on the same merry-go-round.
Either way, right now, the players know that every decision-maker on this team is likely to be gone in three months' time. Maybe that's why Taj is going home without a voice every day. Screaming into the void can't be fun…or easy.
The hope is that whatever bricks are being laid these days (no pun intended) don't get demolished, and the process Gibson is referring to doesn't have to start anew next season, as it has so many years before.
Whether you think Mike Miller is an idiot for not for failing to play the young guys more minutes, I think that's something we can all agree would be for the best.
---
Player Spotlight
Only a couple games tonight, one of which features a guy it's still kind of painful (not gonna lie) for me to see doing what he's doing down in New Orleans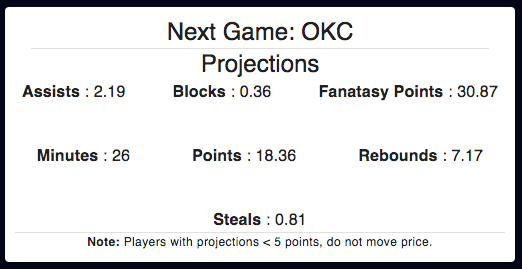 Zion Williamson waded into the PredictionStrike pool at just $1.01, made a splash early to skyrocket up to $1.29, and has leveled off to $1.20. He's projected to get just over 30 fantasy points tonight against the Thunder, which is number he had exceeded for three straight games before his last.
It's a national television game, and an appetizer before a Rising Stars Game that will surely double as a Zion/Ja love fest. If ever there were a safe bet that a guy is going to try and put on a show, it's Zion tonight. Plus, can you really think of a more fun (non-Knick) long term investment?
Daily reminder: if you want in on PredictionStrike, just use code KFS at sign up for a bonus $10 towards your first investment of $10 or more. Happy investing!
---
News & Notes
compiled by Michael Schatz (
@mschatz99
)
Here's an article about what Rich Kleiman thinks about the Knicks. I haven't read it and won't - Kleiman can go kick rocks - but if you're interested, have at it.

Another one from Ian, talking about whether Charles Oakley may be brought back into the Garden fold.

Lastly, here's Marc Berman on the loose ends Leon Rose needs to tie up.