A Bright Spot in the Darkness
RJ Barrett's rookie year is half over. Where does he stand as a building block for the future.
In this newsletter:

---
Happy Midway Point of the Season, Knick Fans. We made it. Check for previously unseen cuts and bruises. Gauze bandages are located in the medicine cabinet.
New York ended the first half of the year with a good, old-fashioned ass whoopin' courtesy of the Milwaukee Bucks. Analyzing this game would be about as valuable as examining why the cowboy who brought a knife to the gun fight left in a coffin. Next time, come prepared.
The Knicks, of course, don't have a gun yet. Not a real one at least. It's more frustrating than normal because they may have missed one by a single pick in July. Last night, Ja Morant had 26 point and eight dimes, shot 10-of-11 from the floor, and scored 11 in the fourth to take down the Rockets and solidify Memphis' position as the eighth seed in the West. He's really good.
But such is life when you depend on the whims of lottery balls. Who New York ended up with instead of Morant is a player that is clearly very, very good, and will likely get a good deal better, but whose ceiling is still a mystery.
On that note, let's spend today looking at the first half of the rookie campaign for RJ Barrett, who was the lone true bright spot for the Knicks last night.
(Julius Randle - who single-handedly kept the team in the game in the first quarter - would have qualified had he not come out of halftime with one foot already on the plane back to New York. I'm sorry Julius, but when you're the highest paid player and self-anointed team leader, you don't get to stop trying on defense just because your team is getting whipped. If I could see it, so could the kids on this team. It's a bad look.)
Effort has never once been an issue for Barrett over the course of his short career. His intangibles are more notable than they might be for another franchise, simply because over the last two decades, the Knicks haven't lacked for talent as much as talent that inspired those around them.
Every franchise who has ever been in the doldrums needs someone to come in and begin leading the charge out of the muck. Barrett is just 19, but the way he has carried himself this year speaks to the possibility that he has the DNA of a locker room leader for a long time to come. Losing bothers the hell out of him - you can see it all over his face in the locker room after games - but he also doesn't let it affect his play.
Last night, as the second half wore on and most everyone around him was just trying to pad their stats, there was Barrett still trying to make the right play and get others involved.
(Kudos to Kevin Knox on this front as well. He had some passes last night that were among the best of his young career.)
But intangibles and effort and all that jazz only mean so much if you don't have the game to back it up, and that's where the questions about RJ begin to arise.
Morant has single-handedly turned around the Grizzlies because he is an engine; someone who powers their offense in all the ways necessary in 2020. He gets to the line (4.4 attempts per game, second among rookies to Barrett), to the rim (17.4 drives per game, ninth in the league), is enough of a threat from deep (over 40 percent, albeit on low volume) and gets others involved (6.9 dimes per game, almost twice as much as the next highest rookie).
Ja is also nearly a year older than Barrett. His rise from draft afterthought to lottery prize happened during his sophomore season, which RJ is having the equivalent of right now. That can't be ignored.
It also doesn't mean Barrett will ever reach those heights. RJ thus far seems like a jack of all trades but master of none. An NBA engine has to possess the ability to generate his own offense, which is an area where Barrett struggles. His lack of elite athleticism shows up on a regular basis, like last night when he was blocked by the not-quite-Mutombo-esque Donte DiVincenzo:
One of the ways that RJ figures to be a plus offensive player is by using his size at the shooting guard position to either draw help or convert easy looks himself. Plays like this one show that he's almost always going to have to get his buckets around the rim with craft as opposed to physically overpowering smaller guys, at least when he doesn't have a runway to start from.
On the very next possession, Barrett indeed tried to get that head of steam we've seen him gather time and time again. Unfortunately this time, the reigning MVP was there to greet him: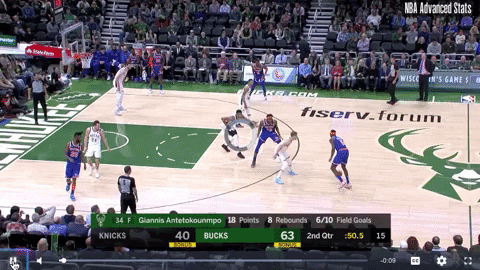 These are the moments that make you question whether Barrett can ever be a guy who can take the rock, wave everyone else out of the way, and take over a game.
But he also doesn't need to be. The Knicks may not have found their Morant, but assuming they can get that player at some point, Barrett may be a perfect partner. Being a guy who can do a little bit of everything on the court means you can easily compliment just about anyone.
(Being a decent shooter certainly helps, which is why RJ's 5-of-7 showing from deep last night was so important in the grand scheme of his development.)
There's real value in being able to check a lot of boxes. This season, there are 21 players averaging at least 14 points, five boards, two dimes, one steal and four free throw attempts per game. 20 of them have either made an All-Star team or are a good bet to make their first one this season. RJ Barrett is the 21st.
According to BasketballReference.com, there are four teenage rookies in NBA history to hit those statistical benchmarks: LeBron James, Carmelo Anthony, Luka Doncic, and right now, RJ. For all of the woes about Barrett's shooting, his .439 effective field goal percentage is a smidgen higher than LeBron's .438, and within earshot of Melo's .449 (he's also playing fewer minutes than any of those guys did as rookies, for all the hand-wringers out there).
And it's not like there aren't ways Barrett can get easy buckets. We discussed his propensity to get to the line here on Monday, and on cue, he got the the charity stripe six times last night, making five. He's also been solid in transition, like we saw here in the third quarter: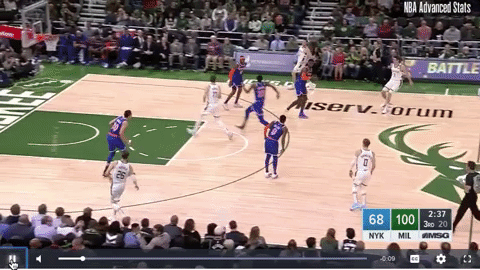 (Great play by Mitchell Robinson, by the way. For as out of it as he's been since the Drummond rumor surfaced, he's still been making as impact on defense. Last night, he had two nice steals and a block in 18 minutes. Please don't trade for someone who will further block his development. K thanx bye.)
Over the second half of the season, the Knicks would be wise to give Barrett a bigger share of the offensive responsibility in situations he can be successful in, even if it does include some bumpy patches. The Knicks are 11-30. If the rest of this season can't be used to get RJ some good reps, I don't know what we're all doing here.
One suggestion: more time with Mitch, Frank (get healthy buddy) and Knox and without Randle or Morris. Thus far this season, that has happened for only 32 possessions according to Cleaning the Glass. Maybe we can up that a tad.
All in all, no Knick fan should be disappointed with what we've seen from RJ thus far. He may not be the hero Gotham needs to put it back on the map, but he's probably the one we deserve, because when has anything ever come easy for this franchise.
On to the second half we go.
---
FREE RJ Barrett Stock!
Who's ready for free stuff!
You are, hopefully, because that's exactly what's coming your way.
Yesterday, the votes were tallied and you all decided that RJ Barrett was the preferred Knick to start your PredictionStrike stock portfolio with (and given everything that I just wrote about him, who could blame you?)
So here's the deal:
1.    Visit PredictionStrike.com by clicking on this handy link;
2.    Sign up for a new account (don't worry, you won't get asked for any credit card info, just name and email);
3.    At the bottom, where it says "Referral Code," type in KFSPlayer.
At that point, you will officially be the owner of one share of RJ Barrett stock…and what better day could there be to start your investment? After besting his predicted fantasy score by 8% last night, his stock price rose from $0.56 to $0.61.
This promo will be good for today only, so take a minute right now to sign up. I promise, as the second half of the season starts to drag, this is an easy way to keep the games fun and interesting.
And hey…what's better than benefiting from this kid's continued emergence?
---
News & Notes
compiled by Michael Schatz (
@mschatz99
)
If you're a glutton for punishment, I wrote about last night's game.

Good stuff from Ian Begley yesterday on a few topics of note, including RJ's maturity and Kevin Knox's growth.
---
On This Date: The birth of the Trent Tucker rule and the Marcus Camby punch almost heard around the world
On this memorable MLK day in 1990, Trent Tucker enshrined himself into Knicks folklore with a buzzer-beating shot to defeat the Chicago Bulls at Madison Square Garden. With the game tied at 106, Tucker received the inbounds pass and made the game-winning three pointer with 0.1 seconds left to win the game 109-106. 
That's it…see everyone tomorrow!