A New Beginning
Does EVERY Rose have its thorns? Thanks, I'm here all night.
In this newsletter…

---
Deeeeeeeeep breath in….
(hold it)
Exhale alllllll the way out…
You smell that, folks?
It's the best aroma in all of sports…the fragrant bouquet of hope, excitement, promise and possibility that wafts through the air when a new boss takes over.
(Full disclosure: It could also be the smell of rotting garbage. The house I grew up in was less than a mile from the Staten Island landfill. This probably explains a lot.)
As we clear our nostrils and prepare for Leon Rose to officially take the reigns as the next Knicks President, it's a good time to consider where we've been, where we are, and hopefully, where we're going.
Today, Rose will publicly add his name to a list that makes for quite a motley crew (as I reported over the weekend, a source indicated to me that Rose officially signed the paperwork on Saturday). It's includes both legends of the game - Ned Irish was the first and still arguably the best to do it - and legendary failures (and several that fit both bills). As we contemplate what awaits him, it's difficult not to recognize the convergence of events around the NBA landscape this weekend, all of which had direct or indirect ties to the sins of Rose's predecessors - the ones that left the franchise needing new stewardship to begin with.
Sunday in Dallas, we saw Kristaps Porzingis (38 points, 6 three, 5 blocks & 1 shot to the heart) being the very best version of himself, the one who at times made New Yorkers forget that Karl-Anthony Towns - the man who KP should have been facing off against, and who the Knicks tanked admirably to acquire over him - ever existed.
Also wearing their Sunday best were two other Ghosts of Knick Saviors Past, with Zion Williamson (35 points on 16 shots) facing off against LeBron James (34, 13 & 12). The previous decade was defined by New York selling out to have a chance at each, and on the court in New Orleans, we were reminded why.
And then of course there was the Knicks present - one at odds with itself, because isn't it always - on display at MSG.
Mitchell Robinson should by all accounts be teammates with either LeBron (if the Lakers had taken him at 25 like they considered doing) or Zion (if he then became part of the package for Anthony Davis), and briefly was a teammate of KP's, although they never shared an NBA court.
(The "What if" of Bernard and Patrick will always be number one for Knick fans of a certain age, but I have a feeling Mitch & KP will grow to be a close second)
In his own way, Robinson is every bit the physical marvel of the other three…
…while also not being an offensive engine anywhere close to their caliber.
(Well, not yet at least.)
Speaking of someone who has already gotten as much attention for what he isn't as what he is, RJ Barrett is the inheritor of KP's throne as the guy we ended up with instead of the guy we wanted. He does not possess the same ceiling as Porzingis or Zion, but there is a relentlessness and a spirit to him that you kind of have to admire…
…if for no other reason than he did what we all wish the universe would do, and shoo away Julius Randle posthaste.
That he's going through these growing pains on a team that at times seems to actively conspire against his growth as a player only makes him that much more endearing.
But of course things never quite add up here, where the powers that be routinely try to make 2 + 2 = 5. That's what happened this summer, when they needed to show something for shipping off the franchise's last savior in a failed bid to get its newest one.
And to be clear, Julius Randle likes to show that this was money well spent. It's why he works so hard to clean the glass…even if it is at the expense of a teammate or two: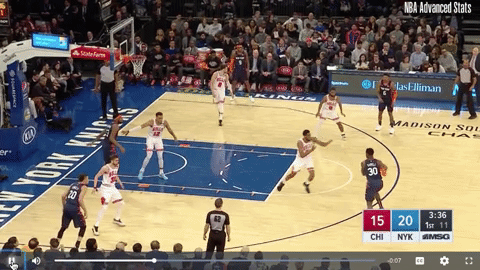 That might as well be every Knick fan clapping vociferously in the corner as Randle goes one-on-two for the eight thousandth time (approximately) this season.
He made this bucket on Saturday night, but at what cost? While we're at it, what was the cost of the entire Knicks summer, one which surrounded a group of precocious kids with veterans that do far more to impede their progress than advance it? Randle is the easy, obvious target but Elfrid Payton (whose freezing out of RJ to begin the second half vs Chicago was painfully obvious), Bobby Portis (wake me when he meets a shot he doesn't like) and yes, Marcus Morris (ditto) have all been culprits.
All of these guys came to New York this season to get their numbers, both in dollars and stats, and will leave having accomplished their goal. They surely wanted to win too, but pretending like that was ever the primary concern looks as foolish in retrospect as the return on the KP trade now does. The benefit of the doubt only goes so far.
It's nice to know that despite the pettiness that goes on between the lines, it hasn't translated to the locker room, where if nothing else, the front office did succeed in building a roster that seems to genuinely get along with one another. For whatever is broken about the team Leon Rose is inheriting, chemistry does not seem to be on the list.
But that also could change in a hurry. It didn't take long for Porzingis to sour on the organization to the point that whatever reconciliation attempts were made ultimately fell flat. Whether you still revere him as the one who got away or decry him as an injury-prone crybaby who the team is better off without, there's no denying his thought process. He recognized what LeBron realized a decade ago and Kevin Durant saw more recently: that there was something about this organization he did not fully trust.
Leon Rose's task, first and foremost, will be to change that perception.
If "perception" seems like a funny way of spelling "James Dolan," than yes, this task will be far more difficult than any has a right to be. While it would be ridiculous not to acknowledge as much, count me as a continued believer that Dolan's presence doesn't need to be the death knell it's perceived as. He makes nothing easier, but he also doesn't need to continue making everything harder either.
It'll take a strong, unhindered hand to tilt those scales, but Rose would seem to have the most important qualities to make it happen: Dolan's complete trust and respect.
Now comes the hard part: making the correct day-to-day, week-to-week, month-to-month and year-to-year moves that help franchises like the Knicks turn it around. If the rumors of a house-cleaning are true, then perhaps step one is already underway. As it probably should be.
But let's not pretend, as the rest of the NBA world always seems to, that there isn't good stuff worth building off of here. RJ Barrett just had the most efficient game of his young career and continues to show signs of being jack of all trades, master of none, but in a good way:
Mitch, meanwhile, might straight up be ready to take Nikola Jokic's mantle as the best passing big man in the game today (and maybe ever tbh):
(slight exaggeration, but still…this is progress)
Toss in a "hey, I remember that guy!" performance from Kevin Knox, and it's easy to get a little excited, even amidst 18-42.
That the bar has been set so incredibly low will only make Leon Rose's job easier. The challenge, however, is very real, and is a singular one that led to almost every poor path his predecessors have taken for the last two decades.
In short, Leon Rose has to figure out a way to get the guy to complete this puzzle without making it all about getting the guy. It is the tightrope every NBA team must walk: constantly plotting paths towards a necessary upgrade while wholly valuing what is already in the coffers.
No team has fallen off that rope more than the Knicks, as this weekend in the NBA so painfully reminded us.
Pinning two years' worth of hopes and dreams on a James Gandolfini-led pitch video to Lebron James was not a plan.
Trading the franchise's best young talent since Ewing for a prayer that all the NBA cafeteria gossip was true was not a plan.
Winning 17 games for a 14 percent chance at Zion was not a plan.
And making every move for the next 16 months with June 30, 2021 in mind is not a plan.
No one knows if Rose will take that approach, but given the history of this position and this building, he just might.
That's also not to say that 2021 shouldn't be a consideration, just like tanking, and trades, and all the other possible pathways towards building a competitive team should 100% be on the table.
But moves can no longer be made with the forethought of a cat chasing a laser pointer. Considerations that other organizations value but that the Knicks have always held sacrosanct – agent relationships, fan perception, "the brand," employee loyalty to a fault, etc, etc – need to be put in their proper place. The organization may not need to be rebuilt from the ground up, but at the very least, a thorough home inspection is required. After all, reupholstering the furniture in a burning building never seems to get us very far.
Leon Rose begins his walk on the tightrope today. There is no net, and looking back will do him no good. He may have inherited the mistakes of others but is not bound by them. Hopefully, the lessons that always seem to fall on deaf ears will resonate with him loud and clear so we aren't forced to relive the past.
A new era begins. And hope, as it always does, springs eternal.
And now for a new feature from Jeremy Cohen that will be coming your way in the newsletter from now until the end of the season. I will remain a bastion of positivity and I will never actively root for a loss, but alas, while I may be the hero Gotham deserves, I am not the one it needs right now. Jeremy, on other other hand…
---
Tank Talk!
Leon Rose put pen to paper, the Knicks finally have a new president of basketball operations, and it's a new season. Except, it's also not.
We've reached that wonderful time of the year where wins start to mean losses and losses start to mean wins. I dream of a time when this does not apply to the Knicks. Unfortunately that's not this year.
No matter what your preferred outcome is for the Knicks, I would like to believe that we mainly share common ground: We should, at the very least, root for teams hovering around where the Knicks are at to win. What's more, we should consider where the Clippers' first round pick and the Hornets' second round pick land. With so many games left, and with so many teams potentially affecting those picks, it can be tricky to determine who to root for as the season concludes.
Well, fear not! Over the next six weeks or so, I'll be writing about which teams I believe Knicks fans should root for and which teams to root against. This series was inspired by someone who did essentially this on the subreddit for the Knicks – seeing as how it hasn't returned there, I'd like to bring it back. I may tinker with the format moving forward, so kindly bear with me.
On most occasions, I will root for the Knicks to lose. I say most because, while I do believe losing is in New York's best interests, I don't want to see the team lose every single game from here on out. And the reality is that the Knicks won't be going 0-22 anyway, so rooting for or projecting that is unrealistic to say the least.
Who Knicks fans want to win tonight should be fairly obvious but it will certainly be more debatable moving forward. So without further ado, here's today's Tank Talk.
Tank Standings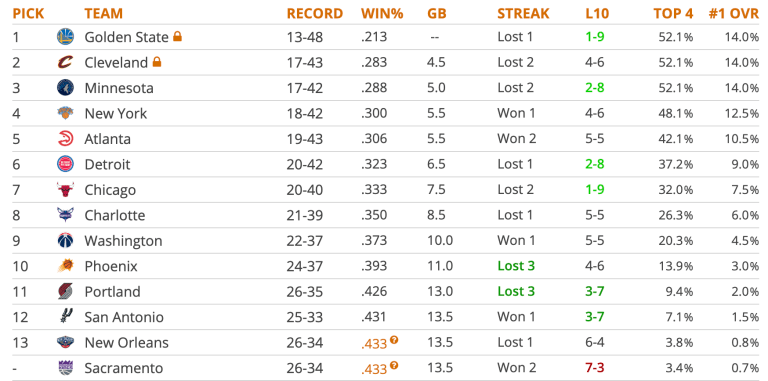 Sim of the Day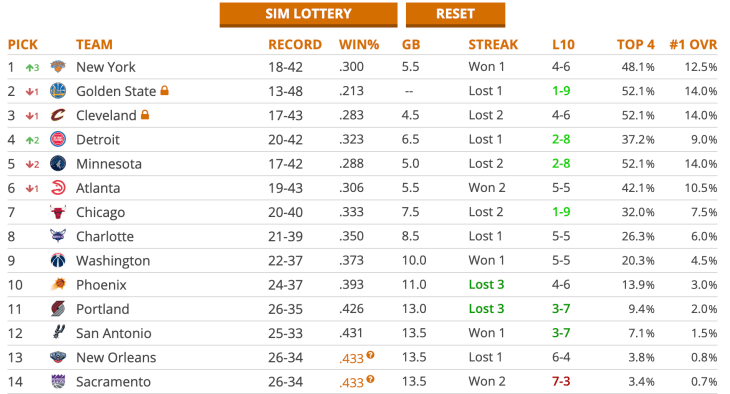 First try, I swear.
Average pick: 1
Average jump/fall: 3
Jazz vs. Cavaliers
The Jazz snapped a four-game losing streak with a 129-119 win against the Wizards. Donovan Mitchell is a scoring machine, having posted 30+ points in four straight.
The Cavs were this close to beating the Pacers at home this weekend before losing by nine. But hey, shooting 22.7% from three will do that to you!
Who we want to win: Cavs
What's more important, the Knicks moving up in the top five or the Jazz trying to catch the Clippers? The choice should be obvious. On one hand, it would be fantastic to see the Jazz try to gain a half game on the Clippers but the star potential is so much greater towards the top of the draft than the end of the first round.
Grizzlies vs. Hawks
Losers of five straight, the Grizzlies finally snapped their streak by demolishing the Lakers by 17. Ja Morant is averaging more than 11 assists per game over his last three games.
The Hawks have stomped their last two opponents by a combined 35 points, with both games being at home. Trae Young is averaging 31.5 points and 10.8 assists on 43.7/35.7/87.7 in the year of our lord 2020.
Who we want to win: Hawks
Much like with the Cavs, the Hawks are neck and neck with the Knicks. The Hawks play the Grizzlies (H), Wizards (A), Grizzlies (A), Hornets (H), Knicks (H), and Cavs (H) their next six games. It's very possible that the Hawks win enough games to give the Knicks breathing room with 14 games remaining. 
Bucks vs. Heat
The Bucks have won 11 of their last 12 games. They're the best team in the NBA. They narrowly beat the Hornets without Khris Middleton, who has missed the last two games.
The Heat are good but not as good as the Bucks. That's really all you need to know about any team facing the Deer.
Who we want to win: Heat
Milwaukee's 11 games better than the Clippers. Miami's three games behind the Clippers. Go Miami (yuck).
Mavericks vs. Bulls
Dallas has been up and down – but mostly up – recently. Their 20-point drubbing of the Timberwolves yesterday was no bueno but also no surprise either. They're 10 games ahead of the Pelicans for the ninth seed, so it's safe to say that they'll make the playoffs.
The Bulls just lost to the Knicks and are now two games "back" in the standings. They're missing several players and their defense stinks. How bad is Chicago on defense? The Bulls ranked last in defensive rating (119.4) over the month of February. The team with the next-to-last defensive rating (117.4) was the Hawks. There was almost a wider gap between 30th and 29th than there was between 29th and 25th (0.1 difference).
Who we want to win: Bulls
This is a no-brainer. Chicago must fulfill its destiny and wind up with a mid-lottery pick. That becomes more feasible with more wins. It would also help the Knicks not potentially fall as far in the lottery.
---
Player Spotlight
I've been writing this part of the column since November, and in all that time, there has never been a more obvious "go sell all your shares in other players and buy stock in this guy right now" player than James Harden.

Lest we forget: the last time James Harden came to the Garden, he dropped 61 & 15 on the Knicks in his highest scoring game of last season.
The year before that, he had a ho hum 31, 9 & 5 in a blowout victory. The year before that, 30 points and 15 dimes. The year before that, 26, 9 & 7.
Just last week against the Knicks, Harden looked to be on his way to another 60-spot, except the game got out of hand early and he took his foot off the gas.
His PredictionStrike stock price is currently at a season low $7.15 / share, down from a high of $14.84 when he was in the thick of the MVP race. There will never be a better buy low opportunity than this.
---
New Podcast!
---
News & Notes
compiled by Michael Schatz (

@mschatz99

)
Couple items today…
Kevin Knox Sr. spoke with Marc Berman and assured him (and us) that his son will be just fine. All he needs is time.

Great Saturday postgame from Verts of SI.com about Mitchell Robinson's astounding growth in every way.

ESNY's Danny Small has some analysis of the Knicks' emphasis on the paint on both ends of the court.

New Stepien scouting report from Spencer Pearlman on Amar Syla.

Finally, here's what Leon Rose sent to season ticket holders in lieu of a presser:

That's it…see everyone tomorrow!