A Night to Remember
A night to remember at MSG
In this newsletter…

---
When the Rockets played the Knicks a week ago, I started this newsletter off with the shot chart from the game, and I think it's only appropriate to do the same today: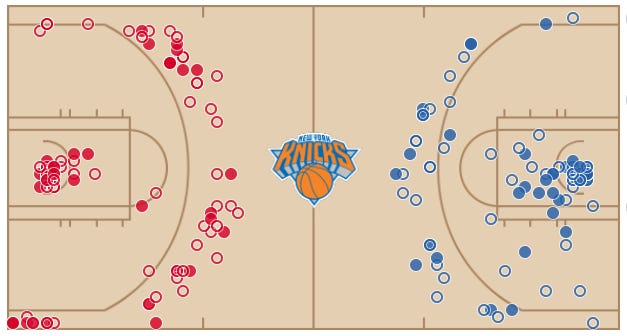 Do you see it?
No?
Hold on, let me help you out…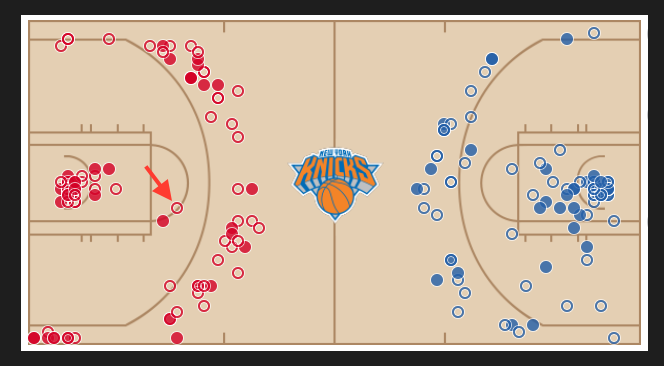 What a lonely little circle.
It's the only one of it's kind…open, empty, and naked in the wind, like a smelly kid sitting by himself at a cafeteria table. All of his friends went to play by the basket or behind the line, but he just sits in his own solitude, deep in thought about how it all went wrong.
How on earth could just a travesty occur?
Oh, that's right.
Far be it from me to start today off with anything other than an ode to one of the maybe two handfuls of NBA defenders capable of forcing that dude into his worst shot of the night at the worst possible time.
It's not just that Frank Ntilikina needed the physical ability to stick with a human tornado mano-a-mano, but he had to think this one out before it ever started. He had to know how Russ was going to try and fake him out, and then beat him to the punch. He had to be ready for the moment.
And he was, on a night when Knick fans, for the first time seemingly all year, could look ahead to a future that suddenly doesn't seem so bleak after all. We've had pockets of sunshine all season long - a good RJ game here, a Mitch block-fest there - but never before have so many of the kids had so great an impact in so big a game, all at the same time.
That it came on the day the franchise officially entered into the Leon Rose era (and maybe happened because of that fact) makes it that much sweeter.
Let's get to the categories.
One Big Thing
When my friends at P&T sent this tweet out with about nine minutes to go in the game, it felt like pissing in the wind. Mitch and RJ, maybe, but Frank? Over Elfrid? You'd have had a better chance of someone other than Harden or Russ taking that last shot.
But there we were, with that trio on the floor to close it out, making some of the biggest plays of the game in the process.
And to be clear, this isn't about Frank, but rather what he symbolizes: a player that the organization has waxed and waned on for nearly three years, never fully giving itself over to discovering what it has in a kid who was always going to be a project.
That's as much of why Stans like me want to see him so much. Yes, it's partially about him, but its more about the Knicks finally doing what good organizations do and invest in something that doesn't reward them with instant gratification.
They did that last night, and need to do it a lot more before the season concludes.
RJ Barrett is really good
Been a while since we had this section in here, but no better time to bring it back than today!
Most people will pay attention to the last shot, one soaked in a "get out of my way, I'm winning this game" mantra we haven't seen here since Melo.
And, oh boy, was it awesome:
It was also a high degree of difficulty attempt that probably misses as many times as it goes in.
My favorite shot of the night came much earlier, on a look that showed how even though Barrett doesn't have the "wiggle" some think will prevent him from ever being a big time scorer, he does possess (dare I say) a Harden-esque ability to bob, bounce and weave his way past defenders that simply aren't girthy enough to handle him: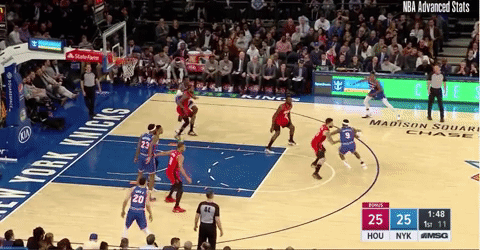 Like, there was nothing Rivers could do here.
Once the Knicks are smart enough to consistently put RJ on the court with three other shooters and Mitch, the sky really is the limit.
Stat of the Night
5
The way you beat the pocket Rockets is either to out-small-ball them (the Clippers and Bucks are probably the only teams in the league capable of doing this) or you keep your size on the floor and hope it doesn't kill you on the defensive end.
This is easier said than done. Houston has played the reigning two-time DPOY Rudy Gobert off the floor at times during their playoff matchups in each of the last two years. Last season, Gobert made some adjustments and ended up being more of a positive than a negative, but still…this was Rudy Freaking Gobert.
Mitchell Robinson, as I wrote last week, isn't close to Gobert's level…not yet, at least. But last night, we saw him do some of the things that he needs to clean up to be able to not only stay on the floor against the Rockets, but thrive as well.
The stat of the night – 5 – is the number of rebounds that Mitch got in the roughly seven minutes he played in the fourth quarter. A few were highly contested, including two huge ones on the offensive glass late: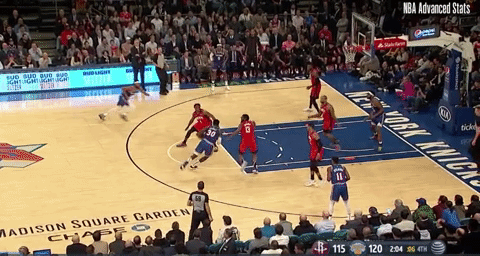 You can't teach that second-jumpability, nor can you teach length and timing. You either got it or you don't, and Mitch got it.
He also continued his recent trend of not getting baited into silly fouls (just one last night, lowering his post-All-Star break average to just 2.5 per game), which against a team like the Rockets who can pump-fake you to death, is a significant achievement.
The last 21 games are going to be a revelation for Robinson. Don't say you haven't been warned.
Made Me Smile
Leave it to me to spotlight Kevin Knox, the one young Knick who didn't pop in a significant way last night.
But as I always say with Knox, at this point, you're looking for even small signs of progress. After a while, they'll start to add up.
We got two of them on back-to-back Rocket shot attempts in the second quarter, first on a nice job of him staying with James Harden on a drive: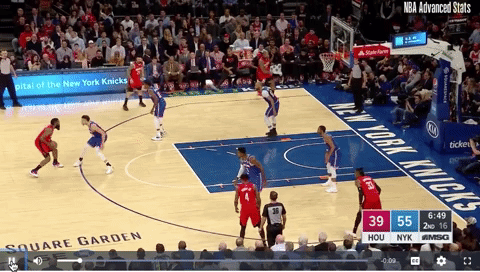 It's a small thing, but notice how Knox uses his off hand to try and bother the shot attempt. Part of what makes you think he's not a complete lost cause as a defender is that his length can help make up for some of his areas of weakness (like a lack of foot speed, for example).
On the next play, he again stays with a driving guard, this time the quicker Austin Rivers: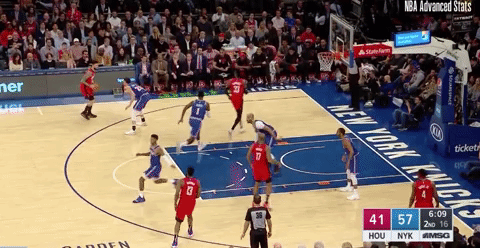 He ends up with the rejection here, something he's done more and more as the season has gone along (0.8 blocks per 36 minutes isn't terrible).
Hopefully he can finish even stronger than he showed last night.
Doghouse (not Dawghouse)
I promise you, I don't want to be that guy, but…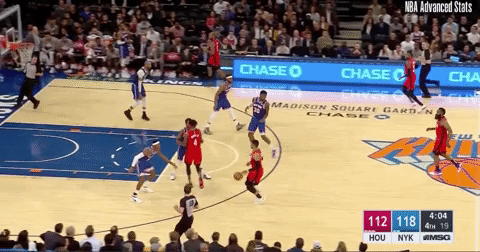 …what the shit.
You want to tell me I'm being unfair? That Randle doesn't deserve the negative spotlight after doing a bunch of good stuff throughout the evening, and that I just can't get enough of the Haterade?
Fine. I'm not going to argue.
But this was the first defensive possession after Randle checked into a game in which his teammates had been doing everything possible to try to slow down the league's leading scorer…and he completely and totally ignores him, simply because he wasn't ready to play.
It comes down to this: I subscribe to the theory that not all negative plays are created equal. When your highest paid player and supposed team leader comes into the game and shows an utter lack of giving even one iota of a shit, yes, I think the negative value of that play is higher than just about any other.
Be better, Julius.
Final Thought
More, please.
The kids are here, and they are good. They try hard. They have skill. They just need time.
There is more than a quarter of the season left to go - more than enough time to make some real, sustainable progress that can carry over into next year.
No use wasting any more time.
The future starts now.
---
CONTEST TIME!!!
Hey there friend! Do you like winning free stuff? Of course you do!
As you've surely noticed, for most of this season, I've been using this section to write about different players for PredictionStrike, the KFS Newsletter's official sponsor and the first and only fantasy sports site that allows you to buy and sell shares of players as you would in the stock market.
Apparently I'm doing something right because since I started this, a ton of you have gotten on board and created your own portfolio. For all of you who've joined in the fun (and even those of you who haven't yet - feel free to sign up today using code KFS to get $10 worth of player stock with your first $10 investment), we're running an exclusive contest to let you show just how savvy of an investor you actually are.
Here's how it works: over the course of one month, whoever shows the largest gains on their portfolio of players will win $50 in investment cash towards your account.
That's it. It's that easy.
So starting on Monday, we'll have an entry window where you'll be able to share your existing portfolio with me, and then I'll periodically update the contest leaders in this space. We'll crown a winner after a month.
Have your brokers on speed dial. This should be fun.
---
New Podcast!
---
News & Notes
compiled by Michael Schatz (

@mschatz99

)
Ian Begley and Marc Berman both with good stuff on Leon Rose's first day as Knicks Prez and the impact he had.

Also, great recaps from Alex Wolfe of P&T and Lauren Russell of SI.com.

Finally, can we drop the Spike Lee non-story, please?
Thanks.
That's it…see everyone tomorrow!