A V-Day Surprise
Reliving the pinnacle of Linsanity
Full disclosure: I didn't watch this game live.
Well, not most of it, at least.
Valentine's Day 2012 came at a rather interesting time in my life. I'd started a new job at a law firm in Long Island the day before. I was temporarily living at my mom's place in Staten Island because I had been sharing an apartment in the city with my then girlfriend, but we broke up the week prior because (if memory serves) "I never see you now, when the f—- will I see you if you're working in Long Island"
She was a catch, that one.
Anyway, not wanting to waste time in either the pursuit of a replacement companion or the chance to show off my fancy new lawyer salary, I spent most of that evening on a date.
(Well, I thought of it as a date. She apparently did not)
Dinner ended sometime after nine. As we were walking back to her apartment where I would later receive the warm embrace of a hug, we passed a bar with the game on. We went in for a drink right as the fourth quarter started. This person did not watch basketball, nor did she know anything about the phenomenon sweeping the sports world, even though it was largely taking place about 30 blocks from where she lived, but I couldn't care less.
I'll never forget what unfolded because it was the only time in my life that I was both convinced the team was going to lose (they were down by nine entering the fourth) but also fully believing that this kid would somehow lead us to a win. I still can't explain that duality.
Everyone has their high points for Linsanity. This was mine.
Lin's first points of the evening came when the Knicks were already down nine. He already had four assists to this point though, the first two of which came courtesy of Tyson Chandler pick and rolls.
It doesn't get said enough, but Lin was arguably the best pick & roll partner Chandler ever had while the big man was in a Knick uniform. Better yet, he helped mask Lin's defensive deficiencies that some felt would always hold him back. For the 670 minutes they shared the court that season, New York gave up just 93.9 points per 100 possessions - far better than the league's best defense - and had a 7.0 overall net rating.
Not bad.
No, I didn't screw up and put the same clip twice.
That's Lin once again taking Jose Calderon off the dribble. Rewatching this game, I lost count of how many times Lin positively abused Calderon, and how Toronto flatly refused to send help early enough, instead crashing the lane late and repeatedly sending Lin to the line - 11 times in total.
Speaking of which, over the first eight starts of Lin's career, he got to the line over eight times per game. Of all the amazing shit he did right out of the gate, his penchant for drawing fouls might top the list.
Calderon, of course, would come back to haunt us all with his, umm…"unique" brand of defense after we traded Tyson Chandler for his services in 2014.
Thanks again Phil!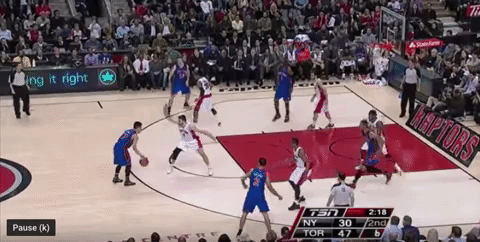 This precursor to the shot that ended the night was marked down as a two-pointer.
I demand a recount.
Check out the score though…the Knicks were getting killed in this game, and Lin himself was a big reason why. He turned the ball over five times in the first half alone, including on three consecutive possessions early in the second quarter.
Everyone remember's the eight-turnover debacle against the Heat as the moment Linsanity ended, but that was barely more than par for the course. Over his first 11 starts, Lin averaged 6.1 turnovers per game!
Thankfully for his sake, he'd figure out this bugaboo. Over the rest of his career, Lin had close to a 2/1 Assist/TO ratio and just 3.1 turnovers per 36 minutes.
Here's another one to file under "I remember it differently."
In my recollection of Linsanity, it felt like he was tossing in a half dozen 3-pointers a game. Nope. Over the 26-game stretch, he averaged under one made three a game, and only once had more than two makes in a single outing. Go figure.
(Also, let's pour one out for poor Amar'e. Here he is at the start of this play, midway through year two of his $100 million pact, getting blocked at the rim by a flat-footed Amir Johnson of all people.
A lot of people gave me shit for including Stat on my top ten "Most Detrimental Knicks of my Lifetime" list last week. I offer up this play as Exhibit 1 in my defense)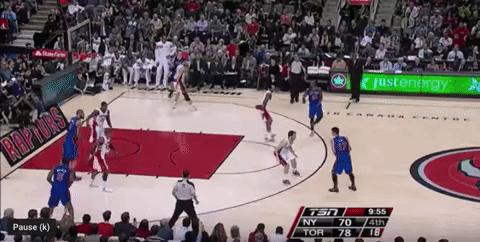 Oh, look…there's Calderon getting turnstiled again.
It wasn't just Calderon that Lin got the better of. The NBA didn't begin recording drives per game until 2013-14, but here's how Lin fared once they did:
2013-14: 11.0 drives in 28.9 minutes (18th)

2014-15: 10.4 drives in 25.8 minutes (31st)

2015-16: 9.4 drives in 26.3 minutes (36th)

2016-17: 12.0 drives in 24.5 minutes (17th)
That last year, Lin was reunited with Kenny Atkinson, who was an assistant with the 2011-12 Knicks. In Kenny's offense, Lin averaged more drives per game in 2016-17 than anyone other than Russell Westbrook on a per minute basis. Then in the first game of the following season, Lin ruptured his right patella tendon.
It makes me think of a corollary to yesterday's "What If": What if Atkinson, and not Mike Woodson, took over as head coach when Mike D'Antoni stepped down? I'll go cry in a corner now, thanks.
Speaking of crying in the corner, you may also notice that Melo isn't anywhere to be found in these highlights. That's because he was injured for the beginning (or, depending on your viewpoint, all) of Linsanity. Anthony played only five minutes in the first start of Lin's career - an 11-point win over Utah.
Here are Lin's numbers with and without Melo over his 25 starts:
Lin without Melo (first 8 games):
25.0 points, 9.5 assists, 8.1 FTA/gm, 50/39/70 splits, +9.1, 7-1 record
Lin with Melo (last 17 games):
15.0 points, 6.8 assists, 5.4 FTA/gm, 40/32/86 splits, +2.5, 8-9 record
Huh.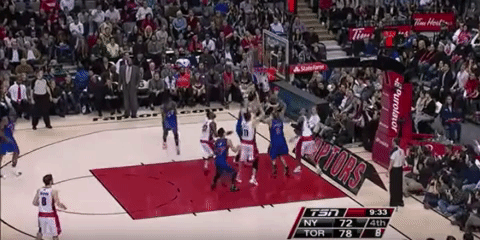 Like, c'mon…how could you not love this.
Lin wound up averaging nearly four boards per 36 minutes over the course of his career. Not bad for a 6'3" undrafted point guard not known for his hops.
Anyway, this was a pretty key board. Toronto had upped the lead to 12 after the fourth quarter began before New York rattled off six straight: two free throws a piece from Chandler and Lin and yet another Lin layup.
This rebound kept the momentum going, until…
OK, maybe Amar'e didn't suck…he was just stuck on a team that never used him properly after those first 50 games or so.
(In case you missed it, yesterday I went through several "What If" trade scenarios in which the Knicks picked Lin over Melo in the summer of 2012 and proceeded to deal Anthony away.
If that happened, one would think that Lin and Stat could have made beautiful music together whenever Chandler got a rest, even if it was in just 10 to 15 minutes a game. I mean, just look at this bromance: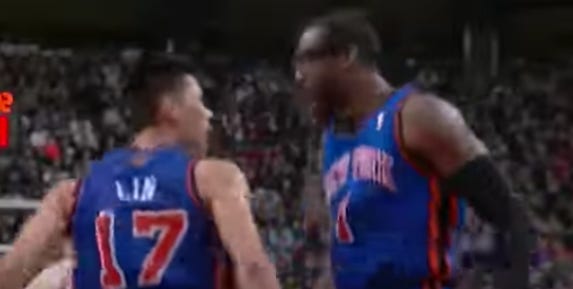 We should all be so lucky to find such a thing once in our lives.)
This play, for me, is the embodiment of Linsanity, even more so than the shot that followed it.
You know why New Yorkers fell in love with this kid? Because he was tough. Because he was gritty. Because he didn't give a shit that he wasn't supposed to be there, and if certain forces had their way, never would have been in the first place. He never gave a damn about his brand or his image, or who got the credit or took his spotlight. He just went out, put his head down, and did what needed to be done to win games.
He was the leader this team needed when they were 8-15 and the season looked completely lost, because God knows no one else on the roster was ready to step up and take that mantle - a precursor to when things fell apart after Kidd, Sheed, Kurt & Camby left a leadership void the following season.
Let's get to the shot.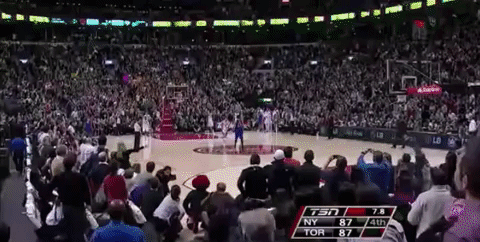 I'd highly recommend watching the extended version. Just fast forward this video to the 7:27 mark and enjoy:
As the ball went through the hoop, I jumped up and down and screamed like a kid who had just seen Santa live in the flesh on Christmas morning.
(Come to think of it, maybe that's why I didn't get laid)
The Knicks won their next game by 15 against a bad Kings team, but Lin only had 10 points - his first time scoring under 20 as a starter (although he only took six shots and did drop 13 dimes).
Two nights later, New York lost their first game with Lin leading the way - a four-point home defeat to the 6-23 Hornets, despite Lin's 26 points (Fun Fact: Trevor Ariza led New Orleans in scoring with 25, with Jarrett Jack and Lance Thomas combining to go 2-for-9 off the Hornets bench). The Knicks bounced back at home the next game against a good Dallas team, with Lin once again leading the way with 28.
But Melo returned the next night - an eight-point home loss against the same Nets against which Lin had his coming out party. D'Antoni resigned less than a month later after the team dropped their sixth in a row to fall to 18-24. Lin started seven more games under Mike Woodson - six of them wins - before going down with a sore knee.
Linsanity was over.
The memories, however, live on.
Assuming it ever comes back, we could all watch basketball for another 10 or 50 or 1000 years and never see anything like the 11-day stretch that culminated with this game and this shot.
For as much pain as Knick fans have to stomach on the regular, I challenge another fan base to come up with anything that matches the surreal joy of that time. It's why, of all the Valentine's Day memories I've had, the night that I didn't get lucky will always stand out the most.
For as great as luck is, nothing beats magic.