Always Use Protection
Now that I have your attention, here's an article about premier NBA shot-blockers.
Before we get to it, shout out to any other teachers heading back to school today. If your morning was anything like mine, that alarm was like the sound a Julius Randle 3-pointer off the side of the backboard. Some things should be inaudible.
News & Notes
The defending champs are on the verge of elimination, as the Celtics demolished the Raptors thanks to a suffocating offense and an energized performance all around. We're getting awfully close to a world where either Boston or Miami is competing in the Finals. Buckle up, Knick fans…

On the other side of the bracket, the Clippers fought off a valiant effort from the Nuggets but ultimately the team with the best player(s) won.

Tonight, Milwaukee once again tries to stave off elimination, possibly without Giannis, who is listed as questionable. Then we get Round 3 of Rockets / Lakers.
Tweet of the Night
I just can't…
Listen Up!
Jeremy and I were a day late but not a dollar short with our weekly segment, as we hit on some names of interest for the Knicks that were in the news this week before talking about the playoffs and how they're laying the blueprint for Leon Rose & Co.
Ask Macri
Fun second question…
I think Mitchell Robinson is the only player who would even remotely be in consideration, probably for a few teams. If the Lakers continue to start a traditional center, I think Mitch would get the nod over JaVale. It would be easy to say Zubac too, but I think the Clippers value the steadiness he provides, although gun to head I think they take Robinson's verticality at both ends. Lastly, while Theis doesn't shoot it often for Boston, his occasional three will keep defenses honest, and he lives for the dirty work amidst a starting lineup that needs someone to do it. Also, if the Celtics wanted to start a guy like Mitch, they'd just insert Robert Williams.
So, Final Answer: Two.
Speaking of Mitch, and your first question…
---
Always Use Protection
Now I know how it feels.
In the past, I've heard journalists get upset after they write a well-researched and thoughtful piece, only to have one line from it make the rounds, often times out of context.
Every time I saw such a thing I rolled my eyes. "You wrote it...why are you complaining!"
Well, karma's a bitch.
Thanks to my lovely frienemy Shwinny Pooh, I spent the better part of my Friday going back and forth on Twitter about just how adept Mitchell Robinson is at being left on an island against the best shot creators in the NBA.
First things first: I thought about it some more, and while I remain dubious that anyone with such a high center of gravity and not-great core strength can hang with the best, as a few folks pointed out, his 7'4" wingspan and insane reaction timing help to make up for it, as we see here when Austin Rivers initially gets Mitch off balance but he still recovers for the contest:
Regardless of whether I was being overly harsh or not, the more rounds I went with the Twitterati, the more I wondered whether I was asking the wrong question.
In bringing up Mitchell Robinson's switchability or lack thereof, I was burying the lead. Whether he can or can't, it doesn't mean he should, at least if the Knicks had their druthers.
This brings me to my second and far more important topic today: What is the value of elite rim protection if your elite rim protector is no longer near the rim?
Think about it. Against the sophisticated offenses that populate the NBA today, a defense has two choices: protect the rim at all costs, or employ a hybrid scheme that attempts to let you to have your cake and eat it too. If you employ option A, you run the risk of what has happened to the Milwaukee Bucks. This season, they sported by far the best rim protecting defense in the league because of their steadfast refusal to give up the paint, even when it means allowing some open threes. With extra time to game plan and the proper personnel, Coach Spo has exploited it, and the Bucks are on the verge of heading home.
But this isn't just Coach Bud refusing to adapt and/or Brook Lopez's lack of versatility being exploited. We've also seen Utah struggle with these same issues over the last several postseasons. Two years in a row, it was James Harden who sent them packing; this year, it was Jamal Murray.
You could say that both of these teams had the unfortunate luck of getting matched up with the wrong opponent, but with more and more shooting infiltrating the sport, the arrow is clearly trending in the wrong direction for the notion that any single player or scheme can a) wall off the paint and that it will b) lead to wins.
But at least the sound schemes of the Bucks and Jazz got the benefit of stellar regular seasons. They sported the top two defenses in the league in 2018-19, and while Utah fell to 13th this year, their 109.3 rating was only a tenth of a point behind the 10th place Nets.
The same can't be said of the Portland Trail Blazers, whose 114.4 rating would have ranked second worst in recorded NBA history were it not for the three teams that finished behind them this year. They achieved that desultory number despite employing the NBA's leading shot blocker in Hassan Whiteside, whose 2.9 blocks per game were far and away the best in the league.
This is perhaps an unfair example, as Whiteside notoriously hunts for blocks, often to the detriment of his team, but it still goes to show that having a monster in the paint no longer means what it used to. Check out the league leaders in swats this year: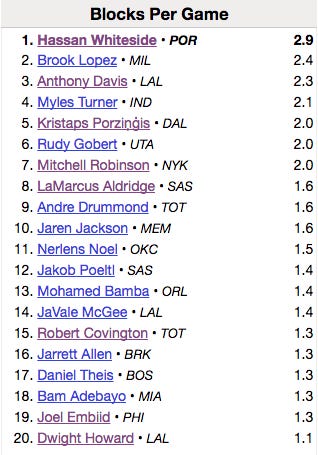 If it seems like many of those swat numbers didn't lead to particularly positive defensive outcomes, you'd be right. Here are where each of those players' teams ranked in overall defensive efficiency, frequency of opponents shots at the rim and opponents accuracy at the rim (all courtesy of Cleaning the Glass):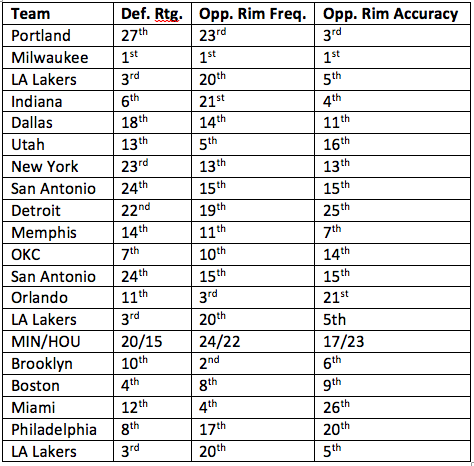 If you're a proponent of tradition, a few things stand out in the positive. Milwaukee, for one. Also the Lakers, who employed three of the league's top 20 rim protectors and had a top-three defense as a result. Indiana also rode Myles Turner to a top-six defense that made life miserable for teams when they got in the paint.
But as discussed above, the Bucks D was not build for prime time. The Pacers were also sent packing in four games. Despite Myles Turner's playoff leading (by a lot) 4.0 blocks per game, the Pacers allowed Miami to take 35.7 percent of their shots at the rim, which ranked next to last of the playoff teams (they were a mediocre 7th in opponents' rim accuracy). The Lakers are still alive, but face the difficult choice of staying big or going small. If Sunday was any indication, they'll be downsizing from here on in.
Boston, meanwhile, was fourth in defensive rating and top ten in both opponents' rim frequency & accuracy. They did so with 6'8" Daniel Theis manning the middle as the starter.
The current situation is a far cry from the early part of this century, when having an elite rim protector, by itself, could be enough to prop up a defense. In the nine years from the 2003-04 season, when Cleaning the Glass first started recording these statistics, until 2011-12, either Yao Ming or Dwight Howard played center for the team that led the league in lowest frequency of opponents' shots at the rim (the one exception was Phoenix in 2008-09, Shaq's one full season there).
Here are the Rockets' stats from 2003 to 2009: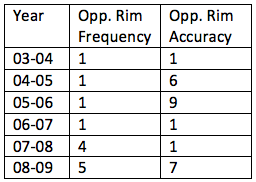 And then here they are for Orlando during Howard's prime there: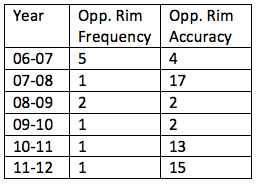 The trend continued through the beginning of this decade when Roy Hibbert had Indiana finishing 3rd & 1st and 1st & 4th in the two key rim protection categories from 2012 to 2014. Even in the 2018-19 season, Rudy Gobert had the Jazz ranked 5th in opposing rim frequency and 3rd in opposing rim accuracy.
In all but two of the 15 seasons I just cited, the team employing the rim protector in question had a top-seven defense (Orlando ranked 10th in '07-08 and 13th in '11-12). Five times, it was the first or second ranked D in the league.
It goes without saying, of course, that this collection of facts and figures is by no means dispositive. Just like it takes far more than a good rim protector to anchor a strong defense now, there are plenty of great shot blockers through the years whose teams couldn't prevent a light breeze from wrecking havoc. The Sam Dalembert's and Theo Ratliff's of the world couldn't make much more of a difference then than they would now.
But to pretend like the tide isn't turning is to stick one's head in the sand. The notion that undrafted guys like Fred VanVleet and Duncan Robinson, let alone established stars, could come into the NBA playoffs and light up the arc at a 40 percent clip on significant volume was a foreign concept even a few years ago. The future is here, and it isn't going away.
Meanwhile, the Pocket Rockets, who do not start a player taller than 6'7", have the second ranked defense in the postseason, allow fewer than 30 percent of shots at the rim, and are one of five playoff teams holding opponents under 60 percent shooting when they do get there. Boston, with no starter taller than 6'8", has the best defense, of course.
No, the Rockets and Celtics may not reject many shots, but one look at the evolution of the block numbers associated with the league's leading rim protectors tells you that they don't need to: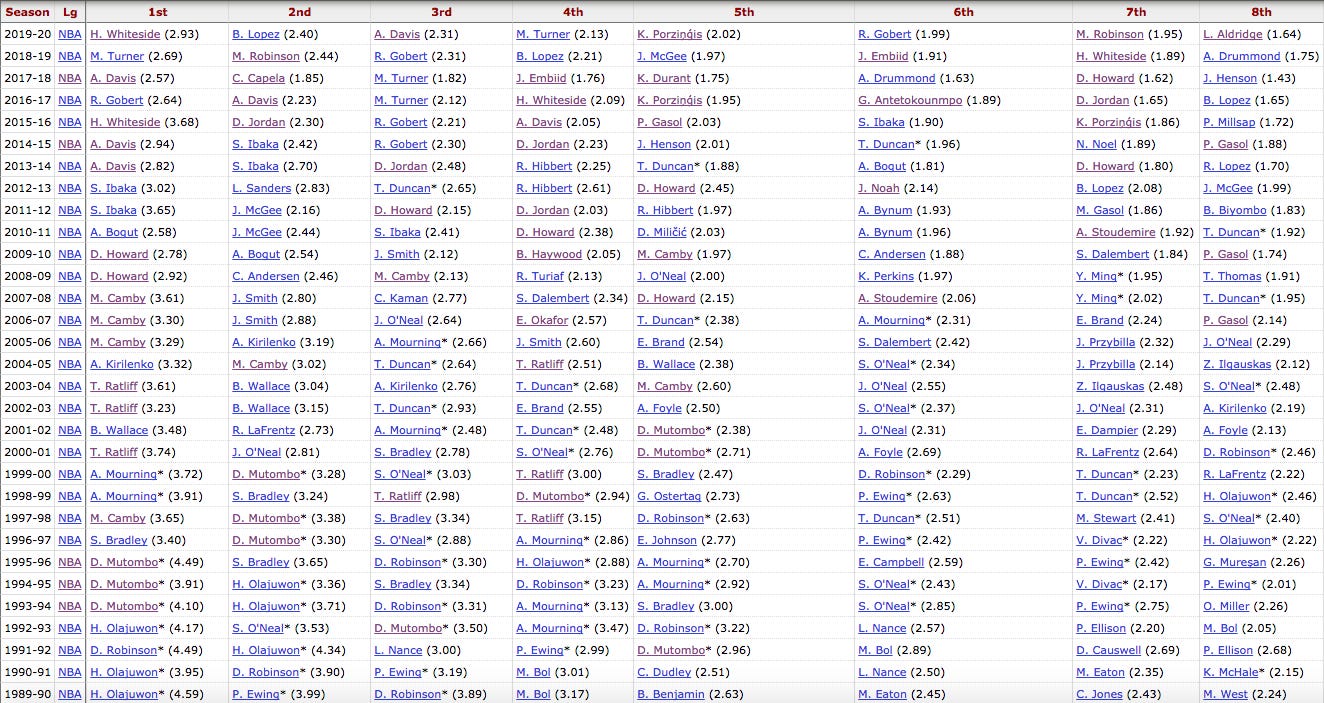 (apologies for the tiny numbers, but the gist is that the league's leading shot blockers now are putting up blocks at roughly half the rate they were 25 to 30 years ago)
The very notion of rim protection is evolving in front of our eyes. Collective defensive IQ, quickness, wingspan and flat-out toughness have combined to make protecting the paint a group effort. It doesn't always work, and the dam occasionally breaks, but the rewards (sound perimeter defense against top notch offensive schemes and talent) outweigh the risks.
But this is also the playoffs - somewhere the Knicks are as far away from as any team in the league. That's because they employ very few players who are helpful to winning basketball games. If my answer to "Ask Macri" is any indication, the total number this season was exactly one:
Mitchell Robinson.
That's the same Mitchell Robinson who held opponents to 8.1 percent fewer shots at the rim when he played than when he didn't - the only big man in the NBA to play at least 1000 minutes and sport that high of a differential for his team according to Cleaning the Glass. Opposing teams also took 1.9 percent fewer shots at the rim when Robinson was on the court, which ranked in the 77th percentile among bigs.
In Mitch, the Knicks have their best path to even sniffing a top ten defense. There may be a world where it makes sense to abandon that lone shining light, but just because the days of Yao Ming and Dwight Howard single handedly lifting their teams to the top of the defensive standings are gone doesn't mean Mitchell Robinson should be as well. He is a special talent in no uncertain terms, and even if there may be some uncomfortable moments in the last five minutes of a playoff game (I pray) in the not too distant future, there will be zero minutes of Knicks playoff basketball to be played if they can't put together a decent regular season defense first. That's where guys like Robinson still do have immense value.
We know the Knicks - who defended at a top-ten level when Mitch played - will have options when it comes to their young center this summer. If teams call, they will probably pick up the phone. And if someone is willing to overpay, knowing that there are now myriad paths to building a top-flight defense, New York would be silly not to listen.
Unless…
Unless they think that Robinson, with proper coaching and targeted strength and conditioning work, can become a hybrid version of Bam and Gobert: someone not worth targeting in switches because he holds his own, yet impenetrable on the block when anyone dares pose a challenge at the basket.
If other teams think Robinson is capable of such heights, maybe Leon Rose should do, and hang onto him to see for himself what Mitch is capable of. If they don't get a considerable offer, than this entire conversation is moot, and New York will give so many fans what they want: a chance to see a homegrown stud actually get his button in the blue and orange.
And that, direction of the league be damned, is not a future I would mind seeing.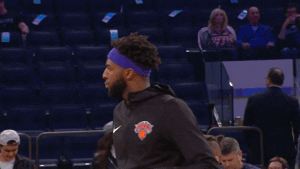 That's it for today! See everyone for a hump day edition tomorrow. #BlackLivesMatter