And We're Back!
Although after today's Newsletter focusing on Julius Randle and last year's Knicks point guards, you may wish I was still gone.
News & Notes
Busy last several days in the Association, with the Lakers going up 2-0 on the Nuggets thanks to an Anthony Davis buzzer beater (that was aided by Mason Plumlee forgetting the point of the game of basketball). We also saw the Celtics win over the weekend, and this suddenly looks like a new series. Game 3 of LA/Denver tonight.
Listen Up!
ICYMI, new pod yesterday featuring Jeremy and I hashing it up over Fred VanVleet's actual value, the floor of a Chris Paul-led Knicks team, and which one of the two point guards should be prioritized over the other this offseason.
Read This:
Speaking of Jeremy, he had a killer piece for the Strickland with a message that is music to many Knicks' fans ears: keep kicking the can down the road and build up the asset base until it topples over.
Tweet of the Day
---
Re-litigating Randle
ICYMI on Friday, I gave 10 Goodfellas quotes to 10 Knicks, and was so bothered by Julius Randle last season that I saved "F———- Shinebox!" just for him.
It did not make me happy. Nothing about Randle's 2019-20 season did. He joined Derrick Rose, Enes Kanter and late-career Carmelo Anthony on my Mount Rushmore of Most Frustrating Knicks Seasons Ever. What do all those guys have in common? They're incredibly talented basketball players who came here and, either eventually or immediately, leaned into their very worst qualities.
For Randle, it didn't take him very long to prove my initial suspicions correct. Here's what I wrote in my June 18, 2019 Newsletter, when it had become clear that Randle was the front office's primary "Oh S—- What The F—- Are We Gonna Do With All This Money?" fallback plan:
It's never wise to sign a player to a contract that you can't trade in a pinch. Does Randle at, say...three years, $50 million qualify as "easily movable?" That's where digging a little deeper gives you some pause.
Then, after citing some stats about how the Pelicans were far better on defense when AD & Jrue played without Randle than when they did (and were even a bit better on offense), I added this in thinking about his fit on the Knicks:
Just because someone might be the "better" player in a vacuum doesn't always mean they're the best fit. That's the thing with Randle: he's not an easy fit on most teams. Theoretically, New Orleans should have been the perfect situation for him, what with a five that can shoot it from deep who, along with Jrue Holiday, formed maybe the best high low combo in the entire league on the opposite end of the floor. If Holiday and Anthony Freaking Davis couldn't clean up for Randle's messes on defense, do we really think a still-learning Mitchell Robinson and Insert Starting Point Guard Here are going to do much better?
This year we got our answer loud and clear, except that as I wrote on Friday, Mitchell Robinson actually did a spectacular job cleaning up for Randle's messes on defense (New York gave up 109.0 points per 100 possessions when Mitch and Julius played together and 114.2 when Randle played without Robinson).
Ultimately, I landed here about a signing I had a feeling was going to happen at the time:
Theoretically, this is what good organizations do: get talented players for less than they're worth, and figure out the best way to build up their value, either to keep as a long term piece or move when the time is right. Are the Knicks ready to be that kind of an organization though? What you think of signing Randle likely depends on your answer to that question.
Which brings us to perhaps the most interesting question of the 2020 offseason: What the hell should the Knicks do with Randle now?
Notice I didn't say "most impactful question" because that's reserved for the point guard situation. But for as vital as that answer is, it's not a particularly titillating discussion. If the Knicks don't improve their point guard play, they will continue to stink. It's not really all that complicated.
Randle is different. On one hand, what they decide to do really won't matter much in the long term. Nothing Julius does on the court this year will turn him into a significant trade asset…opposing front offices are too smart for that. Whatever faint upside hopes existed were wiped away last season.
Perhaps his greatest value is to a team thinking ahead about how they're going to save cash in the 2021-22 season. Randle can be traded now, have his full 2020-21 salary of $18.9 million count against this year's cap, and then if he's waived before the following season, the $4 million of his $19.8 million salary that's guaranteed for 2021-22 can be stretched for an annual cap hit of just $1.33 million.
But that cut & stretch possibility is also the very reason why New York doesn't have a major financial incentive to move him at the present moment. From a locker room/team chemistry standpoint, Randle's going to know that he's essentially auditioning for future employers. If Thibs moved him to the bench in favor of a stretchier starting option, there's only so much pouting he'd be able to get away with.
All of this speaks the reality that Randle has been quite bad as a Knick, but ignores the possibility that the right roster upgrade could turn that frown upside down (at least on offense; we'll get to the D a bit later).
Before you start tossing ripe tomatoes my way, consider for a second that if the Knicks did swing a Chris Paul trade and included Randle in the deal, they'd essentially be dumping his salary for nothing. OKC needs Randle like they need Russell Westbrook back; they'd be doing New York a favor by taking him on (and yes, Sam Presti might want an even sweeter trade return for that privilege).
It's also not a favor the Knicks need (if, indeed, they want Paul). They can get far enough under the cap to simply take Paul into their space. Yes, Randle's $18.9 million could be used to sign another player, but the wisdom of such a move would depend on whether they could get someone else with that money who offers more value than Randle on what is essentially an expiring contract.
The answer might seem too obvious to even write out - again: he's on the Rushmore - but therein lies the fascination for me. Randle's value is the lowest it's been in his career, with a new nadir coming only if the Knicks buried him on the bench until the inevitable occurs.
(It's tough to imagine that happening to the crown jewel of Steve Mills and Scott Perry's grab bag fiasco a year ago, but aside from Perry, neither this regime nor this coach have any ties to Randle, and with the possible exception of Perry himself, they all plan on being here far longer than him)
Here's the thing though: what I wrote a year ago about good organizations being able to take guys like Julius Randle and turn them into productive assets still holds true. A big part of that is about getting him closer to his proper place in the pecking order, as Jack Huntley wrote about in comparing Randle to Tim Hardaway Jr. a few weeks ago.
But just as important is making sure that those ahead of his on the totem pole are guys who can amplify his games, rather than detract from it, which brings us back to the most consequential question of the offseason: What will the Knicks do at point guard, and should Chris Paul be in the cards?
There are too many stats boasting the positive effect Chris Paul has on a team to count (him ranking 4th all time in win shares per 48 minutes, after only Jordan, Wilt and the Admiral, is probably my favorite) but one in particular caught my eye when I was thinking about what he could do for Randle if given the chance.
Check out the offensive numbers last year for Oklahoma City's two primary big men, Steven Adams and Nerlens Noel, courtesy of Cleaning the Glass. The number in either orange (good) or blue (bad) is the percentile rank amongst league-wide lineup combinations. You're notice a trend pretty quickly:

To drive home the differences here, when Chris Paul played with either big, the Thunder had the equivalent of the best or second best offense in the NBA. When either played without him, it was equivalent or below the very worst.
Keep in mind that Oklahoma City had perhaps more point guard depth than any team out there, with two other starting caliber ball handlers in Shai Gilgeous-Alexander and Dennis Schröder. It didn't matter. They Wile E. Coyote'd any time Paul stepped foot off the court.
To drive this home even more, check out the season Nerlens Noel just had, and keep in mind that he played with Paul for about half of his total minutes:
Noel shot 84 percent around the rim, which was in the 99th percentile league-wide, and a massive jump from his previous career high of 72 percent

His 68.6 effective field goal percentage shattered his previous career high of 59.5

82 percent of his shots around the rim were assisted, which was among the highest rates in the NBA
Easy buckets are kind of a thing that happens when you play with Paul, and if he gets moved, it'll be interesting to see just how much these numbers from Nerlens fall as a result.
At the opposite end of the spectrum, according to Cleaning the Glass, there were exactly two big men in the NBA this season who played over 1000 minutes and were assisted on less than half of their field goal attempts.
One of them won the MVP. The other one, umm…did not.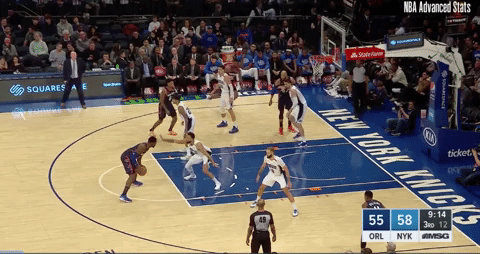 That's right…Randle not only finished second to Giannis in overall rate of unassisted shots among bigs who played 1000 minutes or more, but was third in percentage of unassisted shots at the rim and second in percentage of unassisted mid-rangers. The other guys at the tops of these categories - names like Nikola Jokic, Joel Embiid, LaMarcus Aldridge and Karl-Anthony Towns - are perennial All-Stars. Randle…not so much.
Here's the thing though: Julius was near the top of the charts in unassisted field goals in each of the two prior seasons as well. Take a look: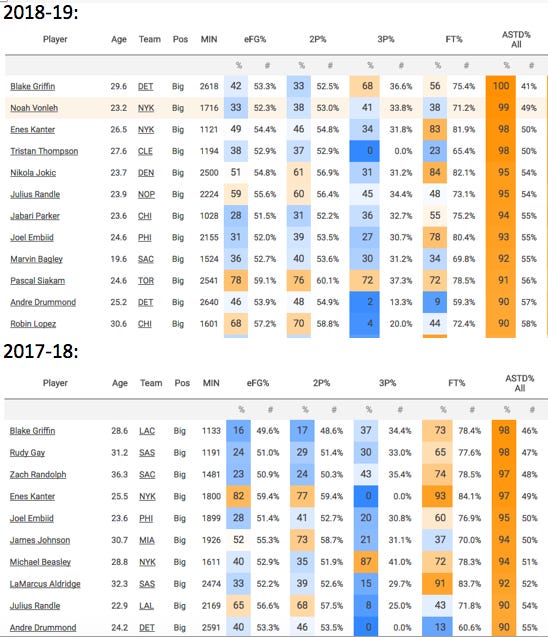 The big difference, of course, is in the effective field goal percentage. Whereas Randle was more than respectable given the frequency of unassisted field goal attempts in his last Laker season and his only Pelican one, he was downright dreadful last year, finishing in the 14th percentile with a 49.7 conversion rate.
But we also shouldn't discount the difference in percentage of unassisted attempts - 54 percent in his two prior seasons to 48 percent last year. That means Randle had roughly 60 more unassisted shots this year (he took 1006 attempts), and took them with far, far worse spacing than in New Orleans and LA. If you're looking for the reason he went from one of the most efficient high usage big men in the league to one of the worst, his being able to do less with less pretty much sums it up.
Which brings us to the $64,000 question: Who deserves most of the blame? Randle, for taking it upon himself to bull his way through the China shop on a nightly basis? In part, yes. Is this on Steve Mills and Scott Perry for assembling a roster with the worst spacing in the league, and then empowering Randle to be its fearless leader? You betcha. Is it also on David Fizdale for his lack of creativity in offensive sets, even considering the Island of Misfit Toys he lorded over? Surely a bit.
But hand in hand with every one of the above is the place where the blame lies more than any other spot: the lack of adequate playmaking from the team's most frequent ball handlers.
To drive home just how bad this group was, we go to the single play that has become the staple of every offense in the game today: the pick and roll. Check out the Knicks four most frequent pick and roll ball handlers last season (min. 25 games) and the points per possession they achieved on such plays: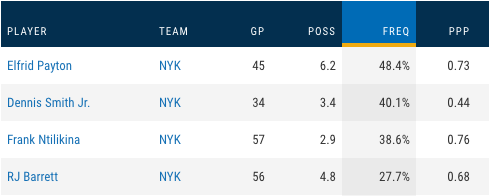 Yikes.
Every one of these points per possession ranked in the bottom third of the league this year, with Frank's 0.76 PPP coming the closest to crossing that low bar (he was just below the 33rd percentile). It's no surprise that New York as a team ranked 29th in this statistic (ahead of only the Pelicans, for all you Lonzo stans out there).
The easiest thing to do is blame it on a shitty roster and terrible coaching, right? The only problem there is that the pick and roll ball handler statistics from the previous season - when the Knicks won 17 games, were ostensibly worse at everything, and were coached by David Fizdale for 82 games - tell a different story: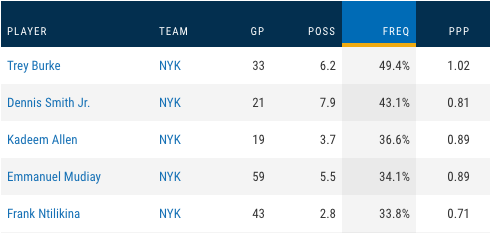 The PPP numbers for both Mudiay and Allen were better than two thirds of the NBA, while Burke's number was in the top 10 percent of the entire league.
So to recap: after upgrading their talent, bringing in one of the best finishers in the game (Randle) and watching their young center break Wilt Chamberlain's nearly half-century old field goal percentage record, the Knicks went from an above average pick and roll team to the second worst in the NBA. And that was with Ntilikina, who played more games at point guard than anyone else on the roster, improving by 0.05 points per possession on average.
More than any other stat or metric describing the 2019-20 Knicks, this might be the one that speaks to their urgent need for an upgrade at point guard the most.
Yes, we knew this at Game 1, let alone Game 66, but when Randle's struggles are viewed through this prism, it brings to the table a legitimate question of how high and how quickly his offensive production would rise with an elite point guard at the helm. Or more specifically: Is the best, most efficient upgrade the Knicks can make this offseason (non-Chris Paul division) actually someone who is already on their roster?
To try and get the answer to that, I'm going to do the unthinkable: go back in the water, face the Great White, and dig into the film of Randle doing Randle things in a Knicks uniform.
All that, coming your way…tomorrow.
---
Dream House / Birthday Update
ICYMI, my daughter turned four yesterday. Much socially distant fun was had at the Queens Zoo and many a cupcake were eaten, but for most of the day, the birthday gal was obsessed with her newest prize possession.
It did not, however, come without a fair bit of consternation.
Looking at the box on Sunday morning, I felt vaguely like the Knicks did from January of 2019 to late June of the same year…this didn't look so hard!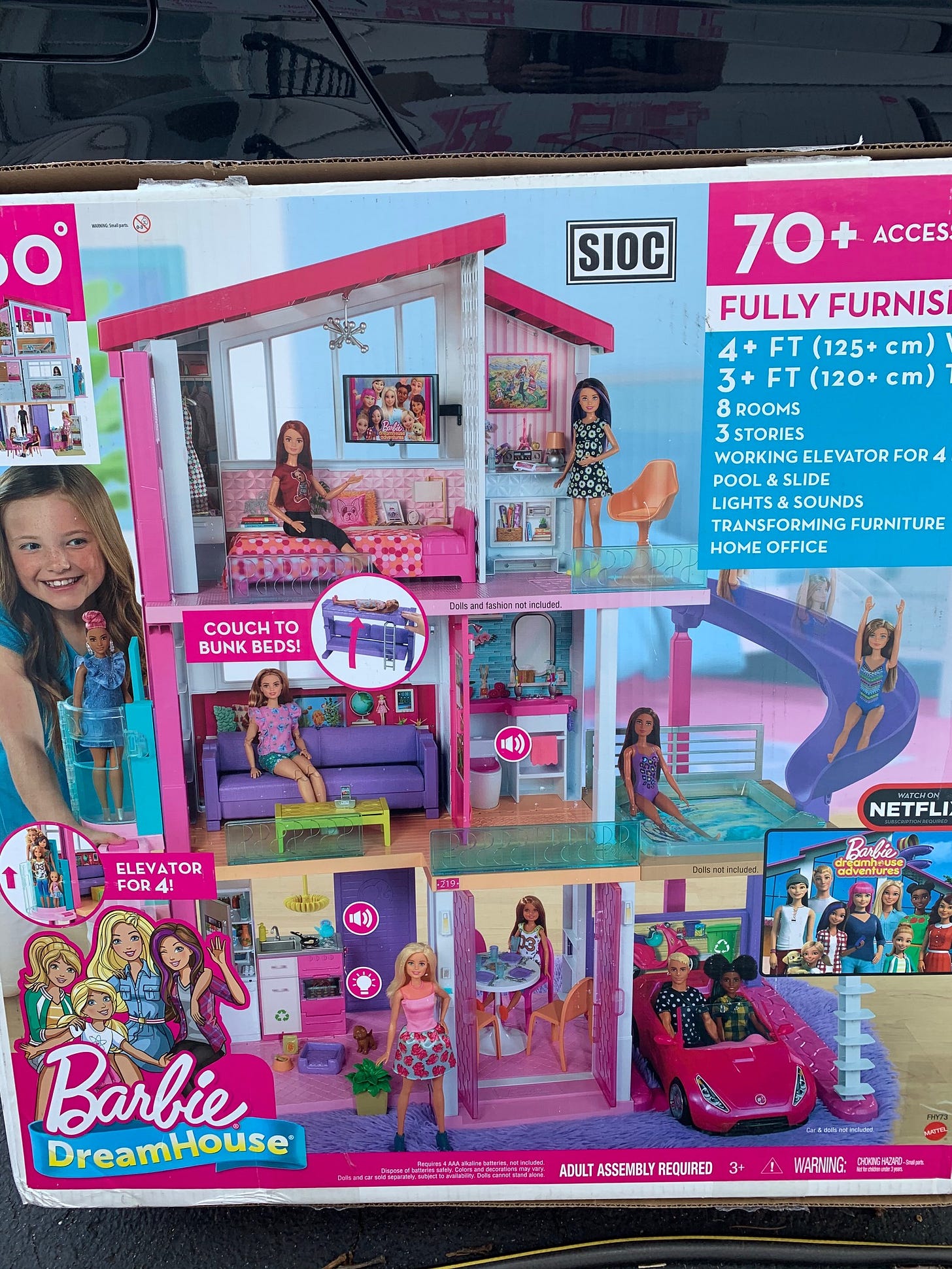 Later that day I opened the box, and felt like I imagine Steve Mills did around 5:30 pm last June 30: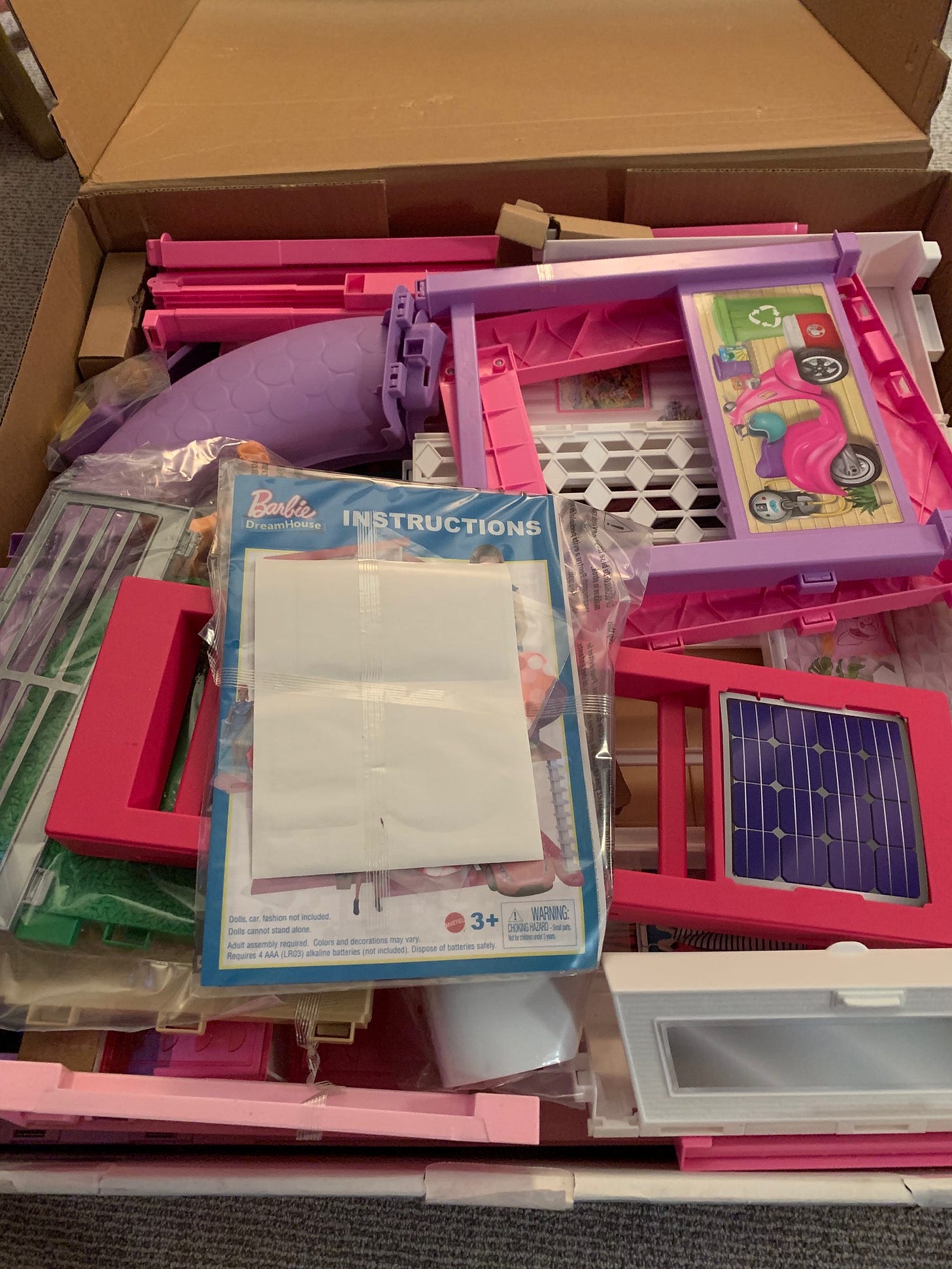 Thankfully, a $15 million Bobby Portis wasn't lurking beneath the pieces, and I was able to put together a dream house with slightly more competence than New York was able to build a roster (with cap space to spare!):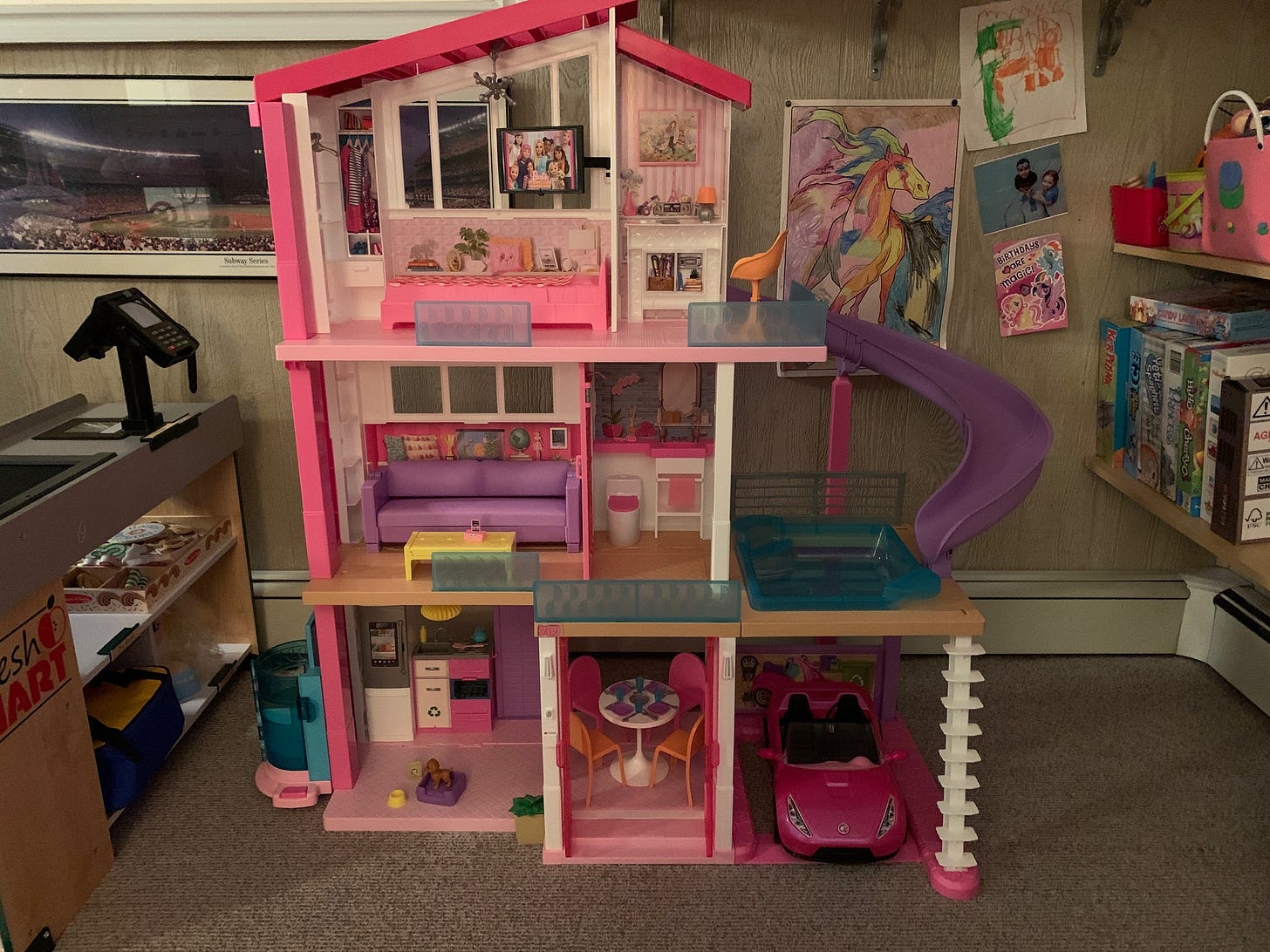 But of course, it wouldn't be a birthday without a little basketball involved as well: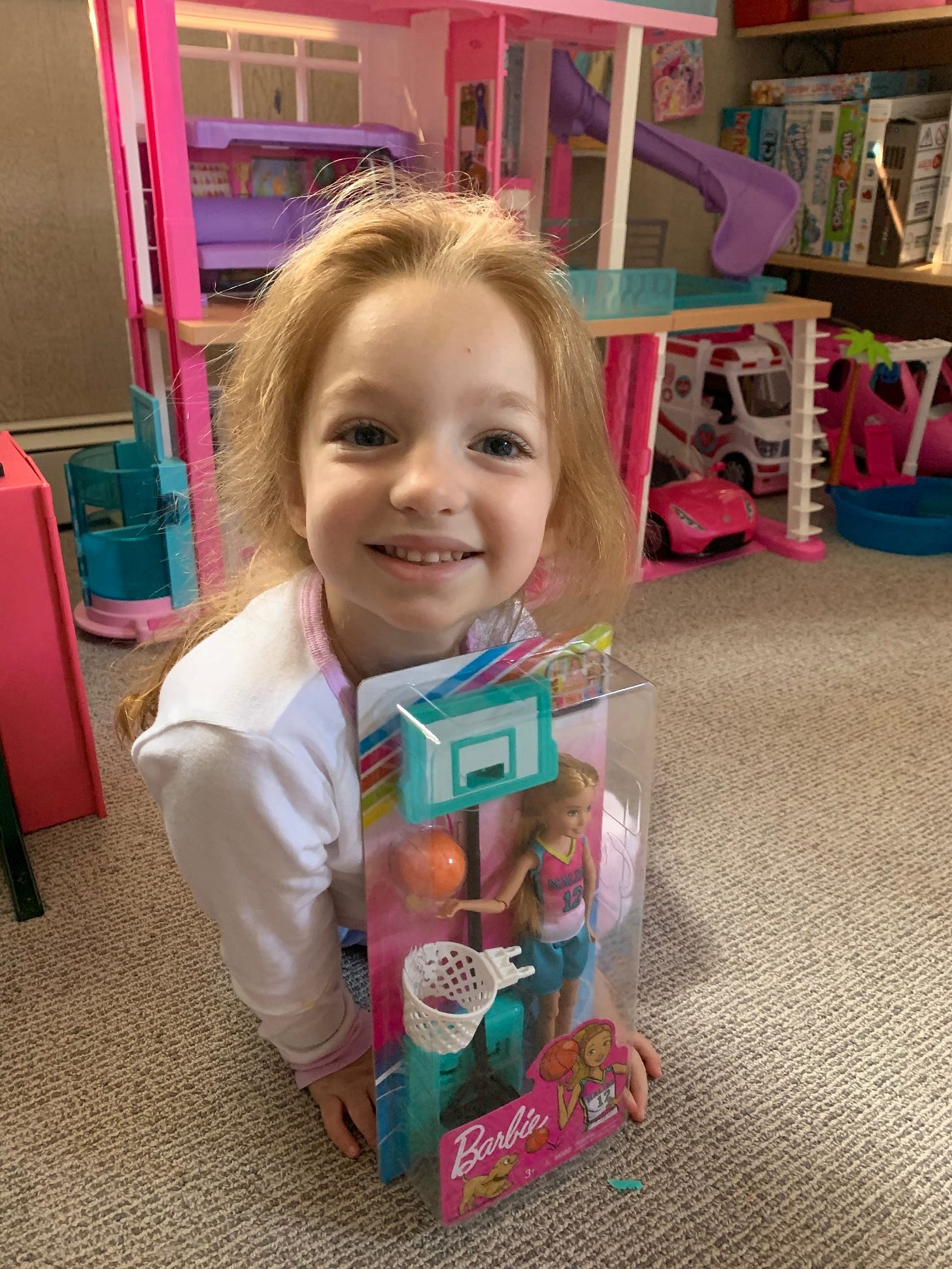 On behalf of Scarlett Rae, thanks everyone so much for the birthday wishes. They meant so much to our family. See you tomorrow for Part 2 of Re-litigating Randle. #BlackLivesMatter