Asset Management
Evaluating the right (or wrong) moves to make this offseason doesn't just come down to the immediate effects they provide.
I've been seeing a lot of discussion on Twitter lately about two topics, both of which came to mind when a source reached out to me with a bit of information that will no doubt excite a good deal of Knicks fans and frustrate a good deal more.
I'll get to that tidbit in a bit, but first, the two topics:
Managing current assets & bringing new assets in

Sending existing assets out
Let's handle the topic of current and incoming assets first. Right now, there's a fair bit of disagreement about what the most popular path is for the Knicks to take this summer. As best as I can tell, opinions fall into one of four distinct camps (with certain campers co-mingling between locations):
CAMP D&D: Use all of the team's draft picks to get even younger and play a rotation composed almost entirely of first-contract players with the hope of developing New York's in-house talent and maximizing their potential, with the possible ancillary benefit of a high draft pick next year.

CAMP THRIFTY: Sign the best free agents money can buy on one-year deals, with the hope of having our cake (winning some games, seeing improvement in the young players) and eating it too (maintaining flexibility moving forward).

CAMP SPENDY: Bring in the best possible free agents regardless of how long their contracts will be in an effort to build a sustainable, competent core comprised equally of key outside acquisitions and home grown talent. Fred VanVleet gets all the action in this camp and has officially been listed "out" for next week's 3-on-3 tournament with a sore groin.

CAMP CRYSTAL LAKE: Use any assets not named RJ Barrett, Mitchell Robinson or "Unprotected Future Knicks 1st Rounder" to bring in higher-level talent right now. This camp splintered into factions fairly quickly after their parents dropped them off and a Lord of the Flies situation has developed. Chris Paul is Ralph, Zach LaVine is Jack and Kevin Knox is Piggy.

(Kevin, if you're reading this and haven't yet read the book, maybe skip Chapter 11)
I've written extensively about the merits of each of these approaches in terms of what it would mean both in the short and the long term. At this point, if you're reading this, you almost certainly have your preferred approach.
Regardless of what that approach is, everyone seems to agree that the best way to build a basketball team is just like the best way to build a stock portfolio: buy low, sell high, and acquire assets that can appreciate in value under your watch.
This gets us to the second topic: sending assets out.
You'll notice that none of the camps listed above involves trading for a Devin Booker (good luck with that now that Phoenix has found God in the bubble), a Donovan Mitchell, or a Ben Simmons (looking thrilled in Philly right now, and that was before he injured his knee yesterday) caliber of player. That's because as I discussed in this space a few weeks ago, they don't currently have the assets to pull of such a swap. No team in their right mind is going to trade an entering-his-prime, All-NBA level player unless they're getting back a blue chip prospect in return.
Whatever your opinion of the Knicks asset chest, right now, there's not a blue chip stock in the mix. To wit:
The best asset they have - their own 2021 first rounder - is too volatile to be the centerpiece of any deal both because of the new lottery odds and because the influx of a top-25-ish player would significantly devalue the pick.

RJ Barrett is 19 years old and will likely be a very good and helpful player for a long time. It's also likely that he's going to be left off both All-Rookie teams. Even if you think the national media has a widespread agenda against the Knicks, such that they all get together for underground meetings where everyone trashes James Dolan before they slap each others asses with big wooden paddles, the fact that there isn't universal consensus on Barrett as one of the ten best rookies means that, for right now at least, he can't be considered a blue chipper.

(lest you think I'm being a hater, I'll also point out a few guys who haven't made All-Rookie teams over the last decade: Wendell Carder Jr., Devonte Graham, De'Aaron Fox, Bam Adebayo, Domantas Sabonis, Pascal Siakam, Caris LeVert, Aaron Gordon, CJ McCollum, Rudy Gobert, Khris Middleton, Draymond Green, Kemba Walker, Tobias Harris, Nikola Vucevic, Jimmy Butler and Gordon Hayward.

There is a still a lot to be hopeful about with Barrett, but right now, "hope" isn't "certainty," and just like none of the above names could have been the centerpiece of a major trade after their rookie years, neither can Barrett now)

Even if the Knicks get the first pick in this year's draft, there is no player coming out for whom there is universal consensus that they will be worth their salary over the next four seasons, let alone will become a franchise centerpiece.

Mitchell Robinson plays a position that is becoming devalued by the day and he is less than a year away from getting seriously paid. Plus, everyone has a center.

What is Kevin Knox? Who is Kevin Knox? Why is Kevin Knox?

The Dallas Mavericks are about to set the NBA record for having literally the greatest offense of all time. There is no reaistic scenario that turns either their 2021 or 2023 picks into a major asset.

Julius Randle's face appears on this chart:
So there you have it.
Now, for the encouraging/infuriating tidbit of information: on the heels of Jalen Rose saying "don't be surprised" if Donovan Mitchell doesn't sign an extension in Utah, I heard the exact same sentiment from a league source, except a little more towards the "he's not extending there" side of the spectrum.
A few things:
Don't believe everything you hear, even (especially?) from me. If the lead up to the summer of 2019 taught us nothing, it's that there are only losers in the NBA game of telephone.

That said, I find it interesting that I heard what I heard at the same time Rose went on TV and said what he said. Maybe it's juts a coincidence, but it would seem like someone is making a concerted effort to get this notion out into the ether. Who, and for what reason? Your guess is as good as mine.

Donovan Mitchell is from the area, as you surely know. I could say here that I also heard he wants to come home, but I need the shit storm that would cause like I need another hole in my head, so just pretend you didn't read this bullet point.
So what's the point…that delusional Knicks fans should now pin all their hopes on a Mitchell trade? No, because we've been there and done this. A month ago it was Booker. Now it's Mitchell. After Philly gets curb-stomped in the first round, it'll be Simmons. And on and on and on. There's always going to be some name, some fantasy to get worked up over. It's meaningless unless you can do something about it, and right now, the Knicks can't.
But it doesn't have to stay that way. When the opportunity comes along to swing a trade for whoever the hell actually does hit the market, the Knicks would be well served to be in a position to do something about it, unlike right now.
At this point, I'll throw a bone to my podcast co-host Jeremy Cohen and point out something that if he's said once, he's said a dozen times: outside of the Spurs dynasty and the 2015 Warriors, every NBA Champion this century has either signed one of its two best players in free agency or traded for one of them.
Yes, every champ other than last year's Raptors and the '04 Pistons has drafted their other best player, but the point remains that you need both. At some point, the Knicks are going to need outside help. Counting on drafting three future Hall-of Famers with picks 15, 28 and 57 (not to mention lucking into getting the first pick in the Duncan draft) or on picking up two of the five best shooters ever in back to back drafts without a top-five selection simply isn't realistic.
Of course you have to draft and develop well - the next successful sports franchise that skirts this requirement will be the first. But in looking at the options available to the Knicks this summer, every camp has to ask themselves: am I putting myself in the best position to pounce once the opening bell on the trade market rings (and, for that matter, am I keeping myself liquid for a potential free agency splash as well)?
Let's look at those Camps again with all of the above in mind:
CAMP D&D: Offers the best chance of drafting your homegrown star, simply because it's the best chance to be bad next season. Also counts on Barrett, Robinson or 2020 Draft Pick X becoming your number two (highly unlikely) or becoming good enough to trade for your number two (slightly better odds). There's no other blue chip trade equity here, and we've seen how little interest free agents have in coming to bad teams. This is the five-year plan, which sounds super responsible until you realize that it counts just as much on luck as any other path.

CAMP THRIFTY: Theoretically better than Option 1 because the team might not be terrible and thus could provide a better developmental environment for the young players (i.e., the opposite of last year), but this also decreases the odds of getting a primo draft pick, and one-year deals aren't going to be major trade pieces. It keeps the team liquid though, but again, will they be good enough for it to matter?

CAMP SPENDY: Makes you better, and some young players will also get better, but other kids might get pushed out. Long term contracts also make for dicy trade assets (Fred VanVleet for three years at $14 million annually? Great. 4/$100 mil, fully guaranteed? Not so much) and aren't always so easy to move. This is also likely to take you out of the running for a great pick.

CAMP CRYSTAL LAKE: It depends. Trading for Chris Paul is the best way to get good right away, almost regardless of what they give up, but Paul takes you out of the running for a good pick, no one's trading for him, and moving his contract next summer might be a pain. But the kids will improve alongside of him more than in any other scenario, maybe even enough to rise to blue chip status, and the franchise will look better. They could also get to max room next summer, depending on how else they use their money this offseason.
Which leads us back to how I started this week: evaluating the case for a Zach LaVine trade.
LaVine isn't the type to make others players better…but his spacing and shot creation will ease the burden all around. They'll probably be good enough with him to screw their draft position up…but not so good as to make any big leaps. He makes less than half as much as Paul…but depending on how they navigate free agency elsewhere, it might not matter.
But could LaVine present the Knicks with the best potential centerpiece for a later, bigger deal down the line (if, of course, Thibs can exploit his strengths and minimize his weaknesses, as I discussed on Tuesday)?
This is something the Knicks need to be thinking about, and I'm sure they are. No, LaVine can't be the best initiator on a team with even faint hopes of contending, but he still represents the highest ceiling asset they could get going into next season outside of a few top-tier guys they might be in a position to draft. Even if Barrett makes the leap, or the Knicks somehow do convince VanVleet to sign for his market value, neither represents the ceiling play that LaVine does.
Why is this the hill I, of all people, am choosing to die on? Check out the below list, courtesy of BasketballReference.com: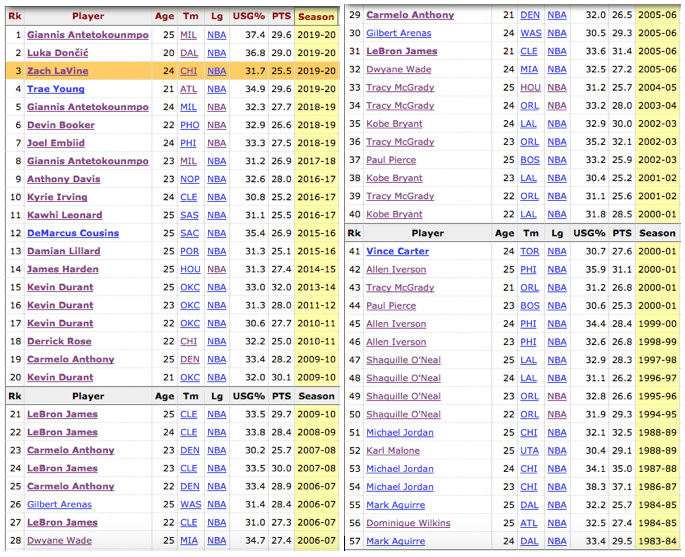 These are all the seasons in NBA history in which a player 25 or younger averaged 25 points per game with a usage rate over 30. You'll notice some familiar names. Other than LaVine, every one made at least one All-Star team in their career, and not all right away. Mark Aguire made his first ASG during his age-24 season. Same for Paul Pierce and Kawhi Leonard. 'Nique was 26.
A few of these guys also changed teams via significant trades during their prime, and most of the acquiring teams would do the deal again if they had to. T-Mac to the Rockets, Melo to the Knicks, Aguirre to the Pistons, even Kyrie to the Celtics represented too good a value to pass up. Only DeMarcus Cousins, who ruptured an achilles tendon in New Orleans, represents a clear loss for the acquiring team (and they've rebounded just fine since).
And then there is the last trade between the Bulls and Knicks, when New York took a shot on a mid-20's guard who needed a change of scenery a few years after tearing his ACL while playing for Tom Thibodeau. History has a funny way of repeating itself, huh?
But even the Rose trade, in theory, was smart (the Joakim Noah signing that buttressed it, less so). The Knicks took on a talented but distressed asset without paying a huge price. It was similar to two other trades made over the last few years in which two smart organizations did something similar.
When Brooklyn dealt for D'Angelo Russell, he was as distressed as a good young asset can be. The Nets rehabilitated his value significantly, and even though they didn't end up needing Russell to acquire Kevin Durant, trading for him was a smart strategy, even if they may have known at the time that the absolute best version of Russell was probably never going to be good enough to play a prominent role on a contender. Oklahoma City did something similar by trading for Victor Oladipo and Domantas Sabonis, and even though those players ultimately succeeded elsewhere, they netted Paul George, which ended up netting them Shai-Gilgeous-Alexander and a whole host of picks.
The key in both of those circumstances, of course, was that the Nets and Thunder made incredibly savvy trades to buy low on talent that hadn't yet panned out. In the trade I proposed - the 7th or 8th pick plus Kevin Knox - the Knicks would be giving up a few decent assets to acquire the distressed one. It would be a risk.
But to eschew consideration of such a move simply to play the long game not only risks potentially being unable to jump on the next, better trade opportunity, but to borrow my analogy from a few weeks ago about the Knicks needing to stock an empty cupboard, it risks ending up with a cabinet filled with cans of corn and little else. Again: drafting and developing good players is a necessary skill; drafting a star - or someone talented enough to trade for a star - takes luck.
This begs one final question of who the Knicks should trust more: Tom Thibodeau to get the most out of existing NBA players, or Walt Perrin to find a diamond in the rough at draft time?
There is no definitive right or wrong answer, but I felt this exercise was important as a response to many people asking where a trade for LaVine (or any other talented but imperfect young player) would really get the Knicks.
At some point, there will be a star - maybe Mitchell, maybe someone else - who will be on the trading block. Of the many team-building philosophies that exist for the Knicks, putting themselves in a position to swoop when that time comes is as good as any. That means increasing the ceiling of their asset base, even if that ceiling isn't championship-level right away.
It's not skipping steps. It's just taking a different staircase.
---
New Hoops Spy Podcast!
A lot of Knicks fans were perturbed by the fact that there was a major story released last week about the Dallas Mavericks once again being accused of impropriety in the workplace, and hardly anyone in the national media seemed to give a damn.
Here's the story - give a read if you haven't already - but Adam Taylor and I also interviewed one of it's authors, Jessica Luther (who also investigated and co-wrote the original #MeToo story about the Mavs in 2018) for this week's Hoops Spy episode that dropped yesterday. I highly recommend you check it out, as we get into not only the story itself, but why the response has been so muted.
That's it for today…see everyone soon! #BlackLivesMatter