Back in Business
Reading the tea leaves on what's in store moving forward
In this newsletter…

---
And we're back!
Thank you all for indulging me as I took a few days to catch my breath. One of the many perks of being a teacher is that you get just about as many days off every year as you do where you have to report to work. Next time a teacher complains to you about anything, feel free to remind them of this.
One of those times off is February break, which my family and I have spent in Florida the last several years. It's become a memorable trip for me. It was here, three years ago, when I first found out that an online blog wanted to publish something I wrote. I'll never forget how stunned I was at that development.
That first post - "New York Knicks: An 8-step guide to respectability" - is like a lot of articles we see around this time of year (Just Google "steps to fixing the Knicks" if you don't believe me). It's like clockwork. The season inevitably goes off the rails, the summer is a few months away, and many things need to be addressed: the coach, the draft, free agency, existing players, etc. Even the local beat writers have some version of a post-All-Star to-do list. It's a thing.
And these lists have value, mostly because rejiggering the Knicks to get them from where they are to where we all want them to be can't happen with one or two moves. It's a process, and one that takes time - time that has never been granted (not in any real sense at least) to any decision-maker this century, either because of an itchy harmonica-playing trigger finger, too many signs of incompetence, or both.
Speaking of process (or Process, as it were), I've spent most of my break reading an advance copy of Yaron Weitzman's upcoming book, "Tanking to the Top: the Philadelphia 76ers and the Most Audacious Process in the History of Professional Sports." It's excellent, and I can't recommend ordering an advance copy enough.
I'm at the part of the book where Jerry Colangelo gets hired, which of course ultimately precipitates Sam Hinke's resignation. Regardless of what you think about Hinke's plan, it's tough not to wonder where the Sixers would be today had he been allowed to see it through. But alas, owners who thought they had the stomach for anything finally had enough.
I've spent a lot of time thinking about this as I contemplate what lies ahead for the Knicks, as well as what got them to where they are today.
The Sixers, despite Hinke getting the plug pulled prematurely, are set up pretty damn well. He didn't have the time to execute a grander vision, but it was long enough to get it started…and yet, both Phil Jackson and Steve Mills had even longer runs being in charge.
Hinke decided early what he wanted the Sixers to be: a team that took every possible advantage of an imperfect system. He recognized the uncertainties involved - that the draft was the ultimate crapshoot, and that even the safest bets often don't pan out - which is why he wanted as many bites at the apple as possible. Most importantly, he went all in, no matter who it pissed off.
Phil also had a plan: build the entire organization around an archaic playing style that he fetishized to the point of absurdity. For better or worse, he was forced to divert when certain players had had enough. We also know he wasn't able to make all of the changes he desired to the staff working underneath him.
Mills plan was less grounded: first it was about development, then it was about going all in for Kevin Durant, and once that didn't happen, it was…well, I'm not even sure Mills himself quite knew what the exact plan was after KD went to Brooklyn.
Which brings us to today. Leon Rose hasn't even officially taken the job yet thanks to the Dwyane Wade-athon taking place in South Beach this weekend, according to Marc Berman (should I crash the party and show up tomorrow night with a giant sign that says "Not One, Not Two, Just Three"? I've had worse ideas…)
Despite this, we've already gotten a sense of what his plan might entail.
On the coaching front, the two names to emerge so far have been Jay Wright and Tom Thibodeau.
Wright, who went from "strong possibility" to needing to be overwhelmed to "I'm not going to the Knicks," was a predictable starting point for rumors to begin. He's the most decorated college coach to never hold an NBA job and still of the age where such a thing would make sense. No big shocker.
Thibs is different. Berman first reported Thibs' strong interest, and Brian Windhorst confirmed on The Jump that the interest is indeed mutual:
It's not that Thibs can't coach. Far from it. He's as demanding as anyone, but as Taj Gibson told me before the break, if you're willing to be coached, Thibs is the guy you want.
But his coaching acumen would not seem to be the reason his name has already surfaced in connection to the job (one which isn't open at the moment, it should be noted. Under Mike Miller, the Knicks have had the 16th ranked defense in the league, and are .1 points away from the 15th ranked Pels. New York has had a defense ranked in the top half of the league only twice since Jeff Van Gundy was coach. Just sayin'.)
No, Thibs is probably the leader in the clubhouse because of his history with both the team itself and said team's new leader.
He also isn't the only CAA client who made the news yesterday. According to Stef Bondy, Allan Houston is in line for a promotion from his current position as the special assistant to the general manager and GM of the Westchester Knicks.
Like Thibs, Houston isn't without his credentials. New York's G-League affiliate has arguably been the most successful arm of the organization for several years, and it was Houston who reportedly pushed for Miller to take over as coach after Fizdale's ouster.
But also like Thibs, whose name wasn't even discussed in connection to any of the five non-Minnesota coaching openings last summer, Houston's name has never once surfaced in connection to any NBA job opening outside of New York.
Does it mean anything about either of their qualifications for the jobs at hand? Not necessarily, but it also brings me back to the Sixers, Sam Hinke, and The Process. What are the Knicks going to be, aside from a safe landing spot for clients of Leon Rose's soon-to-be-former-home?
For going on 20 years, there hasn't been a good answer to that question. We always hear the same verbiage about getting back to the 90's era of grit and toughness. If Thibs is indeed hired, his opening presser will no doubt make all the talk of "dawgs" at this year's media day seem tame in comparison.
And maybe that's for the best. Maybe the Knicks' path will be to stock the roster with Thibs-type players - guys like Taj - and let the defensive ethos that Mike Miller has begun to ingrain further take hold. Maybe Houston, who played under Thibs and knows what a team built on defensive principles looks and feels like, can play an instrumental part. Hell, maybe Oak himself can jump back into the pool and hold the pads at a practice or two.
But when all is said and done, they have to pick a direction and commit. It might work or (like the triangle) it might not, but without a singular direction and focus, all the eight or 10 or 12-step plans in the world won't result in one inch of progress.
One last point: in Zach Lowe's excellent recent expose on Bam Adebayo, he tells a story about a pre-draft drill that the Heat put Adebayo through in front of Pat Riley. Apparently Bam got a little mouthy and offered some choice words in Pat's presence:
Juwan Howard, then a Miami assistant, locked eyes with Dan Craig, the coach running the drill. "Our eyes got wide," Howard says. "We said, 'This is a Heat guy.' To have the balls to say that in front of Pat Riley -- to say, 'You're not going to pick on me!' -- that's a Heat guy."

"I'm lucky they like guys with edge," Adebayo says.
It's been a long, long time since there was such a thing as a "Knicks guy," at least not as anything but a connotation used by the LOL Knicks crowd to describe someone overpaid and past their prime.
If we're all supposed to take Leon Rose seriously, that phrase needs to have meaning, and it has to be one independent of agency or history or name recognition. It needs to really mean something, and the proper amount of forethought needs to go into figuring out exactly what that meaning will be.
It's as simple as that. A one-step plan to fixing the Knicks.
What could be simpler?
---
Player Spotlight
On the above note, I'm going to use this section to highlight someone I've mentioned in passing several times over the last several months.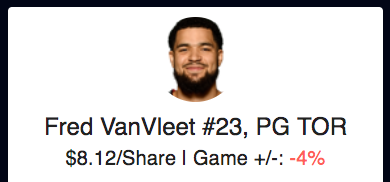 Fred VanVleet has zero connections to the Knicks or their past. He's repped not by CAA, but by the comparatively tiny You First Sports - home to Ignas Brazdeikis…and Kristaps Porzingis and Willy Hernangomez.
But what VanVleet is is a player who represents everything the Knicks haven't been for far too long. He's a tenacious defender that always plays with a chip on his shoulder, one that's not going anywhere thanks to his being undrafted out of Wichita State (hey, at least we got Cleanthony Early and Ron Baker).
He's also hitting nearly 40 percent from deep on seven attempts per game and dishing 6.8 dimes per night, the only player in the league besides Damian Lillard who can make those claims.
In short, he is everything the Knicks need, and he's going to be an unrestricted free agent. That he can play on or off ball is a nice bonus ahead of a draft stocked with point guards (not that the Knicks are above positional duplicity anywhere on the roster).
Fred's PredictionStrike stock price has nearly doubled from it's season-opening mark of $4.22, commensurate with him upping his scoring average by seven points per game from last season. Sadly, it's probably going to take more than double his annual salary of $9 million to pry him away from Toronto.
I'm planting my flag here and now. Do what it takes to get him, and take the first step towards giving the words "Knicks guy" some actual meaning.
(and of course, the normal reminder: if you want to invest in FVV or any other player, click here and use code KFS for $10 towards your first investment of $10 or more).
---
New Podcast!
SNY's Ian Begley joined me to talk Leon Rose, Thibs, and much more, and even brought along his friends SkyZoo and Bro to debate me on the merits of leading the Frank Ntilikina Hive. This one was fun.
That's it! See everyone tomorrow for a GAMEDAY (!) newsletter.