Bring Back the Amnesty Clause!
Jeremy Cohen dives deep on one way the Knicks may be able to benefit from the league's current situation
In the latest edition of his salary cap series, Jeremy Cohen explains why the Knicks should want to the NBA to bring back the amnesty clause.
The NBA is in shambles and life is a mess. Given the current state of the league and the concern of future revenue, teams who were already feeling a payroll crunch may start feeling the burn even more.
Fortunately, the Knicks have loads of cap space this off-season.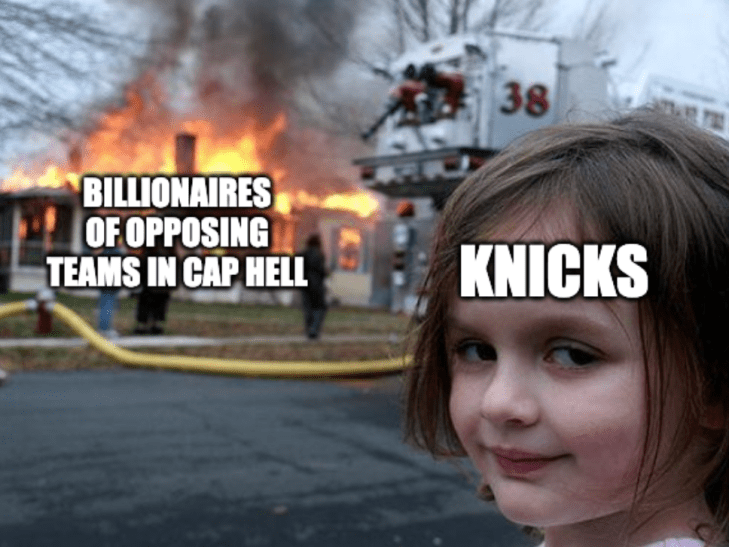 The NBA has the right to scrap the collective bargaining agreement in September, something the league may wish to do. Here's what Adam Silver said, per ESPN's Adrian Wojnarowski:
"This CBA was not built for an extended pandemic," Silver told the NBPA membership, according to audio obtained by ESPN. "There's not a mechanism in it that works to properly set the cap when you've got so much uncertainty; when our revenue could be $10 billion or it could be $6 billion. Or less."
It's safe to say that the NBA has encountered uncharted territory here. The NBA had originally projected a salary cap of $115,000,000 for next season. Then the Battle of Daryl Morey versus China triggered a PR and revenue nightmare, and now we have COVID-19. So yeah, not a great eight months for the NBA in regards to China.
I've explained it in layman's terms before that the salary cap is largely based on projected revenue, not revenue accumulated during the season. With that said, as Silver stated, if you can't make an accurate projection of what the revenue could be, you can't accurately set a salary cap.
Less projected revenue should lead to a lower salary cap, which means higher tax penalties for teams in the luxury tax. The Golden State Warriors knew they would be footing a massive bill in 2020-21 but the penalties would be even more expensive for them if the salary cap and tax brackets were lowered. It's fine if you have an owner willing to take that type of financial hit, but some are not comfortable with such a predicament.
A lower salary cap also means that teams who were looking to gain tax space will not have it or will have less of it. Those teams will likely have fewer resources to improve their teams.
One easy way to mitigate all of this is bringing back the amnesty clause. Nicknamed the "Allan Houston Rule," it was created after the Knicks were crippled by doling out Houston's contract. This new clause was incorporated into the 2005 CBA and teams in the luxury tax were relieved of one excessive salary.
Then, the 2011 CBA included the amnesty provision too. The key here was that, unlike with the previous CBA, teams didn't have to be mired in the luxury tax in order to use the amnesty provision. Any team could use the provision now! How did the Knicks use the amnesty provision? By picking up Chauncey Billups' option and then amnestying him instead of Amar'e Stoudemire. Not great!
You probably have questions about the amnesty clause, so without further ado, here is a conversation with myself to help answer any questions.
So what is the amnesty provision?
The amnesty provision is a way for teams to wipe money off their payrolls completely. Owners are still responsible for paying the amnestied player but the team instantly gains an increase in cap space or pays fewer (or no) luxury taxes.
Marc Stein did a Q&A about this topic back in 2005. There's also a very recent article that went more in depth than I will here.
So you're stealing this format from Stein?
Uh, mine will at least be more light-hearted? And specifically catered to the Knicks? In this decade?
Go on…
Thank you.
Is there a difference between the amnesty provision and the stretch provision?
Yes. The stretch provision is when you take a player's salary and stretch it over a certain number of years. The exact formula is money remaining / years remaining + 1. Joakim Noah's remaining $19,295,000 is paid evenly over this past season and the next two.
The amnesty provision is a magic pill, as far as fans and executives are concerned.
This sounds like a sweet deal. Couldn't the Knicks just save it for a rainy day?
So the Knicks wouldn't have to use it now, but if they wanted to use it, they would essentially need to use it on Randle.
The only contracts eligible to be amnestied are contracts that are already on the books. You cannot add a contract under the new CBA and amnesty that. Think of this as a Get-out-of-Jail-Free card that's only applicable for current inmates. Anyone who was on the roster during the 2019-20 season and is on the books moving forward is eligible to have the amnesty provision applied before their contract runs out.
Only one player is signed to an expensive contract after the 2020-21 season: Julius Randle. If you don't use it on Randle, you lose it.
Teams are not obligated to use the amnesty provision either. However, teams in cap hell might prefer to pay salaries off the books, as they would save quite a bit because they wouldn't be taxed so heavily.
Let's say the Hornets want to get rid of two contracts: Terry Rozier's and Nicolas Batum's. What if they traded Rozier and a pick for Randle and Dennis Smith Jr.? That way Charlotte gets Randle, dumps Rozier, and can use the amnesty on Batum? The Knicks could then apply the amnesty on Rozier and get an asset.
This scenario was actually floated by @brianxhopkins.
Back in the 2005 CBA, the cut-off date was June 21. The draft didn't take place until June 28. So if this were 2005, the Knicks couldn't have made a trade during the draft and amnestied that acquired player.
The 2011 CBA required that the amnestied player had to be signed before free agency began on July 1, 2011. So if the CBA didn't go into effect until July 1, couldn't Team A with two bad contracts trade one bad contract to Team B for a good contract, leading Team A to amnesty the other bad contract while Team B amnesties the contract it just received?
Theoretically, perhaps. Unfortunately, no such moves were made on draft night, so it's tough to know for certain. The closest we got to this actually has two Knicks connections.
The Cleveland Cavaliers traded Mo Williams and Jamario Moon for Baron Davis and the Clippers' 2011 first round pick. The Clippers won the draft lottery, which meant the Cavaliers won the draft lottery because the Clippers' pick was unprotected. Cleveland drafted Kyrie Irving and amnestied Davis almost six months later. So the Cavaliers set the foundation for LeBron James to come back by acquiring Baron Davis for 15 games and having Dan Gilbert pay $27 million. I feel like this masterpiece of a trade isn't brought up enough.
The Knicks connections? The first is Baron Davis signed with the Knicks and destroyed his knee in the playoffs, never appearing in the NBA again. The second and infinitely more important connection is that the Knicks' new Vice President of Basketball and Strategic Planning, Brock Aller, served as an advisor to Cavaliers owner Dan Gilbert during that time. Obviously Aller didn't pull off the Davis trade, but his experience in Cleveland and his reputation as an elite salary cap guru lead me to believe that if there is someone capable of finding a way around this, it would be Aller.
Little known fact: Teams are eligible to begin making trades the moment their season ends. If this were a normal year, the Knicks could have traded with another lottery team as soon as game 82 finished.
If the Knicks anticipate that the amnesty provision will be included in the next CBA, they could swing a trade well before the draft or the cutoff date, whichever comes earlier. They could try to see if Charlotte bites in the hopes of securing an asset. Perhaps the Hornets' front office just likes the idea of getting Rozier off the books no matter what. It's worth a shot.
Couldn't the Knicks keep Randle until 2021 and use the amnesty on his guaranteed salary ($4,000,000) then?
Yes. It would behoove the Knicks to amnesty Randle earlier and sign a player who better complements RJ Barrett and Mitchell Robinson's spacing concerns though. Does James Dolan want to pay Randle for his 2020-21 salary as well as the guaranteed portion of his 2021-22 salary, then pay another free agent, in the midst of a global pandemic, especially when his business ventures largely rely on entertainment? Probably not, but Dolan's never been afraid to spend. If Leon Rose sold Dolan on a vision that involved amnestying Randle and signing someone else, I find it hard to believe that Dolan would object.
I also feel like Randle could be traded for something positive next year.
Maybe! Have to imagine the front office would contact potential suitors in search of a match before applying the amnesty on Randle. I would still rather amnesty Randle and offer Davis Bertans, Serge Ibaka, or Danilo Gallinari a big, one-year contract instead of having Randle.
Who else could get amnestied?
From other teams? There are some likely candidates. No team is required to use the provision, they're just eligible. One player who I could see getting amnestied is… Chris Paul. No team will take on that type of contractual burden, especially if the salary cap comes crashing down. So if he has any hope of leaving OKC, and if the Thunder want to wipe his deal away, the answer is apparent.
So the Thunder apply the amnesty provision and Chris Paul signs with the Knicks? Just like that?
Not so fast. Once a team applies the amnesty provision on a player, teams with cap space are eligible to bid for that player. The belief is that it's a sealed bid auction, meaning each team submits a bid, and the team with the highest bid wins the player. Only teams with cap space are eligible to participate in the bidding process.
In fact, when Billups was amnestied by the Knicks, the Clippers had a successful bid of $2,000,032. The 2011-12 salary cap was $58,044,000 while the remaining $12,199,968 of his deal was paid for by James Dolan even though it wasn't on the Knicks' payroll. That means that the Clippers acquired Billups for 3.4% of the salary cap.
The Knicks will probably enter free agency with the most cap space in the league and very few teams will have cap space. Even teams that decide to use their amnesties now would not have the level of buying power like the Knicks would have.
If New York were to bid $10,000,000 for Paul's services and have the highest bid, that's the salary New York would pay, per year, for the duration of Paul's contract. The $10,000,000 would be on New York's payroll while Oklahoma City would pay the difference in salary out of the owner's pockets and not the Thunder's payroll.
The best thing for the Knicks in this case would be that Paul is amnestied ASAP?
Yes and no.
Yes, because the Knicks can build their roster without worrying about an unexpectedly high bid.
No, because as the off-season continues, teams' cap space can run out, meaning the Knicks can acquire a player like Paul for even less than they might. If you have $30,000,000 to spend and other teams have $20,000,000 to spend, you could conceivably bid $20,000,001 if you were that determined. Yet if the next highest team in cap space has $10,000,000, you know you don't have to bid more than $10,000,001.
I'm inclined to lean more towards yes, as there's more in your control if you do it that way.
What if another team is victorious and successfully bids the most?
Then another team was victorious and successfully bid the most. The Knicks don't need Chris Paul in his mid-thirties. New York must establish what Paul is worth over the next two seasons and not deviate from that number. And fortunately, because it's not a live auction, the risk of being outbid is lower. It exists; just lower than other situations.
Would you bid for Paul?
Hell yeah, dawg. The chance to acquire a recent All-NBA player for a fraction of his salary without giving up any assets? In a New York minute.
I'd go even further than Paul though. If I'm the Knicks, I bid on every good player who is amnestied. I become Ash Ketchum and amass as much talent as possible. Then I take those players and deal them when convenient for assets.
Oh, what's that? You need a point guard, Orlando? Well, despite acquiring Chris Paul, we took on John Wall's contract for almost nothing too. We're willing to trade him to you for a first round pick.
Philadelphia, you need shooting. Guess what? Tilman Fertitta's broke ass led to Eric Gordon getting amnestied. We've got him for pennies on the dollar. He's all yours for a first round pick.
Al Horford – who wants him? No one. Al Horford for a fraction of the cost – any takers? Oh yeah, we'll take him. We'll keep him or trade him for an asset, whichever benefits us more.
This isn't 2K, you know.
You're right. You can't just acquire an absurd amount of players who primarily play one position and trade at least one of them for a first round pick. That would never happen, let alone with the Knicks.
Yeah, and that didn't work out well for the Knicks.
It didn't? They walked away with that first round pick and the Pistons' second round pick, which will practically be another late first rounder. Meanwhile, the Knicks are going to have another top 10 pick, which is important for their rebuild.
Also, there's an enormous difference between collecting Chris Paul and John Wall versus Randle and Marcus Morris. You also don't need Paul or Wall's permission to acquire them.
Come on, how are multiple guards supposed to get significant playing time when they can't play with each other?
I mean, it sort of worked with Eric Bledsoe, Goran Dragic, and Isaiah Thomas together under former Knicks head coach Jeff Hornacek before Dragic requested a trade.
And look how that turned out – none of those players is still in Phoenix.
Okay, but Phoenix also received four first round picks for trading all three of those players. Imagine getting two, just from using your vast amount of cap space to take on former All-Stars on bloated contracts. The Knicks could use those picks to trade for a superstar, trade up in a draft, or add to their core.
Wall is also coming back from a torn Achilles, so he'll be on some sort of plan where he's eased back. He won't play back-to-backs and he will probably have a minutes restriction.
Paul, meanwhile, found injury luck for the first time in five seasons. We would not be able to count on him for more than 65-70 games.
I also believe that as president of the NBPA, Paul would wield some power with where he could go. That won't stop a team like the Hawks from bidding on him with the goal of flipping him but it could lead to pissing off the NBAPA.
And of the teams projected to have cap space this off-season, which would bid for Paul?
The Pistons, with or without Blake Griffin, aren't touching Paul.

The Heat were interested in Paul before the season but didn't have the means to trade for his contract, so they would like be interested in acquiring him.

Perhaps it's foolish to believe this, but if Chris Paul told Michael Jordan he had no interest in playing for the Hornets, I would imagine Jordan would respect that.

The Hawks could do what I described above and they would have a great mentor for Trae Young. That's a poorly balanced backcourt and I doubt Paul goes to Atlanta. Again though, not his choice.

(Ed's note: might Paul also still be pissed - as he apparently was at the time - that Atlanta passed on him in the draft to pick Marvin Williams?)
So the biggest concern here for New York is Miami. For all we know, Paul could tell Leon Rose that he would rather play in Miami as they're closer to contention than the Knicks are. And you know what? That would be fine, because Paul is a luxury, not a necessity.
What would the Knicks' payroll look like with all this going on?
The answer to this question depends solely on what next year's salary cap is.
One of the cap numbers that's been floated is $106,000,000. Here is what that would look like: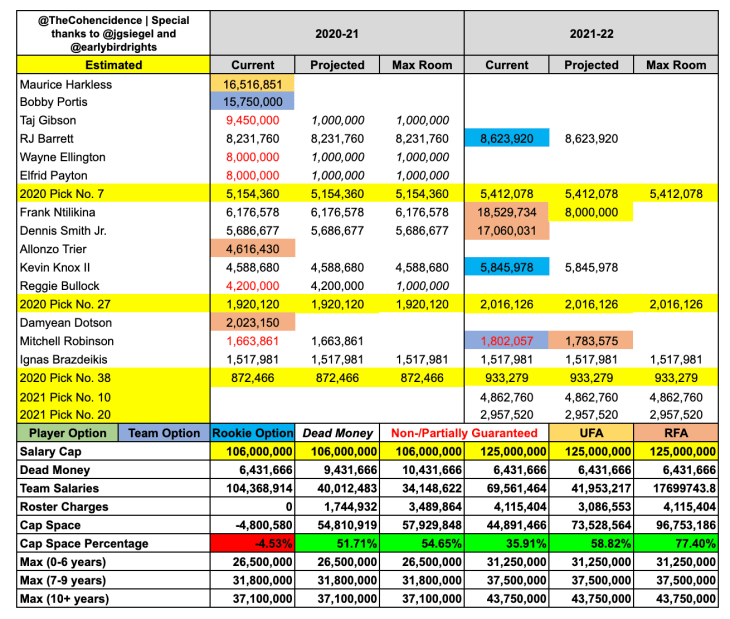 As you can see, the Knicks would have over half of their payroll free for cap space after amnestying Randle.
Another number for the next salary cap that I've seen is $95,000,000. Here is that scenario: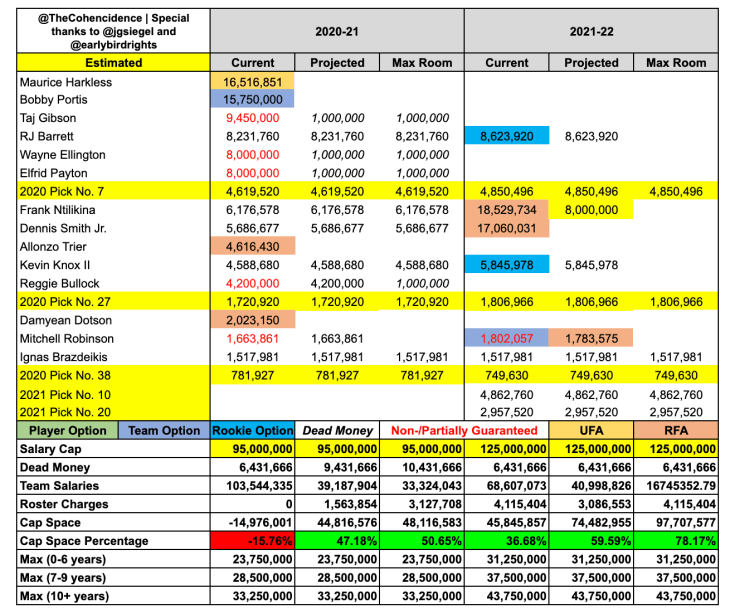 While the number is less than half like the example above, it's quite possible that the Knicks get there by non-guaranteeing Reggie Bullock's contract. The only reason to do that would be to get to over 50%, which is by no means necessary. In fact, doing so would be pretty arbitrary.
Now imagine what bidding (and winning) Paul for $10,000,000 would look like for the first payroll: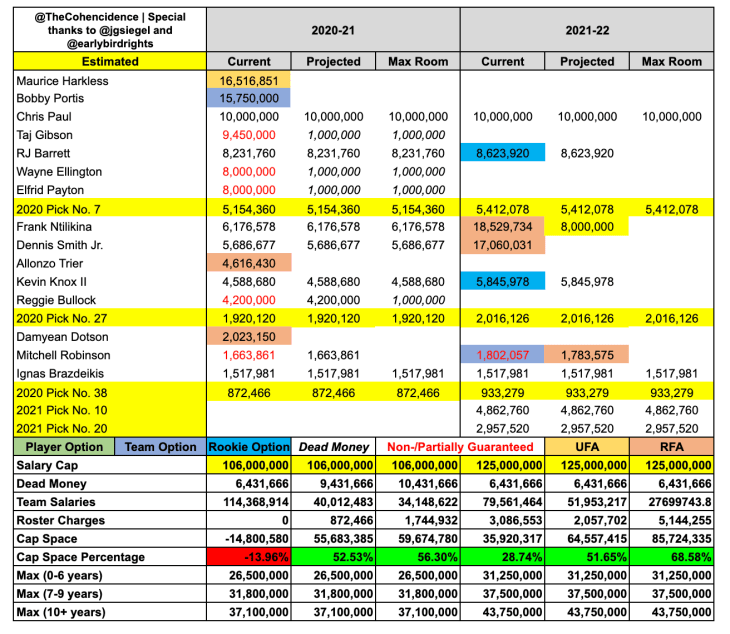 And for the second payroll:
As you can see, committing $10,000,000 for Paul would hardly leave a dent in New York's payroll. He would cost 9.4% and 10.5% of the $106,000,000 and the $95,000,000 payrolls, respectively. That is a bargain.
So what would you say are the key takeaways?
Reincorporating the amnesty clause would do wonders for several teams, especially the Knicks. It stimulates spending for teams while players still get their money. What's more, it can create more available money for teams to spend on other players.
Some teams might be against the amnesty clause as the rest of the league receives taxed money. Why are they letting teams getting out of their own bad mistakes, especially if it means the other teams don't get money during a tough financial time.
I can see at least 12 teams – Rockets, Sixers, Warriors, Thunder, Mavericks, Hornets, Pistons, Pacers, Blazers, Wizards, Heat, and Knicks – who would have potential interest in bringing back the amnesty.
Next, if this does go through, I would figure out where I get more value – from a free agent currently on the market or from a player being amnestied. I would then accumulate as many good players as possible, figure out who fits, and ship out who doesn't (and possibly the players who do too).
Also, contrary to what you may be thinking, I don't hate Julius Randle. I simply see an avenue to making an upgrade. If the only way to get his salary off the books is through the amnesty provision, and if he's the only eligible player according to CBA rules, then I see little reason to keep him. And as long as the Knicks don't pick up Bobby Portis' option and then amnesty him instead of Randle, they should be fine.
(Ed's note: that was mean.)
Every Knicks fan should be rooting for a lower salary cap, but getting an amnesty clause would be Christmas in whichever month the off-season takes place in this year. It would put the Knicks in a strength of position they have never been in before, even more so than last off-season. The Knicks could add better players for cheap without destroying their future cap space either.
Working to include a provision that benefits the majority of the league, and especially the Knicks, would be in the best interests of the NBA and the NBPA. It's time to bring back the amnesty provision.