Bye Bye Julius
Please.
There I was tossing around in my bed last night, unable to sleep, trying to think of a topic to write about for today's top ten, when I picked up my phone and saw Mark Berman's latest player review for the New York Post:
You don't say.
Reading about the distaste that RJ and other players had for Randle's unique brand of wizardry wasn't my favorite part of the article, though. No, that would be this gem:
"A lot of players felt like that with the exception of Elfrid Payton,'' one NBA source told The Post.
You don't say.
Not that any of this is news. Anyone with eyes could see Randle meshed like oil and water with every teammate aside from his Pelican pal. Whether it was missing RJ for a kickout or stealing a rebound from Moe Harkless, he was every bad basketball tendency all rolled into on.
I wondered just how rare of a year we witnessed from Randle, so I went to Basketball Reference and looked up every player this century who averaged at least 15 field goal attempts per game, an eFG% under 50, more than three turnovers and under 3.5 assists. Here's the list: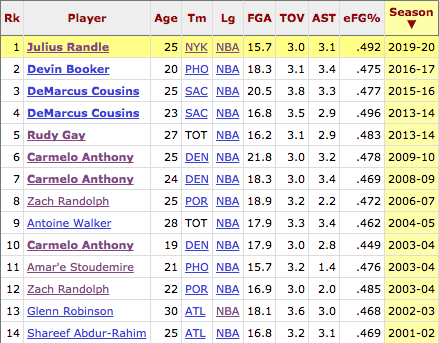 Melo appearing on this list more than anyone?
You. Don't. Say.
Aside from the high comedy of the Knicks seeking out these sorts of players like they think they have the magic potion to cure their evil ways, it's the latest unnecessary reminder to anyone who needs it that Julius Randle needs to go. As I wrote last week, Randle as a 3rd option or, even better, a super sixth man (as an Eastern Conference personnel man suggested in Berman's article) is never going to happen here.
Even if it were, his abysmal, often apathetic defense (along with Booker and Randolph, he's one of three players on the above list to average neither a steal nor a block per game) makes him a liability no matter what offensive role he has.
So let's make today useful. Here are, in the order of how likely I think they are to happen, the…
Top Six* (Realistic) Julius Randle Trades
*I tried to get to 10, I really did. Wasn't happening.
(A bit of good news before we get started: Randle makes $18.9 million dollars, which means he falls just in the middle tier of the NBA's salary matching rules, shown here courtesy of Larry Coon's helpful guide to the CBA:

This means they can complete a trade and take in as little as $12.9 million as long as Randle's salary doesn't put the other team into the tax - a concept which is obviously up in the air at the moment, what with the salary cap and tax line likely going down. That said, I'll guesstimate to the best of my abilities if required.)
6. Randle to Portland for Trevor Ariza and Rodney Hood
This assumes Rodney Hood opts into the last year of his contract at $6 million, which is a safe bet given he just tore his ACL in December.
Portland has a strong enough culture such that they'd probably be able to sell Randle on coming off the bench, and this might actually represent the best upgrade option for them that doesn't involve breaking up their star backcourt or trading Zach Collins.
Bring Trev home.
5. Randle to Minnesota for James Johnson
Also assumes an opt in, but like Hood, there's no chance Johnson turns down his $16 million option next season.
With Towns' shooting, Randle could actually start here and make it work. The Wolves would essentially be committing to trying to win every game 147-146, but at this point, what the hell.
4. Randle to Sacramento for Cory Joseph and Jabari Parker
The Kings make a lot more sense with Nemanja Bjelica at the four to provide spacing, but like the Knicks, when has Sacramento ever been above doing the flashy yet stupid thing.
Who knows…maybe Luke Walton (Randle's former coach in LA, which maybe is and maybe isn't a good thing) can convince Julius to come off the bench.
3. Randle to Chicago for Thad Young
Look, I want Lauri Markkanen as much as you do. I just think the Bulls asking price is going to be super high.
If Randle made sense for Chicago, maybe I could see it, but his fit with Wendell Carter Jr. (to say nothing of Zach LaVine, who is essentially the guard version of Randle) isn't great.
Then again, this is the same organization who thought Jabari Parker would work well as a partner for LaVine, so who knows.
If Markkanen could be had for one of the Mavs' picks, fine, but that's not going to get a conversation started, let alone a deal done. A Mavs' pick and Knox? You're getting closer.
At some point the price just becomes too high.
2. Randle and the Hornets' 2020 second rounder to Phoenix for Kelly Oubre
I'm sure the Suns would try and grab the Pistons' 2021 second rounder that New York acquired in the Morris trade, but hopefully the Knicks would hold firm.
There's a lot not to like about this trade. Oubre is not-so-secretly kind of like Randle in a lot of ways. He's inconsistent, doesn't think the game at a high level, and his defense is really overrated.
But "overrated" is preferable to "nonexistent," and Oubre's at least got a chance to continue to improve from deep (35 percent last season, a career high). Most importantly, he's not going to have carte blanche to monopolize the offense.
I don't know that Phoenix would do this, but Baynes is entering free agency and they have a hole at power forward. I could see the Suns talking themselves into Ayton and Randle working, and we know they already had notions of trading Oubre (who will be a $14.3 million expiring contract next season) at the deadline.
1. Randle, Dennis Smith Jr. and Reggie Bullock for Nicolas Batum and Malik Monk
Some machination of a trade with Charlotte remains the most likely option for moving Randle, as we know they at least had interest at the deadline. What would it look like? We need to consider a few things…
For starters, the other interesting piece of the Berman article was that Scott Perry is apparently a fan of Terry Rozier. We also know from Ian Begley's reporting yesterday that Leon Rose is still leaning on Perry for draft help, so it begs the question of whether he's still valuing Perry's input in other areas as well.
(By the way, on the latest pod, I spoke about why it's foolish to give Perry a pass and blame every bad idea - including the proposed Rozier trade - on Mills. Have a listen:
Even if Rose thinks better of acquiring Rozier, there's still a chance that Charlotte will want New York to pay a premium for taking on Randle and the $4 million he's guaranteed in 2021-22.
Here's hoping a Smith-for-Monk swap would be enough to get it done. The other option would be a straight up Randle for Cody Zeller swap, but that would be a harder sell for Knicks' brass, although a segment of the fan base (raises hand cheerfully!) would adore Rose for it.
For the Batum trade to work, it would need to be after the new league year begins, because Bullock's contract would need to be guaranteed for next season (unless the Knicks non-guaranteed several other salaries, like Gibson, Ellington or Payton, such that Batum and Monk's incoming salaries wouldn't put them over the cap, which is also a possibility).
If I was the Hornets, I'd fight like hell to get my own 2021 second round pick back in any deal, but hopefully New York doesn't bite. That figures to be a stocked draft an the Hornets will once again be bad (especially if they make this deal).
The other issue is that Randle plays the same position as promising forward P.J. Washington, but maybe Houston's super small ball experiment opened the door for other teams to try something a little different. The Hornets could conceivably think the two can start and play together for ~10 minutes a game.
IDK. Just find somewhere to send him at this point. After this Berman article, things are just going to be too messy on the court once basketball starts up again.
A clean break is best for all parties, even if the deal isn't anything to write home about.
That's it everyone. Have a great weekend, stay inside and stay safe!