Catch a Tiger
Isaac Okoro has already been mentioned as a possibility for the Knicks at eight. I broke down his game, and explain why he might be the most tantalizing prospect available to them in the draft.
News & Notes
Former Knicks coach Jeff Van Gundy is scheduled to interview with his other former team, the Rockets, for their head coaching position today.

Steve Kyler of Basketball Insiders has heard the Knicks are willing to take on a big contract "like a Westbrook or a Chris Paul." We can quibble about Paul, but taking on Westbrook's deal without getting a significant sweetener (which the Rockets really don't have) would be a disaster.

Knicks branding/media/marketing person Steve Stoute likes to play golf wearing clothing items of teams he doesn't work for:

Hopefully he got some good tampering in on the back nine.
"Sources Say…"
I checked around on Marc Berman's report from yesterday, and although I couldn't get anywhere regarding New York's desire to trade down only if LaMelo Ball or James Wiseman are off the board, I can say that New York does feel they can get a good player later in the first round, and the range of 15-22 was mentioned to me specifically.
Why would New York drop so low? A couple reasons:
Not to sound like a broken record, but I was again told that it's all about the 2021 draft. The Knicks front office seems to be making little effort to hide how much they're enamored with that class and how much they'd like to go into next year's draft with a stacked deck. Is it all a smoke screen? My guess is we'll find out on November 18.

If we're doing the math, I count 14 players who are either projected to go ahead of the eighth pick or have been linked to the Knicks in some form or fashion: Edwards, Ball, Wiseman, Deni, Obi, Okoro, Hayes, Vassell, Haliburton, Patrick Williams, RJ Hampton, Tyrese Maxey, Kira Lewis, and yes, Cole Anthony (who I'm not convinced is out of the picture yet).

With guys like Okongwu, Precious Achiuwa, Aaron Nesmith, Tyrell Terry, Saddiq Bey and Poku also on the board (and possibly on New York's radar and we just don't know it yet), it's easy to see the Knicks feeling comfortable dropping 10 or 12 or 14 spots depending on the asset they pick up in the process.
Listen Up!
I doubled the fun on the latest KFS Pod, first speaking to Auburn Men's Basketball assistant coach Wesley Flanigan about Isaac Okoro's game and possible fit with the Knicks. Then, my buddies Oz & Yash chime in on Jordan vs LeBron.
---
Catch a Tiger
The more film I watch on this year's draft prospects, the more I've come to appreciate how tempting it is to latch on to a particular skill or ability that pops above the rest.
I'm not sure if this is a bad thing - after all, if a player isn't elite at anything, he's probably not suited for the NBA - but I do feel like it can be dangerous, especially if it causes you to gloss over red flags that would otherwise be more concerning.
This is a particularly big problem in this year's class, when almost every prospect has at least one glaring issue that, if it doesn't get cleaned up, could prevent them from being a serviceable contributor, let alone a plus starter or eventual All-Star. As a result, you really have to be mindful of checking yourself and not falling too deeply for the thing that pops.
With Isaac Okoro, confronting that challenge is easier said than done:
I mean, good god.
I feel like I've watched enough tape at this point to comfortably say that among the players likely to be available at eight, none bring the noise like Okoro.
Devin Vassell is an defensive maestro off ball, which is like being in a relationship with someone whose best quality is the deep conversations you have together. Long lasting? Yes. Gets the blood flowing? Not so much.
Killian's step back comes close, but it's simply not as visceral as an Okoro grab-n-go. Ditto for Kira's speed and Obi's verticality.
And here's the thing about Isaac: this isn't just a transition thing either:
I personally won't go so far as to say Okoro is an elite finisher, simply because he doesn't have the same ability to explode to the rim in traffic as he does in transition, but then again there's like seven guys in the world who can, so this isn't really a knock.
At the very least, his finishing is a plus NBA skill from Day One, and he is arguably the best finisher in this draft class. Through 24 games this season, Okoro ranked in the 88th percentile in half-court shot attempts (non-post-ups) around the basket, a number that helped him get to the 84th percentile in overall scoring (h/t to Spencer Pearlman for those Synergy numbers in his excellent Okoro scouting report for the Stepien)
For comparison's sake, RJ Barrett - another big wing with questions about his shot - was in the 44th percentile on non-post-ups around the basket and the 60th percentile for scoring overall.
With moves like this from the freshman, it's not hard to see why:
It's easy to make the argument that aside from catch and shoot scenarios, Okoro's scoring profile is equal or superior to Barrett in every way.
His finishing is head and shoulders in a different class. He is a beast on the offensive glass. We saw wonderful progression from Barrett as a cutter this year in New York, but Okoro has already shown us this will be a huge part of his game. We saw what he can do in transition. He even has a slight edge in free throw shooting, and his attempt rate is an absurd .551.
Even the playmaking, which is perhaps the most exciting part of RJ's game long term, can be deemed a draw, although we saw much less of it from Okoro thanks to the role he played at Auburn. Still, given the snippets we witnessed, it's safe to say that Okoro will be a plus passer at the wing both in terms of reads and ability to deliver the rock: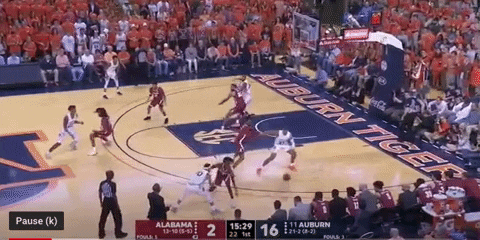 That smaller role is a big reason why Okoro doesn't provide the same neat and safe feeling as a draft pick that Barrett did a year ago.
Even with Zion and Cam, RJ played a massive role in Duke's offense, scoring 20 or more 26 times and attempting fewer than 13 field goals in a game only once. Compare that to Okoro, who crossed the 20-point threshold just one time and topped out at 13 field goal attempts twice.
This was both a gift and a curse. On one hand, we couldn't see what Okoro could do if given more responsibility, both as a ball handler and a scorer. On the other hand, as his assistant coach at Auburn noted when we spoke on Wednesday's podcast, he was placed in perhaps the perfect situation - surrounded by seniors who made his life a heck of a lot easier.
This makes me wonder though: how much more of Okoro's downside would we be focusing on if he was given more to do on a team that wasn't a well-oiled machine like the Tigers? Even aside from the shooting, there are reasons for concern here.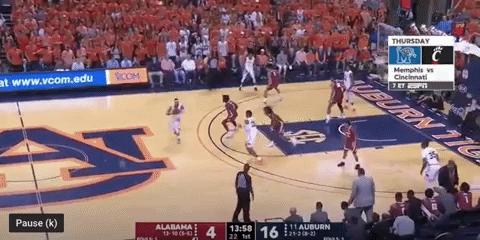 Sticking with the Barrett comp for a second, while Point RJ was clearly ahead of it's time, we saw enough to believe in a world where a Barrett-run Knicks offense will be sustainable, at least for stretches of games.
Okoro showed some beautiful flashes as a passer, but also had his fair share of blunders. The assist to turnover ratio was nearly dead even (Barrett's was over 1.3) and his usage rate was under 20 (RJ's was over 32). The only other college player projected to be drafted anywhere close to the first round with a similarly low share of his team's offensive possessions is Robert Woodard II.
If you're drafting Okoro in part because of his projected role as a significant offensive contributor, it's fair to ask: How much did the perfect support system prevent him from making plays like this more often?
To be clear, no one is questioning Okoro's feel for the game, and he's still months away from turning 20.
But when you factor in the shooting concerns - 28.6 percent from deep, although as Coach Flanigan pointed out to me, he never shot these until college - there's a question as to whether Okoro's ceiling on offense is less than some project it to be.
And that's really what the Knicks have to be thinking about here: the probability and height of the long term ceiling. If I was drafting Okoro, would I be concerned about the fact that he only had three games in which he made at least seven field goals? Or the fact that he went 8-for-37 against prime SEC competitors Kentucky, Florida and LSU this season? Yes. Yes I would.
I've also been burying the lead in this entire piece, because anyone drafting Okoro almost has to consider his evolution into even a borderline offensive fulcrum to be a happy bonus:
But even Okoro's rep as a defensive dynamo comes with caveats. Yes, he's a massively gifted one-on-one defender, but he leaves a bit to be desired off ball. In a league where the schemes are only getting more sophisticated, this has to be considered.
It's why, for everything I highlighted above, I've dropped Okoro slightly below Devin Vassell on my board, although I think it's close. In the end though, he's still someone I'd be thrilled if the Knicks ended up with.
My gut feeling is that the Knicks are going to be open to just about anything on draft night. If some team feels strongly enough about Okoro, or Vassell, or even a Killian Hayes should he drop, and is willing to pay a hefty sum to move up, New York won't hesitate.
But if they stand pat, I think there's enough evidence to believe that Okoro is right there as a real possibility, as he probably should be. The upside more than justifies it.
That's it for today…see everyone tomorrow! #BlackLivesMatter #VOTE