Choose Your Own Adventure
Spike...or actual Knicks stuff...or both. It's up to you.
Public Service Announcement:
Sometimes when James Dolan does a stupid thing and I write about it here, people get mad because this newsletter has become something of a safe haven for fans to come to and read about just basketball.
To you I say: I hear you loud and clear. I also believe that this Spike Lee nonsense does affect the Knicks ability to be a quality franchise, and thus, win basketball games, as I explain below. Thus, I find myself compelled to write about the matter.
So here's my compromise: if you want to read my thoughts on Spike, you'll find them directly below. If not - and I don't blame you one bit if you don't - just scroll down to the big bold "BASKETBALL!!!" further down the page for the type of content you'd usually find here. You get to choose your own adventure, as it were.
Hopefully everyone is ok with this. So in this newsletter you will find:

---
SpikeGate
In the movie Seven, the fifth of the seven victims is a model. She is found with a bottle of sleeping pills glued to one hand, a phone glued in the other, and bandages on her face.
When the bandages get removed (spoiler alert), we find out that John Doe had cut off her nose. She could either call for help and live disfigured for the rest of her life…or end it. Pride dictated her choice.
I thought of this yesterday as we confronted yet another instance of James Dolan being unable to swallow his own pride for the betterment of all, except in an ironic plot twist, instead of him dying or having to sever an appendage, the only thing that was wounded was the pride of the fans who root for his team.
This, of course, is nothing new. Knick fans have been living without our noses for 20 years now, except there are no pills to kill our love for this team because fandom is ingrained in our soul. We are incapable of anything else. It is the Knicks, or it is nothing.
Despite yesterday's Spike Lee fiasco, I still prefer the Knicks to nothing, and it is not particularly close. I think of how I noticed my wife was staring at me after the win on Monday night, and when I inquired why, she said with a tinge of jealousy that "it's just so nice to see you this happy." It's not her fault that this stupid team provides me with a level of joy that is unmatched by anything else in life, and I felt kind of bad. If I could change that, I probably would, if I'm being completely honest.
Likewise, just because the Knicks are owned by a poorly drawn caricature of a movie villain billionaire doesn't make me want RJ Barrett, Mitchell Robinson, and of course my boy Frankie to succeed any less.
But it does make me wonder: If the proper penalty for pride is death or disfigurement, doesn't it stand to reason that Dolan would get off damn easy here? After all, if he sold the team tomorrow, he'd become $5 billion richer and be lauded by most fans for doing the right thing.
But of course, that is not going to happen. This is no surprise.
Also not a surprise, but slightly less so, is that even with someone Dolan apparently respects and admires now running the team, it is business as usual at the Garden.
On this point, let me make one thing abundantly clear: This isn't about entrance policies. It's also not about Spike, who has become a bit of a fair-weather fan in recent years (and really, who could blame him), which is part of why he didn't know which damn entrance he could and could not use. He is no more the face of the Knicks than you or I.
No, this is all about the man who has truly become the face of the Knicks - the one who refuses to eat shit, and because he won't, we all have to.
James Dolan is paid indirectly by us to properly manage the asset that is the New York Knicks. Part of that should entail minimizing, at nearly all costs, the negative effects of events which could potentially make it harder to win basketball games.
(And if you don't think this incident makes turning the Knicks into a winning organization harder - whether it's by 5 percent, 50 percent, or somewhere in between - I'm sorry, but you're kidding yourself. For the thousandth time: players see this stuff, and they care. If the Knicks were good, would these missteps matter nearly as much? Almost certainly not, but good luck figuring out which is the chicken and which is the egg in this scenario.)
But to Dolan, it has never just been about the product on the court; it is about the experience. And in Dolan's mind, the experience is better for all if everyone follows the rules. That's why, even as someone who is white (and am aware that I inherently live life with blinders on because of that), I do not think this is about race, despite the fact that Charles Oakley and Spike Lee both happen to be men of color.
No, I'm quite certain that Dolan gets off on making sure that no one - black, white, green or purple - is able to walk into his building and think that they are above his rules.
That's the reason why he didn't go over to Spike at halftime and, instead of saying "now you know" in the dickish way we can all imagine so clearly, he'd profusely and genuinely apologize for the mixup, regardless of if he felt he was in the right or not.
Would that have required groveling to a similarly entitled rich person who himself made this situation so much worse than it had to be? Yes. Was it the right thing to do regardless? Absolutely. If he did that, the situation is over. There is no situation.
Or: reach out to Spike yesterday morning and make sure there were no hard feelings. Again, situation over, and you don't even need to look the person in the face.
Or finally, in what would have been the easiest PR layup of all time, respond to the First Take interview with a public apology to Spike over the incident, and announce that for every game for the rest of the season, you'll be donating two seats to a charity of his choosing in his name. Situation over.
Nope. Instead we got the "Gotcha!" pic of Spike and JD shaking hands, which of course proved nothing, other than:
a) Dolan truly doesn't get it, and
b) If there's an opportunity for Dolan to get a W, he's going to seize it, no matter who suffers in the process.
And yet here we are, with three winning seasons in the last 19 years.
Nothing like a good bit of irony!
None of the above, more preferable options happened, of course, because all of them would have required Dolan swallowing his pride and doing what was best for someone other than himself. That it would have taken so little by him to correct this and not have it become the story that it did is infuriating to no end.
And of course there is the deeper part of this: Why did the security officials treat this as Defcon 5 in the first place? Because it would be their ass if they didn't. That's how things work at the Garden. You do things Dolan's way, or you get fired.
Which, in a roundabout way, is another reason this absolutely relates to basketball. Do you really think Scott Perry was dumb enough to think that this summer's signings were going to create a winning team or further the long term development of his young players?
Perhaps. But it's more likely that those moves were made to appease his boss - "Julius Randle…20 & 10! Good! Very very good!" - and keep his job for another day. That's what happens when fear is the primary motivator of your employees.
It's not that fear shouldn't be a motivator, because it absolutely should. But if you push it too far, you have a staff of people incapable of making reasonable decisions, whether they be the general manager or the guard standing by the employee elevator.
This is the situation that Leon Rose inherits. He is smart enough to know that sustainable success isn't attainable if this type of bullshit continues. Does he have the courage to do anything about it? Is that even an option? Or does he, like so many before him, try to tip toe around the elephant in the room and do what he can on the periphery?
Whatever his choice, Rose is the millionaire I feel most badly for today.
But then again, if he didn't walk into this with open eyes, I guess he has no one to blame but himself.
After all, thinking you can get Jim Dolan to be anything other than himself has to be the most prideful error of them all.
---
BASKETBALL!
I needed something to put a smile on my face after the last 24 hours, so I thought I'd make a list.
Lists are fun. At least I think this one will be (although full disclosure: I did not think this through before I started writing, so there's a chance this makes me even more depressed. Fingers crossed…)
Anyway, the list…on the heels of RJ Barrett and Mitchell Robinson having maybe their best combined game of the season, I wondered: where they would rank on the list of the most talented young duos in the NBA?
Of course, such an exercise requires some level of arbitrariness - in this case, where is the cutoff to qualify as a "young" duo? 25 or under? Rookie contract?
I went with "25 or under" just because it seems to encompass all of the pairings you would expect to find on a list like this. And in terms of how I ordered these, I simply went with "if I could have any two guys, who would they be?" so we're talking current ability but also future dividends as well.
Final note: it has to be a true "duo." I could probably put Giannis and Young Bucks Player X first on here, but there's something disingenuous about that (ditto for Donovan Mitchell, if only because I refuse to write the words "Emmanuel" or "Mudiay" ever again in this space. Same goes for Shai Gilgeous-Alexander, who is more of a solo act than anything else.)
Without further ado, here are the top 20 25-and-Under duos in the NBA:
Luka Doncic and Kristaps Porzingis: Sorry, but…yeah.

Zion Williamson and Brandon Ingram: My faith in Luka over Zion as a primary engine on a championship roster pushes Dallas just above New Orleans, even though I'd take Ingram over KP any day of the week.

Jayson Tatum and Jaylen Brown: Probably disrespectful to put them third, but if Tatum's ceiling is "future perennial MVP candidate" (and it is), that still falls short of "this guy will probably win an MVP at some point," which is where I have the two alpha dogs above him.

Joel Embiid and Ben Simmons: They're the pairing I'd most want this season, and maybe next season as well, but their collective injury situation (do multiple minor concerns equal one major one?) and the question of whether they can ever make it work well enough on the court to win a ring is why they're so low. They do probably have the highest ceiling on this list. Joel also ages out in two weeks.

Nikola Jokic and Jamal Murray: Jokic is that good, and Murray is still just 23.

Ja Morant and Jaren Jackson Jr.: The hardest duo to place because they're so damn young. If a year from now they were in the running for the first spot, I wouldn't be shocked, nor would I be if you told me they fell to 10th (although the second scenario would be far more surprising).

Trae Young and John Collins: If these guys stay together (not a certainty; as Zach Lowe said on his pod a few weeks ago, Collins fancies himself a max player, and there's some question over whether Atlanta agrees), they'll eventually win a ton of regular season games. Surviving Trae Young's defense (and Collins' if he plays more at the five, which probably needs to happen against the best teams) in the latter playoff rounds is a different story.

Karl-Anthony Towns and D'Angelo Russell: Who are you putting them higher than? Honestly? Towns might be considered the greatest offensive center ever by the time all is said and done, and yet I can't in good conscious put them above any of the top seven pairings on this list.

Devin Booker and Deandre Ayton: It's easy to already be dismissive of Ayton, but the kid is a supreme talent and has improved on defense a lot this year (not hard after his showing last season). Count me as a Booker believer.

De'Aaron Fox and Marvin Bagley III: I can't believe I'm putting Fox this low, but let's just say I have my doubts about Bagley.

Pascal Siakam and OG Anunoby: Pascal probably has the ceiling of a top-ten player, so of all the placements on here, this is the one that probably has a chance to look the most foolish, especially since OG is only 22 and has dealt with injury issues.

Bam Adebayo and Tyler Herro: The first one that will probably anger a lot of Knick fans, but Bam is an absolute sure thing, and we know that what he is translates to winning basketball. My guess is that if every GM in the league could pick between Herro and Mitch, almost every one of them would pick Herro. This list is now officially getting depressing.

Domantas Sabonis and Myles Turner: The fact that they kind of play the same position doesn't help, but even so, we have a current All-Star and another guy who will probably make a few All-Defense teams in his career. I can't in good faith put the Knicks duo ahead of them.

RJ Barrett and Mitchell Robinson: This feels about right.

Jonathan Isaac and Markelle Fultz: the Aaron Gordon disrespect knows no bounds.

Caris LeVert and Jarrett Allen: As we saw last night, LeVert is really freaking good. Allen has big hair.

Lauri Markkanen and Coby White: you could probably argue that Wendell Carter Jr. should be above both of these guys, which makes their placement all the more confusing. I'm still on Lauri Island.

Devonte Graham and P.J. Washington: even if this is Graham's ceiling, it's a damn good one.

Collin Sexton and Darius Garland: I'm just not sure how these two guys are supposed to work together long term.

(tie) Dejounte Murray and Derrick White / Luke Kennard and Christian Wood: ditto the Indiana duo for the Spurs guys; I would love for Christian Wood to become a Knick this summer.
---
CONTEST REMINDER!!!
ICYMI yesterday, a very important reminder about a way for you to win some cold, hard investment cash!
Thanks to PredictionStrike, our official sponsor and the first and only fantasy sports site that allows you to buy and sell shares of players as you would in the stock market, the KFS Newsletter is giving savvy investors a chance to get $50 in funds to invest in some of your favorite NBA players.
Here's how it works: over the course of one month, whoever shows the largest gains on their portfolio of players will win $50 in investment cash towards your account. The winner will be the person whose portfolio increases by the most dollars, as opposed to the largest percentage gains. Go big or go home, as they say.
That's it. It's incredibly easy.
Starting on Monday, we'll have an entry window where you'll be able to share your existing portfolio with me, and then I'll periodically update the contest leaders in this space. We'll crown a winner after one month.
And if you're in the mood to make an investment ahead of tonight's Jazz game, you could do worse than this dude:

At under $5, down from his high point this season of $10.61, can you really go wrong?
---
Tank Talk
by Jeremy Cohen
One thing I've been mulling is if I want to include Knicks games in here. I recognize that there are fans who, thanks to different lottery odds, don't care about the tank nearly as much. In fact, those fans want the Knicks to continue winning.
So here's the deal: unless it's a crucial tank game, I'm not going to include the Knicks. For example, the Knicks are playing the Jazz at home. I won't make fans choose. Sure, I probably want to see the Knicks lose and the Jazz win (depending on how playing time is doled out, of course), as it helps the Knicks' odds and the Jazz winning could help them catch the Clippers. I recognize not everyone wants that outcome. So I'll leave off games like that.
Recapping Last Night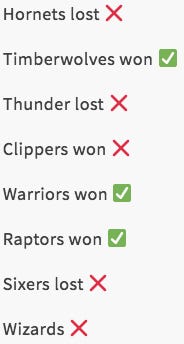 Very, very solid night for the tank. While the Clippers pick is decreasing in value, two teams "ahead" of the Knicks won. I give it a 7.5/10.
Tank Standings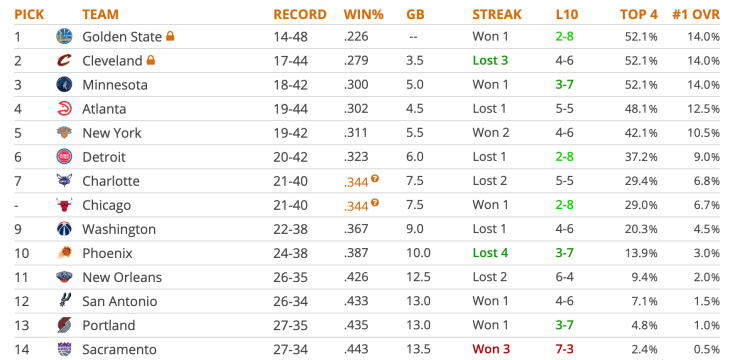 Sim of the Day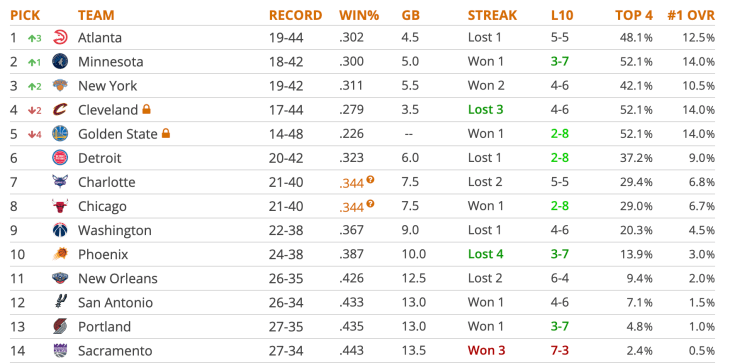 Average pick: 3.7
Average jump/fall: 1
Moving on up! That's twice in three days that the Knicks have avoided falling.
Games Tonight
Celtics vs. Cavaliers
The Cavs lost on Monday night and the Celtics blew a game to the Nets last night. Boston lost Jayson Tatum but gained Kemba Walker.
Who we want to win: Cavaliers
Regardless of New York's outcome, the best thing is for the teams worse (and better) than the Knicks to win.
Thunder vs. Pistons
The Thunder have lost bigly recently and the Pistons have made the last two games extremely competitive.
Who we want to win: Pistons
The song remains the same here, as the Pistons are marginally better than the Knicks. Need them to be better than that.
Bulls vs. Timberwolves
Finally, a fun one!
The Knicks are almost squarely in between the two teams. The Timberwolves are quite bad despite a good win last night and the Bulls are pretty mediocre, so this game should be a shitshow.
Who we want to win: Bulls
This is admittedly a tough one. On one hand, the Wolves are worse than the Knicks, and we should be rooting for them to win. On the other hand, the Bulls have the fourth-toughest remaining schedule this season (the Wolves have the 14th). Is it better to root for the team that probably loses more games between now and the end of the season? I think so. The good news is that this game should be a positive regardless of the outcome.
---
News & Notes
compiled by Michael Schatz (

@mschatz99

)
More on the Spike situation from Ian Begley an Ryan Morik from SNY.

Some thoughts on RJ, Zion and Ja.

Some thoughts on Frank by Howie Kussoy.
That's it. Hope to see everyone for an incident-free newsletter tomorrow.