Coming to Grips, Part 1
The Knicks have a talented young core. But in order to responsibly project what happens from here, it's time to be realistic about what we're dealing with.
With fantasy football drafts around the corner (because we're totally getting an NFL season this year), I'm going to borrow an old Matthew Berry gimmick from his 100 Facts columns on ESPN.com to start things off today.
If you've never partaken, it goes like this: I give you two statistical profiles for "Player 1" and "Player 2" and then you try to guess who each guy is.
(If you know the twist, please keep it to yourself)
Player 1
Player 1 is one of just four teenagers ever to average at least 14 points, five rebounds and 2.5 assists per game during his rookie year in the NBA. The other three are LeBron James, Carmelo Anthony and Luka Doncic.
Now for…
Player 2
Player 2 is one of just 10 rookies this century and one of just 23 in the last four decades to take at least a dozen field goal attempts per game and have a true shooting percentage (which takes into account two's, three's and free throws) under 48 percent. Of those, he is one of just three who was selected in the top three picks in the draft, the others being Adam Morrison and Emeka Okafor.
Now try to guess who each guy is.
Time's up!
Being the astute fan that you are, you surely know that Player 1 is RJ Barrett.
And because everyone has read that Matt Berry column at least once in their lives, you also know that Player 2 is…
RJ Barrett.
---
When RJ Barrett did this against a legitimate NBA contender a week before the NBA shut down…
…Knicks fans had seen everything they needed to see.
Highest draft pick since Ewing. "YO, I'm a Knick, what?" Perseverance and statistical production despite being on the most poorly constructed roster in the NBA. A steely yet pissed off demeanor after losses. Never overwhelmed by the bright lights. Trying to yam on everything in sight.
In short, the total package. Turn that KP frown (and uniform number) upside down, and we got the guy we've been waiting for.
And yet, despite everyone in New York seemingly being pleased with an as-advertised rookie season from the former Blue Devil, the national media spoke spoke of Barrett as more dookie than Dukie.
To say there is some divisiveness about RJ Barrett the player undersells what is actually going on here. There is what Knicks fans think of him - future All-Star, undeniable member of the core of the team going forward, and hopefully, a top-two or three member on a championship level team - versus what everyone else thinks of him.
And everyone else, well…they just don't think he's all that special.
Over the course of this two-part column, I'm going to try to get to the bottom of who's right and who's full of shit (and whether there's any way to know the answer after just one season), but the first step to doing so is to have an honest look at Barrett rookie season. That means looking at the "Player B" version of Barrett from above - the one who took a lot of shots and didn't make very many of them.
Here's the full list of players who joined him in the over 12.0 FGA/under 48.0 TS% club: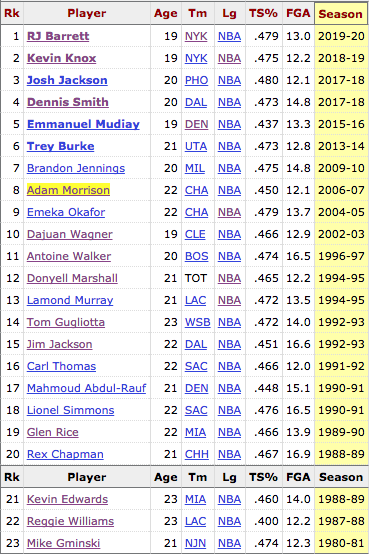 A couple things…
Leave it to the Knicks to employ six of the last seven guys to appear on this list, including five under the Mills / Perry regime. One more time, ladies and gentlemen, for Scott and Steve…

There are some damn good players in the above group.

Glen Rice, before he came to the Knicks (naturally), was actually quite a player, and more importantly, quite a shooter. He made two All-NBA teams, still ranks 30th on the all time list of 3-pt field goals, and is one of just 50 players ever to shoot at least 40 percent from deep for his career.

Rice made three All-Star teams, as did Antoine Walker. Googs also rocked the All-Star jersey, and even though Jim Jackson and Mahmoud Abdul-Rauf never got that honor, they were incredibly helpful players for many years. We also don't know what guys like Dajuan Wagner and Adam Morrison could have become, as their careers were derailed by injuries early on.

So that's all encouraging. However…

Rice and Walker are somewhat anomalous.

Rice entered the league just as the novelty of the deep ball was beginning to wear off. He went from shooting 24.6 percent on under one 3-pointer a game to 39.1 percent on 5.0 attempts in just two seasons.

Walker, on the other hand, was simply a freak of nature: someone who could bang down low with the best of 'em and - for that time period at least - pose a credible deep threat. He remains the only player ever to pull down at least 700 boards and hit over 200 threes in the same season, doing it twice. As such, he never needed to be an elite shooter to offer something really unique to the teams he played for.

It's also worth noting that over the last four decades, the league average eFG% has gone up from .489 to .528.

As long as we're doing caveats, it also needs to be mentioned that Barrett - unlike everyone else on the above list - had his rookie season cut short just as he was beginning to turn things around.

Over his last 10 games, RJ upped his eFG% to .483 and his TS% to .517. Compare that to the .433 and .467 over his first 44 games, and it's not hard to see which way he was trending. There's also the matter of his free throws - an inexplicable 44 percent over his first 10 games that became 66 percent - a 50 percent increase - over his last 44.

If we assume Barrett could have continued how he was trending and upped his true shooting percentage by just a single hundredth of a point, he'd have joined a bit better class. Here are all the players over the last 30 years who took at least 500 field goal attempts as rookies and finished with true shooting percentages between .480 and .490:

Even aside from James and Russ, whose otherworldly abilities were always going to find success in the league, it's a slightly more encouraging list.

Although Jason Richardson never made an All-Star team, he was 18, 5 & 3 on better than 50 eFG% for a decade. But he also had athleticism that allowed him to win two dunk contests - something which Barrett is sorely lacking.

Josh Howard was a one-time All-Star who was a part of some very good Dallas teams. He was also the same size as Barrett, never had elite athleticism and filled up the stat sheet.

Jamal Mashburn has long been a comp I've been hopeful for for RJ. Monster Mash, as older Knicks fans will remember, was positively a motherf——- to deal with in those Miami series, when he sacrificed his own scoring output for the benefit of the team. Before and after his Heat days though, Mash rolled out of bed and got 20 a game.

But he also took a whopping 1382 field goal attempts as a rookie - fifth highest in the last three decades - so it might be a little unfair to compare his efficiency struggles with Barrett's given the vast discrepancy in volume.

The two highest FGA totals over those 30 years, of course, belong to two of the guys that joined RJ in the Player 1 group I started the column with: LeBron and Melo. Here are their full averages, along with Luka, the other teen idol:

As you can see, it's kind of tough to mention Barrett in the same breath as the other three.
Not that there's any shame in that. Doncic may very well go into next season as the MVP frontrunner, LeBron is a top-two player ever, and Melo is Melo.
But that still leaves us uncertain as to how the hell to profile Barrett as an NBA player, and whether there's any legitimate argument for projecting anything other than a perfectly fine NBA career that never results in an All-Star birth, but in which he can still be an important starter on a good team.
Right now, the most popular opinion about Barrett is this: if he gets his shot together, he'll be fine.
And to a certain extent, that might be true. After all, in the league today, if you're good enough from deep for defenses to pay attention to you and you can also put the ball on the floor and make (and execute) good decisions after you do, those skills alone make you a productive player to have, assuming you're not a complete liability at the other end of the court
In his defense…
Before we get to the shooting, we have to handle the other elephant in the room (there are a few): Barrett's defense.
The advanced stats say he was an utter train wreck on that end of the floor, as the Knicks gave up 7.5 more points per 100 possessions when he was on the court than when he wasn't. Considering how bad they were overall defensively, it's not hard to see why that differential ranked him in the 6th percentile league-wide according to Cleaning the Glass. In other words, the Knicks had a borderline top-five defense when Barrett sat, yet were worse than the 28th ranked Hawks when he played.
Let's take a quick look at some reasons why.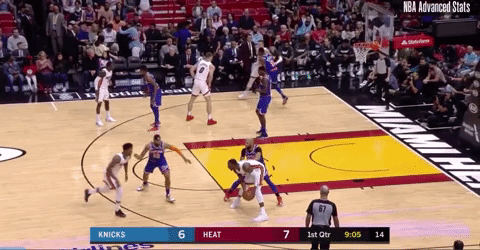 This play came against the movement-heavy offense of the Heat, which for a rookie is like being a 12-year-old boy alone with a girl for the first time. You're all nervous excitement at first, and pretty soon you need to change your underwear.
Part of the problem is that RJ was playing out of position the entire year, tasked with chasing around nominal shooting guards - something which simply doesn't lend itself to his physical attributes.
The next time the two teams played, RJ was much better, having maybe his best offensive game of the season, but he was also had by Miami's offense a few more times:
I see no reason why RJ shouldn't spend his time split between covering the league's bigger 3's and its smaller 4's. Even if he increases his agility around screens and his overall lateral quickness - both musts - putting him on a point guard or elite movement shooter (almost every team has one in their starting lineup now) seems unnecessary.
If Barrett at power forward seems like a bit of a stretch, here's a list of the players who are either starting at the four for their teams right now or figure to start their at the beginning of next season: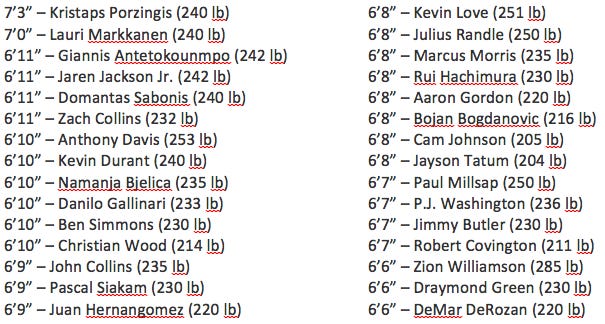 RJ is 6'7" and around 215 pounds. That means he's within two inches of more than half the NBA's starting 4's and within 15 pounds of another 13. Having him guard these guys isn't that much of a stretch, especially after the success we've seen teams like Houston and San Antonio - who has been starting DeMar DeRozan at power forward - have in the bubble.
We'll talk more about RJ's ideal position tomorrow, but just to finish up the defense discussion, one other thing Barrett need to do is simply up his awareness - something that he struggled with at times, as most rookies do.
It took a split second too long for Barrett to realize that he needed to get back out to his man once Butler secured the offensive rebound, but it was likely the difference between a wide-open Herro look and a decent contest.
For now, let's assume that Barrett will grow to be at least a league average defender. Fingers crossed.
Deep Impact
Anyway, 3-point shooting. Here are the list of rookies over the last 20 years who played at least 500 minutes, made at least between 1.0 and 1.5 threes per game, and shot it roughly in the neighborhood of Barrett's 32 percent: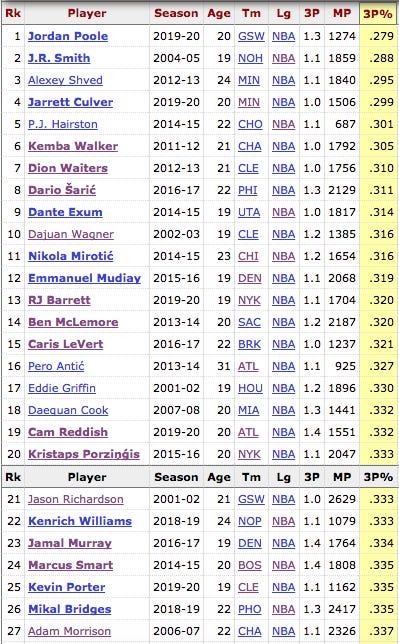 ALEXEY, WE SEE YOU BABAY!!!
Aside from Mr. Shved, there are some good signs here.
For one, there's our old friend J.R., who, if someone (perhaps Mr. Rose himself) could give him a job next season, is probably going to retire in the top 10 on the NBA's all time list for most made 3-pointers. Like Barrett, Smith was a teenage rookie who struggled shooting it from everywhere, including the free throw line.
(There's also the question of how seriously Mr. Smith took his craft when he first entered the league, but we'll just gloss over that for now :)
There are other encouraging signs as well. Kemba Walker, whose work ethic you could easily see RJ taking after, is now a 36.1 percent 3-point shooter for his career, including 37.8 percent over his last five seasons.
Caris LaVert - maybe my favorite comp for RJ, and someone who everyone should be pleased if Barrett tracks his growth over the next few years - shot 36.7 percent from deep last season on nearly five attempts per game. He's also had his struggles from the line. LaVert is someone who I'd bet on making some All-Star teams in the next couple years, so if this is where Barrett ends up as a player - third best player on a really good team, but who his employers are probably looking to see if they can upgrade - it wouldn't be the worst thing in the world.
There are a few more. The aforementioned Richardson retired as a 37 percent shooter from deep. Saric is at 37.2 percent since his rookie year, Murray is at 36.6 percent, Bridges has been coming on, McLemore has been killing it in Houston, and even Smart has been close to league average for the last two seasons.
Some of the lesser lights here also faced issues, whether it be injury (Wagner, Exum, Morrison) or the teams that drafted them giving up on them (Waiters, Mudiay). One hopes neither will be an issue for Barrett.
Even with all these caveats, the fact remains: Barrett has a long way to go before he's productive in the one area you kind of need to be productive in to be a useful NBA player. It's why, when I see Knick fans making comparisons with guys who simply came into the league as far, far better shooters, I have a tough time taking them seriously.
At least right now. If he gets to a level of respectability from deep, he'll be on his way.
One last thing: going back and watching most of RJ's 2-point attempts last season, one thing I couldn't help but notice was a dearth of easy buckets. This got somewhat better when Elfrid Payton (and to a lesser extend Frank Ntilikina) was in the game, as you can see from the Barrett's overall FG% and specifically his 2FG% on looks from those two players below:

RJ is really good moving without the ball, and yet the Knicks - either by design or simply due to a lack of competent personnel - really didn't do much in terms of off-ball stuff.
This leads us to maybe the most encouraging sign of all: among players 21 and younger last season who played at least 1000 minutes, only Luka Doncic was in a higher percentile for his position in terms of unassisted field goals.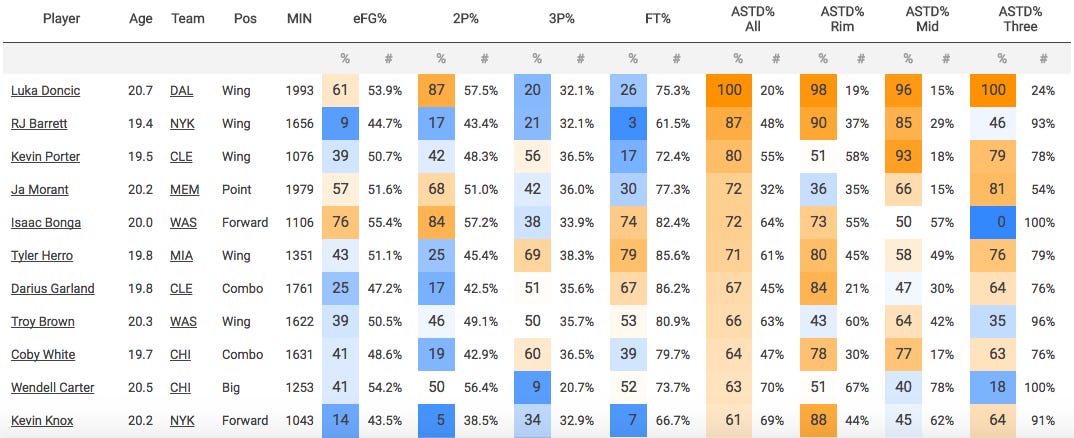 (also, we see YOU Kevin Knox!!!!)
But easy looks are a one part of the game. 3-point shooting matters a lot more, but the Knicks didn't draft Barrett primarily as a floor-spacer either. They picked a guy who could (hopefully) efficiently generate offense for himself and others. Whether he gets to that level or not will depend on one part of his game that hasn't gotten a ton of attention, but which likely holds the key to his growth as a player, and may very well be the key to the Knicks' ceiling going forward.
And we'll dive into that, with ample film, tomorrow.
That's it…hope you enjoyed! See you tomorrow for Part 2. #BlackLivesMatter