Cut Me, Mick
The Knicks were both one of the best and worst cutting teams in the league last year. I dive into how that could be, as well as why they're well positioned to exploit the lost art moving forward.
News & Notes
A busy news day around the association…
Head Coach Billy Donovan amicably parted ways with the Oklahoma City Thunder, reportedly in part because the team may be headed towards a rebuild for financial reasons, which of course has everyone speculating on the possibility of a Chris Paul trade. There are already rumors of the Bucks being interested, and Royce Young noted recently that Milwaukee, Philly and New York stand as the most likely destinations.

One Thunder beat writer has already speculated that OKC won't attach picks to get off Paul's contract, and nor should they, not with teams like the Bucks and Sixers possibly looking at him as the final piece of a championship puzzle.

From a Knicks perspective, the conversation for me has always remained rather simple, revolving around three questions: How plentiful and fruitful will other salary dump opportunities be this offseason, what is the Thunder's asking price for Paul, and in a distant third, will Oklahoma City take on Randle in any trade? If the answers are "not as many as you think, a future second rounder, and yes," it's a very different situation from "a shitload, the 8th pick and a young player, and no."

In all likelihood the answer lies in the vast sea of gray between those two poles, but if the Bucks and Sixers are really interested, I imagine it's closer to the latter than the former. Stay away.

The aforementioned Bucks, meanwhile, are heading home, losing to the Miami Heat after Giannis missed the game with the ankle injury he suffered Sunday night. There are already betting odds on the next team Antetokounmpo will play for, and of course the Knicks are listed in a tie for third at +500. My advice: seek out a good IRA.

The Lakers also won last night, using their defense (with either AD at center or no center at all) to pull away in the second half.

The Draft and the start of free agency have officially been delayed, with Kevin O'Connor noting that multiple team executives expect it to take place in mid-November. Looks like Spencer Pearlman won't be free of me just yet after all.
The Athletic reported that the Kings have requested permission to speak with five candidates for their open general manager spot, and Scott Perry was not among those listed.
"Sources Say…"
Following up on my report from last week that Victor Oladipo wants out of Indiana, another league source with knowledge of the situation confirmed that Oladipo and the Pacers indeed appear to be on the road to parting ways. His preferred destination? The Miami Heat, which should surprise precisely no one.
Tweet of the Night
Please consider this cool thing Spencer's HS history teacher is doing:
Ask Macri
A few people asked me some variation of this in light of the fact that guys like Andre Drummond, Hassan Whiteside, Damian Lillard and Luka Doncic received votes for All-Defense.
Here's the thing: just because a few dumbasses put players on their ballots that have no business being there doesn't mean anything other than those people should have their votes taken away.
Were Mitch and Frank better defensively than some players who received votes? Yes. Would they have maybe received a vote or two if national media people weren't so busy making fun of the Knicks to actually watch a game? Yes. Did either of them actually deserve to receive votes? No.
Of the two, Mitch was probably more deserving, because for as much as Ntilikina was New York's best team defender and had a few great moments on-ball (on Doncic late in the home game versus Dallas and the Westbrook contest to end the Houston win being the most memorable), he also hasn't yet raised his game to shutdown levels.
As for Robinson, his on/off defensive metrics were easily the best of any Knick regular (Frank was second) and as I cited yesterday, the difference in how New York defended the rim when he played was the best of any big to see over 1000 minutes. Still, even with Robinson in, New York only had a slightly better than a league average defense. His 4.9 fouls per 36 minutes was also an improvement, but many were bad, and worse, took him out of games early, especially in the beginning of the season.
Even money, I'm still betting he makes one of these teams next season.
---
Cut Me, Mick
Over the weekend I came across an article by Bleacher Report's phenomenal Mo Dakhil about the dying art of cutting.
In short, he explained why smart, well-timed cuts are not only one of the easiest and most efficient ways to generate offense, but a simple way to prevent stagnation. He used the Miami offense - which cut more frequently than any team in the league this season - as an example of all the good stuff that can come out of the longtime offensive staple.
As for why teams don't do it as much, the best explanation he could get from folks he interviewed around the league is that cutting not only gets in the way of a penetrating guard or wing, but takes away one of said guard's kick-out options around the arc.
The Knicks, of course, had fewer floor-spacers than any team in the league this year, and their best penetrating guard (Elf) didn't quite rise to the level of the NBA's best offensive engines. Given these realities, one would expect to find them near the top of the rankings for teams that cut the most.
Naturally, they were fifth from the bottom, as cuts accounted for only 5.5 percent of their play portfolio. This was despite the fact that New York scored 1.33 points per possession on cuts - a number that ranked sixth best in the league.
Before anyone gets too mad at the coaching staff, it's worth noting here that the Knicks also had the second highest turnover rate on cuts at an absurd 8.7 percent, a number that trailed only the anomalous Rockets (who employ the second and third leading turnover magnates in the league) and was almost a full percentage point worse than the third ranked team.
It's easy to blame all of this on the point guards, but Elfrid Payton is regularly among the league leaders in assist to turnover ratio (he ranked fifth out of 245 players to average at least 20 minutes per game this year), and Frank Ntilikina's 2.42 AST/TO is more than acceptable. They're also among the more willing passers you'll find manning the point.
So what gives? Let's go to the tape to find out.
Here's an early play from the final game the Knicks played this season, which I went back and rewatched for the purposes of this piece. The Hawks were a dreadful defensive unit this year, and I wanted to get a sense of how willing and/or able the Knicks were of taking advantage of opportunities for cuts against a willing opponent. The answer? Not very.
This first play highlights something that we saw all season long, and was certainly prevalent in this game: RJ Barrett cutting…and no one finding him.
It's impossible to know exactly what Barrett is thinking here, but if I had to guess, it would go something like this:
"Hmm…the 160 lb waif that's guarding me is ball-watching and my point guard is driving directly into the help defender, who is already in the paint. Elf might not have the passing angle because of Collins, but if I time this just right…"
And by that point Payton has already put up a contested layup. Oh well.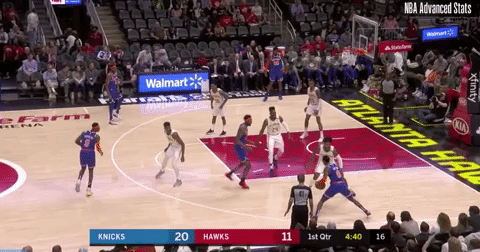 Here's another one from later in the quarter.
Again, we see RJ's man - fellow rookie De'Andre Hunter - getting caught ball watching and Barrett attempting to move in for the kill. Like the last play, this wouldn't be an easy pass for Payton to make, and the Knicks lack of shooting on the court certainly doesn't help matters.
But good point guards make their money on passes like this, and while Payton is one of the best in the league at finding and delivering the easy pass, supreme vision and touch are not really a part of his game.
I know, I know…at this point it seems like I'm picking on Payton (who, to his credit, made this tough midrange fallaway jumper while ignoring RJ's cut).
And it's probably not fair. The Knicks, after all, scored seven more points per 100 possessions when Payton played then when he sat, which was the best differential of anyone who finished the season in New York (Mook's differential was 7.7). He also finished 11th in the NBA in assists per game, and his 7.2 average was more than twice as high as the next closest Knick.
But if you're going to be a non-shooting point guard, you better make sure that the ball hits all the right spots whenever you're on the court. When Payton played however, New York had both a lower assist percentage (54.9 to 55.4) and assist ratio (15.3 to 16.9), the latter of which measures the percentage of possessions that end in an assist. That may not seem like a large discrepancy, but 16.9 would have ranked 20th in the league, while 15.3 would have been second to last, sandwiched between the ISO-heavy Rockets and Blazers.
(As a point of comparison, when Ricky Rubio and Ben Simmons - two other lead ball handlers who defenses don't fear as pull up threats - were on the court for their teams this season, Phoenix and Philly has 20.0 and 19.0 assist ratios, respectively. When they were off, those numbers dropped to 17.7 and 17.6.)
Given all of the above, and with an individual effective field goal percentage of 45.5 (a few percentage points worse than Frank, FWIW), it's hard to justify keeping Payton as the starter. Thankfully, it seems New York's brass realizes this and will be in the market for a new point guard.
But this cutting issue also doesn't only fall on Payton. Off-ball movement is a team-wide ethos, and that means filling the roster with people who are not only able, but willing.
We see a tale of two forwards here.
First, there's Randle, who is a very talented passer for a big man…when he wants to be. At the outset of the play, when Randle starts his spin into oblivion, Moe Harkless starts to cut toward the hoop, but Julius loses the ball before he can take advantage.
After he gets it back, he gets it to Harkless, who has a choice: put up a tough contested shot, or be patient and see what develops. He chooses option B, and Gibson makes a perfect cut to benefit from the busted play.
Moe and Taj are both heady players who routinely eschew personal gain for team benefits. On the flip side, players like Bobby Portis and Marcus Morris, and to a lesser extend Randle, aren't built the same way. Every team needs one, maybe two of those pure bucket getters, but usually as someone for second units to rely on (think Jordan Clarkson or Lou Williams), and certainly not the majority of your starting lineup.
The good news is that New York isn't starting completely from scratch. In rejiggering the roster to accomodate not only more cuts but other examples of this mysterious "ball movement" fad that seems to be taking the league by storm, they do have a few pieces in place - not in the form of QBs to guide a cut-heavy offense, but some decent receivers to make up for it.
As we know, the bond between Payton and Randle was stronger than most mother/son relationships. It's on display nicely here.
Even if Elf moves on next season though, assuming no one grants the Knicks' wish and takes Randle off their hands, he's always looking to be the beneficiary of easy looks, and is especially good at using his brick s—-house frame in semi-transition before a defense has a chance to get set (this is yet another reason Thibs should look to run more next season).
The Knicks best cutter though, by far, is the young man who I opened this newsletter with, and boy, does his presence open up a world of possibilities:
This is a designed play to open the game, and it's a smart one.
Like I said, Julius Randle is a good passer for someone his size. Should New York have been running the offense through him like he was somewhere between a Blake Griffin and LeBron James level playmaker? No. No they most certainly should not.
But passes like this? Completely in his wheelhouse. It's a little behind RJ, but it's close enough that it doesn't impede his momentum. Nice job by Mike Miller for calling it.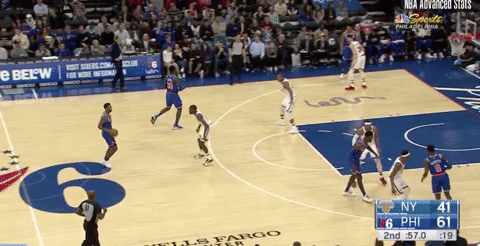 Here's another designed cut from later in the same game.
Credit to Payton for putting this pass on the money, but this is also a really smart play design, using 3-point threat Bobby Portis as the screener out by the arc, meaning Tobias Harris needs to keep an eye on him as RJ gets into his movement.
The other thing to keep in mind here is how New York benefits from early offense. Payton has just come across half court and the defense isn't yet set. With the paucity of offensive talent New York is once again likely to possess next season, easy buckets early in the clock will be a must.
Last one:
This is a busted play, leaving Frank dribbling into a wall of Jazz players without an obvious outlet.
Thankfully, RJ comes to the rescue. Barrett is really good at seeing the floor and the optimal places to insert himself. He doesn't score on the cut itself, but RJ simply getting the ball this close to the basket with a little room to operate is always a welcome sight. In general, with his body type, anytime the Knicks are able to get him the ball even remotely near the hoop with an angle to work with, they should.
Barrett's development as a cutter was a welcome surprise this year because he didn't do it much at all last year at Duke. The nice thing is that as the Knicks get more talented shot-creators through the door (fingers crossed) they don't have to worry about RJ's benefit being completely tied to his outside shooting (although this is obviously very important).
Coupled with his anticipated growth as a passer, Barrett's presence alone is a good enough reason to invest further in more players who are adept at both moving without the ball and finding others who do so as well.
Another thing to add to Leon Rose's seemingly never-ending ToDo list.
That's it for today! See everyone tomorrow with part one of a special two-part free agency special. #BlackLivesMatter