Doing It the Hard Way
Plus, last call on our PredictionStrike investment contest!
In this (jam-packed) Newsletter…

---
Do you play golf?
I used to. Was pretty good to. Once I even shot an 82 as a teenager (and would have broken 80 if I didn't choke and double bogey the last two holes. There's a reason I write about sports instead of playing them).
Anyway, in golf, there's an expression when a poor player makes a birdie, usually as the result of a long put: "That'll keep you coming back."
For la cucaracha (my new nickname for Knick fans, because we will still be here, rooting for our team, even after the nuclear apocalypse/Dolan bans us all from coming to games), nights like yesterday serve as the birdies of the NBA season.
I'm not just talking about on the court either. Yesterday in the locker room, it became clear as day to me that the young players on this team genuinely get along and pull for one another. Best of all, they may have found themselves a leader.
It's tough to convey in words the effect Mitchell Robinson has on the locker room, but his playful energy is contagious. One minute, he's trying to get #BlockBros trending on Twitter (in reference to his locker room neighbor, Kevin Knox, and himself), the next he's busting Ian Begley's chops about not remembering his prior reverse alley-oop dunks this season. The self-referential terms "When you can fly" and "When you got a guy who can just jump out' the gym" both came out of his mouth after the game. He is a human breath of fresh air.
There was also a lot to love on the court as well, starting with the lob from 6th Avenue heard 'round the word…
…and followed by a reminder that "Kevin Knox is just 20!" is the new "Kevin Knox is only 19!"…
…and concluded with the hardest I needed to bite my tongue in the press box all night long:
(the other beat reporters probably think I'm a crazy person at this point. In lieu of cheering, I usually let out a small, Chihuahua-like yelp when something great happens. It's a choice.)
As I've written time and time again this season, there is good stuff happening on this team for anyone who cares to see it. Mitchell Robinson is a star in the making, maybe not in the sense that he can drive an offense, but in just about every other way. As Elfrid Payton said after the game, "Nothing he does surprises me anymore." It shouldn't surprise us either.
RJ is progressing about as you'd have expected. He's hit 40 percent of his threes on nearly four attempts per night over his last seven games and is up to 32 percent for the season. That, along with being third among rookies in made free throws, is enough to give you hope moving forward. Frank keeps throwing us bones (or at least, pieces of bones), while Kevin Knox has six blocks in his last four games - a minor miracle for a player who had 24 in all of last season.
They are small signs, but they are signs nonetheless, made all the more frustrating by the nagging premonition that there's so much more lurking just below the surface, and that an organization who truly went all-in on development instead of simply paying lip service to the idea would have been able to unearth it.
"The Knicks draft crappy players" vs "The Knicks can't develop properly" is a chicken or the egg conversation that has no resolution, but this weekend provided more than a few pieces of evidence for the latter.
Let's take one early possession from Friday night, for example (and h/t to @GeoffRas22 for passing this along):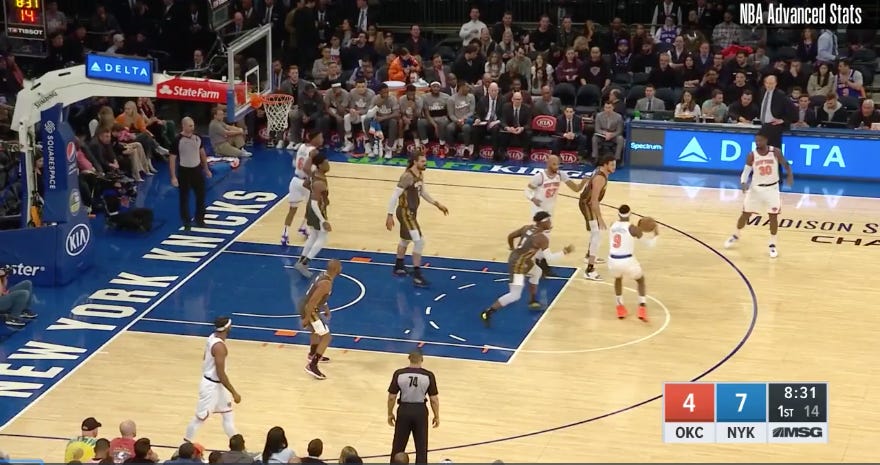 This is a snapshot of RJ Barrett trying to initiate the offense, and is a great example of what Zach Lowe said in his 10 Things column on Friday:
It remains astonishing that in the year of our basketball gods 2019, the Knicks drafted a ballhandling bulldozer with a shaky jumper -- RJ Barrett -- and introduced him to the NBA by surrounding him with: Julius Randle at power forward; paint-bound centers; and point guards who can't shoot.

Every defender is in the paint. There are no driving gaps. Mitchell Robinson rolls into brick walls.
When critics talk about RJ's struggles from the field, and point specifically to his low conversion rate around the rim (53 percent, which is the 22nd percentile league-wide according to Cleaning the Glass), they're ignoring just how many of these looks have come as a result of Barrett forcing the issue in less than ideal situations.
Take this play from last night, when Barrett was just 5-of-16: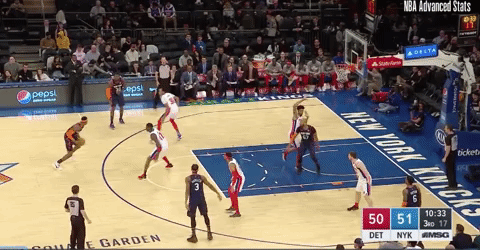 (I saved the clip as "RJ crowded" on my laptop, which probably won't help me later, as this could pretty much refer to any Knicks offensive possession.)
Notice the moment I paused the play, after Barrett grabs his initial blocked shot. Forget the free throw line; four Detroit defenders are below the dotted semicircle when the ball comes back his way.
Should RJ probably pass out to Moe here? And even more generally, has he started to force even more looks as the season has gone on? Yes and yes.
But at some point, you just kind of have to let it rip. The Knicks have seemingly employed the "If you can dodge a wrench, you can dodge a ball" developmental philosophy with Barrett. If they swap out Julius Randle and Elfrid Payton for two shooters at those spots next year, things could get a lot more pleasant. This would seem obvious, but alas…
As for Kevin Knox, it's no coincidence that his best two-way stretch of maybe the entire season came in the midst of 14 consecutive minutes on the court in the first half. After the game, he told me that "the longer I stay out there, the more of a flow I get in," and then of course proceeded to give a politically correct corollary about needing to play with effort and energy regardless of the minutes he sees.
Good kid, that Kevin…but don't try to bullshit a bullshitter.
I found it somewhat ironic that before last night's game, Pistons' coach Dwane Casey was talking about how this year hasn't turned out to be what Detroit had planned, and in discussing how the franchise pivoted after a rash of injuries this season, said the following:
Upstairs made a decision to start playing and developing the young guys, move some people, and put the spotlight right on some of the young guys. It's tough, but it needed to be done to give us a head start towards building our program.
The Pistons, mind you, have 20 wins - the same as the Knicks. They were led in points and minutes last night by 24-year-old Christian Wood and 23-year-old Bruce Brown.
(By the way, I tried to talk to Malik Rose about Christian Wood's free agency last night, and he (playfully) wasn't having it. "Don't you guys have enough power forwards?" And you thought LOL Knicks was confined to just the media!)
My guess is that Scott Perry would respond to the above with noting that the Knicks were led in minutes and scoring by 26-year-old Elfrid Payton and 25-year-old Julius Randle, and what difference does a couple of years make? Again: don't bullshit a bullshitter.
I was thinking about all of this on Saturday when news hit that the blood of Kenny Atkinson was strewn across the Nets alter in honor of Lords Kyrie & Kevin. As far as offings go, this had all the subtlety of the day Tommy DeVito got made, but honestly, who cares? One petulant star's trash is another organization's treasure…or it least it should be.
Zach Lowe and Kevin Arnovitz were discussing the firing on Saturday's Lowe Post, and they made a point that Atkinson had put down roots in the area to an extent few coaches do. If I were the Knicks, I would run, not walk, to try and convince him that there's a way for him not to uproot his life in the slightest.
Whether they do or don't make a play for Kenny should tell us all that we need to know about how the Leon Rose Era is going to play out.
Behind Door Number 1:
a coach that knows how to improve players

fully leaning in to a young roster, as opposed to the lip-service that was paid to "building the right way" a year ago

revamping the scouting and development departments, to the point that it becomes a full-fledged organizational philosophy

continue to be patient, ticket sales and headlines be damned
Behind Door Number 2:
Tom Thibodeau

Chris Paul (with Mitch or Knox, plus pick(s), going out in the trade)

PLAYOFF REVENUE, BABY!
The choice seems pretty clear. Last night, we saw a glimpse of what lies behind Door No. 1, both from the Knicks and the Pistons. As Coach Casey said, "it's tough, but it needed to be done."
On the other hand, Friday night gave a look behind Door No. 2, and yeah, that Chris Paul guy is still pretty damn good, and makes everyone around him better.
Maybe Rose tries to have his cake and eat it too without bastardizing things altogether. You'd think he can't do worse than Mills and Perry did this year, Frankensteining this beast of a roster, but hey, if there's one thing we've learned as Knick fans, it's that it can always get worse.
Hopefully that won't be the case though. Good stuff is happening here. Let's pray it's not too little, too late.
---
Contest Reminder!!!
LAST CALL!
ICYMI, PredictionStrike is giving away $50 in investment cash to the most savvy investor among my readers. It's 100% free to enter and biggest gainer takes the prize.
Here's what to do:
Snap two screenshots, one of your total portfolio value and one of your current portfolio of players and their current stock price. Here's mine as an example:

Email the shots to KFSMailbag@gmail.com by 7:00 pm tonight.

Whoever's portfolio goes up the most in dollars between this Monday and Thursday, April 9 (not including that night's games) will win $50 in investment cash.
That's it! It's a great way to end the season, and if you don't yet have an account, you can sign up now and get $10 towards your first investment of $10 or more by clicking here and entering code KFS. 
Get those entries in!
---
Tank Talk
This should be obvious but wins like last night's against the Pistons remind me how starved this fanbase is of good basketball. I'm talking about a now 20-win team beating another 20-win team, on a Sunday night, thanks to growth by the team's young players. The level of engagement is palpable, and even if it's fleeting, we take what we can get.
If you're only following games like last night thanks to the box scores, you're missing the full story. Seven points and a couple blocks isn't much for Kevin Knox but how about that sequence to end the first quarter, with Knox hitting a three and then recording a block as the buzzer sounds? And 3-of-10 is just another pedestrian shooting night for Frank Ntilikina, except for the fact that he charged the rim like a bull on several occasions. That one assist was thanks to pushing the pace, finding an open Wayne Ellington in the corner, and boom. These are the games in a season the casual fan will have written off where the young players find their footing.
What happens if each young player takes another step, if the Knicks were to add a player like (emphasis on "like") Chris Paul, and if the team starts gelling faster than we anticipated? The entire narrative changes. Those perceived as floundering are still on track.
It's unlikely for a team to go from the bottom-five to the playoffs organically, or in other words, without adding a bonafide, established star. This year's Memphis Grizzlies stand out as the only one in recent memory (should they hang on) thanks to rookie Ja Morant, as even the 2018-19 Dallas Mavericks needed a year to go 33-49 with Luka Doncic after finishing 24-58. The 2017-18 Philadelphia 76ers did it by holding out Ben Simmons for the season and by playing Joel Embiid for 31 games after missing two seasons. It can happen but it probably won't for the Knicks next year.
Now what does that mean for the Knicks? Jon outlined where he believes the Knicks are in terms of ranking the best young duos in the NBA, and middle of the pack is probably a fair assessment. The Knicks need star power, and barring a trade for a major young star or snagging someone like Brandon Ingram in free agency, the draft is the team's best option.
And that's why living and dying by the young players is so crucial. If it leads to wins, that's fantastic. The truth is that playing them more likely won't lead to win, at least not the majority of the time. And that raises your floor in terms of draft aspirations. I don't enjoy seeing a lineup of Payton-Ellington-Bullock-Randle-Gibson with five minutes left and you probably don't either.
To tie it all together, last night had fun elements without a doubt. I look forward to the days where a win over a team with a less talented roster is celebrated quite as much, simply because of New York's ability to beat good teams consistently too.
Anyways, let's recap this past weekend: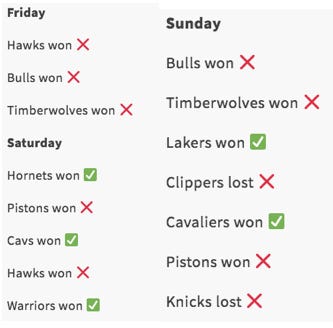 Okay, so going 5-10 isn't great for the Knicks, and the win definitely doesn't help things from a tanking perspective. The good news here is the Cavs won twice, the Hornets are keeping their distance, and the Warriors are making things at least a little interesting 1.
Tank Standings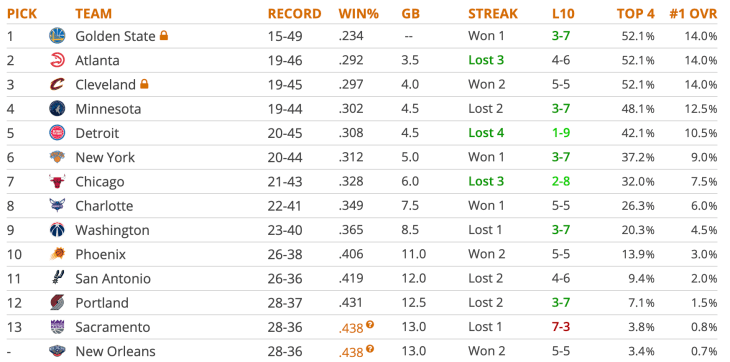 The Knicks gained a full game on the Cavs but lost a game to the Pistons, Wolves, and Bulls. How stressful are things for Team Tank? The Knicks are 1.5 games away from being tied for second but also 1.5 games away from being in seventh.
Well let's run the simulation…
Sim of the Day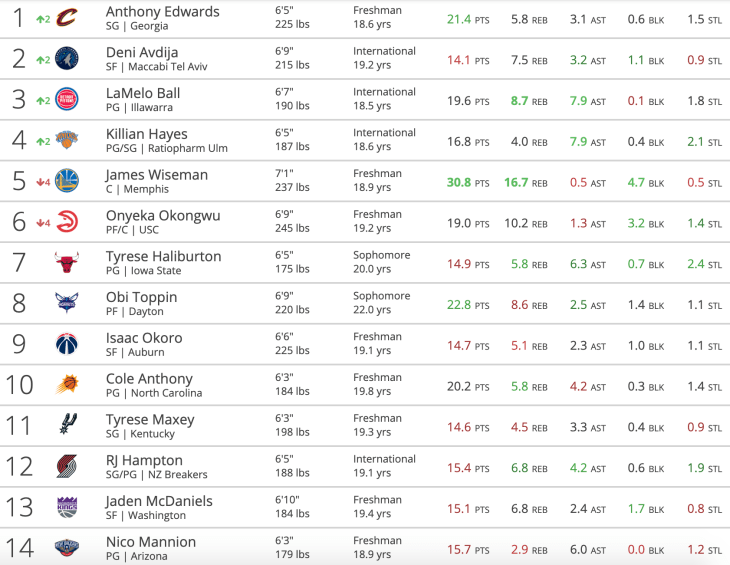 Average pick: 3.8
Average jump/fall: 0.8
The Knicks have been flying up far more than I would have expected: they've moved up four of the six days, and by at least two spots each time. I'll never not be concerned about dropping as far as possible, and history will back me up on this because the Knicks haven't risen a single time in draft lottery history.
Games Tonight
Hornets vs. Hawks
Two division rivals in the top 10 of the tank season, facing off against one another? Oh my!
Who we want to win: Hawks
Despite their win against the Pistons, the Knicks are only 1.5 games out of being tied for the second-worst record in the NBA. And sure, a Hornets loss would mean they're only two games back of the Knicks, but a Hawks win would mean the Knicks are only a game back of Atlanta.
The Hawks have been absolutely walloped the last two games, they play the Knicks on Wednesday and the Cavs on Friday. They also have the 29th-easiest remaining strength of schedule, and while that may serve as a silver lining if they lose, getting them "behind" the Knicks in the tank standings is imperative.
Bucks vs. Nuggets
The Bucks will be without Giannis Antetokounmpo and Nikola Jokic just had a miserable game for Denver.
Who we want to win: Nuggets
Thanks to the Lakers' victory against the Clippers, Denver is a mere game away from being tied for the second seed. And with the Utah Jazz on a five-game winning streak and a game back of the Nuggets, a Denver win adds more competition as the season comes to a close.
Raptors vs. Jazz
The Jazz made a coaching change and have since gone 5-1, including having won five in a row. The Raptors are on a three-game winning streak of their own. Whose winning streak will remain intact by the end of the night?!
Who we want to win: Jazz
As mentioned previously, the Jazz are getting really close to catching the Clippers. Both Utah and Toronto have tough schedules to finish the season but the Raptors have more easy games than you'd think: Pistons (H), Warriors (H), Knicks (A), Wizards (A), Hornets (A), Hawks (H), and Knicks (H). Now compare that to the Jazz: Timberwolves (H), Hawks (H), Bulls (H), Cavs (H), and Suns (A).
---
Game Diary
by Anthony Mannarino
We're debuting a new feature today on the KFS Newsletter, courtesy of Anthony Mannarino: a running game diary of last night's game. If you like what you find, give Anthony a follow on Twitter @De_Italiano)
1st Quarter
11:57: Taj vs. Jon Henson at the center circle, balls up, tapped once, tapped twice, and the Pistons have it off the jump. That's now (at least) four straight games old man Gibson has lost the opening tip. Couldn't possibly start Mitch though, couldn't do it.
9:22: An Elfrid Payton pair from the line opens the scoring for the Knicks. This starting lineup has zero offensive fluidity early in games.
8:32: Julius Randle leads a 3 on 1 fastbreak with RJ streaking wide open alongside him. Believe it or not he didn't pass the ball. Believe it or not he also missed the layup. Classic high basketball IQ Julius right there.
6:15: First TV timeout of the night comes after RJ gets a steal and immediately gets fouled to stop the break. Been a typically clunky opening few minutes from the starters and they trail 12-10.
5:35: Mitch checks in after the break and quickly makes himself felt by putting back an RJ miss at the rim, don't you dare start this guy. . . (Also, he missed but really liked RJ posting up a smaller guard here, and also Payton, ya know, passing to him.)
5:12: Miller calls a timeout after the Knicks lose shooters for open threes on back to back possessions, as they do. Pistons knocked 'em down and lead 20-12.
2:57: Mitch is so good, man. RJ misses a pair at the line but Mitch grabs the board and gets himself to the line and knocks them both down. Next time down the floor receives a slick bounce pass from Elfrid and jams it home with authority, he's got 6 in the 1st.
:53: Good opening few minutes from Knox, grabbed a board off his own miss and finished the second chance, also got a block on the defensive end. Knicks tie it up at 22.
:35: Mitch puts in the reverse alley oop from deep!!! The man is a walking highlight. Credit where credit is due, great pass from Payton.
:01: Knox hits a three on one end and comes down and closes the quarter with his second block! The Knicks end the quarter with a flurry and take a five point lead, 27-22. Kev looking confident thus far.
2nd Quarter
10:46: Mitch gets out and sends a Svi Mehighluke(??) Myguyluke(??) 3pt attempt over the Pistons bench. Detroit's offense has ground to a halt since Mtich entered the game.
7:17: 2nd unit hasn't been able to carry the momentum from the end of the first into the second. Haven't scored yet and the Piston's take the lead back forcing Miller to take another timeout. Gotten some decent looks, but they aren't going down.
5:13: Timeout worked and the second unit has looked better since, also helps when shots start dropping. Ellington hits his first three and gives the Knicks a two point lead, 34-32.
4:04: Frank gets on the board with a three ball, he's looked aggressive again tonight just hasn't been able to finish. Good to see him knock it down from deep.
3:20: Jon Henson just banked in a free throw, that is all.
2:49: Payton scoring well for the third game in a row, he's got 12 already. But a bad pass leads to a fastbreak and a rather ferocious dunk for Christian Wood.
1:30: Knox grabs a board and goes coast to coast for a smooth layup. He's gotten a long stretch of minutes here and looked good. He usually impresses me when he has the ball in transition.
:03: Portis steals a long pass to close the half with the Knicks leading 49-47. Slow starts to both quarters but were able to finish strong. Elf, Mitch, and Kev with 12, 10, and 7, respectively, to lead the way in scoring. Quiet half from RJ. Christian Wood with 13 and 8 for Detroit, I'm glad Pistons fans have a nice thing, they deserve it.
3rd Quarter
10:25: RJ forcing it a little bit to start the 3rd and without much success. Would really rather him just play with the 2nd unit then continue to be forced in to this starting lineup that doesn't play to his skillset.
7:24: I like Bruce Brown's game, he reminds me of Dotson. I wonder if when Ellington was in Detroit he played in front of him too?
5:50: I'm not sure Elfrid Payton has gotten a three pointer over the front of the rim in the year 2020.
5:25: Rowan Barrett Jr. though, knocks down his first three ball of the evening. His shot has really come around lately, seems like he's getting his feet in much better positions. Finished a tough driving layup shortly after and he's up 10 pts.
3:19: And now he finishes cooly around a defender on the fastbreak! Cannot shake this kids confidence, he just keeps coming. Knicks up 69-61.
1:20: Clyde with one of the most impressive plays of the night as he rattles off the answers to tonight's trivia question. Prancin' and answerin'!
:00: Got a little sloppy down the stretch of that 3rd quarter, team still fouls way too much. Pistons closed the gap and the Knicks lead by just one, 72-71, heading into the 4th. I feel good about it though, so certainly I am about to be hurt.
4th Quarter
11:35: Ellington and Bullock on the floor together to start the 4th as Damyean Dotson's bones turn to dust on the bench. . .#FreeDOTForever
10:44: Frank pushes the pace up the floor, finds Wayn3 in the corner and he knocks it down. The 'Bockers quickly push the lead back up to six.
8:38: The French Prince gets a rise out of his subjects in the Garden as he crosses-over a defender and finishes with a pretty scoop layup giving the Knicks an eight point lead.
7:25: Frank slices to the basket for another two and elicits a "feline quickness" from Clyde! Forces Dwayne Casey to call a timeout. 7pts, 3rebs, and an assist for our favorite son in his 14 minutes thus far.
4:35: Randle lines up a three and actually knocks it down! He's quietly got 19/11 and
three steals tonight. Anytime you get through a game without Randle really sticking out it's generally a good thing.
2:30: RJ Barret checks in for the first time in the 4th quarter. What the hell are we doing out there Mike? At least you got those good Reggie Bullock minutes in there my guy.
:54: Payton, after BLATANTLY looking off a wide open RJ for three, finds Mitch up top for an oop and the Knicks are gonna salt this one away.
:00: Knicks win 96-84! Nice defensive effort against a struggling Detroit team. Mitch, RJ, Frank, and Knox all had stretches where they looked good tonight. Didn't love Miller's work with the minutes distribution. 50 minutes of floor time between Ellington, Bullock, and Harkless produces a total of 9 pointes while Frank and Knox don't break 20 minutes and RJ rides the pine for most of the 4th and doesn't spend much time at all playing alongside the rest of the young guys. Miller definitely still prioritizing wins above all else.
---
News & Notes
compiled by Michael Schatz (

@mschatz99

)
Here's my game story from last night, including some sweet, sweet video of Mitch and Elf. Help a brother out and give a click.

Not everyone hates James Dolan, and one former player in particular kind of thinks he's great, as Stef Bondy writes for the NYDN.

Alex Wolfe of SI.com writes about why trading for Chris Paul isn't such a great idea.
That's it! See everyone tomorrow!