Dreamin' of LaVine, Part 1
His name has already appeared in connection with the Knicks. Does the Chicago swingman make sense as the first big acquisition for Leon Rose? The answer is complicated.
If you to were ask most Knick fans to name the top five players who would cause them agita if they saw their name in trade rumors, my guess is that Zach LaVine would appear on a lot of lists.
(My personal list only has one name on it: Terry Rozier. I just want no part of that dude, regardless of the cost in assets. Which of course means they will trade for him.)
This is understandable. Over his six-year career, LaVine's teams have gone a combined 105-248, including 36-87 over the last two years. The advanced stats suggest he's been as much a part of the problem as he has the solution over much of that time.

The very definition of a losing player for his first four years as a pro, LaVine turned it around in his second season with the Bulls, helping them become a better team when he played than when he didn't. This season, things flipped back in the other direction thanks mostly to a defensive on/off number that was among the worst in basketball.
It's the latest sign of an unsettling trend. Via Cleaning the Glass, in four out of LaVine's six seasons as a pro, he was in the bottom 15 percent of the league in terms of how much better his teams were defensively when he wasn't on the floor. This year, Chicago gave up 7.2 fewer points per 100 possessions when LaVine sat. Among the rest of the NBA's elite offensive engines, only Karl-Anthony Towns (6.2 points per 100 possessions worse, 10th percentile) and Trae Young (3.5 points, 24th percentile) were close to that bad.
Of course, the entire reason I'm dedicating multiple columns to LaVine this week is because of the massive pock marks on his resume. Without those unsightly blemishes, there's not a prayer in the world that a 25-year-old making under $20 million annually and averaging 25, 5 & 4 on .450/.380/.802 shooting would be available.
With a few other exceptions, he's the only name on the below list who is a realistic (and potentially sensible) trade target for the Knicks this summer: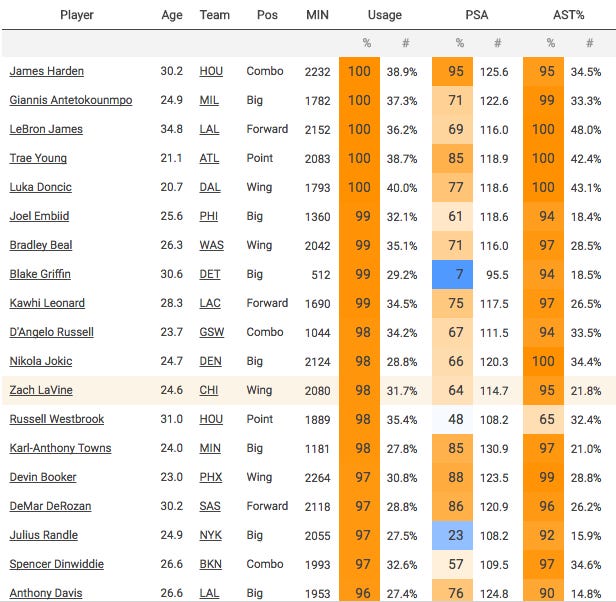 These are the NBA's usage monsters, again courtesy of Cleaning the Glass. The second column, "PSA," stands for "points per shot attempt," which essentially translates to effective field goal percentage. As you can see, LaVine's efficiency rivals some of the league's best.
Notice any outliers there, by the way? Aside from Blake Griffin, who gets something of an injury pass, only Julius Randle soaked up an outsized percentage of his team's offensive possessions without delivering at least a mediocre return on that investment.
Which gets us to why we're talking about LaVine to begin with: the Knicks are desperate for an engine to make their sputtering offense go.
---
This is LaVine's first basket of this season.
I watched ever goddamn minute of 66 Knicks games and never saw anyone use this level of functional athleticism to manufacture a bucket. Sure, RJ Barrett bully-balled his way to a few nice drives and Julius Randle, on his better days, got his fair share of buckets.
But they don't have anyone who can do this:
There is no such thing as running a functional NBA offense without having an elite shot creator somewhere in the mix. Regardless of what your personal preference is for how the Knicks approach next season - wanting every last win, tanking the shit out of things, or somewhere in between - you should hope to see the Knicks replicate an actual NBA offense on the court.
In order to make that happen, they need to get a shot creator who brings at least some modicum of efficiency.
Right now, New York is quite literally the only team in the league without even one such player. That's right: all 29 other teams have at least one player who is both in the top 25 percent in usage and in the top 50 percent in points per shot attempt. The Knicks had one - Marcus Morris, 86th and 82nd percentiles, respectively - but he's gone. They're left with Randle, RJ Barrett (86th and 10th percentiles) and maybe Bobby Portis (79th and 16th percentiles).
If they want to be decent - a top 20 offense, let's say - then judging by last season's best 20 offensive units, they need at least one player who is in the top 10 percent in usage and top 50 percent in efficiency. The only teams to skirt that requirement were Boston and Memphis, whose engines just missed the cut (Jayson Tatum was in the 93rd percentile in usage and the 46th percentile in PSA, while the Grizzlies' Ja Morant was in the 80th and 63rd percentiles, respectively. Unsurprisingly, Memphis was barely a top-20 offense, ranking 19th)
Maybe one of Barrett or Randle makes a quantum leap in efficiency, or maybe the front office shocks me and gives Fred VanVleet the years and dollars he'll be seeking. Heck, maybe they draft a rookie point guard who comes in and has the effect Morant did in Memphis this season. I'm highly dubious of any of these though, which means unless the Knicks want to spend another year banging their head against a brick wall when they have the basketball, they need to get themselves a horse.
Should LaVine be that guy?
While the win/loss and defensive numbers can't be ignored, neither can a few other things. For one, LaVine has had five coaches in six seasons, including the man who is universally considered the worst HC in the NBA, Jim Boylan. It's also worth noting that while the on/off numbers are generally unkind to LaVine, there are a few pockets of hope.
Let's start during the 2018-19 season. Aside from the Bulls being 4.7/100 better when LaVine played, when Zach shared the floor with Robin Lopez - Chicago's one solid two-way big - the Bulls outscored teams by 2.8 points per 100 possessions. When he was flanked by Lopez and an elite perimeter defender in Kris Dunn, that number increased to a +3.4 net rating. For a team with a negative 8.3 overall rating, that's not half bad.
Fast forward to this year. Even amidst the Bulls dysfunction, when LaVine and a slightly more seasoned Wendell Carter Jr. shared the floor, they had a positive net rating together. LaVine, Carter Jr. and Thomas Satoransky - a solid if unspectacular point guard who should probably be a high level backup rather than a starter - had a positive 3.9 net rating in 765 minutes together. It's more evidence that when you put a few half-decent pieces around LaVine, good things will happen.
All this is to say that at the very least, LaVine is worth looking into further, which is something the Knicks, along with the Nets and Hornets, have reportedly already done.
When examining any potential trade, the big questions are what it'll take to get him and whether he's worth that cost.
Today, I'm going to handle the first question. Once we get an idea of what the Knicks might have to give up in a potential deal, tomorrow I'll dig into the film. Together, we'll get a better idea of whether this is the right horse for Leon, Wes & Co. to hitch their wagon to.
Because he's a fairly divisive player, figuring out LaVine's trade value is tricky. That said, there's a clear half-dozen teams besides the Knicks that figure to be in on talks should he become available, the first of which we don't have to go very far to find.
Other Potential Suitors
Brooklyn Nets
According to Ian's report, Brooklyn has been doing the same due diligence as the Knicks, but forecasting a trade here is tricky for a few reasons.
Primarily, if KD & Kyrie are really in it to win it, acquiring LaVine doesn't necessarily put them over the top (and if anything, the potential fit could be less than ideal, as LaVine has gotten used to having the ball in his hands an awful lot). Bradley Beal makes more sense, and even though the asking price will be immeasurably higher, it mght be worth it, as a trio of Beal, Irving and a healthy Durant would have to be considered co-favorites for next season with either of the LA teams and Milwaukee.
But let's assume the Wizards decide to hold onto Beal and the Bobbsey Twins have given the organization a mandate to upgrade from LaVert or else they will no longer share their toys with the other children. If that's the case, and the Nets put LaVert on the table, it would beat any Knicks offer that doesn't include their own first round pick this year, and even then there's an argument that Chicago would rather have LaVert over whoever could be obtained with that pick, even if it does land in the top four.
It's tough to see Brooklyn being willing to give up LaVert for LaVine, but crazier things have happened. There's also a possibility the Nets could acquire LaVine and still hang onto LaVert, but this would mean the Bulls taking on Taurean Prince's not-so-team-friendly contract (Chicago needs another big man like another hole in the head, which takes Jared Allen out of the mix, and it's hard to see them wanting Spencer Dinwiddie, who is duplicitous with Coby White and can opt out in a year).
If Prince was the centerpiece, Brooklyn would need to add two other smaller salaries to make the math work - take your pick of Dzanan Musa, Rodions Kurucs, Nic Claxton or Timothe Luwawu-Cabarrot - but that still doesn't make the deal palatable for Chicago, and that gets us to draft assets, of which the Nets don't have much. Barring a complete and total collapse from Brooklyn and the Walking Dead Wizards snagging the final playoff spot in the East this season, the Nets will have to give up their 2020 first round selection to Minnesota.
So basically, unless the Nets want to cash in their LaVert chip on LaVine, this doesn't seem like the likeliest of landing spots.
Orlando Magic
I mention them here only because Aaron Gordon - who seems to perpetually exist on the trading block - can be dealt straight up for LaVine without having to add any additional salary, and in terms of player value in a vacuum, these two are about as close as you'll get in the eyes of most neutral observers.
Both also have contracts that end in two years, so it's not like one team would be taking on a worse obligation than the other (although Gordon's contract is descending and Chicago would save about $4.5 million over the next two seasons - a nice perk for the always thrifty Bulls).
From a fit perspective though, this one is tricky. LaVine on the Magic theoretically works, and gives them insurance in case a deal can't be worked out with unrestricted free agent Evan Fournier. They could also slot Fournier and LaVine side by side at the wings, which could make Orlando an morbidly interesting team next season.
The question here though is why the Bulls would want Gordon. He has the tools to be a good and versatile defender, although that hasn't always bore itself out of late. Still, it's pretty clear that Gordon belongs at the four, where Lauri Markkanen currently exists and Thad "boy, he aged quickly" Young is making a pretty penny on the bench. Even if the Bulls thought Markkanen's range gave them room to try Gordon at the three, Otto Porter is a safe bet to opt into the $28.5 million he's due this year.
Do the Bulls really want to upend their entire team and move Markkanen and LaVine this offseason? Given how things sound like they're going over in Chicago, it can't be ruled out.
But that's a lot of moving parts, and they'd need to count on Markkanen netting them a suitable replacement for LaVine, which I'm not sure will be easy (although if they shot up in the draft and were able to snag Anthony Edwards - clearly a Jim Boylen guy if there ever was one - I could see this coming together).
Charlotte Hornets
Like Gordon, Terry Rozier for LaVine would work as a straight up deal. Rozier was also fine this season playing alongside another ball handler in Devonte Graham, so he should be able to work with Coby White. LaVine on Charlotte would also actually be pretty fun.
But again, does Chicago want anything to do with Rozier, who everyone (well, everyone outside of some brilliant minds inside the Knicks front office around the trade deadline, apparently) recognizes as vastly overpaid on his current deal, and wouldn't represent much of a return for LaVine?
Would the Hornets add their own first round pick, which there's a two thirds chance will be either 7th or 8th, to make this happen? I wouldn't rule anything out, although that might be a hefty price to pay for Charlotte.
Denver Nuggets
There would be more a little irony in a LaVine trade built around Gary Harris, who the Bulls drafted and then, along with Jusuf Nurkić, shipped off to Denver for the rights to Doug McDermott. Dougie McBuckets was then sent to OKC (along with Taj Gibson and the pick that became Mitchell Robinson) a few months before the Bulls swapped Jimmy Butler for LaVine.
Harris has struggled shooting in the two years since signing his four-year, $84 million extension, with a 48.8 eFG% that includes him hitting only a third of his 3-pointers. His last dozen games before the shutdown were encouraging, but he's also been bothered by lingering injuries, including a hip that has thus far sidelined him in Orlando.
The Nuggets would need to add a significant sweetener to make this swap, and while Denver doesn't have its own first rounder this season, they do own Houston's, which is currently slotted at 21. The Nuggets could theoretically do a draft night trade where they gave up that pick, plus Harris and their own 2021 first rounder.
This begs the question though: for an organization that seems to value this core of players (not to mention first round draft picks), would they give up so much to take a chance on a potentially imperfect fit who wouldn't necessarily put them over the top even if it did pan out?
Utah Jazz
The elder Bogey would be the centerpiece here, as I doubt the Jazz want anything to do with giving up Joe Ingles, who represents the only other salary on their books north of $5 million outside of the big two (soon to be big three once Donovan Mitchell signs a likely extension this summer).
Bogdanovic gave the Jazz all they could have asked for this season after they signed him to a four-year, $73 million contract over the summer. He was .447/.414/.903 while putting up 20, 4 & 2. He's good.
But he's not the level of shot creator that LaVine is. LaVine would make the Jazz worse defensively, but with Gobert manning the middle, maybe it's more workable than it would be for most teams (and as it stands, they have Royce O'Neal essentially as their starting small forward).
It's unclear whether either team would be up for this though, and my guess is that even if the Jazz were willing to take the plunge, they'd scoff at any substantial ask on top of a straight up player for player trade. It's also worth noting that because of the pick protections in the Conley trade with Memphis, the next first round pick the Jazz can deal away can't convey until 2024 at the earliest.
(They could get around the Stepian Rule and trade this year's pick after draft night, however.)
Dallas Mavericks
Talk about a nightmare outcome for the Knicks: Tim Hardaway Jr. would opt into the final year of his contract only to be shipped off to Chicago in exchange for someone who would be a perfect fit alongside Luka and KP in Big D.
The only issue here is that the Mavs already blew their load of draft assets in the Porzingis trade. They might have enough to get this done, however, as they can trade their own pick after draft night (see Jazz draft note above) and then a future first that could convey as early as 2025. They could also take on Cristiano Felicio's $7.5 million expiring carcass for Seth Curry, who's signed for three more seasons at just over $8 million per.
Curry is damn good, and the pick this year would likely be in the late teens, but this still feels a little light. The pièce de résistance might be the Golden State second rounder that Dallas owns this year. We know the Bulls are cheap as all hell, and being able to get the first shot this year at a player who doesn't immediately need to be signed to a guaranteed contract could be enough to move the needle.
Which Brings Us To…
The Knicks, and the question that this little exercise inevitably engenders: What will it take to get Zach LaVine to MSG?
The biggest impediment to any deal is that the most easily workable salary the Knicks have - Randle's $18.9 million with a partially guaranteed final season at $19.8 million - is not one the Bulls will have any interest in taking on (see the Aaron Gordon discussion above for a reminder as to why).
That means the Knicks would need to find a third team to take on Randle (no easy task - I've heard recently that opposing teams unsurprisingly don't view Julius as a desirable trade asset at his salary) or do a deal without Randle involved.
The Knicks could do this quite easily if they decline the team options on Taj Gibson, Wayne Ellington and Elfrid Payton. In that case, they could take on LaVine and still only be at about $90 million in committed money even after factoring in likely salaries for their upcoming draft picks, dead money and cap charges.
So that gets us into what Chicago would demand. RJ Barrett is a non-starter in any conversation and even if Mitchell Robinson was on the table, the Bulls have no need for another big. The Knicks would also be insane to include any future first round pick of their own without significant protections, and if they made the protections strong enough, that would preclude them from including a future first in a later trade for a bigger, better name. Chicago also has their own version of Frank Ntilikina in Kris Dunn, who is entering restricted free agency. If they're dead set on playing an offensively challenged point guard, they'll likely just keep their own.
Fans who think the Bulls would accept a deal of Kevin Knox and the Clippers and Hornets picks can keep dreaming. As the exhaustive exercise I just went through shows, someone else is going to beat that offer pretty easily.
Next up on the asset ladder is the Mavericks 2021 unprotected first. Personally, I think there's a better chance that selection ends up in the 25-30 range than it does anywhere near the lottery. Luka Doncic is about to make the All-NBA First Team and is 21 freaking years old. Even if we assume KP's papier-mâché exterior gives out and he misses a large portion of next season, the Mavs were plus 6.0 points per 100 possessions in the minutes that Doncic played without Porzingis this season.
Is Chicago really going to give up LaVine for that pick, even if Knox were included as well? My guess is that someone beats that offer as well.
Which brings us to the doomsday question for much of the fan base: Would the Knicks include this year's first round pick in a trade for LaVine?
If it lands in the top four, the answer likely would and should be no. My guess is that a top four pick outright nets them either LaMelo Ball or Anthony Edwards - the two players I believe Leon Rose was referring to during his introductory interview with Mike Breen when he said this draft had "a couple" of impact guys - or it puts them close enough to swing a trade and move up.
If they don't get lucky on lottery night though, and the cost to grab one of their top targets is too high? For as divisive a player as he is, the seventh or eighth pick as the primary return for LaVine is objectively fair value. My guess is that the deal would look like this: LaVine for the Knicks 2020 1st rounder, Kevin Knox and Dennis Smith Jr.
(If the Knicks are going to take on LaVine without giving up Randle, they'll need to shed salary to afford reinforcements to the roster elsewhere. Chicago, meanwhile, has a salary floor to hit, and given that they won't be players in free agency, taking a one-year flyer on DSJ probably isn't the worst idea)
But just because a trade is fair doesn't mean the the Knicks should do it, even despite everything I said above. As Zach Lowe noted to Ian Begley recently, if LaVine is your best offensive creator, you're likely not going to be a very good team, and giving up a top-ten pick to remain bad feels like unsound logic.
For a trade like this to make sense, the Knicks would need to count on a few things:
Tom Thibodeau being able to get LaVine to a passable level on defense

To that end, they'd have to surround LaVine with a few plus defenders in any lineup he's in, and…

Most importantly, LaVine's offensive burden would have to be lessened from what it was in Chicago, to the point that he could shy away from some of his less desirable tendencies, namely: long two's (12 percent of his shot diet, a number that has decreased every year he's been in the NBA but is still too high) and poor decision-making (he's had a turnover rate between 13 and 14 percent in each of the last two seasons, which is not ideal).
So really, an evaluation on the wisdom of trading for LaVine is really an evaluation of several other things as well:
How big a leap can RJ Barrett make next season?

How much would playing alongside LaVine (along with more shooting and a competent, floor-spacing point guard) help Julius Randle look like the version we saw in New Orleans?

How much of an upgrade at point guard would be necessary to facilitate LaVine's best tendencies? Would it need to be Goran Dragic running the show? Would DJ Augustin be sufficient? Or would Frank Ntilikina be able to steer the offense well enough for the time being?
The uncertainty surrounding all of this is what makes judging a possible LaVine swap more than a bit complicated.
Nonetheless, in Part 2 of Dreamin' of LaVine, I'll take a stab at an answer, along with some film breakdowns and what the eventual plan would be for a Knicks team that did acquire the Bulls swingman.
That's it for today! See everyone tomorrow for Part 2! #BlackLivesMatter