Dreamin' of LaVine, Part 2
Yesterday we took a macro view of Zach Lavine and examined what his market might be. Today, we look at the film and some numbers to see exactly what the Knicks would be getting themselves into.
Let's start with something good, because I am nothing if not the eternal optimist:
That stat is from just before the NBA shut down in mid-March. The other four fellows on that list will all appear on MVP ballots this season and will find themselves on one of the All-NBA Teams to be announced shortly. They are all also undoubtedly max players, and among the top ten assets in the NBA.
That's because when all the fancy sets break down and the game is on the line against a really good defense, you can't really stop this shit right here:
Harden is the Babe Ruth of the step back, but LaVine is one of a handful of guys who can also do it in relative bunches and with a high level of efficiency. This season, LaVine joined Damian Lillard and Kyrie Irving as the only players for whom at least 45 percent of their 3-pointers were unassisted, shot at least 38 from deep overall and averaged over 25 points per game. Not bad.
But of course, Zach LaVine isn't in the same class as Dame or Kyrie. He's not getting any MVP votes, won't sniff an All-NBA Team, and unlike all the players who will, there's a legitimate question as to whether he's even worth a salary that is less than half that of the league's very best.
Why is that?
Because of nonsense like this:
You might have to watch a few times to find LaVine on this play.
Need a hint? He's the one looking like a lost schoolboy at the top of the frame as his man - Bradley Beal, decent player - not so subtly sneaks by him to get in offensive rebounding position.
No, it didn't end up mattering, but if there were ever a play that emblemized the enigma that is Zach LaVine, it's this one.
On one hand, his indifference to Beal here is staggering, and is not at all uncommon. LaVine has a bad tendency to ball-watch on defense, often resulting in him losing sight of his man, like he does here against Washington: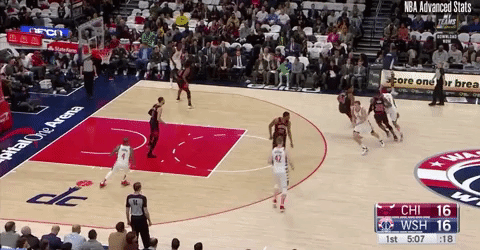 The most unnerving part of this play is that you can see LaVine momentarily turn his head, see Thomas jet towards the arc…and proceed to do nothing.
(Appropriately enough, Chicago is ICE'ing Bradley Beal on this play, and as I detailed in this space two weeks ago, in order to run that coverage well, you need your defenders to constantly be aware of their reads. Had IT been a little bit more confident in his jumper, this would have been a wide open three.)
On the other hand, LaVine's tendency to leak out does lend itself to one of the better parts of his game: transition play.
Take a look at these numbers, courtesy of Cleaning the Glass:

The Bulls were really good in transition when LaVine was on the court, ranking at or near the top ten percent of the league in transition points per possession and points per possession off steals. When you look at plays like this, it's easy to see why:
(I've watched this play at least a dozen times and I still can't tell for sure whether or not LaVine goes five-hole on Dillon Brooks, but I'm choosing to believe that he does)
LaVine also pulled down five boards per 36 minutes this year, which isn't bad for a guard, and given RJ Barrett's propensity to grab and go, this is one area where the two of them would figure to give the Knicks a nice added dimension.
He was also 15th in the NBA in steals per game, and although his gambles don't always pay off, he's shown the ability to take advantage of lazy pass by using his quickness to jump the lane: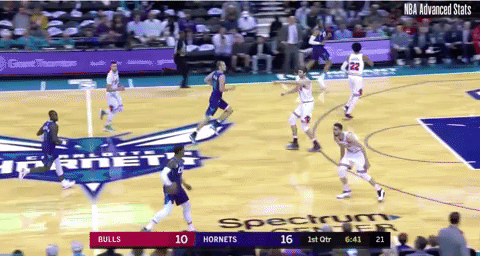 To be sure, there's a lot more bad than good about LaVine when it comes to defense, but he's nowhere near the level of player that opposing teams make a habit of hunting for switches. Like a lot of prominent players today, his on-ball work is far more impressive than the lesser lights that occur when he's not directly involved in the play.
But he's 6'6", is a good athlete, and as I detailed in Part 1 of this piece, when he's surrounded by a few strong defenders, his teams fair just fine on the defensive end. For instance, check out the numbers on Chicago's most-used five-man lineup from this season:

That dog'll hunt just fine.
Also - and this is both a good sign and a terrible one - LaVine seems to get up more for the prime time matchups:
LaVine is usually slotted on the least threatening guard or wing defender from the opposing team, but was actually matched up with Harden a fair bit during this game, one that the Bulls kept close for two and a half quarters (until, actually, LaVine and the starters went out).
One would think that under Thibs - a coach who he openly praised just a few months ago - LaVine would not only be on his best behavior, but that the front office would be wise enough to flank him with enough solid defenders to make things workable. Of all the variables that'll determine whether a LaVine trade would work out in their favor, these have to be near the top.
A potential starting lineup of D.J. Augustin, LaVine, RJ Barrett, Julius Randle and Mitchell Robinson leaves a bit to be desired on both ends, but it's also not outright terrible. Ideally, Randle gets moved to the bench and is replaced by someone who could space the floor a bit better and be less of a defensive liability. If so, it could open up more drive and kick opportunities for both LaVine and Barrett, like we see below: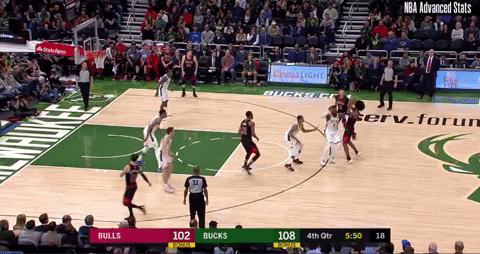 If the recent bubble games in Orlando have reminded us of nothing else, it's that the more players you have who can handle the ball and make good, quick decisions on the move, the better off you'll be. In RJ Barrett, the Knicks - maybe, hopefully - already have one player who can offer these skills from somewhere other than the point guard position. Depending on where they slot Frank in this season, they might have another. LaVine would give them a great third.
Even if the Knicks trade for LaVine and aren't able to unload Randle's salary in the deal, there's a possibility (depending on what else goes out in the LaVine trade) to afford both a solid stretch four on a big one year deal and a serviceable starting point. In my proposed trade (LaVine to the Knicks for their own 2020 1st rounder, Knox and DSJ), New York would be left with about $40 million to spend under the currently projected cap. That should be enough for, say, Danilo Galinari and D.J. Augustin on big one year contracts, not to mention that they would have the midlevel exception to play with as well.
If you're trying to imagine a world where it could make sense to give up the Knicks own first rounder in a trade for LaVine, that's it. Augustine, LaVine, Barrett, Gallo, Mitch, Frank, Reggie Bullock, Randle, Taj (brought back on the midlevel, perhaps), and either Iggy Brazdeikis or a rookie obtained from the Clips or Hornets picks is a 10-man rotation that could theoretically compete for the eighth seed in the East.
Is that worth it? As always, the answer comes down to the details. How important is it for Mitchell Robinson to have someone else on the floor to feed him passes like this: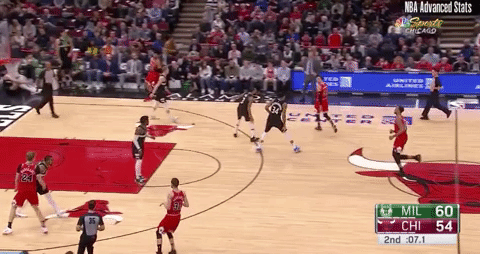 Just as vitally, how much more room would RJ Barrett have to operate with someone on the floor who is always a threat to pull up from deep and who makes defenses think twice about going under screens?
Tom Thibodeau has already spoken about the propensity for modern offenses to go four-out, one-in and five-out. What about a five-man unit in which Barrett was the nominal power forward flanked by LaVine, Frank and a traditional point guard? Or how about lineups without a traditional point guard that have LaVine and Barrett split the ball-handling duties alongside Bullock, Iggy and Randle as the small-ball five?
Having a player like LaVine on a team doesn't solve all of your problems but it does provide you with a lot of options. If nothing else, the spacing that his shooting and shot creation can help foster will be substantial, and his propensity to attack the rim should fit nicely with both Barrett's and Robinson's games.
(LaVine is an excellent corner-3 shooter, btw. Hopefully in New York, with Barrett taking on some additional playmaking duties, he would actually begin to take more of them)
All told, LaVine's benefit on the offensive side of the floor is undeniable. If they can get him to a passable level on defense, improve internally at some other spots, and make a few smart moves, bringing LaVine in could jump start the rebuild in a way that makes more sense than bringing in Chris Paul or adding solid but unspectacular vets who don't really move the needle.
Ultimately, the question is going to come down to this: What is the upside that New York envisions getting from the seventh or eighth pick in the draft versus how big of an impact LaVine can have on the overall growth of their team, both by what he can do individually and what he can open up for others?
Or maybe it's a lot simpler that even that: Is New York really better off spending another year trying to get water from a rock every time they have the ball? Because if they don't swing this trade, the smart money says that's exactly what's going to happen.
So much of this is going to come down to draft prep, as well as how easily Thibs thinks he can break LaVine of his worst habits. The last time Thibodeau coached LaVine, Zach was a 21-year-old kid still finding his way in the league. He's no doubt grown since then, and would probably relish the opportunity to star alongside RJ Barrett (the two are both clients of power agent and noted friend-of-MSG, Bill Duffy) under the bright lights of the Garden.
And because we're always thinking big picture here at KFS, what, precisely, would be the long term goal following a trade for LaVine?
These are three best case scenarios:
New York is good enough next year that they get a look from someone in the 2021 free agent class that could include Giannis, AD, Kawhi, Paul George, Victor Oladipo and Jrue Holiday. If this summer goes as I laid out, they'd easily have max space and would be within shouting distance of a double max.

Alternatively, they don't get a free agent, but the core plays well enough to up their collective trade value such that the team can continue to trade themselves up in weight class for the next available star.

The Knicks are a better, more modern, and more cohesive team, but still finish just on the outside of the playoffs looking in. Thanks to the arms race in the West, they still finish with the eighth or ninth best lottery odds, giving them around a one in four chance at landing in the top four of a great draft.

(To everyone who has made it through every word of these columns and by now is enraged at their laptop, tablet or phone, screaming "But trading a lottery pick for LaVine is the opposite of tanking, which is what we should be doing you idiot!", remember: tanking is not a thing that's going to happen this year. It just isn't. They are going to try to win games, and under Thibs, win a few games they will. It's about what they get out of the process that counts most now.)
As for a worst case scenario, this is Knicks-land…use your imagination.
Maybe LaVine leans into his worst tendencies and makes last year's version of Julius Randle look like Magic Johnson, turning RJ and Mitch sour on the organization and spelling disaster for the Rose/Thibs regime before it starts.
Maybe they end up picking sixth in a five player draft (because that's never happened before).
Maybe the pick they end up trading to Chicago turns out like the pick Chicago once got for Jimmy Butler, and Knicks fans two years from now are angry about missing out on Player X like Wolves fans still screaming about Lauri Markkanen.
Maybe Knox blossoms with a change of scenery.
Maybe I wake up tomorrow in an alternate universe where the Knicks have been well-managed for years and I don't have to write 3000 words on Zach F—— LaVine.
Maybe. Maybe. Maybe.
Unless I've grossly misjudged the market, what Leon Rose will have to give up to get this dude is going to make any trade a gamble. At some point, the Knicks are going to make a bet. My guess is if that if the opportunity presents itself to wager on LaVine, they'll do it.
And while I can't say for sure whether that would be a good thing because I simply can't know all the variables, in theory, it certainly has the makings of being the right move. Or the Knicksy one.
High risk, high reward. Nothing like starting off a new era with a bang.
---
New Podcast with Mike Vorkunov!
That's it for Dreamin' of LaVine! Check back later this week for another newsletter! #BlackLivesMatter