Evaluating Fred VanVleet
He won't come cheap, but is he worth it? Here's what the numbers and the film say about the wisdom of pursuing Toronto's little engine that might just be getting started.
Happy Monday friends.
While the basketball world is essentially unrecognizable from the one we inhabited two months ago, one thing remains the same and doesn't figure to go away anytime soon: Chris Paul to the Knicks rumors.
Frank Isola first had the report on March 5 that the Knicks "could look to trade for" Paul when the offseason arrived, and Ian Begley noted on Thursday that "some people with the Knicks believe Paul would provide strong leadership for their young players and help jump-start the winning culture that New York wants to establish under president Leon Rose."
My guess is that two months from now, not much will have changed.
Here's the thing about Paul though: we know what he is, and we know what he can bring to any team, no matter how bad it is before he gets there (Need proof? Check out literally any Thunder player's lineup stats with and then without Paul on Cleaning the Glass. The man is a wizard).
As I wrote last week, the Knicks have two obvious paths ahead of them: tank like it's 2018, or get a real point guard and start to win some games. The clearest version of Path No. 2 entails acquiring Paul, and although we don't know exactly what it'll take to get him or what other moves would accompany it, we know the pluses (otherworldly playmaker and shooter; garners universal respect in the locker room and around the NBA) and minuses (age, salary, injury risk) that come with the territory. Your personal taste or distaste for such a trade depends almost entirely on your personal philosophy about team-building as opposed to your opinion of the player himself.
Of course, if you like Path No. 2, but a point guard who turns 35 in two days isn't your cup of tea, that almost certainly means you are in favor of signing one Fredderick Edmund VanVleet in free agency, and he is far less of a known quantity.
In order to get to the bottom of things with Freddie, we start, as always, with the numbers.
On the surface, what's not to like: VanVleet is 26, started 48 games, and put up 17.6 points, 6.6 dimes and 1.9 steals in 36 minutes of action per night with a .409/.388/.843 slash line.
Digging deeper, there's even more to love:
He shoots a ton of threes. Long balls have occupied between 45 and 46 percent of his shot diet in each of the last three seasons, according to Cleaning the Glass.

Considering that volume, the conversion rate - 38.8 percent last year, 39.2 percent for his career - is outstanding.

There just aren't a ton of guys who can swish it at these rates and dish it like a legit starting point guard. Last year, there were 14 players who had over six long ball attempts and six dimes per game, and the names speak for themselves:
There's also some stuff not to like:
VanVleet seems to have a bit of an aversion to initiating contact. Looking again at the above list, only Lonzo Ball (who thinks he's at risk of exploding after touching an opposing player) gets to the line less frequently than Fred.

(It's worth noting that during an 11-game stretch early last season in which Kyle Lowry was out with an injury, VanVleet did up his free throw attempts to 4.5 per game, so there's some slight encouragement he'll seek more contact as a true lead guard.)

The other main issue is that FVV isn't great around the hoop. While a lot of his shots came around the rim last season (38 percent, via CTG), he's shot between 50 and 52 percent in the restricted area every year that he's been in the league. That's…not good. Both numbers figure to get worse on a Knicks team that does not have either the level of shooting or offensive sophistication that Toronto does.

(Another silver lining: via CTG, only 19 percent of VanVleet's baskets at the rim last season were assisted, which ranked him in the 87th percentile of combo guards league-wide. In other words, it's not like he's missing open bunnies.)

Speaking of the help VanVleet had with the Raptors, his numbers last season without Pascal Siakam are a little troubling. According to Cleaning the Glass, here are Toronto's stats with FVV & Pascal:

…and here they are with FVV but without Pascal:

(In case you're wondering, 22 percent of VanVleet's passes last season went Siakam's way. That's not to the absurd level Elfred Payton looked for Julous Randle - 29.2 percent of the time, to be exact - but it's a lot.)
This is a good place to transition to a tale of two Fred's - one without Kyle Lowry and one without Pascal Siakam - and what each tells us about his ceiling with the Knicks.
Good news: Lowry missed 11 games in November of last year and neither the Raptors nor VanVleet skipped a beat. Toronto went 9-2, FVV's counting stats went up (21.1 points and 7.5 assists) and he was more efficient (53.7 eFG%) despite a higher usage rate (24.2). This stretch of games jived with the year-long sample size, as the Raptors outscored opponents by nearly twice as many points per 100 possessions when VanVleet played without Lowry than when he played with him.
It was a 9-figure audition if there ever was one.
That said, over those 11 games, Toronto was gangbusters when VanVleet sat (a 28.9 net rating in 114 minutes) and was just plain good when he played (plus 5.3 in 414 minutes). So that's a little concerning.
Fast forward to late December. Siakam was out with an injury and VanVleet needed to pick up the slack for nine games. Toronto went 5-4 amidst an even bigger usage spike from VanVleet (26.7), while his effective field goal percentage dipped to a Ntilikina-esque 43.6. Over those games, the Raps were far better with FVV off the floor than with him on.
Small sample size? Of course. And what would it prove even if it was valid…that good players make those around them better? Gold star for that observation.
Except it's quite meaningful here. The Knicks…
(checks notes)
…don't have anyone nearly as good as Pascal Siakam, who made a massive leap last season as an offensive engine and someone who helped ease the burden of all those around him. The closest thing the Knicks have to that is Julius Randle, who…
(checks notes once more)
…ain't Pascal Siakam.
That's not to say Randle wouldn't ease VanVleet's burden to a certain degree, and vice versa. A rising tide lifts all ships. But it's also not reasonable to expect the 26-year-old Wichita State product to instantly transform the Knicks into Raps South. The numbers seem to confirm that he has what it takes to be a lead guard, but also that he needs the assistance of another offensive engine to really make an impact.
(or to put it more bluntly: Chris Paul, he ain't. But then again, who is?)
A more realistic question is whether he can have enough of an impact without a Siakam-level player to make him a worthy investment for New York. At somewhere within shouting distance of $20 annually, he'll be counted on to not only get his own, but help the RJ Barrett's and Kevin Knox's of the world improve as well.
To help us figure out if he can, let's look at some visual evidence.
This play from opening night starts with VanVleet's man guarding him beyond the 3-point line, which is a level of respect unfamiliar to point guards 'round these parts.
After the drive, Fred has to whip this baby around Lonzo Ball, who is as well positioned as you can be to prevent the kick out. Before Dennis Smith Jr. had his soul snatched by the MonStars, we saw him do this sort of thing on occasion as well. But we also saw him drive it into many a brick wall, correct basketball play be damned.
That's as opposed to…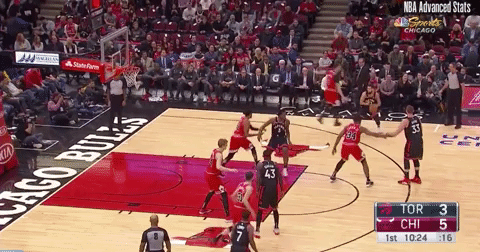 After faking Zach LaVine out of his shoes, VanVleet drives baseline, only to find a help man waiting for him. In Knicks-land, that just means extra style points.
Not for Freddie. He picks up his dribble and waits for Siakam to get into position for the easy bucket (Knick fans who want to trade many goodies for Lauri Markkanen should probably burn this clip).
The Knicks, as noted, don't have Siakam, but they do have another pretty smart player in RJ Barrett - someone who I trust would appreciate playing with an offensive engine that doesn't have his head squarely up his…cloud. Up in his cloud. The clouds. Up in the clouds.
Let's go with that.
Speaking of which, here's another clip from later in the same game:
We see four traits on display here:
Patience

Respect for the outside shot (again)

The ability to turn a corner, and

Making the easy, simple pass
More than anything, going back and watching VanVleet's assists from last year, it's amazing how many of them came by making simple yet smart passes. This is both a compliment and a reason to be cautious.
No, VanVleet can't really create shots and no, he doesn't have anywhere close to the vision of a truly elite point guard (his most impressive dimes usually come via the drive and kick variety we saw in the first clip), but the above four traits in a lead guard can, by themselves, do a whole lot of damage with even an average batch of teammates.
Let's look at one more…
There's nothing hard about this play. Not a damn thing.
And yet, I'll be damned if I can remember the last time I saw a Knick:
get in position to receive the first pass…

…and then actually make the second one
I honestly don't know how high I would go on VanVleet. He's not a point guard, but I also feel funny calling him a combo guard. He's more like a 1.25 than a 1.5.
As RJ Barrett continues to grow and (hopefully) take on more of a playmaking role, VanVleet might just have enough point guard in him for that duo to make some beautiful music together, especially if they can pick up one more smart ball handler in this draft.
The question of how much to pay FVV is further complicated by the fact that we have no idea what his priorities are. Does he want to re-enter free agency sooner rather than later? Or is he looking for greater security than a one or two year balloon contract would offer? He'll be eligible to receive up to 30 percent of the cap in three seasons, so perhaps a 3 + 1 with a player option for a total of around $80 million would do the trick.
That is a gargantuan sum of money for the player VanVleet has thus far shown himself to be, but then again, so was the four-year, $85 million pact the Pacers had to lay out to get Malcolm Brogdon, and VanVleet doesn't come with Brogdon's injury question marks.
Here's why I'd probably do it: VanVleet is so versatile that he can be just as useful playing next to one of the best point guards in the league as he is playing without another point guard altogether. That's a rarity.
Also, more importantly, nothing good is happening in New York until they get someone who can run an offense. And maybe that's for the best if targeting the top of the 2021 draft is the way to go.
But if building a real basketball team is in the offing this summer for Leon Rose, it's reasonable to expect Fred VanVleet to be at the top of Leon Rose's wish list.
He's not perfect, but perfect is the enemy of the good, and the Knicks are a long way from being good. At the very least, Fred VanVleet will help them get there.