Every Time I Think I'm Out...
In this newsletter…

---
Before we get to the Knicks, I want to offer a heartfelt and hearty congratulations to Bong Joon Ho and Parasite, your 2020 Oscar Grand Champions.
If you're a regular reader, you know that pop culture is important to me, and this is maybe the most meaningful pop culture thing that has happened in my lifetime. Instead of explaining why, a quick story:
No doubt like many of you, when my wife hears the name "foreign film" or "subtitles," it might as well be "colonoscopy." I honestly don't know that she'd ever sat through a fully subtitled film before this year, and thus getting her to even see Parasite was a bit of a struggle.
But I did, and by the time it was over, it was her favorite film of the year by a wide margin, so much so that she picked it to win Best Pic in our dinky Oscars pool, and now is $60 richer for her trouble (21-for-24 overall…Go D!)
Alas, this is a Knicks newsletter, and as much as I wish our beloved basketball organization could escape the dingy basement, infiltrate a competent team, and James Dolan would stab their owner in the chest and thus be forced into hiding, here we are.
As I was sitting last night, watching New York blow an 8-point lead in the last two minutes of overtime in a game they both should have dominated and never been in a position to win, I was reminded of some lesser Oscar fare from nearly three decades ago:
Why we still care so much about a loss from a team that is once again 20 games under .500 is beyond me, but it was probably a necessary reminder that no, this Knicks team is not good, and their next truly relevant moment will likely come with a roster that looks wholly different from the one we're currently seeing.
To that end, let's hope that Leon Rose doesn't take after the patriarch of the Kim clan in Parasite (and Rose's own predecessor) and take the job with the belief that the only plan that never fails is no plan at all. Sure, the Knicks have done some nice things of late, but we were reminded time and time again last night, as we have been all season, that there are serious fundamental flaws on this roster, and it's going to take a deft touch to tinker and adjust as necessary.
But there's also some good stuff here, which is why I was slightly worried about the words that new Dolan-whisperer Steve Stoute uttered over the weekend:
I'm glad that Stoute likes the fact the Knicks want great players on their roster, but with all due respect, a) what organization doesn't and b) we get it. We've been sold star-chasing for two decades, Steve. You don't need to convince this fanbase that James Dolan likes shiny things; you need to convince us that he's going to let smart basketball people build this thing the right way from the ground up.
Let's get to the categories…
One Big Question
The vets continue to lead. Is that ok?
This would all be so much easier if, say, Ja Morant was here in place of RJ Barrett, and the Knicks were having a late season resurgence with him leading the charge. Everything else could literally be the exact same as it is right now, and the narrative would be 180 degrees different.
But he's in Memphis, Zion is in New Orleans, and our rookie is clearly still rusty from his recent bum ankle, scoring just 20 points total on 30 percent shooting in the three games since his return. As he watched the proceedings in OT and Double OT last night, he looked like someone had run over his puppy. He's not helping them win right now, he knows it, and it's killing him.
RJ is going to be just fine though. Every Knick fan should be happy he's here, and we know better than to pine for what could have been. Embracing what we got is the better way to go.
And what we got is a team that is still featuring guys who in all likelihood will not be here if and when the Knicks get good. Julius Randle, Elfrid Payton and Reggie Bullock saw exactly two hours worth of court time last night as New York's three highest minute getters.
Contrast that with Atlanta, a team theoretically at the same stage of their rebuild, who played Trae Young, John Collins, De'Andre Hunter and Kevin Huerter at least 48 minutes apiece. A more stark contrast in organizational philosophies, you cannot find.
Would there be so much consternation over these minutes if Mitch, Knox, Frank and DSJ were averaging closer to a combined 90 minutes a game as opposed to just under 70, which is what they've combined for over the last dozen contests?
Probably not, but that's also oversimplifying the issue. It's not just about the minutes, but about the fact that all of these kids, save for Mitchell Robinson on defense, are ancillary pieces. They are not the engine behind the success, as Ja is in Memphis, or as Trae Young and John Collins are in Atlanta.
Making matters worse, it's not clear that the kids deserve the time they aren't getting. On one hand, Mitchell Robinson (15 points, 11 boards, three blocks and three steals - only the 16th such game in the NBA this season) and Frank Ntilikina (nine points, eight dimes and two swipes) were both excellent last night and saw 35 and 26 minutes of court time respectively as a result.
Kevin Knox, on the other hand, continues a dreadful stretch on offense. Dennis Smith Jr. looked like he had another run in with the Monstars before last night (because Frank came into the game before him, perhaps?). The pair played just over 20 minutes combined as a result. RJ, as we mentioned, is scuffling. Damyean Dotson is back in witness protection for reasons we can only imagine.
And the players taking these minutes haven't been bad by any stretch. Julius Randle put up 20 and 10 in the first half last night, but also reminded you late why he's been the most frustrating Knick to watch this season. Similarly, Elfrid Payton gives you so much good stuff in one stretch and then takes it all away in the next. If you need proof, just watch the first overtime, when he nearly won and then almost lost the game for them in a single five-minute span.
Perhaps it's too harsh an assessment for a couple of 25-year-olds, but we kind of know what these guys are at this point. Wayne Ellington and Reggie Bullock have both been wonderful of late, but are even further off the Knicks' timeline than Randle and Payton. Bobby Portis…exists (and apparently isn't going anywhere)
I'm not going to sit here and pretend I know what the right balance is, nor am I going to downplay the importance of scenes like this from the visitor's locker room on Saturday night::
It's hard to ignore the inherent value of what we see here. The more a home locker room resembles a morgue (as I can personally attest it has at times this year), the further away you get from the type of positive organizational culture we all yearn for.
Then again, culture can also flip like a switch if you can get a Morant or a Doncic through your doors. That player likely isn't available in this upcoming draft, and the summer of 2021 is a long way away. And of course, as we know, stars don't want to come to dumpster fires, which is why this front office tried to cobble together a vet-laden winner in the first place.
And around and around we go.
There's an answer, because isn't there always. The Knicks have too many resources - the city, cap space, some young talent, a bunch of picks - for their not to be, but that only gets me back to the beginning. It's not only going to take a plan, but one executed by someone who knows what the eff they're doing.
Here's hoping Leon Rose has it in him.
Stat of the Day
107.5
That's New York's defensive rating over the last dozen games, which ranks 5th in the league over that span. It includes the second half meltdown against Memphis, the "Eff this, we can just outscore these guys" no-show in Cleveland, and last night's track meet.
Heading into Sunday, according to Cleaning the Glass, the Knicks ranked seventh in the league in frequency of opponents' shots at the rim since Mike Miller took over. Over that same time frame, they're eighth in opponents' expected field goal percentage based on shot location (basically the quality of looks you give up).
The only other teams that rank in the top ten in both categories since December 6th - the Celtics, Clippers, Jazz, Magic, Nets and Bucks - are all top-12 defenses on the year. The Knicks are also tenth in rebound rate in the NBA this season.
That's two major checked boxes where winning basketball is concerned, so for all that I just complained about the organizational fog that they're in, there is some genuine progress being made. Now if they could only shoot the damn rock…
What If…
On that note, what if Wayne Ellington had played consistent minutes all season?
Let's put aside for the moment the questions about what trickle-down effects that would have had on the rotation, and which young players would take a hit as a result.
On the year, the Knicks are only getting outscored by a team-low 2.8 points per 100 possessions in the 414 minutes Ellington has been on the court (Under Miller, who actually runs an NBA offense, he has a positive 5.4 net rating, which is far and away the best of any Knick since December 6). Better yet, thanks to his constant movement, there's a flow to the offense that's missing when he's not in, resulting in a team high 62.2 assist percentage during his stints under Miller.
Check out this play, for instance. Reggie Bullock takes the rock high and then uses a Mitch screen to get the defense on its heels (BTW, it truly is amazing what happens when you have a ball handler that teams can't just go under the screen on every damn time).
Do you see what Ellington does? Just as Bullock begins his passing motion to Payton, Wayne darts up from the corner, causing his defender to momentarily chase him as opposed to helping onto Payton, who ended up with an easy look to give the Knicks the lead.
The little things Ellington does, like simple recognition of proper spacing and the effort/willingness to employ that knowledge, is massively helpful. It's why I could never shake the feeling that the Knicks would have been better off all long if he'd been playing more (Before last night when he was even, Wayne had a positive plus/minus in eight of the 10 games when he played at least 17 minutes, FWIW).
It's mostly irrelevant now (especially since Steve Mills has already been "reassigned"), but there's a version of this team where most of Bobby Portis' minutes were replaced with Randle as the small-ball five, the Knicks took a salary dump in place of Bobby's contract, and they rolled with a rotation of Payton, DSJ, Frank, Wayne, Dot, RJ, Reggie, Knox, Mook, Randle, Mitch and Taj all year long.
That's 12 guys, but with the various injuries and now Morris being dealt, there'd have been enough room for everyone, and half those names are the kids everyone pines to see. As it stands, it sounds like whether Ellington gets bought out will be up to him, at least based on his quotes in Marc Berman's piece over the weekend.
Oh well. What could have been…
Made me Smile (and then Frown)
Frank Ntilikina, often derided for his poor shooting numbers, made every field goal he attempted on Saturday night in Detroit. Here they all are in one clip:
This wasn't even my favorite play of his from Saturday (his scoring forays rarely are). On one defensive possession in the middle of the second quarter, Frank was guarding Tony Snell near the left corner and was playing him as if there was a literal stump where his hand was supposed to be. Once boxed into no man's land, Snell quickly gave up the rock, and the Pistons had to reset the possession.
Knowing the scouting report well enough to overplay a guy so severely is not a thing easily recognized, and certainly not anywhere near as important as the ability to get buckets, Frank's futility at which his detractors take such joy in pointing out. But things like this matter, and you can't win games without players who quietly do these thankless little tasks dozens of times a night.
And wouldn't you know it, of the 84 Knick duos who have seen at least 50 minutes of court time together, look who's in four of the top five according to stats.nba.com: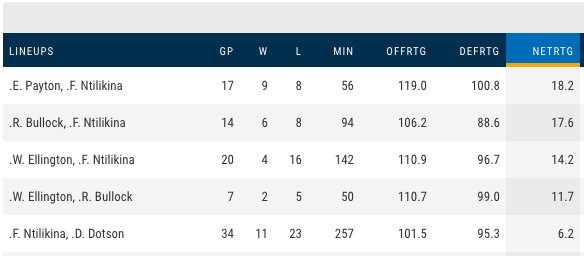 Frank plus a competent wing shooter and/or complimentary ball handler equals good? Who knew!
Look folks…I know there are people who read this newsletter despite my love of the young Frenchman and not because of it. If you're one of those people, I don't know what to tell you, other than to refer you here: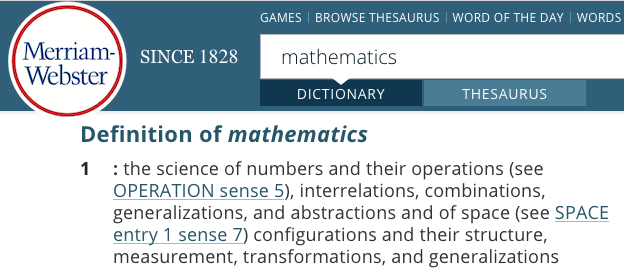 I get that recognizing his positive impact is not necessarily fun, but as my three-year-old daughter is now fond of saying "sometimes I don't wanna do things that I don't wanna do." But as I tell her in response, you don't always have a choice.
Frank, of course, was the 11th guy off the bench on Saturday, played 14 helpful minutes with several other Knicks in foul trouble, and then didn't see the court in the second half. I'm under no illusions that Mike Miller's rotation decisions aren't still being dictated from on high, and that perhaps Scott Perry's deathbed act as the GM of this team will be ensuring Ntilikina remains a last resort.
I'm sorry, but with all due respect to all the positive stuff, what the fuck are we doing.
Play the kid. As you saw last night (team high +10, not a misnomer), maybe good things will happen.
Final Thought
I've been droning on for a bit today, but I want to go on for a bit more, just to end on a high note.
There's no shortage of game-changing plays from Mitchell Robinson that I can highlight here, but here's the one I'm going with from last night:
It's, um…not easy to sky a foot over the rim and grab a pinpoint lob attempt from midair, but that's what he did. If he doesn't, the game almost certainly ends in regulation.
The last few games, Robinson has reminded us all that while we may not have a Trae Young or Ja Morant or Luka Doncic - an engine that you can build an offense - we absolutely have someone that can be one of the 15 or 20 most impactful players in the sport if he reaches a ceiling that he probably doesn't even know exists right now. He's been that good.
And he's 21.
See! I ended on a positive. Knew I could do it! Just like Bong himself, I genuinely believe that everything is going to be A OK…
---
Player Spotlight
A few weeks ago in my midseason predictions column, I said that I thought RJ Barrett would get a spot on the All-Rookie First Team but that it was by no means automatic.
Since then, he's gotten hurt and hasn't yet found his footing upon returning. Combine that with the kid we're going to see in two nights vs Washington, and his spot on that team is all of the sudden looking a little more shaky:

Rui Hachimura had been damn good this season until he recently missed a month and a half due to injury. Unlike Barrett though, in the three games since he returned, he hasn't skipped a beat, averaging 13 points and eight boards to go with over 50 percent shooting.
Hachimura is a like a lot of rookie's you'll find on PredictionStrike: available for under a buck because with a high draft status comes outsized expectations. It's kept his stock price low, but there's a real chance it starts to tick up before the end of the season, and who knows where from there.
The Knicks defense, while good, has clearly been inconsistent, and Washington has scored in bunches on them already this season. Not a bad investment before Wednesday night (and if you're new to the game, remember to use code KFS at sign up for $10 towards your first investment of $10 or more)
---
News & Notes
compiled by Michael Schatz (
@mschatz99
)
That's it! See everyone tomorrow!