Final Mailbag
I took on your last batch of questions about team-building, overrated Knicks, waving the magic wand, missed opportunities and NY's Mount Rushmore
News & Notes
As first reported by Alder Almo of Empire Sports Media, the Knicks made another addition to their scouting staff yesterday, hiring longtime Dallas Mavericks scout Reggie Johnson. Johnson was in Dallas for the last 25 years, 14 of which have been spent as an advance scout. He'll work under Frank Zanin.

More reports came out yesterday that the Warriors are very high on Israeli swingman Deni Avdija, with the possibility of him going second overall apparently not off the table.

Should Avdija go second after Edwards (my assumption for who goes first), it sets up the possibility of the draft going a little haywire. Obi Toppin and Tyrese Haliburton seemingly have fans high in the draft, and it's not like we haven't seen perceived top choices slip before, with Justise Winslow being the most recent example. I don't see LaMelo Ball slipping to 8, but if he slips farther than he should, it could create an interesting decision for Leon Rose about the possibility of trading up.
Listen Up!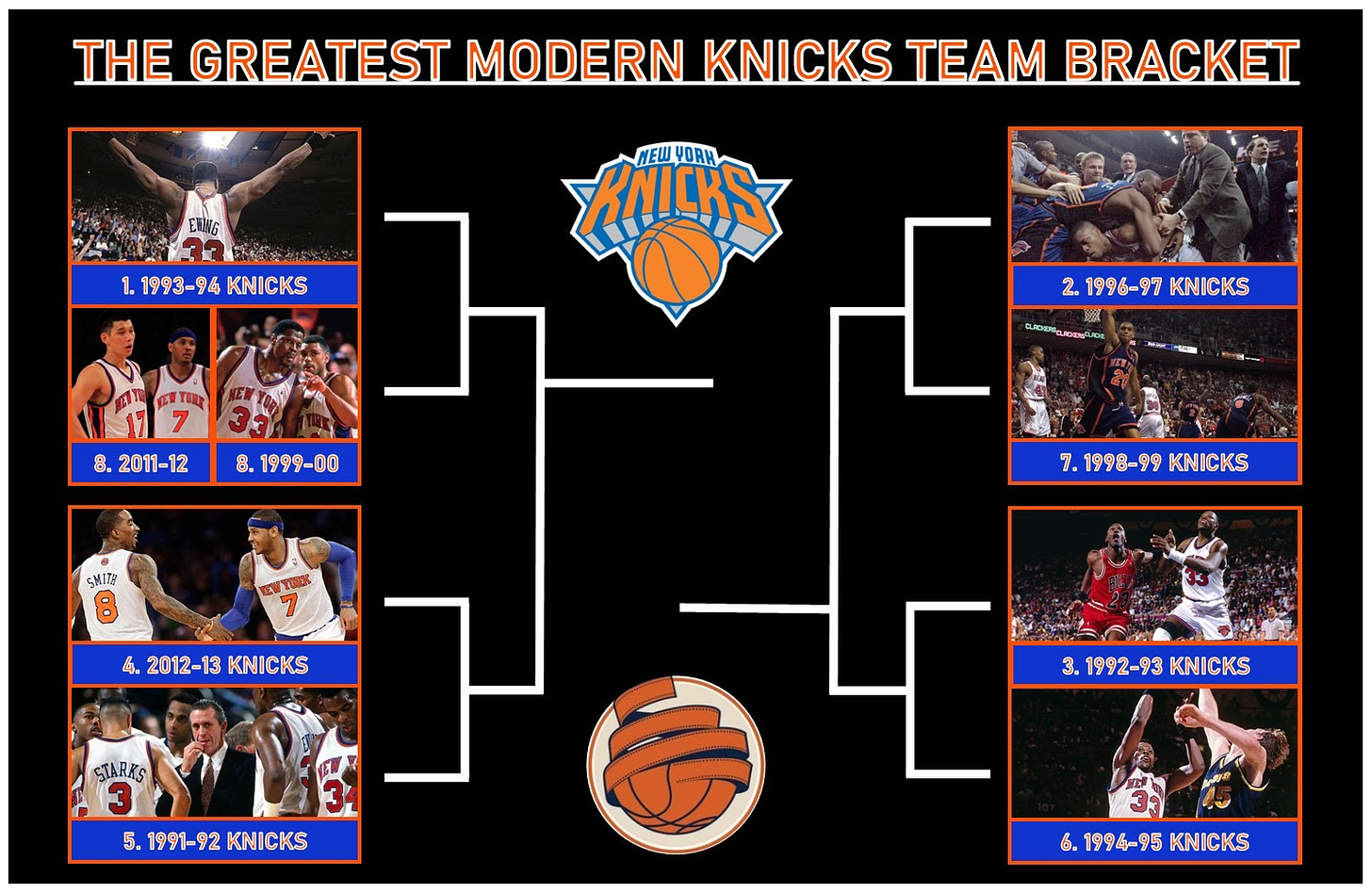 That's right.
I got together with my fabulous producer and host of Final Score Podcast, Andrew Claudio, to play out an official bracket of the Greatest Knicks team of the modern era. It was contentious, to say the least.
Listen here, or subscribe anywhere fine podcasts are found.
Read This
Passing along a thoughtful non-hoops related piece from former KFS Pod guest Ray Marcano, who wrote about his son. It's a quick read and worth your time.
Anniversary Mailbag - Final Edition!
Any questions I couldn't get to here, I tried to answer on Twitter (and if I somehow missed yours, my apologies!)
I already gave the "We trade for Chris Paul" version of this answer on Tuesday, so here's the non-Chris Paul answer, for me at least:
Part ways with all of the guys with $1 million guarantees (and Bobby Portis) except for Reggie Bullock

Take the best trade down offer on the board on draft night (i.e., the one that nets them an additional/better future draft asset) that will allow them to end up with Kira Lewis or Tyrese Maxey

Go up to 4/84 on Fred VanVleet, 3/45 Davis Bertans and Joe Harris, and 2/30 on Jerami Grant, in that order. Whoever takes your money, great. If no one does, no sweat. Fill out the rest of the roster with one-year deals, preferably on shooting, while leaving room for…

Salary dumps. Take any that are available if you can pick up a draft asset in the process
I think any combination of the above leaves them between 25 and 30 wins, assuming an 82-game season.
I took this question because it wasn't long ago that Miami was the laughingstock of the league, having dolled out bad contracts to James Johnson, Dion Waiters, Hassan Whiteside and Kelly Olynyk. Why did they do it? Because they wanted to avoid bottoming out. We heard the same thing from Daryl Morey (referenced by Zach Lowe in his recent piece) who said he signed Ryan Anderson and Eric Gordon to above-market deals because he thought if Houston didn't, their "ability to be a top destination would be hurt."
Point is, most GM's the league perceives as smart try hard not to suck (Sam Hinkie being the obvious exception). Your question pits "aging big name players" against "competent" ones, but that's really kind of unfair. Older stars who are past their prime are still more "competent" (translation: helpful to winning) than an amalgamation of cheaper vets. As always though, it comes down to the cost, both in years and dollars (or, in the case of a trade, the assets it will cost you to take on those years and dollars).
At the end of the day, all of this is in service of the same goal: improving in the short term without sacrificing too much of your ability to improve more in the long term. If the Knicks had what I'd describe as a boring but not-unexpected offseason and signed, say, DJ Augustin, Langston Galloway and JaMychal Green to one-year deals, they will be a little better than last year, but not as much as they would be if they took on Chris Paul, or even Russell Westbrook if I'm being honest.
How much is it worth it to get much better instead of a little better? I can't answer that question, but it's important to recognize that people who the league respects an awful lot generally try to do the former.
Underrated: KP is the most recent one, but that's a sore subject. I'd also like to say Tyson Chandler, because things went to absolute shit after he left, and just because Roy Hibbert got the better of him in one series, he gets the shaft.
But the answer is clearly Allan Houston. Every other Knick that ever made an All-Star game in my lifetime gets revered (yes, even David Lee, who never won a blessed thing here) except for Amar'e and Houston, who people seem to view in the same light: massively crippling long term contracts that nullified anything they did on the court.
In Stat's case, it's a justified opinion. He had 50 good games out of 400. Houston was here for nine years and made the playoffs in more than half of them, making it out of the first round four times. Even his first two non-playoff years saw him score 20 a game and generally represent the franchise admirably. Put another way, I'd kill for RJ Barrett's Knick career to mirror that of Houston, with seven really good seasons as the second or third option on a not-quite-contending team.
Overrated: Pablo Prigioni gets treated like a God and scored 728 points in two and a half seasons. I love the guy too, but there's seven or eight 90's Knicks that should be thought of in much higher regard.
I don't, and I think analytics are useful when viewed in context. They're a tool, as opposed to the entire toolbox. Also, thank you!
I'd actually argue that trading Mitch is more of a reason to hold onto Julius because you could sign a floor-spacing five like Myers Leonard or JaMychal Green to offset Randle's lack of shooting, and then pick up Derrick Favors on a one year deal as kind of a hybrid 4/5 to play alongside any of the above. They should not do this though.
In no particular order: Langston Galloway, Justin Holiday, Luke Kornet, Doug McDermott and Kyle O'Quinn (the latter two only if they come in tandem).
If I'm using this year's All-NBA Teams? And assuming their current contractual status? Devin Booker, although I'd think long and hard about Ja Morant.
There's no reason they shouldn't be able to make the playoffs in 2022, although if they act as responsibly as many of us want them to, I think 2023 is more likely.
The reason is that even if build up this core, score in the draft both this year and next year, and maybe even swing a trade for an established star-ish player, I don't see the East relenting in either of the next two years. I guess Giannis leaving Milwaukee might open up a playoff spot in 21-22, but Brooklyn, Boston, Toronto and Miami aren't going anywhere. Philly might trade one of its stars next summer, but they'll get back good players in return. Indiana is perpetually better than decent, and I think both Chicago and Atlanta are ahead of our progress curve right now with possible moves on the horizon.
On the bright side, I think anyone in the NBA can become a contender within three years if they're smart, catch a few breaks, and play in a major market. So if the Knicks act responsibly, I think they can go from playoff also-ran to contender almost overnight if the right guy decides to come.
Congrats again to you both, and I hope she's doing well! I'd say a short conversation I had with Mike Breen stands out, merely because he knew who I was and said some incredibly kind things which I keep with me and always will.
Thanks! I'm choosing to believe Vass was screwing around after practices, which Keith Smith tweeted may have been the case. Toppin would make me mad. And I'll release an updated big board sometime in the next two weeks, I promise!
This is impossible to say for sure without knowing what opportunities were available, but I'd say that prioritizing cap space in the KP trade, as opposed to simply getting the best package of young players(s)/draft asset(s), is the obvious one. Not drafting SGA is probably second.
I really don't feel comfortable naming guys who I never saw play live, so since 1993, I'd say Tyson Chandler at C (because I never saw peak Ewing on defense), Charles Oakley at PF, Anthony Mason at SF, John Starks at SG and Derek Harper at PG (I know y'all thought I was gonna say Frank. Maybe someday. Not yet though)
Best: Dave DeBusschere for Walt Bellamy and Howard Komives.
Better: Any trade that brings in a future Hall of Famer that helps lead them to multiple championships. High bar.
Answered one and two above. Mount Rushmore: Patrick Ewing, Walt Frazier, Willis Reed and Dave DeBusschere.
17 points, 6.5 boards, 3.5 assists on 43/35/69 splits with a team-leading usage rate. Oh, and most importantly: 6.5 free throw attempts per game.
I honestly just don't want them to overpay for anyone in free agency or via trade, but if you're asking me about one asset I want them to come out of this offseason with, it would be an additional first rounder in 2021, even if it's a swap with the Dallas pick.
I think it comes down to trusting Leon Rose, both as someone who can deal with Dolan and responsibly build out an organization.
I've become a lot more jaded in the two years I've been doing Knicks Film School. I recognize it, appreciate people who are annoyed by it, and wonder at times if I'm being overly harsh. I just feel that I'm being realistic about a team owned by a guy who is a hinderance more than a help (and many would obviously say that is a drastic understatement).
But history turns on a trifle. If Donnie Walsh is able to carry out the Anthony trade as he saw fit and doesn't step away from the franchise after that unfolded, maybe the Melo era goes differently. And maybe if Phil Jackson was allowed to trade Porzingis when he wanted to for what he wanted to, we're living in a very different world right now. Point is, I still think it's possible to win here.
It just wasn't possible under Steve Mills. As I've said repeatedly in this space over the past few months, Mills was in over his head. I don't think he was a bad guy. I believe he meant well and genuinely tried his best. And I think he had some good ideas. But he had no business running a basketball team with only Scott Perry as his support. My impression is that he was overwhelmed, and instead of getting more resources in the building (like we've seen Leon Rose do), he got less, in the form of guys he trusted but were just as ill-equipped for the task at hand (hi, Craig Robinson). He neglected infrastructure, relying on Rich Kleiman for salvation, and everyone in the league - including Kevin Durant - knew it.
He's gone now, and in his place is a guy who knows what he doesn't know. He's filled the building with the best people, and seems to be letting them do their job. Will it all work out? Who knows. They'll need some luck. More importantly, they'll need to remember that they don't get the benefits of being a big market organization until they start acting like a small market one for a while, prioritizing patience and development as more than just a punchline.
I think its possible. We'll probably find out whether I'm right sooner rather than later.
In the meantime, here's a wolf-spider my daughter drew to celebrate Halloween, proving that she's a far better artist than I am a writer: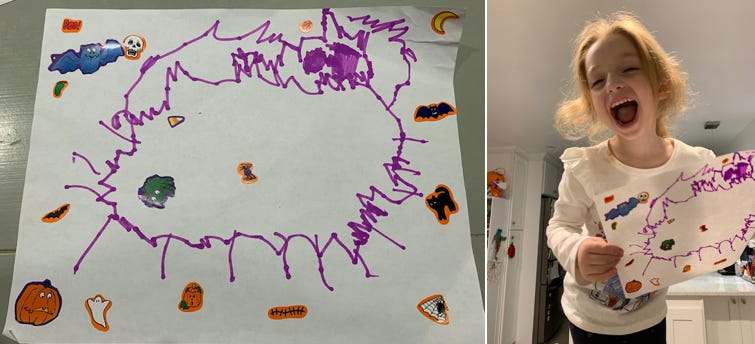 That's it for this week! Have a great weekend everyone. #BlackLivesMatter #VOTE