Friday Mailbag!
As promised, I answer your questions about everything from draft trades to Frank's drip.
News & Notes
Listen Up!
The Strickland's Jack Huntley joined me on the latest KFS Pod all the way from jolly old England to talk about how he became a Knicks fan, why he likes Fred VanVleet over Chris Paul, and how there's really no terrible outcome for next season's Knicks.
Read This:
Shwin wrote an interesting piece for the Strickland on how the Knicks can weaponize their cap space. Plus, this week's Macri's Missives features my convo with Collin Loring, who covers the Heat for Fansided. We went back and forth about Heat culture and what the Knicks can learn from afar.
Twitter Poll of the Day
Knicks fans are sometimes accused of being overly optimistic about their team, but based on the poll I ran in response to yesterday's newsletter, it seems that most fans have a reasonable view about the current state of the franchise: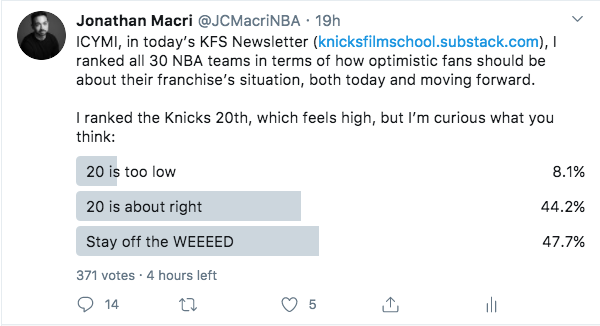 Friday Mailbag!
As promised, here are the answers to the questions I didn't get to with Jeremy last weekend.
I think the term "rebuilding" is used for both "building" situations and true "rebuilding" ones, which doesn't seem like it should matter one way or another, but it does open up the franchise to low-level LOL Knicks cracks, as you imply (i.e., "The Knicks have been rebuilding for 20 years.")
This actually gets at something Vivek mentioned in a thread the other day in response to my tanking article. Sometimes teams intentionally tank away seasons, sometimes teams lean into a tank if the opportunity presents itself, and other times teams just suck.
The Knicks, for most of the last 20 years, have not been building, nor have they been tanking and doing a bad job of it; they've just been poorly run. What they seem to be doing right now is "building" from the ground up in a way that is both intentional and sustainable. This has been tried here a few times, but someone usually fell into the cement mixer before the foundation was poured. Let's see if we can't make some more progress this time around.
Still not sure whether there will be one shooting coach or a a few different coaches who all chip in in this area.

Mike Miller, as has been previously reported, will not be back as an assistant coach, although he may remain with the organization. If I had to guess, I think Royal Ivey will be gone.

Peters has not been in camp as I understand it. I can't speak to why the reporters on these Zoom calls don't ask about the other two.
You got a better chance of capturing Bigfoot, my man.
Bullshitting with Marc is easily one of the top three things I miss most about covering games. He is a national treasure (though I do think it would be funny if, assuming the media once again covers live games next season, Berman is required to go into another room and ask his questions via Zoom)
Herb Williams, without question.
I would recommend listening to the Hoops Spy podcast I did with The Athletic's Jon Krawczynski, who covered Thibs during his entire time in Minnesota. In short, I think the defensive issues the Wolves faced were the result of a combination of things, including his refusal to adjust to the whims of players who were clearly not fully bought in, schemes that didn't suit his personnel, and simply giving more minutes to subpar defenders than he should have.
I think he's learned a bit since then, but I also don't feel like he'll be undermined in some of the ways he was in Minny. He'll also have Mitchell Robinson, who I believe will make quite a positive impact immediately.
I do not think Dwyane Wade is coming out of retirement, I think this is Melo's last year, and I think LeBron probably isn't getting traded from LA to New York this offseason, so this one might be a long shot.
A few months ago I'd have put it somewhere around 25 percent that they kept and used all of their picks, but now I'm a little higher than 50/50. For one, I don't see a good value around the league that would get them to trade the eighth pick for an established player, although who knows what machinations could be at play on a more complex deal.
I also don't think that any of the guys who they would potentially package 27 and 38 to move up to grab (Kira, Cole, Patrick Williams, Maxey, Poku) will fall far enough to make this a legitimate possibility; I think they'll all be gone by the late teens. I do, however, think that a Chris Paul trade could involve the 27th pick.
Them getting Paul would also likely result in a young player or two going to OKC in the deal though, which would open up an additional roster spot or two for draftees, so there's two sides to that coin, assuming one of the Dallas picks goes to the Thunder instead of 27.
I think however long they end up having will be more than enough, and frankly, it's already been way, way too long between games.
Nope. I think part of the value of Maxey is he fits easily alongside a variety of player types. And I would do this trade in a heartbeat.
Julius Randle, Mitchell Robinson, Frank Ntilikina, 27 and the Dallas '21 pick for 2 and Wiggins would probably be what it would take to get in the conversation, and I have no interest in such a transaction. I also don't know that Golden State wants to prioritize salary dumping Wiggins in any deal involving the second pick - my guess is they want more time to rehabilitate him as a neutral asset - so I'm not even sure if they'd take this package.
None should, in my opinion. Allan Houston probably deserves it the most, and I don't think he should get serious consideration.
I think if Vassell was guaranteed to be Kris Middleton 2.0, he'd be a top five pick in this draft, if not a top three pick. I would take him without hesitation over Okoro, and begrudgingly over Killian Hayes as well.
Middleton may not be sexy and he's now significantly overpaid, but he's a top 30 NBA player by any metric. His shot-making both from deep and the midrange is one of the most valuable and translatable skills in the entire league, and he's a versatile defender who can slide across a few different positions.
I would need way more than the Sixers pick in this draft - the 21st - to take on Horford's deal, regardless of whether or not I had a too-good-to-be-true deal on the table for Mitch. That said, I don't think Mitch for the second pick is such a deal, let alone Mitch plus other stuff.
I'm assuming this question is asking who is the most unlikely player I could conceivably see the Knicks trading for this offseason (as opposed to, like, Luka).
This would seem to rule out anyone who I've discussed before, so I'll go with a category of players: young point guards.
Here's four names for you: De'Aaron Fox, Collin Sexton, Devonte Graham and Trae Young. Graham would shock me the least, because if the Warriors are set on Deni and other teams at the top of the draft call their bluff, that means Ball could slip to three, which could theoretically put Graham on the block.
Less likely but still technically conceivable is Ball slipping all the way to five to Cleveland (or, I suppose, the Cavs falling in love with Hali or Hayes), so that could make Sexton available. As for Fox and Young, they'd have to demand a trade, and while I've been steadfast that Leon Rose won't overpay for anyone this offseason, I could see the market being slightly depressed for both players, at least in comparison to how much a team like the Knicks would value them.
(I don't actually think any of these trades has even a 1 percent chance of happening, BTW)
Poku, Patrick Williams and Tyrese Maxey would all be targets, probably in that order, although I suspect all may be gone by 17.

This is tough because my daughter watches Peppa Pig, Mila & Morphle and Barbie at the moment, and I can't say I know much about any of the characters on those shows except that Peppa's dad probably needs to lay off the carbs.

So I'll go with my daughter's first favorite show, Sesame Street:

Big Bird: Alex Wolfe

Elmo: Dallas Amico

Grover: James Marceda

Snuffleupagus: Prez

Telly: Matthew Miranda

The Count: Jeffrey Bellone

Alan: Jonathan Schulman

Bert: Fredo

Ernie: Bootum

Abby: Jack Huntley

Zoe: Jeremy Cohen

Murray: Theo Sands

Cookie Monster: Zach DiLuzio

Oscar: Drew Steele

Slimey: Shwinny Pooh
Book it.
That's it for today! See everyone next week. #BlackLivesMatter #VOTE