Getting Ball-sy
Continuing my look at possible trade down scenarios for the Knicks in the draft, today we take a long, hard look at the Big Easy.
News & Notes
The NBA community has started to react to the attempted murder of yet another unarmed black man, Jacob Blake, by police officers in Wisconsin. Chris Mannix described the players collectively as "visibly shattered," while the Raptors - the NBA's lone Canadian team, ironically enough - have discussed the possibility of boycotting Thursday's game against Boston.

And then there was this from Clippers coach Doc Rivers:

I'm sure there are still people who read this newsletter that believe the notion of Black people getting disproportionately targeted and taken advantage of in every walk of American life is some sort of liberal agenda. I have neither the emotional capacity nor brain space to craft a cogent argument against this notion today, but I would simply ask whether a liberal agenda is enough to bring a grown man to tears over the shooting of someone he never met.

It's OK to disagree on solutions or reactions - regardless of my personal opinions, I can grasp feeling that defunding police or rioting is a bad thing - but those are worthy of open conversations. They are not fruitful conversations to have, however, until we complete the the first step of admitting we have a problem. Until we can universally agree on that, the same thing will keep happening.

I hope we as a country can take that simple first step one day before I die. I wish I was more hopeful that it will happen.

Kristaps Porzingis missed his second consecutive game for the Mavericks with knee soreness. They were blown out.

One day, probably whist intoxicated, I will again look back on the KP trade in full, but for now we can all agree that regardless of whether the Knicks made out OK in the transaction or were the victim of the worst fleecing an NBA team has experienced this decade, if you're a Mavs fan, there will be four more years of holding your breath every time you see a Tweet that starts with the words "Kristaps Porzingis…"

So there's that.

According to Woj, the NBA is likely going to push back both the Draft and the start of free agency from their current dates of October 16 and 18, respectively, in order to further iron out next year's cap number.
"Sources Say…"
SNY's Ian Begley went on WFAN yesterday and said a few things, including that other teams believe the Knicks like LaMelo Ball but aren't sure if they will make a play to trade up for him, and that he doesn't see the Knicks cashing in their chips this offseason, and will instead sign complementary veterans to improve the on-court product and make the team as competent as possible.

Yesterday I reported here that I've heard the Knicks are going to hoard their assets for now, possibly with the intention of trying to move up in the 2021 Draft, so it seems like Ian and I are hearing some of the same things. I've also heard the word "experimentation" used to describe how New York plans to approach the upcoming season, which to me signals that that while there will be an increase in accountability and preparation, they will not be afraid to use the upcoming year to see what works and what doesn't, as opposed to playing it safe (see: Moe Harkless playing 40 minutes in the Knicks' final game of last season).

I also heard recently - and this is something that my soon-to-be-4-year-old daughter could have intuited - that guards and wings who can shoot will be their primary offseason targets.
Read This:
Daily Knicks' Jeffrey Bellone - the one and only true leader of Knicks Film School - made his debut appearance for The Strickland, writing about RJ Barrett & Kevin Knox's team defense, and it is unsurprisingly excellent.
Ask Macri
A few people asked me about this report yesterday, so I feel the need to address it today. A couple things…
I swear on my child's soul that today's trade down piece you're about to read about Lonzo Ball was conceived of and completed before this Tweet surfaced yesterday. I have not heard one iota about the Knicks actually being interested in Ball in a trade this offseason…

Nor have I heard anything about their desire to trade Frank Ntilikina. While I am not one to question anyone else's sources, I was told quite clearly by someone with knowledge of how the front office has been operating that "if the Knicks intent to trade Frank, we won't know about it until it happens." So make of that what you will.
All that being said, it's entirely possible that Ntilikina is on the block, because when hasn't he been on the block. Still, at the very least, I'd think the new coaching staff may want to get a chance to work with the young man - along with the rest of the roster - before the front office makes any decisions about who they "intent" to trade or not.
---
Maximizing Assets, Part 3 - The New Orleans Pelicans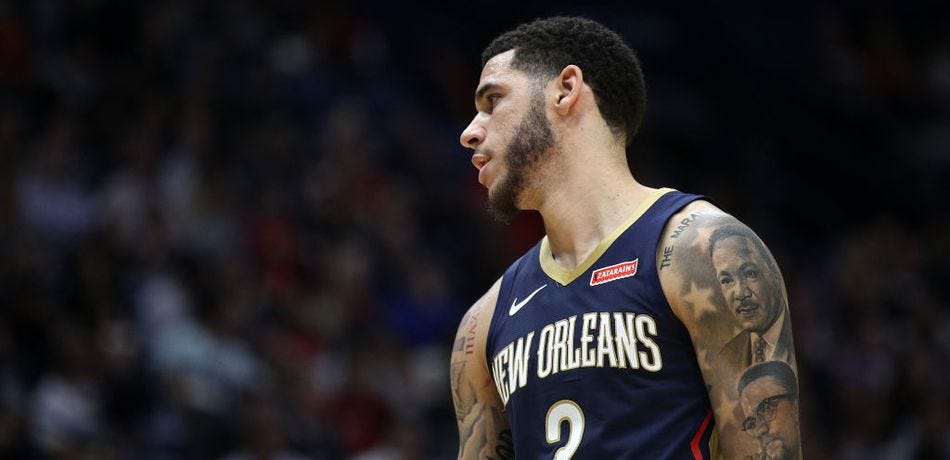 Proposed trade: 8th & 27th picks for the 13th pick, 39th pick & Lonzo Ball
Fresh off Jay Williams speculating on ESPN last week that New Orleans may be looking to deal Lonzo, I thought of a way to bring the oldest Ball brother to New York.
You wanna get nuts? Let's get nuts…
Would New Orleans do it?
The gut reaction here should be that the price is too low for Ball, even considering his less than stellar performance in the bubble.
Yes, of the 114 players to play at least 25 minutes per game in Orlando, Ball's 38.1 eFG% was third lowest from the bottom. Not ideal.
But just like it's unwise to use an eight-game sample size to draw too many positive conclusions, it's poor judgment to do the opposite as well. Even with that dreadful showing, Ball's 51.5 effective field goal percentage this year was a career high, as was the 37.5 percent he shot behind the arc. Even his free throw percentage - a comical 43.7 percent in LA (and you thought RJ had issues) - rose up to 56.6 percent.
Plus, something wasn't right with the entire Pelicans team once they stepped foot into the Disney campus. Here were the advanced numbers on the Zion/Ingram/Ball trio over the 17 games they played together before the bubble:

And here they are for the five games in Orlando:

Perhaps instead of entering the ESPN Wide World of Sports, the trio made a wrong turn and walked into the Haunted Mansion. IDK.
What I do know is that the Pels aren't going to ignore the much larger sample size that came under normal conditions for the minuscule one that came later, when they didn't know whether Zion was coming or going. That trio still makes a ton of sense in theory, so New Orleans is not going to break it up without having a sufficient reason to do so.
But they just might have a good one.
When in doubt, follow the money. Ball is eligible to sign an extension this summer, and will be a restricted free agent next year. The Pelicans cap situation after this season currently doesn't look so bad…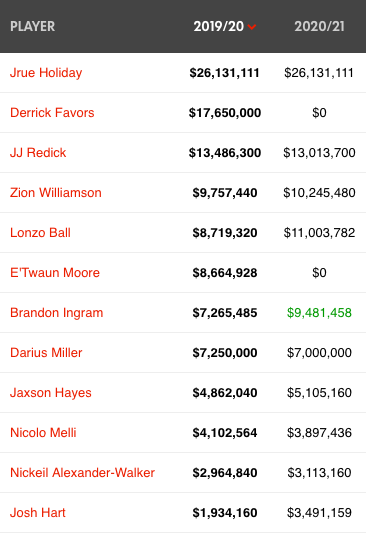 …until you remember that Ingram's max extension will start at just over $28 million, taking the Pelican's payroll to about $111 million, or just above the $109 million salary cap this season - a number that is likely to remain the same or possibly go down amidst the pandemic and all that it has wrought.
Jrue Holiday, like Lonzo, is also up for a new contract in a year, and could be looking for a raise himself. Ditto for JJ Redick and Darius Miller, both important rotation pieces for their shooting. In short, things are about to get very expensive, very quickly.
But what if the Pels could lock in a cheaper guard who brings a lot of the same benefits that Lonzo does (with some of the same drawbacks) without needing to give up a ton in a trade?
Enter Tyrese Halliburton. Hali is a nominal point guard, but as Spencer Pearlman put it to me, he's really more of a connector than anything else. On a team with no offensive engine like the Knicks, Halliburton's skill set might not translate as well as it would on a team like the Pelicans, where he'd be a perfect tertiary creator alongside Zion and Brandon Ingram.
More importantly, at the 8th pick, he'd be set to make under $20 million over the length of his four-year rookie contract. The Pels might be able to pick him up at 8, and then use the 27th pick to grab another cheap rotation player, perhaps someone like Desmond Bane, who would immediately help them at both ends.
Lonzo will likely be looking for something in the range of $12 to $15 per year. This move might not represent the biggest return the Pelicans could get for Ball in terms of talent, but as a cost-conscious move with real basketball upside? They could do worse.
Would New York do it?
There's a lot of different considerations here, but the first one has to be Ball's fit on this roster.
In a way, he's kind of duplicitous with Frank Ntilikina. No, Frank hasn't ever shot the ball as well as Ball, who himself has been inconsistent at best. But like Lonzo, he's a nominal point guard who really isn't that great at initiating half court offense but who is smart, knows how to get guys the rock in the right spots and is a defensive dynamo.
The big differences between the two are that Ball:
Is one of the elite fast break players in the entire league, and…

Finally offered some off-ball value this season
If the Knicks made a play for Ball, they'd almost have to commit to becoming a run & gun unit like New Orleans, who ranked fourth in the league in pace this season.
There is a world where this is feasible - we saw RJ become somewhat enamored with grabbing and going, and Julius Randle is (gulp) capable of this as well - but it would represent a departure for Tom Thibodeau, who has never coached a team over a full season that finished higher than 19th in pace.
That said, the Wolves were 12th at the time he was fired, so there may be hope yet. Thibs has also talked openly about adjusting to a changing league, and for a team with as little offensive talent in the half court as the Knicks, running like hell may be the best option.
But this still covers up the main issue with Ball, and the thing that most separates him from his brother: in the half court, he's simply not all that special. In the playoffs, when things slow down, this is kind of important.
There's also the matter of how much New York would be giving up by trading down from 8 to 13. If Walt Perrin really felt that Pat Williams or Kira Lewis was the pick regardless of where New York selects, then this is probably an easier decision.
Then again, there's the matter of why New Orleans would be trading Ball to begin with: his next payday. If this season went well for Lonzo in New York, it's easy to see him wanting something in the neighborhood of four years, $60 million, minimum. With Mitchell Robinson wanting an extension somewhere around the same average annual value, that's suddenly a quarter of your cap on two players who aren't your best or second best guy. That doesn't mean it's a bad move, but it is a consideration.
And then, of course, there is the nightmare scenario: Ball's shot reverts back to where it was before this season, and you've suddenly added another player to your core who defenses don't have to respect from the outside and who doesn't bend a defense in any other way unless he's running.
To me, the risk is too high. Any trade the Knicks make this offseason in which an existing player is brought in should be one that definitively improves their spacing, and the guess here is that teams will still dare Ball to shoot it next season. Just like I erred on "no" to Bogey yesterday, I'm probably going to have to say no to this one too even thought I like Lonzo as a player.
Although…I will admit: the idea of a Ball/Ntilikina/Barrett trio at the 1/2/3 spots (all of whom would need to improve as shooters, of course), with the collective playmaking they'd bring…it's tempting. That team would still be in need of a true engine, perhaps someone they could pick up in the 2021 draft (or maybe Fred VanVleet has yet another level to reach), but there's a world where it works out nicely.
And who knows…maybe we see it after all, possibly as a precursor to another addition further down the line. After all, you know what they say about Balls…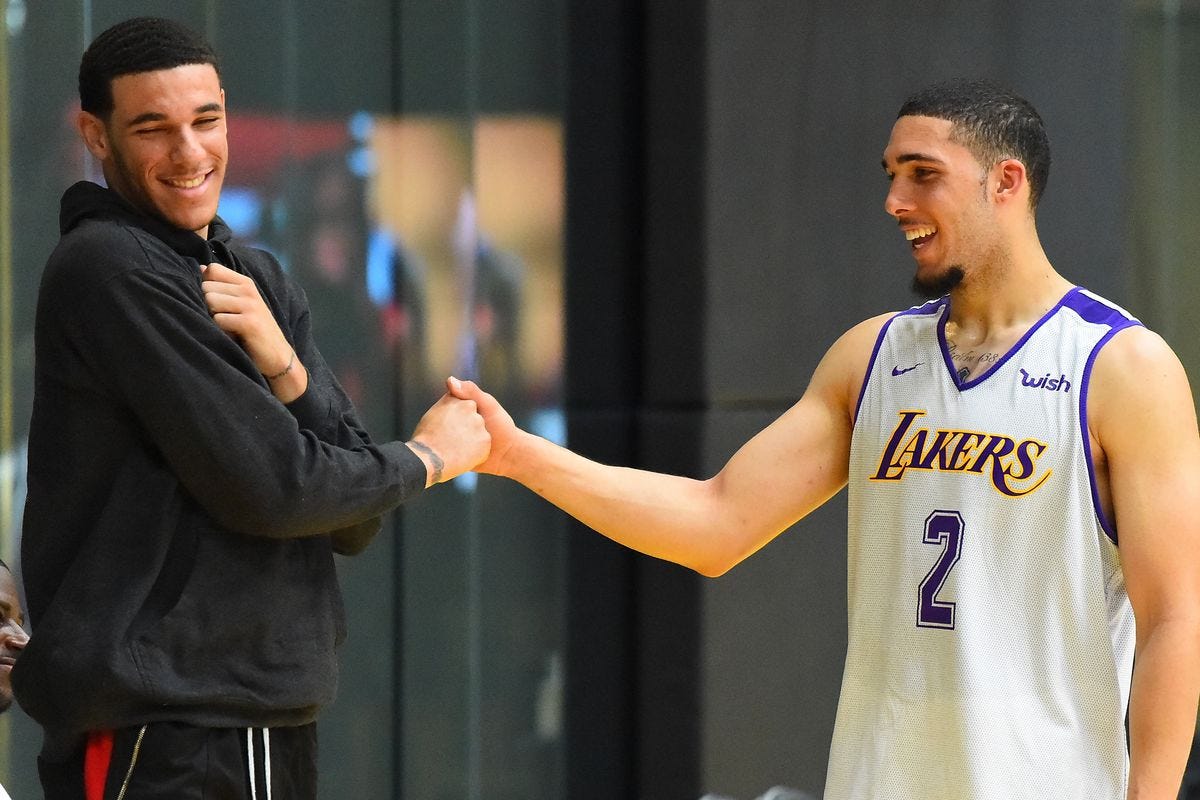 …They tend to travel in pairs.
;-)
---
Final Thought
A new section I added as I was watching Game 5 in the Utah Denver series last night…
The most impressive & important players thus far in the NBA playoffs who are still playing, in no particular order, have been:
Luka Doncic

LeBron James

Kawhi Leonard

Damian Lillard

Giannis Antetokounmpo

Donovan Mitchell

Jamal Murray

Jayson Tatum

James Harden

Anthony Davis

Kemba Walker

Chris Paul

Fred VanVleet
With the exception of Davis, who was a generational-ish first overall pick with guard skills due to a late growth spurt, every one of the guys on this list can a) shoot and b) direct an offense. More than half were drafted outside of the top five.
Remember this when you're thinking about what the Knicks should (or shouldn't) do - and the risks they should consider taking - with the 8th pick in the upcoming draft.
See everyone tomorrow. #BlackLivesMatter