Getting To Know Theo Pinson
He might just wind up being trade fodder, but Pinson's game still warrants some attention. Plus, a new podcast and an inspiring story.
Before we get to Theo Pinson the player - who the Knicks just acquired off waivers from Brooklyn, waiving Allonzo Trier in the process - we need to spend a minute or two talking about Theo Pinson the trade asset.
Pinson, prior to this season, signed a two-year contract with a team option for the second year that will be worth $1.7 million. This isn't a bad chip to have at your disposal if you're the Knicks front office, especially given the current financial climate in the NBA.
Why? Aside from the fact that Pinson is an interesting(ish) young(ish) player (we'll get to that part shortly), his small, fungible salary could be incredibly helpful in swinging a larger trade. Because of the league's salary matching rules, the Knicks' ability to swing trades could have been hamstrung by the fact that the only small(ish) salaries they had to toss into deals are those of their young, potentially core players.
Even Trier, at $4.5 million (his qualifying offer, the unpalatability of which I discussed on Monday) is more than just a skid greaser; it's a high enough number that it may turn another team off to what could be an otherwise agreeable trade.
At a little more than a third of that total, Pinson is a perfectly bite sized asset to potentially make a trade work under the cap without making the acquiring team queasy. Plus, the Knicks have until October 17 to decide on his team option, so they get to peddle him as a trade chip until then while also having several months to decide how he might fit on next year's team and/or how much his contract could come in handy in a potential trade next season.
All this is to say that Pinson has value even if he never steps foot onto the court for the Knicks. That's the less interesting part. More fascinating (to me, at least), is the potential untapped upside he has as a player.
Let's start with the idea of Pinson, which is that of a ball-handling wing with good size and serious defensive chops. That player showed up in the G-League last year. In nine games for the Long Island Nets, he averaged 15, 6 & 5 while hitting 37 percent from long range, becoming one of only four G-leaguers last season to appear in over five games and hit all those marks.
More than that, in the NBA, Pinson had a shot profile that would make Daryl Morey blush:
Unfortunately, that's where the good news ends.
To put those percentages are into context, according to Cleaning the Glass, among players at his position, Pinson was in the 6th percentile on shots at the rim and in the 2nd percentile on both 3-pointers and overall effective field goal percentage.
Yikes.
So why is this player interesting to me in the slightest? A couple reasons…
Pinson is an elite defender. Over the last two seasons, Brooklyn allowed 9.9 and 5.6 fewer points per 100 possessions during his non-garbage time minutes than they otherwise did. In particular, opponents shoot massively worse whenever he touches the court.

Before hitting 37 percent from deep on 6.0 deep attempts per game this year in Long Island, Pinson hit 38.5 percent on 8.1 long ball attempts as a rookie G-leaguer in 2018-19. The shot isn't a complete lost cause.

As a rookie in Brooklyn, the former Tar Heel hit 80 percent of his shots at the rim, albeit on just 15 attempts. Still, it's something.
Before we look at some clips, it also bears mentioning here that Pinson was in many ways at the heart of the vaunted Nets culture that pissed rainbows and farted sunshine everywhere is went (shoes off, please). If you don't believe me, here's Chris Milolen from Nets Daily waxing poetic about Pinson after he was waived.
Maybe I'm reading too much into the symbolism of Trier being the guy excised to make room for Captain Camaraderie…but let me have my fun. I don't think it was a coincidence.
Anyway, let's take a look at some high and low lights from last season, starting with a positive…
LaVine does a nice job staying with Pinson here on the drive, but Theo makes an even better adjustment once he gets in close range.
This Bulls game - Brooklyn's 12th - was the first time that Pinson saw non-garbage time minutes all season, and that happened only because Kyrie Irving went down with an injury. For the first 16 games Irving was out, Spencer Dinwiddie assumed the starting duties and Pinson became the de facto backup point guard.
As we'll see, it is not a position he took to seamlessly.
This play (from later in the same game) exemplifies a theme that started to emerge and explains why Pinson's numbers at the rim were so putrid.
Once Pinson makes up his mind that he's driving to the hoop, he rarely diverts from his initial course. Worse than that, the decision usually comes pretty early. Here, you can see DeAndre Jordan basically opt out of the play once he realizes what the game plan is - something that occurs when Pinson still has a foot behind the 3-point line.
Speaking of DJ, let's keep him in mind as we move forward…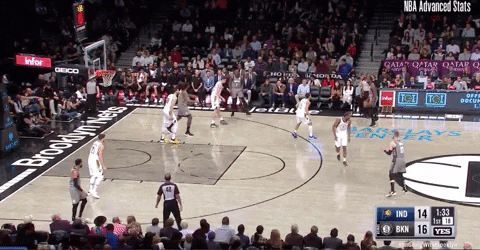 Wow, I haven't seen spacing this bad since…well, since the 2019-20 Knicks! Pinson will feel right at home.
Part of this, of course, falls on Pinson, who again displays a good bit of tunnel vision. That said, his "floor spacers" here are Džanan Musa (23.1 percent from deep last season), Garrett Temple (32.4 percent) and Taurean Prince (33.9 percent).
And then of course there's our good friend DeAndre "I couldn't give two fucks less when I'm not starting for a winning team" Jordan, who, umm…contemplates setting a screen, I guess? After that, he certainly doesn't roll hard to the rim…or do much of anything for that matter.
There's a lot of bad to go around here (other than the one positive, which is the decent turn into a burst that Pinson shows on his way to the rim.
For one, Pinson should have realized pretty soon after crossing the foul line that the play was to Temple in the corner (but again, we're not talking about a true point guard here, his 24.0 assist percentage notwithstanding).
But I also have to wonder about the effect that playing with DJ (seen here doing a lovely pirouette) as his primary pick and roll partner had on Pinson. Jordan's consternation last season has now been well documented, and as Knicks fans know all too well, he's not someone who makes much of an effort to hide his discontent on the court.
(And for you "but look how much he helped Mitch!" truthers, I've been told by a trusted source that Jordan's effect on Robison's late season growth as a rookie was wildly overstated)
In any case, I don't think it's an accident that during the 431 non-garbage time possessions Pinson shared with DJ last season, the Nets scored an almost unfathomable 94.9 points per 100 possessions (that's in the first percentile league-wide for those of you keeping score at home), but when he played with anyone else at center, that number skyrocketed to 113.7 points per 100 (77th percentile, albeit over just 161 total possessions).
For a visual explanation of this disparity, here's an early season hookup with Nic Claxton: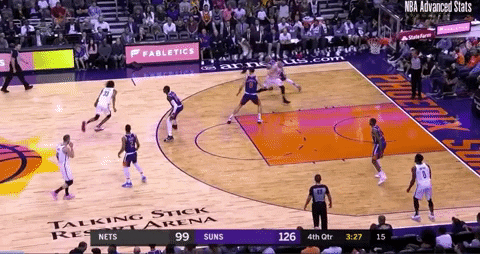 It's notable to mention that during his 16-game audition as the backup PG, Pinson had his best and third-best assist totals of the season in consecutive games at Cleveland (four dimes in 16 minutes) and at Boston (eight dimes in just 18 minutes).
Want to take a wild guess as to who just happened to be out for those two games? That's right: DeAndre Jordan.
This is where the possibility of Pinson as a legitimately helpful NBA player lies: as a secondary ball-handler on bench units that contain a springy dive big and a couple of plus shooters. I mean, it's not like he can't make all the passes you need from that spot: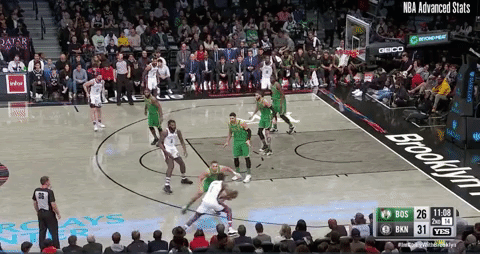 Two things:
I think my own personal version of hell would be having to watch an unending loop of Nets / Celtics games in which both DeAndre Jordan and Enes Kanter are prominently involved.

This is a really high level pass, both in that he's able to see it at all and the fact that he actually pulls it off.
Yes, Pinson will be 25 by the time he plays his first game as a Knick - if indeed we ever get to that point. Personally, I'm probably a little less than 50/50 that we will. But that doesn't mean there isn't a helpful player in there somewhere, especially considering his defensive chops, which are legitimately outstanding.
Here's hoping Leon Rose & Co. keep him aboard, even if it is only to see those famous dance routines make their way across the East River. God knows they'd be a welcome addition.
---
New Podcast
Nope, not a new episode - an entirely new podcast. It's called The Hoops Spy, is about the NBA as a whole, and is hosted by yours truly and Adam Taylor. Adam is the lead writer at Celtics Blog, a site that has produced the Ringer's Kevin O'Connor and a ton of other talent over the years. Adam can go toe to toe with any of them, and you should give it a listen/subscribe just to hear his insight alone.
I'll still be doing all my Knicks stuff, of course, but I've long wanted a platform where I could openly discuss relevant and interesting NBA topics that have nothing to do with the team I cover. This gives me that chance. I'm sure it's going to take me a while to get decent at it, but as always I'll have fun along the way, and I think you will too.
On our debut episode, we had the pleasure of being joined by Matt Brooks, who covers Brooklyn for Nets Daily (don't hold their Twitter account against him - he's awesome and the convo was fun & illuminating on what was probably the most relevant team in sports this week).
Anyway, hope you all enjoy.
---
#FreeDot
Damyean Dotson doesn't suck.
---
Person of the Day (Week? Millennium?)
If you don't know the story of Jonathan Irons and six-time WNBA All-Star and 2014 league MVP Maya Moore, here's a beautifully written primer that will get you caught up. Yesterday that story added another chapter, and boy, did 2020 need it.
If you're interested in seeing and hearing more, Irons and Moore are going on Good Morning America today to talk to Robin Roberts about this incredible journey.
That's it for today! See everyone soon. #BlackLivesMatter