G.O.A.T. Herding
The Last Dance is almost over. Let's make a list.
I figure that following Sunday night's finale of the Last Dance, we're in for a week's worth (at least) of back and forth sparring between those in Camp MJ and those in Camp LeBron about who truly is the G.O.A.T.
I will not be a participant.
For one, I think conversations about intricate topics played out on Twitter and by talking heads are usually a waste of time. Mostly though, I think any convo about MJvLBJ is particularly futile because it's such an intricate topic that there is no definitive right answer.
Sure, we all have our own opinion (we'll get to mine a little bit later), but debating the greatness of two men who so thoroughly dominated their respective eras (albeit in different ways) isn't an exercise that can result in one "correct" answer. There is no Gotcha! moment where someone can find the singular stat or superlative that elevates one over the other. This isn't baseball; teammates matter, and the league that LeBron finishes his career playing in will be almost unrecognizable from the one Jordan entered 36 years ago.
Plus, there are so many "What If's" to consider that it's almost pointless to consider any of them…but how about this: What if the Cavs were run competently (and maybe even got a little lucky)? Jerry Krause swung a trade for the rights to Scottie Pippen after Jordan's third season and drafted Horace Grant in the same year. That means MJ got to play with a top-50 all time player for the majority of his career, and another guy who was a top-50 player during most of his time with the Bulls.
After LeBron's rookie season, the Cavs had the 10th pick in the draft and took Luke Jackson, who scored 252 career points, or 44 more than James scored in the 2016 Finals. One pick earlier, the Sixers took Andre Iguodala. Al Jefferson, Josh Smith and Jameer Nelson all went in the next 10 spots. Tough break.
The following year, the Cavs didn't possess their pick, having traded it away nearly eight years earlier for Tony Dumas and Wesley Person, but they did have Zydrunas Ilgauskas coming off his second All-Star appearance in three years. If they still had their pick, could they have paired it with Big Z to move all the way up into the top four to take Chris Paul, who'd have been a pretty good Pippen in his own right? Even without the pick, maybe Ilgauskas alone gets them the 10th pick, which the Lakers used to draft Andrew Bynum.
Or to hell with all that even; what if the 2016 cap spike had been smoothed over several seasons, and instead of KD going to Golden State, he signs with Boston, makes LeBron's last two Finals appearances more impressive because he actually needed to beat someone good, and James gets another ring or two added to his resume?
You can drive yourself mad if you want. I choose not to.
But I do think the Last Dance finale is a worthy reason to write a Knicks Film School newsletter about something other than the Knicks, just because of the cultural phenomenon that the show has become over the last month. As this has made us all reexamine past vs present and confront our own definitions of what greatness really means, I want to use this as an opportunity to assess my own time watching the NBA.
So here's how I'm choosing to celebrate the final episode: my own personal 30 for 30.
(Please don't sue me, ESPN)
Instead of debating Jordan vs LeBron, I'm expanding the scope to everyone that played over the last 30 years, or the era spanning when Jordan came into his own until now, and ranking them from 30 all the way down to 1.
A couple caveats:
I'm only ranking players for whom a healthy portion of their prime took place after 1990 (or in other words, when I started watching the NBA), so this list won't include guys like Magic, Bird, Isiah, or Bernard King. The farthest back I'll go is a player taken in the 1982 Draft. That said…

I'm not going to ignore what the guys I considered did before 1990. Their entire career counts.

I'm not projecting out past this season. If a guy figures to win MVP or end up on an All-NBA Team in 2019-20, I factored that in, but you won't see "he'll probably wind up in the top ten all time in scoring by the time he retires" anywhere below.

I'm ranking both players and careers together. This makes sense in my mind. I think.

Finally, this list is personal, and I don't think there's a way to do one that isn't. I tried to be as objective as possible, but I'm not sure such a thing can exist if you've ever watched the sport from the perspective of a fan.
With that as the backdrop, here's your weekly Friday Top Ten x 3.
(as always, feel free to chime in with your thoughts to KFSMailbag@gmail.com. We're running a mailbag pod next week and I'd love nothing more than to share your thoughts about why everything you see below is completely wrong.)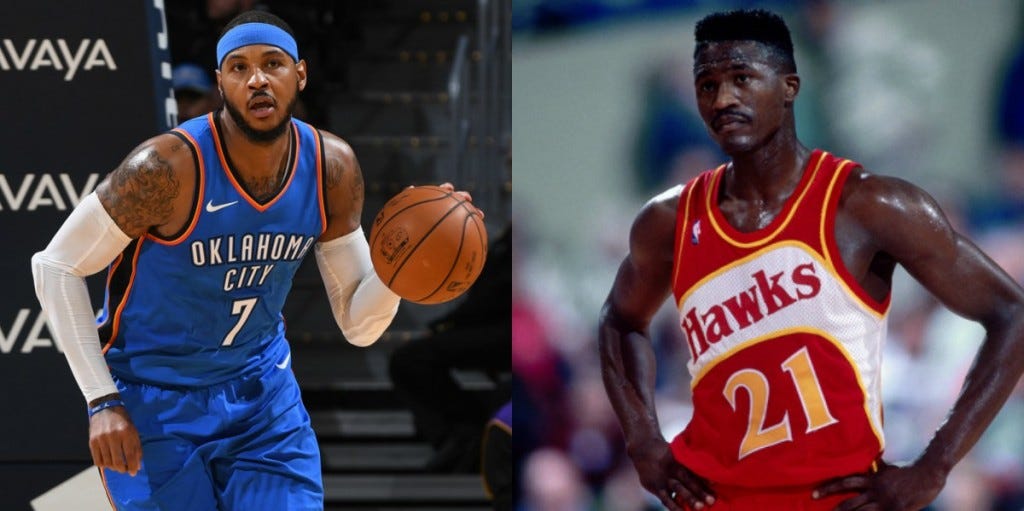 30. Carmelo Anthony
29. Dominique Wilkins
And you thought this wasn't going to be a Knicks newsletter…fooled ya!
I noticed on Twitter last week that ESPN released some kind of a list ranking the top 74 players ever…is this a thing? I'd go and check myself but, well…I don't care.
Anyway, I noticed it because someone was angry that Melo didn't make the list and my initial reaction was more or less "OK." It's no secret I don't think as highly of him as his biggest fans, but in the process of making this list, I tried to be as fair as possible.
Did I go overboard in sneaking him in? Maybe. Clyde Drexler led a team to the Finals, was second banana on a title squad, never missed the playoffs, and had one more top-6 MVP finish (3) than Anthony (2). If stat-stuffing is your thing, Drexler had six seasons of 20, 5 & 5. Melo had zero.
Anthony Davis also probably has a case, although it's a tough one to make without knowing how this year ends up. Reggie Miller would also like a word, but he's Reggie Miller, and thus, will not get one here.
In the end, I shoehorned the best Knick this century here for two reasons:
His scoring is one of the truly elite skills the league has seen over the last three decades.

He's incredibly similar to Dominique Wilkins, and there was no way I was leaving 'Nique off this list. Their careers are eerily alike: they're within 360 career points of each other, they're both around 24 points, 6.5 boards and 2.5 dimes a game, they both had some prime seasons outside the playoffs, they both made 16 All-NBA teams/All-Star games combined, they both made one legit run at an MVP, and they're both viewed as the poor man's version of the alpha dog of their era.
So don't say I never did anything for you, Melo Stans.
28. Dwight Howard
One of 26 players in NBA history to make at least five All-NBA First Teams and one of 34 to make eight total All-NBA teams. He was probably robbed of the 2011 MVP, and is the most dominant center we've seen since Shaq (not that that's saying all that much, although he does have more career rebounds than the Diesel). I wrote about his deterioration from generational talent to meme here, but in short, the last eight years shouldn't completely discount the first eight.
27. Tracy McGrady
Durant before Durant, only for not as long, and wasn't on teams nearly as good.
Never winning a playoff series shouldn't diminish the fact that he was neck and neck with Kobe as the most gifted bucket-getter in the league for a handful of years. Plus, on the six playoff teams he was the best player on, he averaged 30, 7 & 6 over the course of those six postseasons.
26. Jason Kidd
Is he the best "pure" point guard of his generation? He probably gets my vote, at least as far as elevating the play of everyone around him the moment he stepped foot on the court (just ask the 2012-13 Knicks). Still think he should have won the MVP in 2002. Nine All-Defense teams is no joke.
25. Gary Payton
Michael Jordan's evisceration of him on last week's episode shouldn't make us forget how good the Glove was. He's the only guy besides MJ and Kobe to make nine total All-NBA teams and nine All-Defense First Teams. Finished 3rd behind Jordan and Malone in the '98 MVP race, but the real reason he's so low here is this related, quirky stat: he finished 6th in MVP voting five times.
That's Payton in a nutshell - he was always just outside the conversation for the tippy-top of the league. Not that there's any shame in that.
24. Russell Westbrook
I'll just come right out and say it: I think that Russ is incredibly overrated, that he should have finished third behind Harden and Kawhi for the 2017 MVP, that he's a riverboat gambler on defense, and that the half-dozen godawful shots he takes every game are enough to keep him out of the conversation for the very best of his era. But he is perhaps the singular physical specimen of this decade behind James, and the only person who's ever been able to stop him is the guy he sees in the mirror.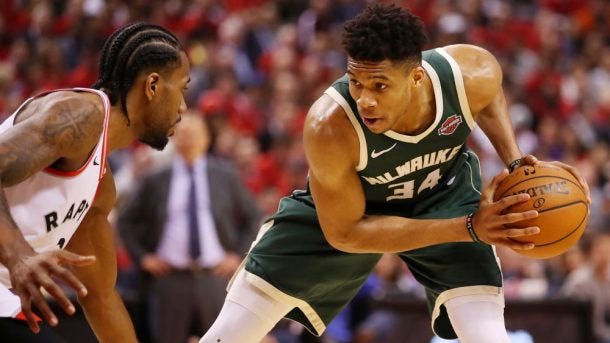 23. Kawhi Leonard
22. Giannis Antetokounmpo
My buddy Yash (of KFS Podcast fame) was arguing with me and Oz the other day that of everyone in the league right now, Leonard has the best chance to elevate himself to the status of top-five all time player. This, of course, is ridiculous, because regular seasons matter, and Leonard just doesn't have those accolades (and given the way he manages his, umm…load, he probably never will). But the fact that he's made two fewer All-NBA teams than Ben Wallace shouldn't be the nail in his coffin either.
I still don't know how exactly the term "best two-way player" is different from "best player," but he's come up in the conversation about the former an awful lot over the last half-decade. That matters, as do the Finals MVPs.
Now Antetokounmpo…that's the guy who has the best chance to be top-five all time. He's going to win the MVP this season, which will make him the third player ever to have two such trophies by age 25. The other guys are Mike and Kareem.
He just hasn't accomplished enough for me to put him any higher here, but it would be shocking if he wasn't in the top-five when I do a 35 for 35.
21. Dwyane Wade
I know…it seems low. But facts are facts. He was never the most important person to a title team (LeBron gets the honor in 2012 & 2013, while Joey Crawford and Bennett Salvatore tied for that designation in 2006), he contended for a single MVP (barely), and was a top-five player for maybe a two-year stretch.
Plus he's the living embodiment of the Heat. So f—- him.
20. Steve Nash
19. John Stockton
18. Chris Paul
Put these three up on a dart board and start tossing. Your guess is as good as mine as to what order they should be in.
17. Scottie Pippen
Me: Scottie Pippen is the most underrated player, not only of his generation, but maybe of all time. Five times in NBA history a player has averaged 20 points, eight boards, five dimes and two steals a game for a full season. Michael Jordan, Magic Johnson and Larry Bird each did it once. Scottie did it twice…during the two season he played (with the exception of 17 games) without Michael.
Also me: To hell if I'm putting him higher than the next guy.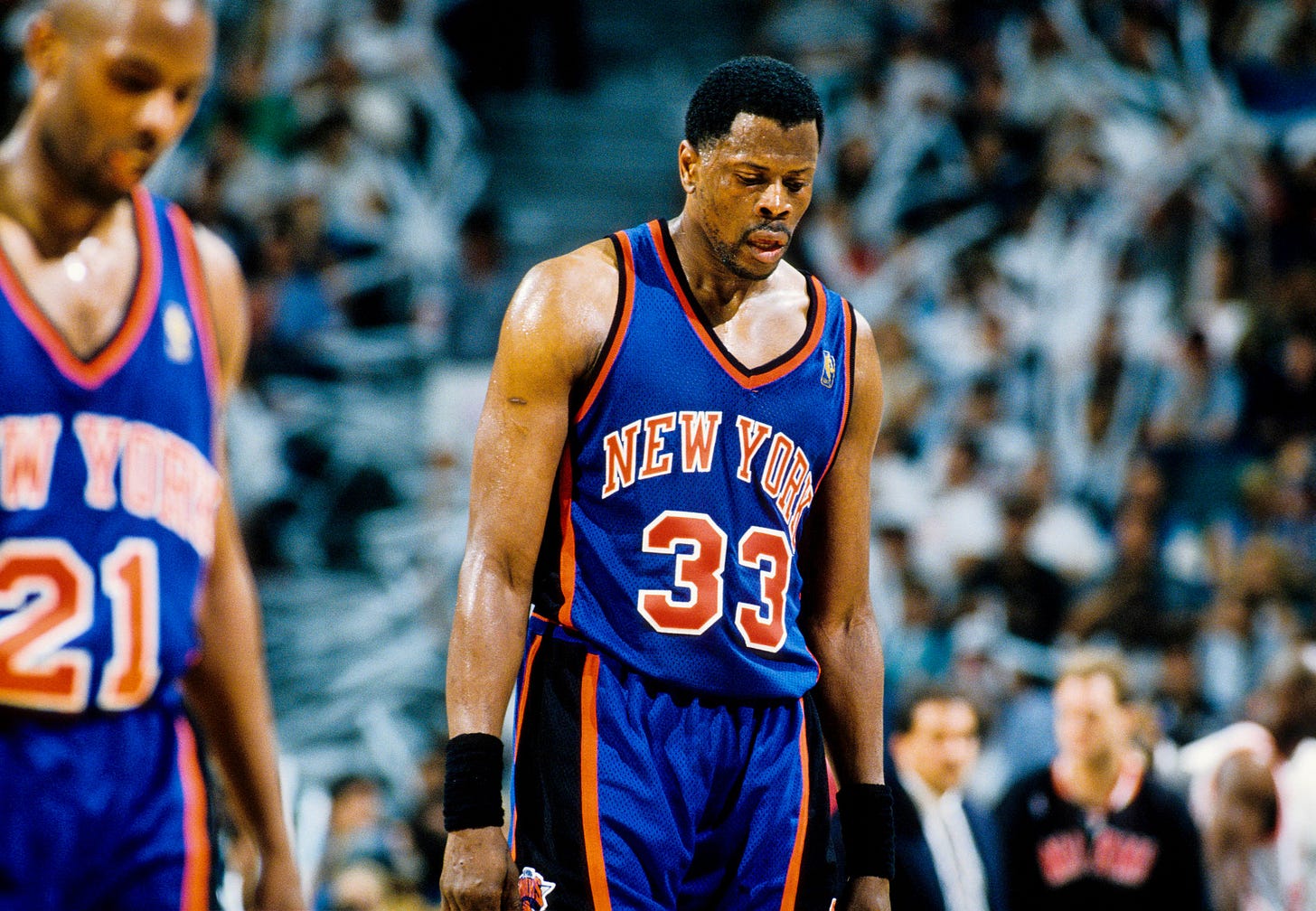 16. Patrick Ewing
I originally had him 14th. Then I noticed that the 13 guys ahead of him had all won MVP, and the two guys I had behind him had won MVP, and I remembered that Ewing never even finished top-three in the voting. What can I say…objectivity won the day.
Or at least this is as objective as I can be. Based on stats & accolades alone, he's probably still between five and eight spots too high, but I witnessed him carrying a team and a city on his shoulders for a decade in a way that the guys I placed below him simply didn't. I think he belongs here, and my guess is that you do too.
15. Allen Iverson
There will never be anyone else like him, and no one will ever be able to take that MVP or that Finals appearance away from him. I just can't put him any higher than this.
14. James Harden
He's led the NBA in scoring three straight seasons, and he finished second the three years before that. Besides Jordan, the only guys in the last 40 years who come close to such a hot streak are Iverson (four 1sts, two 2nds and a 3rd over a seven-year period), Durant (four 1sts, a 2nd and a 3rd over a six-year period), and Kobe (top-six for 13 straight seasons, which is utterly insane).
It's obviously a different game now, but his efficiency blows Iverson out of the water and bests Kobe by a comfortable margin (Bryant's most efficient year by eFG% is tied with the second-worst year of Harden's career). Harden has won an MVP and finished second three other times. Only his playoff shortcomings keep him so low. But he has time to rectify those.
Speaking of early-career playoff shortcomings…
13. David Robinson
If advanced stats are your thing, David Robinson would be ranked absurdly low as the 13th best player ever, to say nothing of the last 30 years. He's is 5th all time in PER (which, granted, is a stat that favors bigs…but still). He's second all time in win shares per 48 minutes, behind Jordan and ahead of Wilt. He's also 10th in value over replacement player (a statistic with relative recency bias, but again…10th).
Then there's the MVP, the four other top-three finishes, the 10 All-NBA teams, the seven All-Defense selections, the scoring title, the rebounding title…
And oh yeah…he won two rings.
I don't know…call this "not passing the smell test" when it comes to putting him any higher. Especially when…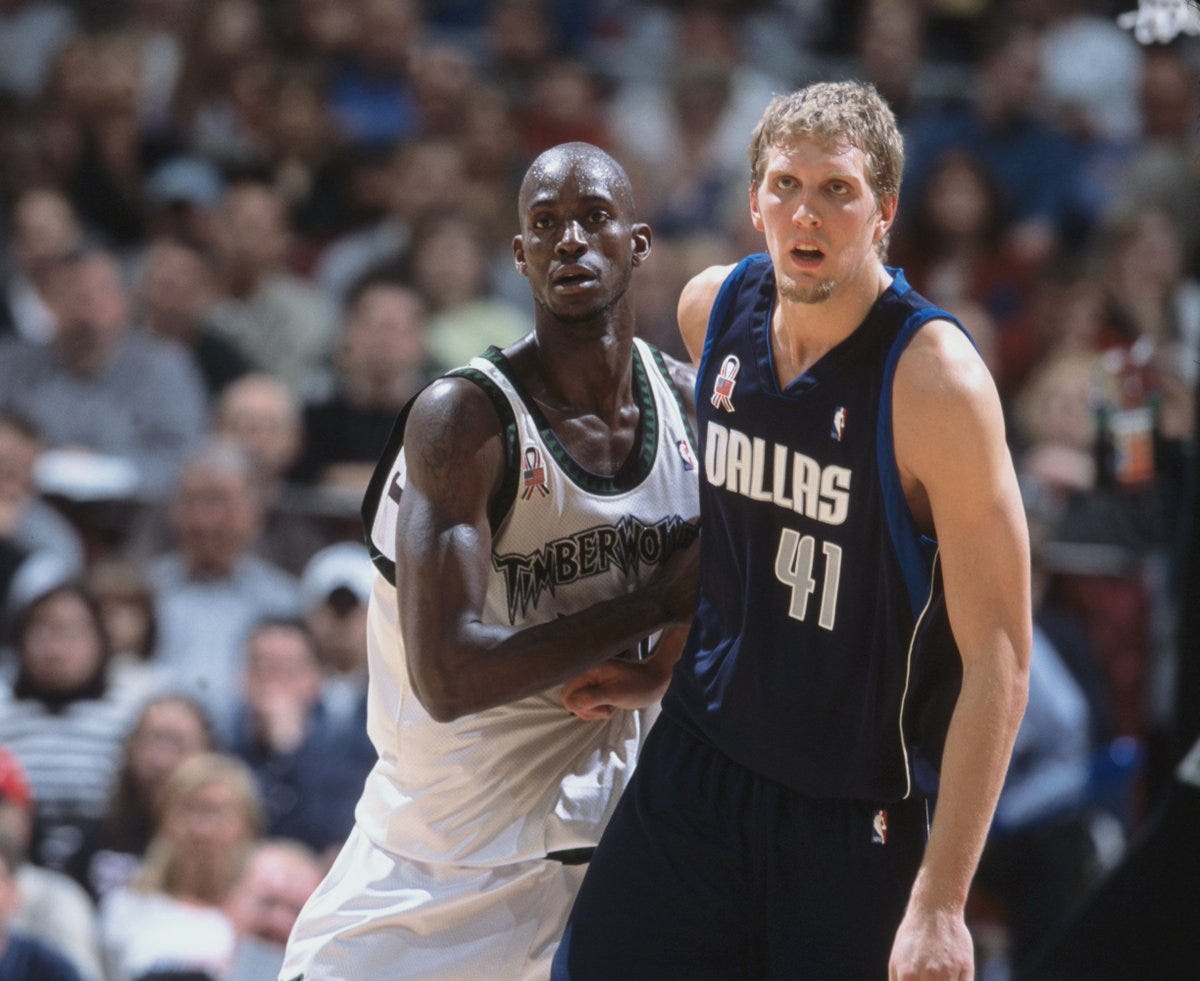 12. Dirk Nowtizki
11. Kevin Garnett
…KG and Dirk were the best players on a title team and Robinson wasn't. Garnett and Nowitzki also led two other teams to Finals appearances. Garnett might be a top-five defensive player ever, and Dirk possessed the single most unguardable shot since MJ's fadeaway.
And yet I can't put either of them ahead of…
10. Charles Barkley
Gun to my head, if you ask me to fill in the following analogy…
"LeBron is to Durant as Jordan is to ________"
…I'm taking Barkley 10 times out of 10.
And that, more than anything, is why he's in the top 10.
9. Steph Curry
He broke basketball.
**shrug emoji**
8. Karl Malone
The man won two MVP awards, was the best player on two Finals teams, is second on the all-time scoring list, and has 11 freaking All-NBA First Team selections. How low do you want me to put him?
7. Kevin Durant
He's the second best player of the last decade and the most versatile, unstoppable scorer of his generation.
Hold joining the Warriors (or the Nets) against him if you want. I can't do it.
6. Hakeem Olajuwon
Had him fifth (and still kind of feel like he should be fifth) for this reason: he was picked ahead of the greatest player ever, and no one in the history of basketball has ever once talked about that being some kind of colossal mistake.
It can be argued that no one has ever led multiple teams to championships without the assistance of another in-his-prime (or entering-his-prime) Hall of Fame player, but that Olajuwon came the closest. Drexler made two more All-Star teams after that second Houston championship, not to mention the All-NBA Third team in 1995. Was he still in his prime? Not quite…but he wasn't fully removed from it either.
Considering the individual accolades, just being able to have this conversation about Hakeem elevates him to this lofty status.
5. Kobe Bryant
Many words were written about Bryant's greatness since his passing earlier this year, so I won't say anything here other than that putting him fifth is much less a reflection of my opinion of him than it is a result of thinking so highly of the four players above him, all of which I rank as among the ten best ever.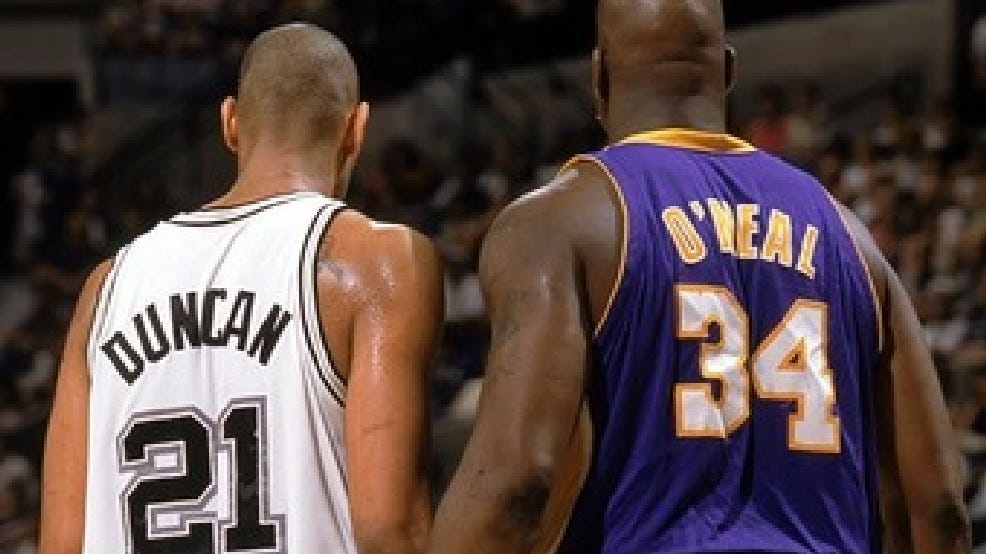 4. Tim Duncan
3. Shaquille O'Neal
Of the two, Tim Duncan has had the better career, and it is not particularly close:
Between All-NBA & All-Defense, Duncan made 30 all-league teams - the most of any player in history - to Shaq's 17.

Longevity: while both Tim and Shaq burst onto the scene like gangbusters, O'Neal was done as a high impact player sometime between year 15 and 17, while Duncan made the All-NBA Third Team in his 18th season.

MVP's: 2 to 1

Chips: 5 to 4

Intangibles: Duncan famously built the foundation of the Spurs culture by allowing himself to be treated no differently than the 15th guy on the roster. He was also incredibly hard-working throughout his career. Shaq, meanwhile, had his fair share of off-court interests, ditched the Magic, feuded with Kobe, and let go of the rope in Miami.
Despite all that, I have O'Neal higher, for two reasons:
He's the most dominant force I've ever seen on a basketball court. When he felt like it, he'd just own everyone, and not in a way that gave you hope either. He was Godzilla and everyone else was just a citizen of Tokyo trying not to get hit by a building.

In 1995, the Vancouver Grizzlies drafted Bryant "Big Country" Reeves sixth overall. Three years later, Michael Olowokandi went first. Four years later, the Bulls took Eddy Curry fourth. There are others I'm sure I'm forgetting, but over a solid decade in the NBA, every year, a team would draft a big guy early and some analyst would talk about it being a smart move because any team that hoped to win it all would obviously have to go through Shaq to get there.
In the time period we're considering, O'Neal lorded over the NBA in a way that only Jordan did before him and only LeBron has done since. That's why he's at number three.
2. LeBron James
I won't argue with you if you think I have him too low…
1. Michael Jordan
…but no one will ever top Michael for me. If I'm being completely honest, if I'd watched Jordan over the course of my 20's and 30's and LeBron in my formative years, and not the other way around, this ranking would probably be different. But that's not the way it went down.
On final thought: After hearing on Last Dance how relentless the media pressure was on MJ during some of those seasons, and considering how he played all 82 (or whereabouts) for the entire run of titles, I poked fun at LeBron on the last pod for not doing the same - most notably when he outright took a two week vacation in the middle of his championship season in Cleveland.
And then I thought about it some more: Michael Jordan took two years off to mentally recalibrate.
Some people point to those two years and ask what could have been, and claim that only his absence prevented eight straight championships. I go the other way: I think without the break, Michael doesn't even win the six titles he ended up with. Maybe the Bulls break up earlier, or someone has a mental breakdown, or a physical one, or maybe they just get beat. Either way, no way they get more than they ended up with in reality. That's my hot take.
It doesn't matter. He's still number one in my book.
And probably always will be.
Have a great weekend everyone, and enjoy the final episodes!