Great Things Come in Small Packages
Kira Lewis is the featherweight of this year's draft class, but it shouldn't stop the Knicks from strongly considering him.
News & Notes
The Pacers are hiring Raptors assistant Nate Bjorkgren to be their new head coach, according to The Athletic. Mike D'Antoni, Jeff Van Gundy and Kenny Atkinson remain on the market.

Marc Berman dropped a couple of nuggets yesterday that back up some things I've reported here over the last few months: first, Killian Hayes is the second point guard on the Knicks board (I had heard they liked him, although to what extent I wasn't sure, and am still not sure), and second, that Obi Toppin would be the Knicks pick if he was there at 8 (I wrote as much in September, much to the chagrin of many. Thankfully, he's all but certain to be gone by then).

Speaking of Toppin, according to Jonathan Abrams of the Times, he's been playing pickup ball with Knicks forward Kevin Knox.
Listen Up!
If you're on Twitter, the odds are that you've seen or interacted with today's podcast guest, the talented and engaging Kaelin Phoebe. We hit on a bunch of Knicks topics and have more than a few laughs along the way. Check it out here or subscribe where you get your podcasts.
Read This:
Jack Huntley examined New York's point guard situation for the Strickland. Always read Jack.
Tweet of the Day
---
Great Things Come in Small Packages
A little over a year ago, Ja Morant, a 175-pounds-soaking-wet sophomore guard, completed his rise from late first round prospect to top of the draft prize.
He achieved this through unmistakable dominance over whatever overmatched mid-major he happened to be facing on any given night. Morant was the only freshman or sophomore guard in college basketball to play over 36 minutes a game and average at least 18 points, five dimes and 1.5 steals per night in 2018-19. He was so good that he became the obvious choice over the young man who entered college as the consensus preseason No. 1.
A year later, RJ Barrett hopes to put his rookie year doubters in their place by showing that his struggles were merely a product of a clunky roster. Morant, meanwhile, is shining his Rookie of the Year trophy and looks primed for stardom.
Whether the perceived gap between those two begins to close next season remains to be seen, but the one certainty is that the Knicks are still in desperate need of a point guard (cue 40 years' worth of Knick fans nodding). At the 8th pick, they'll have yet another chance to find their long term answer at the position.
Staring at them is a 165-pounds-soaking-wet sophomore guard who also rose from fringe first rounder to lottery lock (he ain't slipping, folks). Like Morant last year, he's the only freshman or sophomore guard in his class to put up 18, 5 & 1.5 in over 36 minutes a night, and also like Morant, his blinding speed is a skill that few doubt will translate at the next level.
The difference, of course, is that while Morant was also doing stuff like this: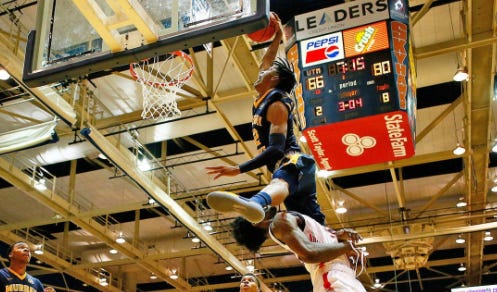 …while Kira's strengths are less eye-popping.
It's the reason that in all likelihood, Lewis is not going to make it four years in a row that a guard measuring less than 6'3" and weighing in at fewer than 180 pounds is taken in the first five picks. Before Morant, we saw Trae Young and De'Aaron Fox go fifth overall in consecutive years. They carried on the tradition of guys like Kemba Walker, Mike Conley Jr. and Chris Paul not letting their diminutive stature hold them back from being a high selection.
But looking at any of those guys as reasons to draft Lewis in the top 10 might not be wise. We knew Paul would be a generational pure point guard when he was at Wake Forest. Walker's shot-making and handle at UConn were obvious. Young had endless range. Fox shares Kira's blinding speed, but also added elite rim finishing and explosive athleticism. Conley's all-around game coming out of Ohio State was simply on another level.
If anything, Lewis' draft profile fits more in line with that of Aaron Holiday, who went 23rd overall in what was considered a rather strong 2018 class. Remember, we've already heard that between 6 and 10 players in next year's draft would go first overall this year. If you play out this trickle down effect, it's not hard to see Lewis going in Holiday's range - or lower - in a normal year.
Holiday checks in at 6'1", 185 lbs, and joined Shabazz Napier (24th pick in 2014), Patrick Beverly (42nd pick in 2009), Isaiah Thomas (60th in 2011) and the six names listed above as the only nominal point guards 6'3" or under and 185 pounds or less who started at least 30 games last year. It's not like teams aren't still relying on little dudes, even as pick & roll and switch-heavy schemes have made the NBA a league where you're often only as good as your weakest defensive link.
It's just that the link better be worth it on offense (or not as target-worthy as he might appear).
Projecting whether Lewis hits his optimal outcome (slightly poor-man's Conley Jr?), median outcome (Holiday) or merely becomes a solid backup depends on his progress in a number of areas, including finishing, off the dribble shooting and decision-making. The one thing he has going for him is that despite already finishing his sophomore year, Lewis is just 19 and a half (Holiday, FWIW, was 22 on draft night). Only LaMelo Ball, Killian Hayes and Theo Maledon are younger among this year's point guard crop.
Does it mean that more progress is on the way? The jump he made from his first to second college season is encouraging if not overwhelming:

Part of those improved sophomore numbers included a 37-point outburst against likely top-overall pick Anthony Edwards and Georgia: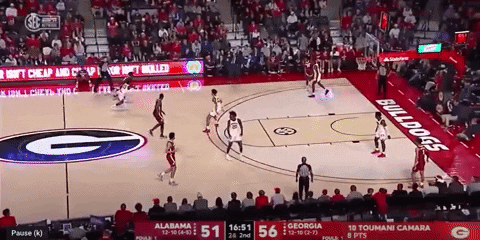 In a lot of ways, Lewis is Daryl Morey's wet dream. He lived behind the arc and at the rim, and less than five percent of his shot attempts came from the long midrange. Of the few two-point attempts he took from outside of the restricted area, most were floaters, like the one we see above.
Kira was electric against the Bulldogs, getting to the rim at will and knocking down three of six from deep. He also got the line 15 times - easily a season high.
But most teams were more judicious when it came to guarding Lewis, finding ways not to let his speed hurt them too badly. One secret was to not let Lewis get to the line, resulting in an underwhelming free throw rate (just .292). Defenses also knew he wasn't a great finisher, and dared him to make tough shots at the hoop. Those bets paid off more often than not, as Kira shot under 50 percent on non-putback/post-ups around the rim (h/t Spencer Pearlman's excellent Stepien scouting report).
Morey's wet dream aside, it would have been nice to see Lewis develop more of a midrange game to add another tool to his arsenal, but we haven't seen such a thing thus far. On the bright side, Lewis routinely used the threat of his speed to open up other segments of the offense:
Here, Lewis gets just enough of a step on Okoro before turning on the insta-jets, forcing the big under the rim to take that extra half step across the lane. It was enough to get his teammate a wide-open three.
I've had a few back and forths with Spencer about Kira's passing…on one hand, he doesn't have the vision of a classic pure point, but on the other, his speed opens up so many holes that it makes up for what he doesn't see two or three steps ahead.
As I mentioned, that first step is going to be just as lethal at the next level. One would think playing with a lob threat like Mitchell Robinson would give rim protectors lying in wait a difficult choice. He also needs to continue improve at making off the bounce threes (he was in the 82nd percentile in this category last year in terms of his efficiency, but made a little less than one per game).
Perhaps most importantly, Kira's accuracy on these passes is rarely off. This goes for ones with a higher degree of difficulty, as we can see above, or simpler ones, like we see here:
As Fred Katz detailed in his phenomenal piece for The Athletic a few years ago, there's a big difference between an pinpoint pass and one that gets to it's destination but forces the receiver to make an adjustment just to obtain the rock and then get back into his shooting motion.
Not coincidentally, Alabama made more threes than any major conference team in college basketball. Many of these were from the corners, which are the passes most easily opened up by Kira's ability to draw the defense's attention.
In related news, only three teams made corner 3-pointers a lower percentage of their shot profile than the Knicks. Kira's presence as a passer is certain to change that, but his shooting might not hurt either. Lewis only had a dozen looks from the corners this year, but he made seven of them.
Sometimes he doesn't even need to get past the arc to draw defenders his way:
I'm spending a lot of time on the passing for good reason. If he's playing, he's going to have to be on the ball a lot to justify his presence on the court at his size.
Yes, he's good from deep - Lewis was over 40 percent on catch and shoot opportunities last year - but has not shown evidence of being the type of movement shooter that can really give a defense fits. If you're drafting him, it's because you think he can run the show at an acceptable level.
The finishing is a big part of this as well, but counting on significant improvement there is probably a bit much. If anything, the team that drafts him would be best served making a commitment to running like the dickens whenever they got an opportunity to do so, because when Lewis gets a runway, he's virtually unstoppable: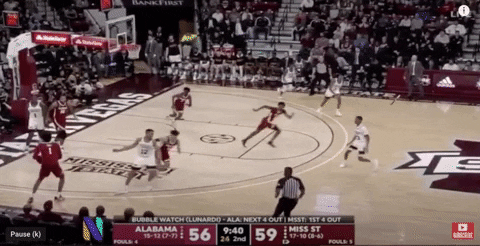 The defender here had a quarter court lead on Lewis…and it meant nothing. Larger NBA players will obviously limit his ability to thrive in transition as often as he did at Alabama - an obscene 21.8 percent of the time - but it's a skill set that can be exploited nonetheless.
This is low hanging fruit though. The biggest point of emphasis for Lewis will have to come in the weight room. For one, it'll help up those paltry free throw numbers (although to be fair, he got to the line at a better rate that LaMelo and far more than Tyrese Haliburton, who makes Frank Ntilikina look like James Harden).
More importantly - and this is really where the projection on Kira Lewis has the most variance, at least in my mind - it'll determine what kind of defender he is at the next level.
We've seen some promising signs already: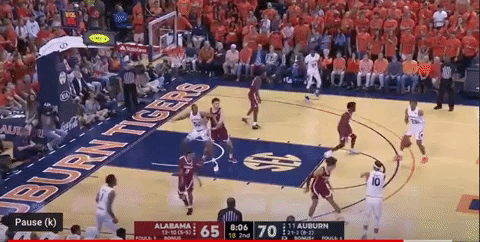 Lewis' footwork wasn't always great and it needs work overall, but he's shown the ability to navigate screens and make splash plays when the opportunity is there.
His demeanor on the defensive end also never changes (cue Frank stans grinning ear to ear). In the above game, Alabama went down 16-0, on the road, against a team that had lost twice all season. By halftime, it was a three point game. The Crimson Tide eventually lost in overtime, but their defense never gave in despite being massively undersized across the board.
And Kira Lewis never left the court. Literally. He played all 45 minutes of the game - a poor one by his standards, going just 3-of-13 from the field - but never let his offensive struggles interfere with his poise on the other end of the court. That's the good.
The bad? Once they got to OT, Lewis was repeatedly targeted by Auburn's senior guard, Samir Doughty:
Whatever team drafts Kira will likely always have to worry about how often and how badly he'll get picked on in the biggest moments of games. That's just a fact.
There are signs of hope though. The aforementioned Pat Beverly is a doberman, and he's only 6'1" and 185 lbs. The recently retired Darren Collison was also a solid defender who was Kira's weight and two inches shorter. DeAaron Fox is a pain in the ass to deal with and is still a wiry sort. Thinking that Lewis can rise above a level of respectability isn't out of the question at all.
But he'll still be the smallest guy on the court whenever he's out there, which gets us to the final two-part question: Is Kira Lewis is the best fit for the Knicks now and in the future, and is there a difference between those two answers?
Small guys on really good team justify their presence with otherworldly offensive capabilities - players like Steph, Kyrie, Kemba, and the like - which Lewis is simply never going to possess in all likelihood. Anyone hesitant to get on the Tyler Herro Hype Train should only be doing so because he's not a primary ball-handler and also isn't a large man.
But even Herro has two inches and thirty pounds on Kira, who might never become the offensive weapon the Miami guard currently is. This forces us to ask whether, for the Knicks right now, perfect is the enemy of the good.
New York needs help everywhere, but perhaps most desperately, they need a capable lead guard who can keep defenses honest from deep. Kira can do that, and despite his physical limitations, will probably raise New York's defensive ceiling in the immediate future. He also doesn't possess the high-end outcome of guys like Hayes, Okoro and Vassell (who I'm still including here despite the video which we shall not speak of).
The ultimate answer is probably that the draft will dictate what the Knicks should do. If there's a trade down offer that gives Leon Rose enough bang for his buck, and he can slide back to the late lottery to nab Lewis, he probably should. There's also a scenario where the Knicks slides back too far and lose Lewis to the Suns, who allegedly like Kira (something that makes perfect sense given his snug fit with Devin Booker and the plethora of shooters Phoenix already has).
That just gets us back to how highly they value Lewis over, say, Tyrese Maxey or Patrick Williams – two other names we've heard they're interested in who could go at the tail end of the top ten, slip to the late lottery, or maybe even slide further than that. This is that type of draft, where nothing is certain, and where knowing what the hell you're doing may be at more of a premium than ever.
This much is certain though: if Lewis ends up in orange and blue on November 18, no Knick fan should be disappointed. He's the very definition of a gamer, and whether it's in a prominent role on a bad team or eventually as a high end backup on a great one, he's going to help teams win games for a long time. And that's not something the Knicks should take lightly.
That's it for today! See everyone again tomorrow. #BlackLivesMatter #VOTE