Here Lies the 2019-20 New York Knicks
The public viewing was held last night, from 7:30-10. If you missed it, lucky you.
As far as Knick descents into darkness go, this one now officially has more rungs on the ladder than usual…
Get embarrassed in free agency? Check.
Get embarrassed by good teams early? Check.
Get embarrassed by bad teams early? Check.
(Musical interlude, played over a video of the Mills/Perry post-game presser at 2-8)
Fire coach? Check.
Get embarrassed by good teams under new coach? Check.
Last night, we got to check the last box. The Knicks were embarrassed - at home, no less - by a Suns team that has the same number of wins as the Knicks do over the last two months (eight) against teams that aren't the Knicks.
How the game unfolded is probably more discouraging than that it unfolded at all. The Knicks led this one by eight points less than a minute into the second quarter, and proceeded to get outscored by 31 points over the next 35 minutes. Their defense gave up 95 points over that span of time, and had many possessions with the look and feel of a team either beginning it's preseason slate in September or playing out the string in April.
After the game, Mike Miller talked about "owning" this loss. Mitchell Robinson, meanwhile, when asked about the Suns taking it to them as the game went on, responded that "they didn't take it to us, they just made shots." A few feet away at almost the exact same moment, Marcus Morris discussed the team's lack of effort, energy, excitement and how when they should be coming together, instead "they're pulling apart."
To say there is a disconnect about what had transpired is an understatement.
Robinson, to his credit, wasn't wrong. The Suns bigs, whether it was DeAndre Ayton, Aaron Baynes or Dario Saric, were hitting outside shots over Mitch all night long as he remained wary of straying too far from the paint, as is his role in this defensive scheme. He's the last line of defense in a unit that has often shown little resistance to anything coming their way. He's damned if he does, damned if he doesn't.
It's why the Knicks, over their last eight games, have a 120.1 defensive rating, which ranks last in the NBA over that time. It's a far cry from the 108.6 figure they posted in Mike Miller's first dozen games, over which the Knicks were 6-6 and the life support for this season was still generating a few beeps.
This is what letting go of the rope looks like, and we probably shouldn't be surprised.
Marcus Morris was asked after the game about whether the team's recent 1-7 stretch has made it difficult for the front office to keep this team together as the trade deadline approaches, and he responded flatly that it's not his job to make those decisions.
It was obvious, but telling nonetheless, as much for what wasn't said as what was. Morris has maintained a desire to stay in New York all season long. None of that sentiment was present yesterday.
Ironically enough, games like last night and stretches like the Knicks are in right now are both the best argument in favor of the front office's plan heading into this year and the best argument for why they should not be retained past this season.
Little development happens when the collective mindset is one of defeat before the game is halfway over, which is exactly what Mills and Perry were trying to avoid.
Instead, they enabled it.
If you don't think the vet core of this team is thinner than tissue paper, go back and watch from the 7:30 mark of the second quarter to the three-minute mark, a four and a half minute stretch that saw the Knicks give up 19 points.
That stretch began, not coincidentally, with Julius Randle and Elfrid Payton checking into the game for Mitchell Robinson and Frank Ntilikina. When the "veteran leaders" you brought in to teach the young players how to win games are very the reason you're losing them, there is a problem.
As there is when the home team comes out at halftime and this is the first defensive possession they have: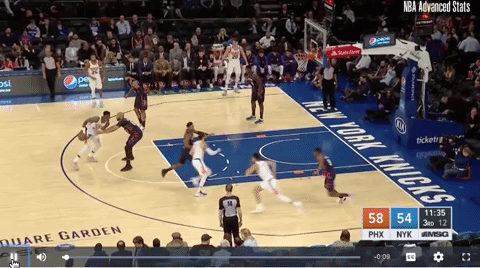 If you know what the hell Elfrid Payton is doing on this play, please email your answer to PleaseMakeItStop@Gmail.com.
Two plays later, following RJ getting beat on a Booker backdoor cut where no one remotely thought of helping, we saw Julius Randle, umm… fronting Deandre Ayton, I guess?
(I'm a bit uncertain here because I've been told that fronting your man works better when you attempt to prevent him from obtaining the ball in the first place. When you merely stand in between him and the ball handler and roll out the red carpet to the hoop, I'm not sure the term still qualifies.)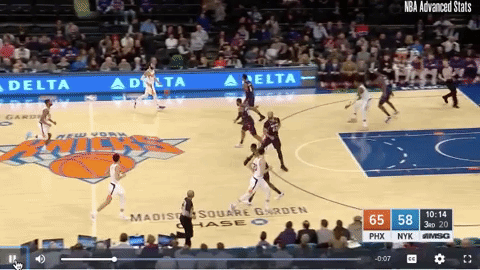 I don't mean to pick on Elf and Julius today, especially because their defense hasn't been this porous all season long (although it also hasn't been that far off). There is a reason the Knicks have been better with Randle and Payton on the court than with them off, and that's because on many nights, they have been among the best players New York has had.
But this campaign always carried with it the risk that things would turn sour in a hurry – where a playoff push would morph into a lottery free fall well before the All-Star break. Some of the Knick vets – Taj Gibson, most notably – maintain a certain level of professionalism regardless of the team's record. That alone means his $8 million salary was money well spent.
Randle? His 26 points led the team, but his 23 shots were also twice as many as his next closest teammate (Marcus Morris, with 11). Julius will continue gobbling up possessions and putting up numbers for as long as here, all the while setting the tone as New York's highest paid player and self-proclaimed team leader.
He is the horse unto which this front office chose to hitch its wagon. And that, perhaps more than anything else, is the biggest indictment on them as anything else. The NBA contains a rare few players who should be setting the tone, but is mostly filled with those who should be following others that do the heavy lifting. When someone is drastically miscast, it can lead to problems. Big problems.
But talented leaders are hard to find. Last year's team didn't have one, so they took their cues from the coach. Like many players on the 2018-19 roster, he wasn't very good at his job, but at least that tanktastic bunch never let go of the rope.
This summer, in the absence of finding a true team leader who fit the bill, the front office had a chance to continue to mold this roster in a certain image – with veterans who, like Gibson, would carry on with the utmost of effort even as the games became meaningless. Instead, Steve Mills and Scott Perry signed talented players who maybe didn't fit this mold in the hope that the season would never take that turn for the worst. Tragically for them, if they had focused more on character and less on stats, the kids – and specifically RJ, Frank and Mitch, all of whom consistently play with effort if nothing else – would be getting more time, the team's record might very well be better off, and the most predictable downturn in the history of downturns might instead have been avoided.
But we're as far from that alternative universe as the Knicks were from a victory last night. What's left is a 40-game stretch that will inevitably be a hodgepodge of vets and kids without any clear direction as to what the hell is going on.
On that note, I'm going to end this obituary by showing just how fickle I am, and just how little conviction I have.
Yesterday here, I predicted that the Knicks would trade at least one of their young players, acquire a "win now" piece, and that the Knicks' brass would survive the season. After last night, I'm going back on all three.
Sorry for the flip flop, but having been in the building last night and witnessing that debauchery first hand, I just can't see a world where James Dolan signs off on any trade that doesn't involve a vet going out and a pick coming back.
I also can't see him entrusting this leadership group with another season. How could he? Not when the intent of this year has completely backfired. The emperor's new clothes have been revealed. There is no "there" there when it comes to what remains.
Thankfully though, there is talent here, and assets, and they are not boxed in by bad contracts or future years with no pick.
At this point, as long the organization can make it past February 6 with that situation still intact, I will be thankful, and we can move on to what we as Knick fans do best: Looking forward to next season, when the dead will rise again.
Maybe next year, they can actually keep the blood flowing through their veins for all 82 games.
As we look down at the corpse that is the 2019-20 New York Knicks, that much alone would be worth celebrating.