Here's to Dads
A belated Father's Day tribute, some more coaching news, and a draft prospect back in action
First and foremost, a belated Happy Father's Day to all the dads out there.
Like a lot of people who read this, I'm a Knicks fan in large part because of my dad. He was always a massive sports fan: Yanks, Jets and Knicks all the way, and like many New Yorkers born around 1950, Mickey Mantle was his lord and savior. Also like a lot of dads, my father tried like hell to get me to obsess over sports almost from the day I was born.
And I would have none of it.
That's because I'm a child of divorce, and I was only with my dad one night a week. The rest of the time was spent with my stepfather, who cared as little about sports as my dad was devoted to them. Save for the occasional pay per view boxing match and the Super Bowl, sports were almost never on in my house during my formative years. My dad tried mightily to get me to care, but one day a week just wasn't enough to make an impact.
Then came 1993, when the entire city got swept up in what was happening at Madison Square Garden. My stepfather couldn't resist, and suddenly Knicks basketball found itself on our television on a regular basis. Then on Friday nights, I'd head to my dad's apartment to watch Ewing, Oakley and Starks do their thing by his place.
These two men could not have had less in common (well, aside from their taste in women I suppose) but that year, I became connected to each of them in a way I hadn't before, all thanks to those orange and blue uniforms. To this day, I'm convinced that my obsession with this team is intimately connected to the fact that it was the single thing I shared with them both.
Knicks fandom as a coping mechanism…go figure.
Fast forward five years. My stepfather and mom had separated just as the NBA lockout was getting started. We still saw each other though, and still talked Knicks whenever we did. Oddly enough, my mom soon started dating someone who had a hookup for Knicks games, so I was granted tickets for Games 4 and 5 of the '99 Finals.
I remember asking my mom what I should do, and she said I should take whoever I wanted. So Game 4 I decided to take my stepdad, and Game 5 I took my dad. In my mind, it seemed like the only fair and equitable solution. How I didn't end up in divorce law is beyond me.
My stepdad passed away a few years after that, but not before converting to Nets fandom. He loved the Kidd-led squads, and would needle me about it every time we saw each other, when the first words out of his mouth were always the same:
How 'bout those Knicks?
"Shitty, dad. They're shitty."
I didn't care though. The connection to those uniforms was still there, and whenever I think back to the 90's Knicks, I think of him. I remember how much he always stayed up to date on the team, a little because he learned to like basketball, but mostly so we could have something to talk about. There isn't a day that goes by that I don't miss him.
As for my dad, he still roots for the Knicks, although not as hard as he once did (and really, who could blame him). It is a bit ironic that the man who would have cut off a pinkie toe to get his son into sports as a young boy now can't keep up with my level of obsession, but I guess all in all it balances out.
In any case, Happy Father's Day dad. And to my stepdad, Happy Father's Day to you too. I hope you're following someone better than the Knicks or Nets, wherever you are.
---
Waiting Room Getting Crowded
Add another name to the Knicks' list of official candidates for their head coaching position: Jamahl Mosley.
Mosley has been an assistant with the Dallas Mavericks since 2015, having spent the last two seasons as something of a defensive coordinator. He also has a bit of a bromance going with Mavs star Luka Doncic. He's been a hot name in the coaching ranks going back to his days as an assistant in Denver, where he seemingly made a lasting impression on the head coach there at the time: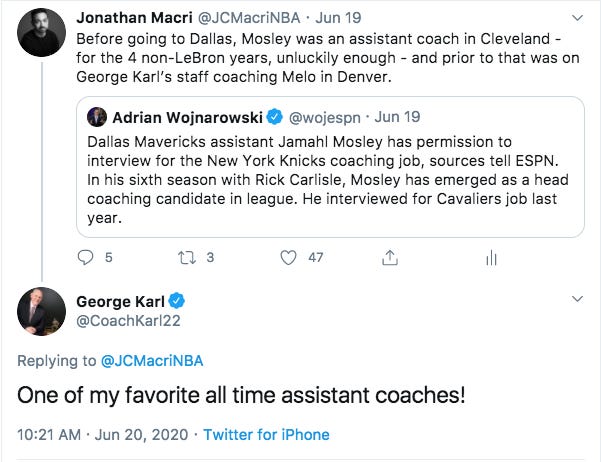 Fun Facts:
This brings the list of people who are reported to have interviews set up with Leon Rose & Co. to nine: Thibs, Kenny Atkinson, Mike Miller, Mike Woodson, Will Hardy, Ime Udoka, Pat Delaney, Chris Fleming and Mosley. Becky Hammon's name has also been mentioned. Here's my pitch for her candidacy, ICYMI:
---
Deni's Back
All signs still point to New York going point guard-or-bust in this draft, but there's a better than decent chance that wherever they wind up picking, the best player available won't play their greatest position of need, and instead might very well be this kid:
I feel far too unqualified to have a "board," having only watched a couple full games of most of the top guys, but here's what I do know: if the Knicks get the fourth pick and LaMelo Ball, Killian Hayes and Anthony Edwards are all gone, assuming the price to trade up is exorbitant, Deni Avdija should absolutely be in strong consideration.
That said, despite his ball-handling and passing vision, drafting him and pairing him with RJ Barrett still doesn't solve their point guard problem. Even the best creamed spinach and potatoes au gratin in the world won't cut it if there's no steak on the plate, and this team needs a lead guard in the worst way.
(I'll keep the fantasies of a Frank/RJ/Deni/Gallo/Mitch starting five to myself, thank you kindly)
But there's a world where taking another guy like RJ - a secondary playmaker who can play across multiple positions and thinks the game at a high level - makes sense, especially if they can snag someone like Goran Dragic on a one-year overpay.
In the meantime, we should all keep an eye on Deni, especially as his competition improves (as Sam Vecenie pointed out, the team he played on Sunday is booty). He's damn good, and getting better.
For more on Deni, here's Spencer Pearlman's exquisite scouting report on him from a few months back.
---
New Podcast
---
Tweet of the Day
That's it for today…see everyone soon! #BlackLivesMatter