It's Time
If ever we needed proof of change, we got it last night
My apologies, ladies and gentlemen.
We interrupt your regularly scheduled Knicks Film School Newsletter to bring you a play in 8 acts.
I proudly present…
Julius Isolé
Act 1: "
The First Goddamn Possession"
(Reminder that Julius is currently shooting 25 percent on above-the-break threes this year, which is in the 17th percentile league-wide for big men, according to Cleaning the Glass.
Not for all players. Just bigs.)
Act 2: "
I have lost my ball"
Guest starring RJ Barrett as "Open"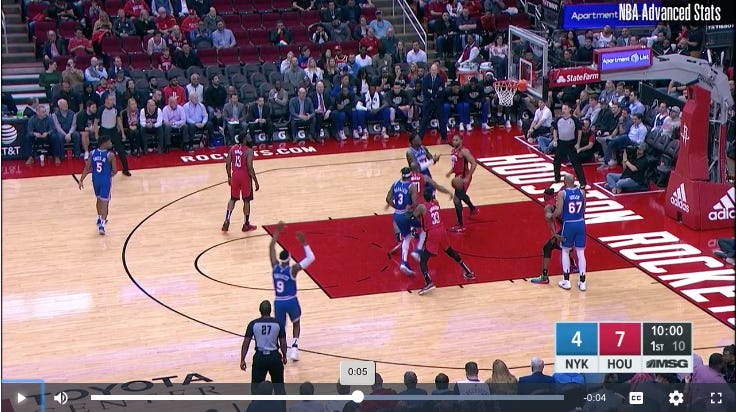 Act 3:
"I have lost my ball yet again"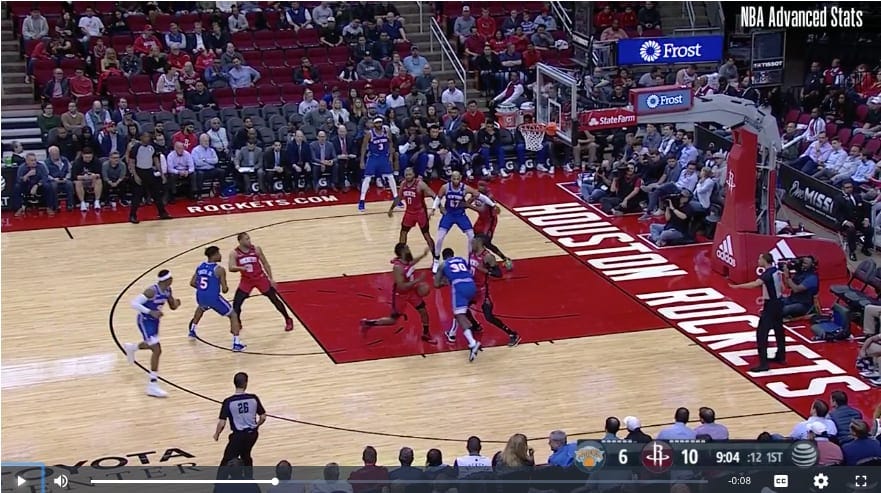 (Note that Randle is one of just two players who have seen over 1500 minutes of court time this year that is averaging at least three turnovers per 36 minutes but also under four assists per 36. The other is Andre Drummond. Shame we didn't trade for Dre when we had the chance. Next time, Scott. Next time.)
Act 4:
"Get Away from Me"
(Offensive foul)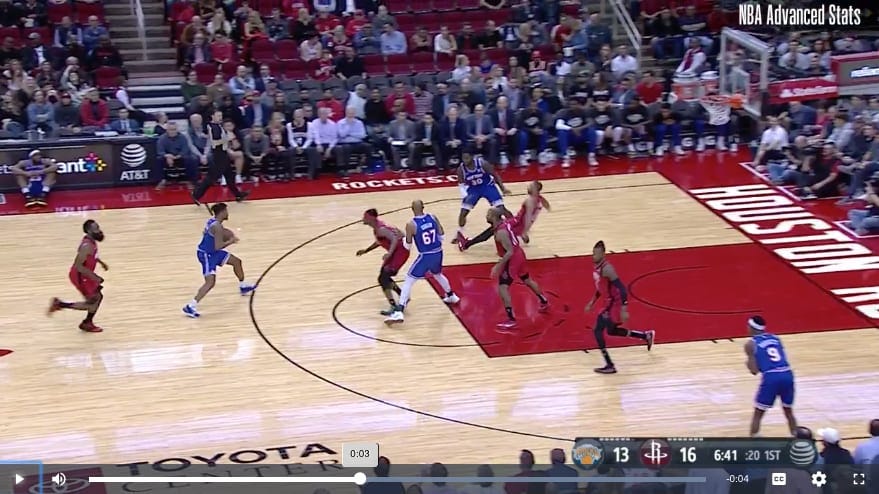 Act 5: "
Fadeaway"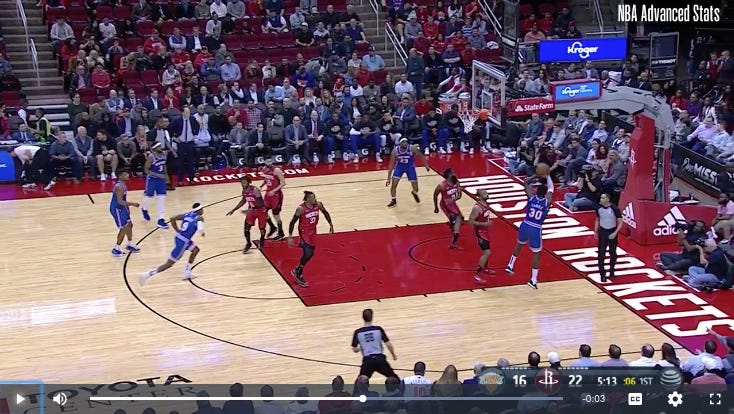 Act 6:
"The ball has again departed"
(The role of "Open" is now being performed by Moe Harkless, known better by his stage name, "This is not what I thought basketball was")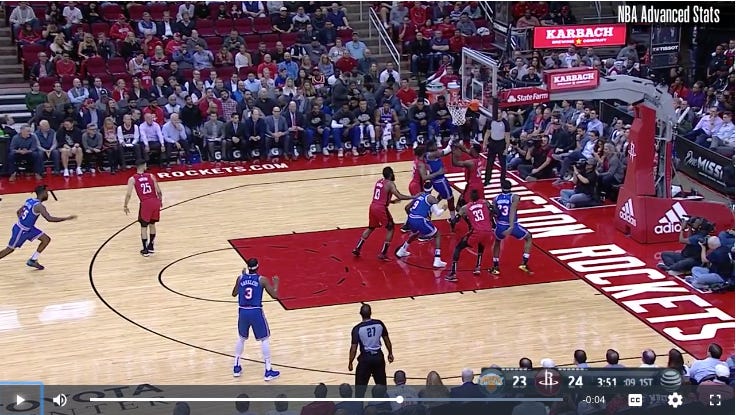 Act 7:
"Fadeaway: Redux"
(RJ Barrett has reprised his original role as "Open")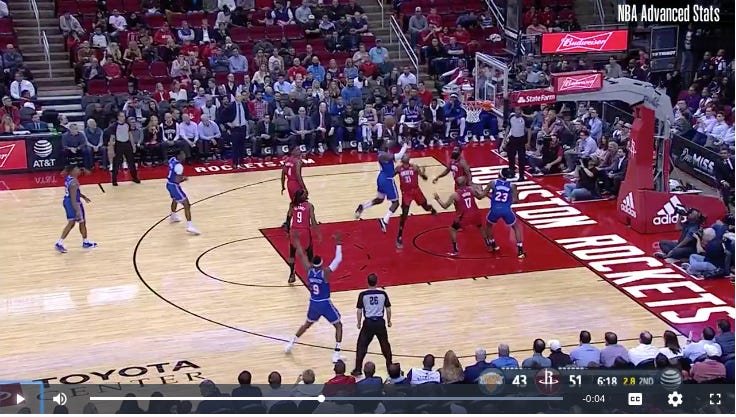 And for our grand finale, we need three screenshots to capture the full breadth of our closing number…
Act 8:
"I would rather throw the ball into the backcourt than pass it to RJ Barrett"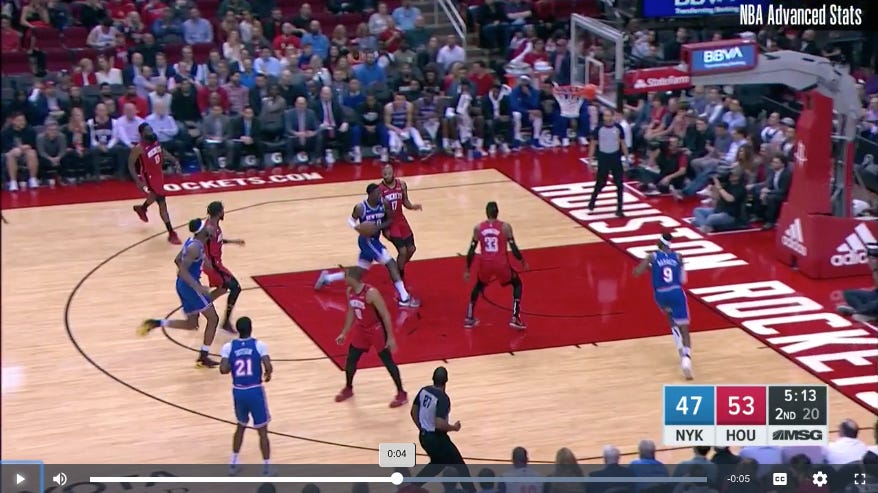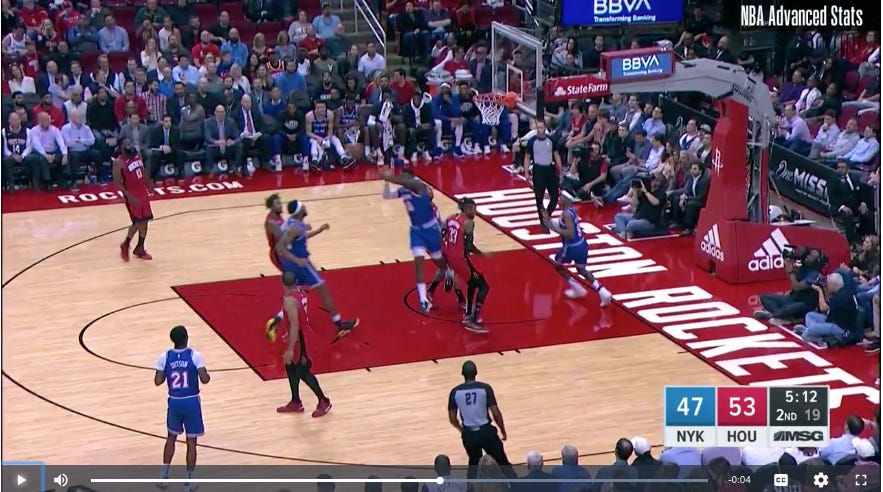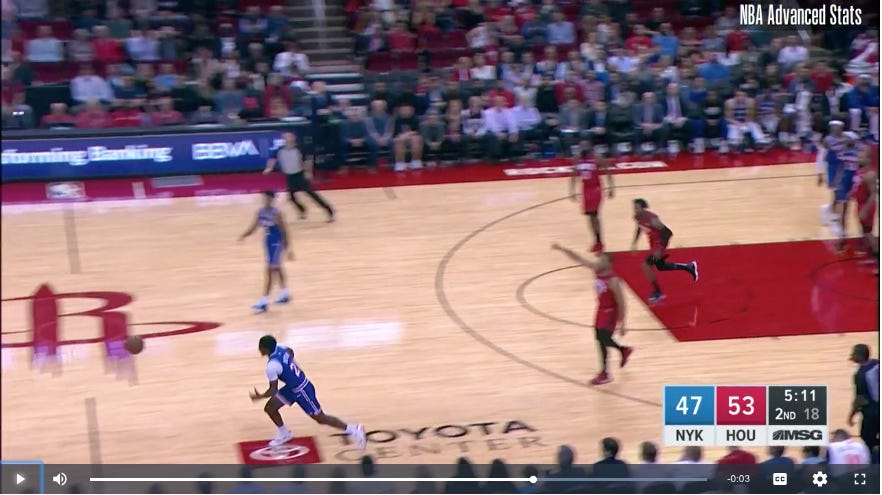 aaaaaaaaaand SCENE.
(apologies to those who thought they were getting a full game's worth of Randle offensive possessions. The playwright swallowed a bullet at halftime. This is his dying opus)
…
Yeah, we've reached that point.
I don't know when exactly in The Shining Jack officially loses his shit, but I'm at the point where the snow maze is looking awfully inviting.
Look…I get it. Scott Perry is still a relatively young man in this business. He has a long track record before he came here, and will come out of this relatively unscathed because, well…Knicks. Promises were made this summer. Relationships to power agents are important. Making sure a guy like Randle (and to a lesser extent Bobby Portis, whose off-Broadway production of "It's Fun for Me to Watch You Writhe Around in Pain" is coming to a theater near you) gets his numbers is part of doing business in the NBA.
But we're New Yorkers. We take the subway every day. We know the smell of urine well. So please, stop pissing on our leg and telling us it's development.
You want to know how Julius Randle helps you develop the kids? By being the run-away freight train who allows RJ to pick up a dime, like he did here:
That was one of Randle's four made baskets in the first half. Another one was also off a feed from RJ on a fast break. The other two were on the fadeaways clipped above – awful shots by any metric, the second of which was made worse by the fact that a wide-open RJ (who was actually feeling it from the outside!) was standing 15 feet away.
Add it all up, toss in four free throws, and Randle entered halftime with 12 points on 4-of-8 shooting. Great half, right!
You laugh, but this is the level of forethought that went into this summer's signings. I shouted from the rooftops about how there was more going on than met the eye, and couldn't have been more wrong. There was less. A lot less.
Of course, Randle finished with 28 minutes played, missed five of his six shots in the second half, and ended up with those four first-half turnovers (I could only show three above. The fourth came with 6:48 to go in the second when he casually stepped over the baseline before actually inbounding the ball. The film of it isn't available online, apparently having burst into flames instantly upon being recorded).
He played right into the Rockets' hands. "Come! Post up our little guys! It's totally going to work!!!"
The complete lack of basketball IQ and simple awareness is staggering, and was made even more disgraceful by the fact that on nearly every one of those looks, there were either four or five Rockets with a foot in the paint.
This, according to the powers that be, is a better path to developing the young players on this team than letting them play more minutes in a game.
If that's the case, and their practice habits are so piss poor that they haven't yet "earned" that time (and really, what other possible reason could there be if the explanation we've been given is to be believed), then every coach on this team should be fired.
This, of course, is not the case. The coaches are doing yeomen's work, and guys are trying hard. I've mentioned it before, but ahead of each game, you see the same kids - Mitch, Kevin, Dot, Iggy (when he's here), and yes, even Iso Zo (actually, especially Iso Zo. Dude has gotten himself into a lather before every game I've covered) - putting in the work.
What is happening is a general manager trying to keep his job (and to a lesser extent - because I believe Mike Miller is following orders more than anything else - a head coach trying to keep his) by showing, 57 games into a season that was lost on June 30, that yes, the players we signed really are good, and they just need time to come together.
No. Just…no.
Thankfully, help may be on the way:
In Berman's article, he notes the following:
Rose's official hiring could bring about some changes. Miller may be encouraged to start jacking up the minutes of young players such as Kevin Knox, Dennis Smith Jr., Damyean Dotson, Frank Ntilikina, Ignas Brazdeikas — even the buried Allonzo Trier.
Which brings us to the most fascinating question of not only the rest of this season but of the offseason as well: what does Leon Rose do with CAA client Julius Randle?
Games like last night aside, Randle does make the team better, even if he's not aiding the growth of the kids. The on/off numbers confirm as much. That he plays with a little more pep in his step when sharing the court with fellow CAA-er and good buddy Elfrid Payton - someone standing in the way of the development of the young guards already on this team, and perhaps more importantly, the theoretical point guard they draft in June - only makes matters more complicated.
If Rose can navigate those choppy waters, he has a damn good chance at succeeding in his job. RJ Barrett reminded us all again last night why he was the third pick in the draft:
Mitchell Robinson, meanwhile, had another five blocks - the third time this season he's done so, and in just 25 minutes - and is hitting 73 percent from the field. He's really good:
(Sorry Julius, you don't get credit for aiding Robinson's development by forcing up terrible shots when Mitch is in the vicinity).
Even Dennis Smith Jr. looked good last night after getting the starting nod (more on that below).
Frank is coming off a damn good game. Dotson (3-of-6 from deep last night, up to 36.6 percent for the season) continues to do well whenever he gets a chance. If someone can just re-inject Kevin Knox with some of the confidence that this organization has completely sapped him of, we'd really have something here.
Or we can get more of this:
The choice is yours, Leon Rose.
We're all counting on you.
---
Player Spotlight
Time to give credit where credit is due:

Last night, Dennis Smith Jr. became the first Knick in nearly four decades to have a game with at least 15 points, seven steals, seven boards and five dimes. The last one to do it was Michael Ray Richardson, who accomplished the feat four times. Clyde was the only other Knicks to pull it off (three times).
DSJ has that type of ability on both ends, which is what has made his season from hell so damn frustrating.
From the moment it began, he's been a shell of himself. Him not getting the starting job has 100% affected him. Shawn Farmer, who knows Smith Jr. since he was a young teenager, admitted as much to me last week on the podcast.
There are 25 games left in this season. I said it Sunday night and I'll double down now: give DSJ the starting job for the rest of the season.
Worst case: he doesn't produce, and his value remains about where it is now.
Best case: he keeps playing like he did yesterday, and either improves his stock for an offseason trade or (gasp!) sticks around as a part of the core moving forward.
With Elfrid Payton not exactly being a picture of health, I say there's a shot it happens, in which case you're going to want to load up on DSJ stock in PredictionStrike right now.
He's up to $0.16 after the last two games, more than double his season low point of eight cents. If he keeps putting up stat lines even close to last night, his share price could skyrocket.
Reminder: new to PS? Click here, enter code KFS, get $10 towards your first investment of $10 or more.
---
News & Notes
compiled by Michael Schatz (
@mschatz99
)
Busy news day…
That's it…see everyone tomorrow!