Learning From The Past
Jeremy Cohen heard Bill Simmons loud and clear. And he has a response. Plus, a S.W.O.T. Analysis for the Knicks.
For today's newsletter, first Jeremy Cohen responds to Bill Simmons' recent assertion that LeBron wanted to come to the Knicks in 2010, and goes through what they should - and indeed have - learned in the interim. Then, Drew Dilla gives us the full landscape facing the Knicks in the months ahead.
Learning From The Past
Everyone remembers where they were for The Decision.
Me? I was at French immersion camp, unable to watch any English-speaking content. Some campers and I ran back to our dorm and found a laptop. I was from New York and another person was from Chicago. I didn't feel optimistic about New York's chances but the idea of LeBron James going to the Bulls? The goddamn Bulls?! Shit!
I logged on to ESPN.com and I was hit with a graphic of James, adorned in a white headband and white Heat jersey, both of which were Photoshopped on to him. The look on the Bulls fan's face when I told him was priceless. "So not New York, but not Chicago," I told myself. "Miami. Wait – the Heat? The goddamn Heat?! Merde!"
Yesterday, Bill Simmons mentioned on his podcast that James' first choice in 2010 was New York, and not Miami:
From everyone I've talked to in the know since then, it's clear that the Knicks were the first choice. It was basically the Knicks' to lose, and they just couldn't stay out of their own way. The stories are legendary.
Whatever you think of Simmons, I actually believe this to be true. Remember when James and Dwyane Wade embraced at the Staples Center after their final matchup, and James said to his former teammate that their final game only could have taken place at "either [the Staples Center] or at the Garden, that's it"? Obviously, at least one of those players would have had to be a Knick for that to happen.
(And as much as we can clown on Nick Wright for talking about a LeBron James and James Harden pairing at the Garden, I will never not believe LeBron will, somehow, wind up in New York. That pairing is not going to happen, and I get it if you think I'm being absurd for thinking LeBron James will leave the Lakers (and for the Knicks) once his contract expires, but I'll fully believe that ship has sailed when he's 50. If - and that's a huge if - the Knicks can put together a legitimate contender in the next couple years, LeBron, Chris Paul, and Carmelo Anthony all being free agents in 2022 and being on a Knicks roster that's actually competing would further cement each of their legacies. Yeah, I fucking said it. Let's shift back to reality now.)
The Knicks had the late, great James Gandolfini, as well as Edie Falco, portray their iconic characters on The Sopranos. The presentation allegedly focused on the glamor that comes from playing in New York but lacked a clear direction in terms of building a long-term winner. Simply getting LeBron James into the building wouldn't be enough to win a title. If you're skeptical of that statement, I encourage you to take all zero of LeBron's championships from his first stint in Cleveland into consideration.
2010 was not the first time the Knicks have tried to acquire stars externally but it did mark a new approach to building a team: star hunting in free agency. The Knicks, stuck in a universe where time is a flat circle, continue to not have any established stars. And unless the team can figure out a way to age RJ Barrett and Mitchell Robinson five years before next season, they are unlikely to find top talent hitting their prime this upcoming year.
Knicks fans want to lick their wounds and rebuild like a small market team would. We have all shared that sentiment from time to time after a span of 12 months that included trading Kristaps Porzingis, missing out on Zion Williamson, not signing Kevin Durant, and finishing with a record that is just good enough to not guarantee a top-six finish. It ain't going to happen though.
This is where I draw my line in the sand and make my proclamation. The Leon Rose era will have the same top priorities as the regimes before his did but the results will be different. He will have a longer leash and there will be more stability throughout the entire organization than in years past. The team will trend upwards and there won't be any panic moves for the foreseeable future.
The past is in the past yet those who forget history are doomed to repeat it. How can the Knicks improve? Here are some examples of how the Knicks have failed, or likely failed, in the past and what they can improve upon moving forward.
Problem: Glamor pitches
As discussed before, the Knicks cannot rely on superficiality like name brand or market place to get stars. If you can be world famous in Oklahoma City or Milwaukee, you don't need New York or Los Angeles to grow your brand. I'm not arguing small markets and large markets are equal in star power, just that the power of social media is different now compared to even a decade ago. Stars don't have to go to New York to elevate their status – it's a want, not a need.
Solution: Pitches of substance
When players go to pitch meetings, who do they bring along? Their entourage, their business partners, and… members of their agency. CAA is arguably the most powerful agency in the NBA and the second-most powerful if you have Klutch ahead of them. Who used to work for CAA? Leon Rose and William Wesley. Who knows what works and what doesn't work in free agent pitches? Leon Rose and William Wesley.
(Ed's Note: Underestimate avid Daily News correspondent Alex Kline at your own risk)
Rose spoke about what it's like going from working on behalf of a player to working on behalf of an organization last week. He knows what is most important to players, and that's winning, getting paid, growing their brands, and having fun, in various orders depending on the person.
Other factors exist as well but Rose, alongside Wesley, will tailor their approaches to free agents. They will let their plans speak for themselves. Granted, they should still include why New York has advantages, both personally and professionally (outside of basketball), over other locations. However, neither should be the primary focus.
Problem: Building for Kevin Durant
It was evident at the time but the one thing the Knicks did was try to create a comfortable environment for Durant. It's why opening up cap space was a byproduct of trading Porzingis. It's why New York hired Durant's best friend, Royal Ivey, to the coaching staff, why they traded for another best friend in DeAndre Jordan, why they drafted a friend of Durant's in Kevin Knox, why they signed a friend of Durant's in Allonzo Trier, and why they hired a suave, Ty Lue-type coach without the Ty Lue coaching ability in David Fizdale. Those aren't all the connections but you're likely familiar with them all at this point in time and would also like to forget them.
Solution: Building for superstars in general
You can insert your CAA joke here but the Knicks aren't going to shoot their shot on one star and struggle to have a cohesive team in place afterwards.
Bringing in a talented coach to demonstrate offensive and defensive schemes this season, and then explaining how better players can fit those schemes, is how you keep your options open. "We have designed a system that can play to your strengths" is much better than "We will figure it out as we go along."
Don't get me wrong – I would like to see some adjustments. The best coaches build around their roster's strengths and hide their areas of development. However, showing tangible improvement on the court is crucial. That's what next year will probably be used for, because winning leads to more winning. I understand there will be some pushback on this but I view the odds of losing for Cade Cunningham (at most 14%) are actually less than trying to win and therefore be appealing to top free agents. So if you feel you have a better shot getting established stars in free agency than landing a teenager, go for it.
Problem: Lack of contingency plans
After LeBron James went to Miami, the Knicks splurged on Amar'e Stoudemire. An uninsured five years and $100 million for a big man with chronic knee issues was a tough pill to swallow, but one that was worth it if it meant surrounding him with better talent.
Stoudemire earned his high salary in 2010 but saw a sharp decrease in play not long after. His injury history caught up with him and the Knicks traded for Carmelo Anthony. Soon after, they inked Tyson Chandler.
When the Knicks pivoted from Durant, the hope was that the Knicks had contingency plans. The problem was that New York went from having a star to having no star, then to hoping for stars to come but…
Still having no stars. The Knicks then added win-now veterans who were supposed to provide spacing. Unfortunately, only some actually did that. The Knicks eventually traded Marcus Morris for a late first round pick and failed upwards, but the plan – to win – didn't materialize.
Solution: Trusting the Process
The Knicks traded for Carmelo Anthony without having a second superstar in the building. They wasted the amnesty provision on Chauncey Billups instead of on Stoudemire and signed Chandler, who despite winning the Defensive Player of the Year Award, was simply not the piece needed to put New York over the top.
I've brought this up in a past article, but if the Knicks try to build a winning team next year, what separates them from the Mills-Perry squad? The key difference would be in how the team builds around the young players.
Imagine, if you will, an off-season where the Knicks go quality over quantity. The Knicks spent $73 million on Julius Randle, Marcus Morris, Bobby Portis, Taj Gibson, Wayne Ellington, and Elfrid Payton. Now imagine a scenario where the Knicks trade Randle for matching, expiring salary and use the remaining money to sign three to four players (wings, guards, and Taj Gibson), each of whom provides some combination of spacing and playmaking on offense and/or perimeter defense and rim protection. That strikes me as a good off-season!
The Knicks are building as much from the outside (Rose, Wesley, and Perry) as they are from the inside (Walt Perrin, Frank Zanin, TJ Zanin, and Alex Kline), with Brock Aller counting for a little bit of both. They will try to find the best talent they can in the draft but won't be afraid to trade said talent for a star, should the opportunity arise.
However, I don't see them trading the farm for a player like Devin Booker without assurance that a better player is joining the team as well. It would be the second coming of the Melo trade. Rose had a front row seat to how that worked out for his former client.
Problem: Dolan
People get worse with age. If you're looking for Ebenezer Scrooge to have an epiphany, good luck with that. The reality, though, is that Dolan's reputation is bigger than him. He has his flaws, some of which are… not great, but he's not the monster he's made out to be.
The New York Rangers signed the best free agent on the market last summer in Artemi Panarin. Dolan let Glen Sather cook, and after Sather stepped down, he let John Davidson transition seamlessly in his place. Dolan does not have the reputation in hockey that he has in basketball. Replicating that approach is how you distance yourself and succeed.
Solution: Start Winning
Repeat after me: Winning. Solves. Everything.
I guarantee you that when the Knicks have the framework of a successful team, no star free agent is going to have trepidation about joining them because of the man who signs their checks. Bring talent into the building. Demonstrate proven success, and as mentioned previously, it will lead to bigger and better things.
Moving Forward
So, where have I left you? Are you all-in on free agency? Do you think I'm deluded? Is it some combination of the two? Whichever answer you choose is probably more than fair.
How do you think Leon Rose felt when he saw his doppelgänger in Tony Soprano pitching his client? He probably wasn't very impressed. Why? Because his client is being sold a luxurious vision on his brand and on lifestyle, and not on future career achievements.
LeBron James didn't need New York, New York needed LeBron James. How the Knicks planned to build up James' legacy and help him secure that first championship was the crucial piece missing in that meeting. You know that Rose knows that, and you know that he'll take that into heavy consideration during future meetings.
You don't bring in a power agent in Rose, a remarkably influential person in Wesley, a cap guru in Aller, and have Tom Thibodeau as a front-runner for your head coaching job and say "We're going to really take our time here." I'm so curious as to how the Knicks use their off-season to amass talent, both present and future. And selfishly speaking, once we have a firmer understanding of next year's salary cap, I can't wait to dive in and produce more content.
I look forward to the day where I see the Shams tweet light up my phone, telling me the Knicks have signed at least one elite free agent. It is not a question of if, it is a question of which star(s) and when. I will instantly think about younger me, at French camp, and that despite the years of heartache that ensued before and after The Decision, it finally paid off for the Knicks.
Bonne chance, Leon.
Next up, here's a unique and thoughtful look at the Knicks offseason by Drew Dilla…
---
Knicks S.W.O.T. Analysis
When I first hypothesized the idea of creating S.W.O.T. Analysis' and 3-year plans for all 30 NBA Franchises, I was most eagerly excited to break down the New York Knicks. Not just because they were my hometown team, or due to the amount of creativity it would take to restore the franchise, but because for the first time in multiple decades, you don't have to squint your eyes and turn your head sideways to try to attempt to see the organization's vision in both the short and long term.
Since General Manager Scott Perry arrived in 2018, the theme has remained congruent: remain malleable under the cap, attempt to buy low on former lottery talents, and increase cupboard of future draft capital. While the results haven't translated to the box-scores just yet, the fact that the organization is operating under a specific premise is a welcomed strategy for an otherwise disarrayed franchise.
Having said that, we're entering an era of the unknown — as this will be Leon Rose's first time steering an organization's overall philosophy, rather than managing a player's contract. When color-coding the team's asset & liability sheet, I saw more orange than I'd see at a Syracuse game. (Orange represents expiring contracts.) The beauty in the orange is that it will allow President Rose and GM Perry to be as creative or prudent as they choose to be. Outside of the stretched contract of Joakim Noah and Julius' Randle's only partial guarantee in 2021–2022; the team has the potential to have $48.7 million in cap space if it figures into the $110 threshold. Shown below is how the Knicks are positioned over the next few seasons: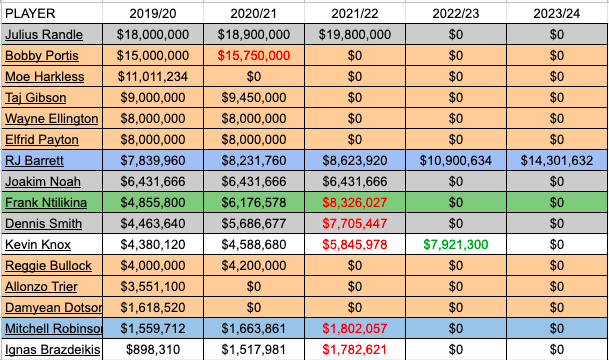 Color Code:
Blue = Core Pieces
Green = Complimentary Core Pieces — Assets that have unique value due to either their contract or specific role within the team's philosophy.
Orange = Upcoming Expiring Contracts
Dark Gray = Liability // Sunk Cost — Contracts that may be a net negative to the team due to declined play or injury history.
White = Value is subjective // players with question-marks, yet have potential.
Overall, the biggest concerns are the lack of a true franchise player, functional scarcity of off-movement shooters, and a dearth of shot creation for others. With the potential to have 9 expiring contracts this summer, the Knicks should have a mapped out plan and understanding of how to attack their weaknesses, as I listed below:
Short Term Goal
2020–2021 Season — "Throw the fish into the sea" — maximize opportunities for the team's young players to succeed and fail on their own. Playing time and increased usage should be the main themes throughout the season. Knicks fans aren't against losing. However, losing, while prioritizing usage to players that don't fit into the club's long term plans is what infuriates the fan base. 2. Create a system. Throughout Fizdale's tenure, it never felt like we knew what he was trying to accomplish schematically. It felt like an AAU tournament held in the Garden. This has to change year 1…
To continue reading about the Strengths, Weaknesses, Opportunities and Threats that face the Knicks in the 2020 offseason, click here to continue reading, and give Drew a follow!
---
ICYMI…
---
Insta-Story of the Day
That's it for today! See everyone later in the week. #BlackLivesMatter