Magic Act
We end our week of draft trade-down possibilities with a 3-for-1 look at the Orlando Magic.
News & Notes
It appears the NBA Playoffs will be resuming, possibly today but most likely on Saturday, with the slate of games that was previously scheduled to take place on Wednesday. It seems that yesterday was a day of conversations within the bubble centered around where to go from here, with a players' meeting that happened during the afternoon taking center stage.

If you're interested, I strongly recommend checking out Chris Haynes entire story reporting on the last 48 hours, but in short, it seems like after an emotional afternoon and evening, emotions calmed, disagreements were smoothed, and on Thursday almost everyone agreed that the best course of action is to continue playing for now.

The key piece of information from Haynes' reporting seems to be this, in regard to the initial players' meeting on Wednesday night:

LeBron James was one of the many players miffed with the Bucks' handling of the situation as well, sources said. To him and so many others, it put them in a no-win situation. 

His frustration with Hill and the Bucks was because the players didn't have a plan of action that would warrant players returning to play, sources said. James' mindset, sources said, was if they're refusing to play, then what's the end game and what demands must be met to continue?

Haynes then noted that when James was asked how he wanted to proceed from here, him, the Lakers (with the exception of Dwight Howard) and the Clippers walked out of the Wednesday night meeting.

My read, FWIW, is that James has thoroughly thought through the proper course of action for both him individually and the players as a whole. More Than A Vote, after all, is his brainchild, and he has arguably done more with his platform than any professional athlete this century. A random wildcat strike with (as Haynes puts it) no end game, and born out of frustration, would seem not to jive with the ultra-prepared approach it has been well-documented that James takes with his career and that it should surprise no one he is taking with trying to enact social change.

But he also seemed to appreciate the gravity of the moment and felt, at least initially, that even if this isn't how he would have done things if it were up to him, once the first step towards a stoppage in play was taken, it was best to keep moving forward.

Perhaps after a night's sleep he changed his mind. Or maybe calmer emotions allowed him to appreciate the severe financial ramifications that ending the NBA season now would have had on younger players who have not yet earned much money, as the CBA would likely be ripped up and an extended work stoppage would be in play.

Either way, James should be commended for putting his money where his mouth is. As probably the single individual player in the bubble with the most to gain - from a legacy standpoint, at least - from continuing to play games, the fact that he was initially willing to walk is more than admirable.

James is far from perfect, and his less-than-desirable Millennial tendencies sometimes get the best of him. Even so, considering how, since the days of Russell, Robertson and Kareem, so many of the league's best players have fallen short when it comes to using their platform to make a real impact, what James has done and continues to do needs to be appreciated and respected.

It should not be on our professional athletes to take this stand, but it often falls on them anyway. Many shy away from that responsibility. James, for all of his faults, rarely has.
Tweet of the Day
Listen Up!
I chatted with KFS alum David Early of Liberty Ballers about The Process, Knicks / Sixers comps, and whether these teams should make a deal this offseason. Available on iTunes and all major podcast platforms.
---
Maximizing Assets, Part 5 - Orlando Magic (15th pick)
The Magic have such a mish-mosh of a roster that I couldn't boil it down to just one possibility, so here are three ways for the Knicks to end up with the 15th pick in the NBA draft:
Proposed Trade 1: the 8th & 38th picks for the 15th pick & 2021 Top-10 protected 1st
If what I've heard about New York's intentions is true - that they want to hoard their assets and possibly accumulate new ones with the intention of making a big splash, either in the 2021 Draft or in a big trade further down the line - than this deal would represent a massive step forward in that effort.
For Orlando, the benefit is clear: they are a win-now team who isn't good enough to win now. With the roster they've assembled, they're too talented and too well coached to tank in the putrid East, and that's even with Jonathan Isaac possibly missing all or most of next season.
If Evan Fournier exercises his player option and they let him walk for nothing, maybe they're bad enough to sneak into the bottom 10 of the league, but the bet here is that they do what it takes to re-sign him and make another run at the 8th seed next year.
If that's the case, the Knicks would be looking at the 15th pick in the draft two years in a row, except in next season's loaded class, that means a lot more than it does this year. Barring catastrophe, the Dallas pick alone will not be enough to improve their draft position in 2021. But their own pick, the Dallas pick, and the Magic pick? That could be enough to nudge themselves up a few spots into the cream-filled center of a great class.
Even better would be if Orlando somehow did sneak into the top 10 and New York would be the owner of a future unprotected pick from an organization that hasn't exactly lit the world on fire.
Like I went through yesterday, there's a real chance that Kira, Cole or Maxey slip to 15, so this trade might allow them to get them their target player anyway.
Proposed Trade 2: Dennis Smith Jr. & 27th pick for 15th pick & Al-Farouq Aminu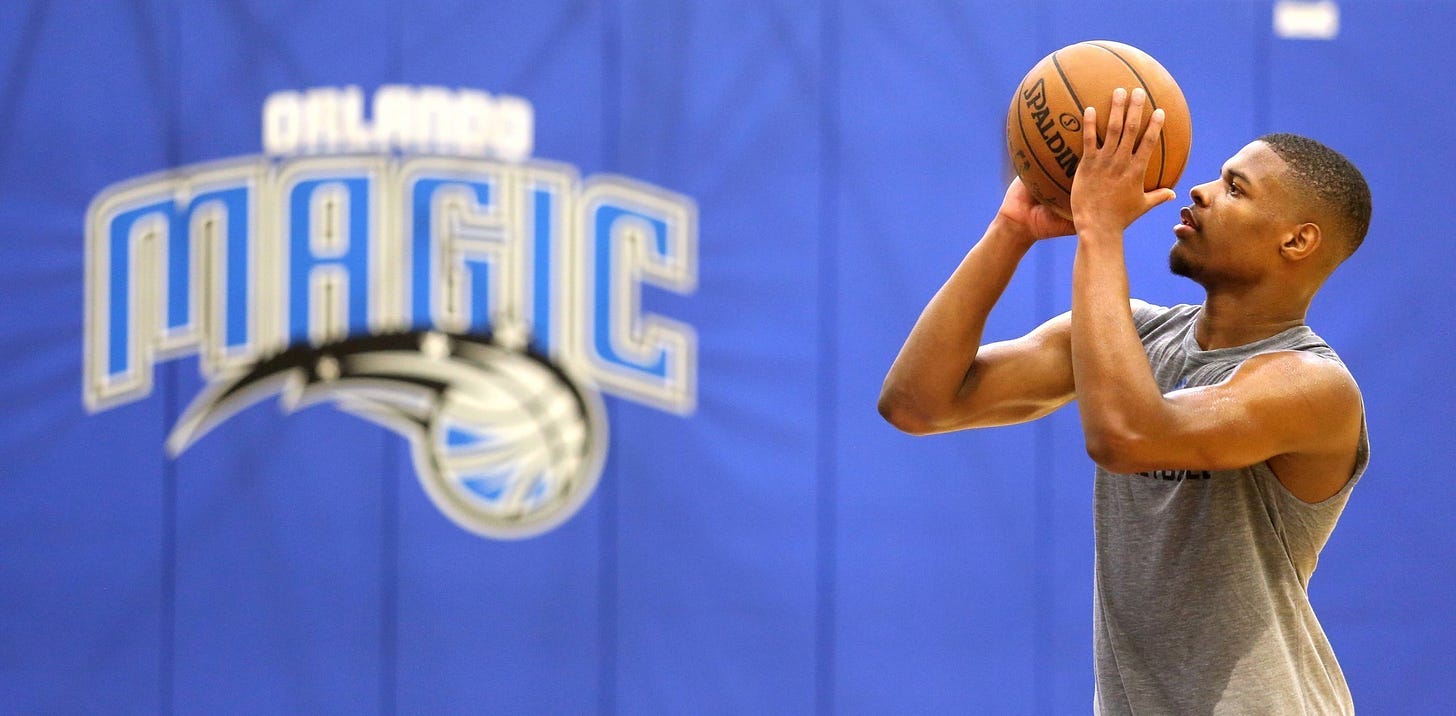 So this isn't a trade down, but boy does it make a lot of sense.
The Magic, in laying off 31 employees a few months ago, admitted that they have been "significantly impacted" by the financial ramifications of the pandemic. With the aforementioned Evan Fournier possibly looking for a new contract that is likely to cost around $15 million annually, they will be over the salary cap next season, regardless of whether is stays flat at $109 million or goes up to the original projection of $115 million. Then there are unrestricted free agents DJ Augustin and Michael Carter-Williams, not to mention restricted free agent Wesley Iwundu.
Those dudes were all rotation players this year. Al-Farouq Aminu, thanks to a torn meniscus he suffered early in the season, largely was not. Even before that though, Aminu was only averaging four points per game, which is not quite commensurate with the $20 million he is owed over the next two seasons, the later of which is a player option he will almost certainly pick up.
While the Knicks should absolutely be renting out their cap space to cash strapped teams this October, would it be worth it for them to take on a little more than $10 million in salary during the '21-22 season simply to move up 13 spots in a meh draft?
That depends on who's available. If, as I've postulated over the last few days, their potential point guard of the future is there at that spot, it might be.
Proposed Trade 3: 8th pick & Julius Randle for 15th pick & Aaron Gordon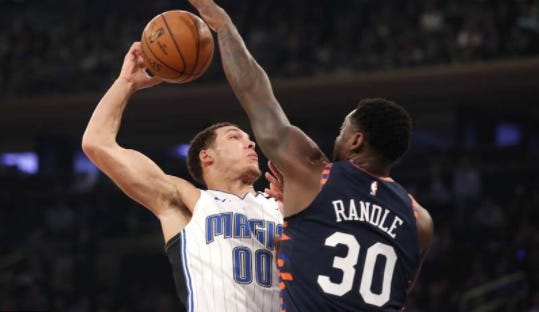 So, how badly do you want Julius Randle out of town?
On the downside, Gordon isn't much more of a shooting threat than Randle is. Outside of a completely anomalous hot start to begin the 2018-19 season, he's been roughly a 30 percent shooter from deep for his career (Randle was at 27.7 percent last season). On the bright side, unlike Julius' nearly 1:1 AST/TO ratio, Gordon sports a more manageable 3.7 dimes to go with only 1.6 giveaways.
Even better, Gordon thrived at the four last year. When he played there, the Magic outscored teams by 1.3 points per 100 possessions, as opposed to being outscored by 3.2 points per 100 when he played small forward. Best of all, when Gordon played power forward and shared the court with possible Knicks free agent target D.J. Augustin, Orlando had a plus 10.9 net rating over nearly 1000 possessions, which is awesome.
So it's safe to say that Gordon (who should thrive in a Thibs defense) would be an upgrade. He'd also signed for two more years on a declining deal, which is long enough to make it worth it but not so long that they'd be boxed in if it doesn't work out.
Which is most likely?
Something tells me the Knicks would be gun shy about taking on additional salary for the 2021-22 season, and I could also see there being some preference to keep DSJ around to see if maybe the new regime can reach him where the last one failed.
And as much as I think Leon Rose wants to bring in a name that fans can get behind, I keep hearing whispers that this front office knows exactly what ails this team, and bringing in a guy who is well below average from deep ain't going to cure it. Therefor…
Which would I prefer?
I think they'd prefer my top option, which would be to further stock the coffers with an asset that might not be the juiciest option, but offers just enough upside to make it worth it. Obviously the more Brock Aller can screw with the protections on the 2021 first, the better off they'd be.
So that's it! I've exhausted every realistic draft trade down scenario I can thing of (if you missed any, check on all of this week's earlier newsletters).
But what the hell is fun in keeping things realistic all the time. For shits & giggles…
Final BONUS Trade
…only because the week wouldn't be complete if I didn't have some Knicks fans losing their voices in my mentions.
I wrote two days ago that I thought there was nothing the Sixers could send to the Knicks that would get them to consider taking on Al Horford's contract.
I lied.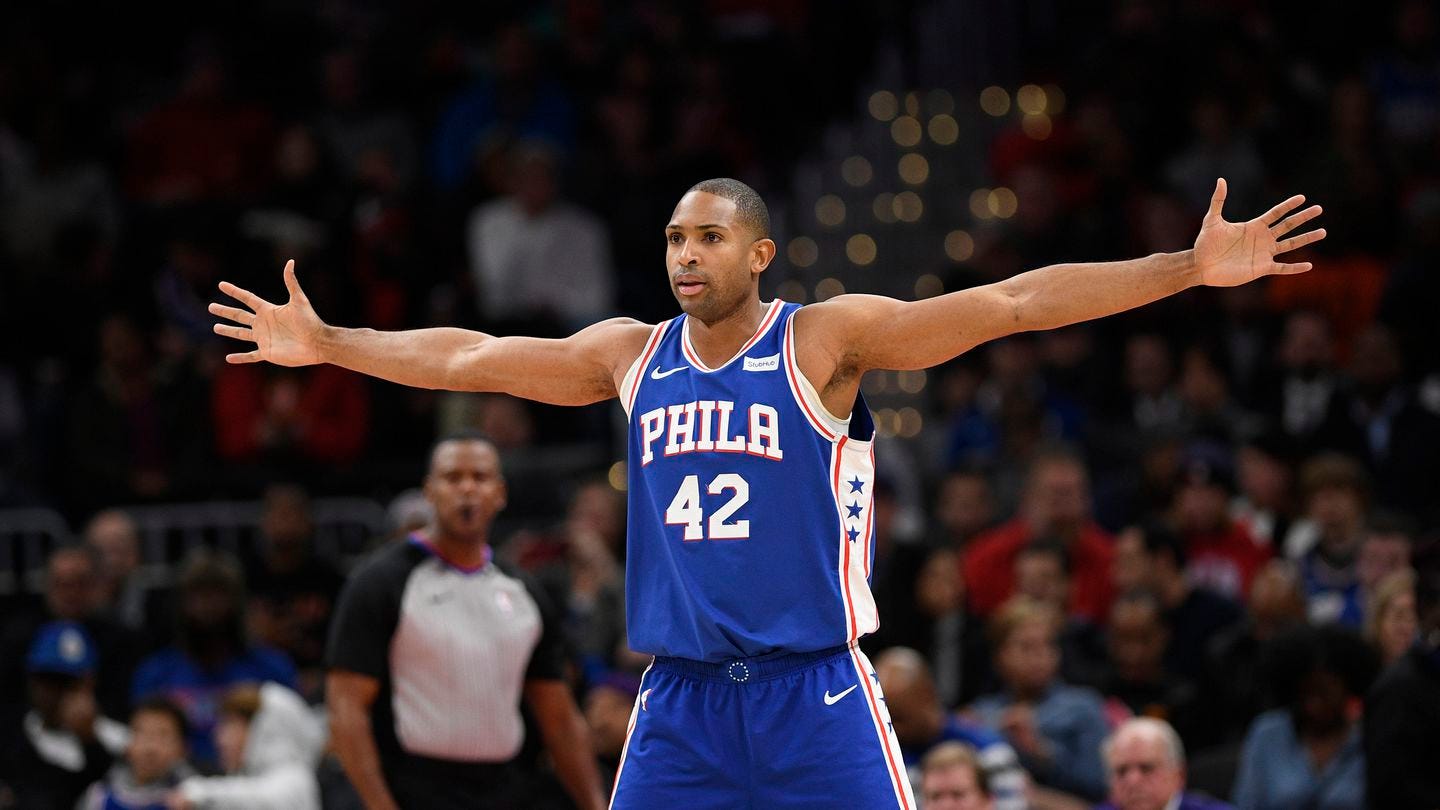 Proposed Trade: 27th pick, Julius Randle & Reggie Bullock for 21st pick, Al Horford, Zhaire Smith, Philadelphia's unprotected 2021 1st, New York's 2021 2nd, swap rights on Philadelphia's 2022 1st, and Philadelphia's unprotected 2023 1st (with the option to defer to 2024)
Here's the logic: Julius Randle is not really a tradable asset right now, at least not as a value add for any team in the league.
Perhaps if the Knicks get off to a great start, some team willingly takes him on for a second round pick and the expiring contract of a middling player, but that's about the best the Knicks can hope for, and feels like a little bit of wishful thinking. The jig is up. No one is desperate to acquire a non-shooting, non-rim-protecting big best served playing backup minutes on a good team…not for $20 million a year at least.
Given the situation, the Knicks are staring down the barrel of a potentially tough decision next summer. If they need every penny possible, there's a possibility they'd have to attach a small asset to unload Randle's then expiring salary, or they could waive him, and likely stretch the $4 million guaranteed on the last season of his contract over three years - a less than ideal option in its own right.
We also know that Randle didn't exactly make beautiful music with RJ Barrett, who requires as much spacing as humanly possible. In short, there are reasons to move him now.
But let's be clear: Al Horford is not some panacea that will solve all of the Knicks woes, or possibly any of them. The decline in his switchability on defense was revealed time and again in the playoffs against Boston. He was also a below-average 3-point shooter this season (on low volume and rarely guarded), and whatever playmaking savvy he brings can only make up so much for his decline as a player. If Taj Gibson at $10 million was extravagant for a locker room presence, what do you call $81 million?
Whatever the team got from Horford would most certainly be gravy though. This trade, besides finding a home for Randle, would be purely about the picks.
If nothing has become clear over the last several years, it's that Philadelphia's ownership and leadership structure is a mess. They've recently announced that there will be an assessment of that structure, but no one thinks that assessment will result in the owners butting out of basketball ops.
If Philly goes belly up - which it could - there's a chance that those picks turn into something decent.
Would New York do it? Not in a million years, no. Would Philly? As I discussed with Dave Early on today's pod, Randle doesn't really cure what ails them, and his money coming off the books earlier than Horford really doesn't do much for them either, so perhaps this turns into a 3-team deal where the Knicks send one of next year's early seconds to divert Randle elsewhere (to Sacramento, with Buddy Hield going to Philly, perhaps?)
Would I do this deal? Considering that we've learned that an expiring contract in the NBA can always be moved without too much trouble, and Horford is two years away from that, I'd think about it (also remember that the final season on his contract is guaranteed for only $14 million, which can be stretched over three years). Having Horford here to anchor the defense as a backup five during the minutes Mitch sits will have significant value going forward. Also, merely moving on from Randle may be addition by subtraction.
But ultimately even I'm not crazy enough to take on maybe the most immovable contract in the entire league for a group of picks that probably won't ever get into the teens, let alone the top 10. Hield (or whatever player we'd divert to Philly using Randle) would help the Sixers' spacing, and their next coach might very well right the ship. The primary downside risk for New York - sapping up cap space for 2021 - may not seem significant at the moment, but maybe we should see what Rose, Wes, Thibs & Co can do before assuming the Knicks won't be players in free agency a year from now.
Oh well…Just a thought.
That's it for today! See everyone next week. #BlackLivesMatter