Making it Rain
Plus, a reader Mailbag!
We're nothing if not full of surprise here at KFS, so starting today, and continuing for the next few weeks, Jeremy Cohen (@TheCohencidence) will be doing a deep, deep dive into the Knicks cap situation. Plus, he answered several of your cap-related (and other) questions in a bonus mailbag! Big thanks to Jeremy for picking up the slack while I'm…slacking.
Without further ado…
Breaking Down the Knicks' Salary Cap
by Jeremy Cohen
In a different universe, today is the last day of the regular season for the Knicks. They're about to conduct a search for a general manager and a head coach. The team is evaluating draft prospects. Life goes on as usual. Nothing is usual these days.
In the coming weeks I'll be writing about various scenarios and how they affect the unpredictable salary cap moving forward, but first I wanted to set the tone, provide a Knicks Payroll 101, and answer some questions. Thanks to some intuition of my own and the heavy lifting thanks to Early Bird Rights, here's New York's payroll through the next two seasons.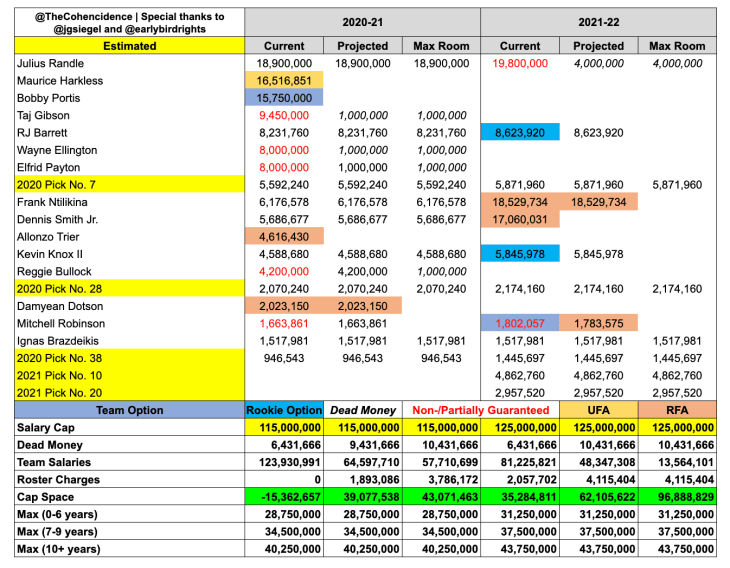 Keep in mind that 2020 has the original projected salary cap of $115,000,000 because it's a) tough to anticipate what the expected drop in the salary cap will be and b) adjusting the corresponding rookie scales is a challenge as the multiplier isn't constant.
Going to do a quick self-Q&A. For some of you this might old news and for some of you this might be new.
What's a roster charge?
Anytime a team has less than twelve players, they incur a roster charge. The roster charge is worth that year's minimum salary. For example, if you have five players on your roster, that's seven roster charges, or roughly $7,000,000 in cap space that's taken away.
Why the seventh pick instead of the sixth pick?
The most likely outcome is that the Knicks fall to seven in the lottery.
What's the dead money situation?
That $6,431,666 belongs to Joakim Noah. The remaining $3,000,00 to $4,000,000 for 2020-21 is the guaranteed portions of Taj Gibson, Wayne Ellington, and Elfrid Payton (and Reggie Bullock).
What happened to 2021 second round picks? Why aren't they listed?
Second round picks don't have to be signed immediately as they don't have carry cap holds, which is good if their contracts are more than their roster charge (AKA the minimum). That's good for cap space.
Why do you have Frank Ntilikina's cap hold and not Dennis Smith Jr.'s?
Because I love Frank, obviously. The real answer is the Knicks are all but guaranteed to bring in a new PG through the draft. DSJ has regressed whereas Ntilikina has shown some signs of progress. Most importantly, I don't see Smith Jr. here long term. Maybe Ntilikina isn't here either but the difference is that one is far more versatile. Don't be mistaken though – Ntilikina won't command a contract anywhere near his $18,529,734 cap hold. But keeping his cap hold at least provides the Knicks with options, most importantly, matching rights.
Why is Mitchell Robinson's cap hold higher than his team option? Why isn't he listed as on the roster in 2021? Why isn't RJ? WHAT ARE YOU IMPLYING?!
Robinson's cap hold is higher than his team option because it's based on his previous year's contract, which is believed to be roughly seven percent higher. Mitch and RJ are kicked off the roster in 2021-22 for the "max room" portion but "max room" doesn't mean "realistic."
I'm a sucker for a good fantasy. Can the Knicks create two max slots in 2021?
As someone who fully believes the Knicks are gunning for this plan (sneak peak at my next article), yes, they can. If the Knicks were to 1) trade Randle for no returning salary and 2) agree with Ntilikina on a contract for roughly half of his cap hold, that would get them there too. They could then 3) sign two stars and 4) exceed the salary cap and pay Mitchell Robinson.
"Do I think the plan will work?" and "Do I think this is their plan?" are two different questions. Rose, to me, signifies the Knicks are focused on drawing established stars, via free agency or trade. I couldn't tell you if it'll all work out but history isn't on New York's side. Then again, something's gotta give eventually, so who knows.
Mailbag time!
In my humble opinion, Knicks fans should be in favor of the cap to decrease by a lot. The caveat, of course, would be that the season has to end.
Here's how I like to think of the implications for free agency and next year's salary cap. The Knicks have a ton of spending power. They're richer than everyone. They are Jeff Bezos. There's Bill Gates with the Hawks, Warren Buffett with the Heat, and a few other billionaires out there, but you can't outspend Bezos.
Then there are the millionaires who have some cap space but nothing too excessive. I mean, they're millionaires, and they'll get by, but they can't spend lavishly, and they certainly can't outspend the billionaires.
Then there's the 99%: Teams saddled with massive debt, desperately looking for a ticket out of their personal, financial hell. That's right, the tax-averse Sixers are a single mom, behind on her bills, who's looking for a divine sign that she's going to get through this.
Imagine the salary cap is $115,000,000. Bezos, Gates, and Buffett are richer, but so is everyone else. The millionaires have a higher buying power now and the billionaires have a lower buying power. The teams that thought they would be in debt because of COVID-19 are now getting along just fine. Some are still struggling with debt but it's manageable.
Now imagine the salary cap plummets to $100,000,000. Suddenly, Bezos, Gates, and Buffett are living in a world where few millionaires exist. Sure, the billionaires have lost billions themselves, but they're still billionaires and their buying power has increased. More teams are saddled with debt than before, and those already in trouble are seeking help in any way.
It's better to be a poorer Bezos among poor people than a richer Bezos among rich people.
Next year's salary cap is anyone's guess. Basically the lack of games would drastically impact the NBA's Basketball Related Income (BRI), which plays a huge factor in determining the salary cap. However, because the salary cap is based on futureprojections, the league has the power to disregard the previous season's BRI altogether. For example, the salary cap for the strike-shortened 2011-12 season was the same as the standard 2010-11 season.
As for Ingram, the odds are quite low he goes anywhere else. New Orleans has matching rights because he's a restricted free agent, he was the centerpiece in the Anthony Davis trade, and I find it extremely hard to believe the Pelicans would let him walk.
If the salary cap drops drastically, Ingram may not want a four- or five-year deal. The reason for that is that the multiplier in the contract's scale will be based on the 2020-21 salary cap (which could be lower) compared to the 2021-22 salary cap (which we anticipate to be higher). Since the annual multiplier is set, it would restrict what Ingram could earn per season.
Ingram has the option of taking New Orleans' qualifying offer, therefore making him an unrestricted free agent in 2021. This is a highly unlikely situation. Very few players have gone this route, let alone good ones. For context, the best player to do this in recent history was Greg Monroe. Ingram also faced some health concerns so he'll probably look for more security.
One thing the Knicks could do is sign Ingram to an offer sheet for a 2+1, AKA a contract for two years guaranteed and a player option on the third year. This would pressure the Pelicans, as they would need to match and embrace a world where they could effectively lose Ingram to unrestricted free agency in 2022.
The Knicks could also give the Pelicans the ol' Tim Hardaway Jr. special: a trade kicker. Ingram can't command a no-trade clause as he hasn't played eight seasons and he hasn't played for four seasons with the team he's signing with. A 15% kicker, mixed with a short contract and a player option, would be a really tough pill for the Pelicans to swallow.
The issue for the Knicks in doing all this is it could tie up most of the free agency cap space that they have. Players can't officially sign until the moratorium ends six days after free agency begins. The Knicks would have to wait to offer Ingram a contract, which, in a normal free agency, would be after midnight on July 6th. New Orleans would have two days to match and could wait until the very last second to match, thus tying up New York's money for eight days. If the market moves quickly, the Knicks will have missed out on unrestricted free agents they might want to sign and would miss out on Ingram.
You absolutely can.
For those who may be confused or unaware, the third year of Julius Randle's contract is non-guaranteed. The guaranteed portion of the $19,800,000 contract is $4,000,000.
As mentioned earlier, the Knicks already have $6,431,666 in dead money because Joakim Noah's contract was stretched. The Knicks could non-guarantee Randle, wiping away $15,800,000 instantly, at no charge. They could then stretch the $4,000,000. The equation for the stretch provision is money remaining divided by twice the amount of remaining years + one. In other words? The Knicks would spread out $4,000,000 evenly over three years, which would amount to $1,333,333.33 per season for 2021-22, 2022-23, and 2023-2024. The Noah and Randle stretched salaries would overlap for one year, 2021-22, for the total cost of $7,764,999.
Take a look at how a Randle stretch is projected to affect cap space: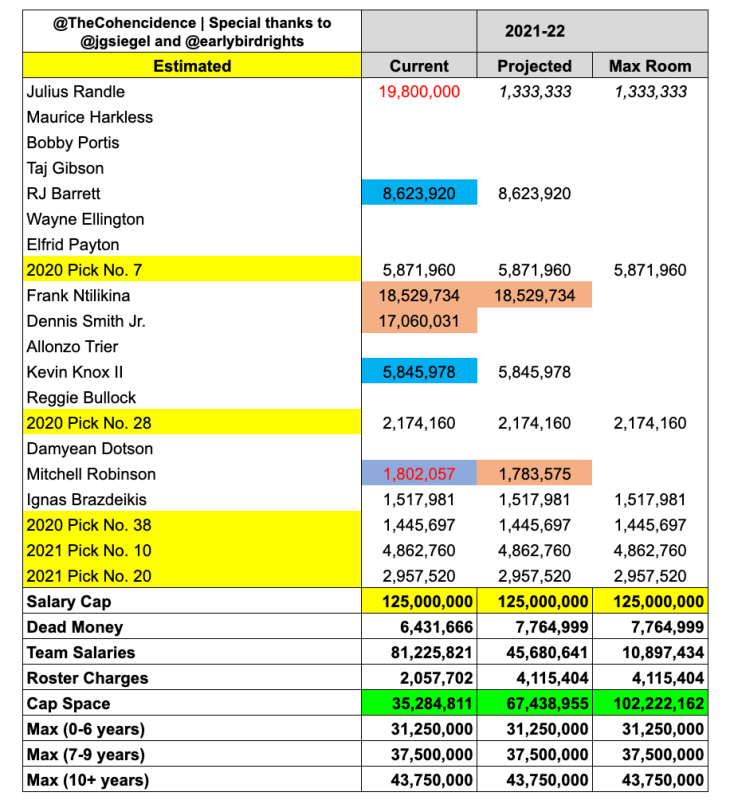 As you can see, such a move would save the Knicks $2,666,667. That is, of course, if the Knicks can't find a suitor to take on Randle's contract without taking back any guaranteed money for the 2021 season. I believe they can do that.
If you go back to the payroll towards the top, only one player has a team option: Bobby Portis. Four players have non-guaranteed deals: Taj Gibson, Wayne Ellington, Elfrid Payton, and Reggie Bullock. If the Knicks decline Portis's contract, he gets nothing and the Knicks pay nothing. If the Knicks decline the contracts of all the non-guaranteed players, they each receive $1,000,000.
If the Knicks do not guarantee all four of those players' salaries, they're on the hook for $1,000,000 each, or $4,000,000. If they decline all but Reggie Bullock, it's $3,000,000 in dead money and $4,200,000 owed to Bullock because he'd still be under contract.
If they decline all four but decide to bring back Taj Gibson on a minimum contract, they're still on the hook for $1,000,000. New York should be eligible to bring back Gibson in the subsequent season, as the restriction on re-signing a waived player ends once the NBA calendar resets. Usually that's July 1st but that's likely to change this year.
Look, if we all have to combine our stimulus checks in order to keep our beautiful French son, then we all have to combine our stimulus checks.
I'm going to plug the Frank Ntilikina article from Sports Illustrated by Posting & Toasting's (and SI's own), Alex Wolfe, as he did a great job covering this.
Ideally, you try to lock up each player for as little and as long as possible. For Ntilikina, maybe it's not saying much but he's been trending up from rock bottom, offensively speaking. I know some will feel uneasy at the idea of giving him a three- or four-year deal between $8,000,000 and $12,000,000 a season but I do not for two reasons.
You're paying Ntilikina for projected production in his age-22 through age-25 seasons, not what he's done between his age-19 and age-21 seasons.

You can afford to pay him that range because the salary cap is expected to continue rising.
Paying Ntilikina $12,000,000 a year might feel pricey. The reality is that, with a $109,140,000 salary cap, Ntilikina earning 11% really isn't ludicrous if you have a concept of basic math and understand who he was isn't who he can be. The 2021-22 salary cap is projected at $125,000,000. $12,000,000 in 2021-22 is 9.6% of the salary cap. Spending 9.6% of the salary cap for a rotation player who's a positive on one end is really not a big deal.
Robinson, on the other hand, is harder to predict. He's a fantastic rim protector on defense and rim runner on offense. He just turned 22 years old and we've seen how good he can be when he's not in foul trouble.
That said, he needs to get stronger. I'm tired of seeing him shoot jumpers in the gym and seldom leave the paint during games. He's not a plus passer, he can't set solid screens, and his lack of a jumper means the defense knows he won't pop whenever he sets a pick near the top of the key or near the elbows.
The 2020-21 season will be a prove-it year for Robinson. If his game evolves, he could be in line to make Clint Capela money (five years, $90,000,000). If it doesn't, he could be looking closer to Dewayne Dedmon money (three years, $40,000,000).
Now for some non-salary related questions…
Enticing players are entertainment to fans and assets to teams. We perceive "our" players more highly than other fans do.
I like RJ. I like Mitch. I believe both have the potential to be high quality players, maybe even All-Stars. I can't commit to saying they should be untouchable. If the right opportunity presents itself, and if it involves one, or even both, of Barrett and Robinson, it has to be weighed accordingly.
Most teams don't do this because they're forced to build from within and use the draft as their chance to land elite talent. The Lakers sort of did this by signing Kentavious Caldwell-Pope and trading for Brook Lopez on an expiring deal. They then landed LeBron James the next summer and signed KCP (and Rajon Rondo) to one-year deals. The difference, of course, is the Lakers got LeBron James.
I have a love-hate relationship with bloated one-year deals. They make sense in theory, and they can in reality, but most of the time the Knicks have hired mercenaries who just aren't very good.
Take Marcus Morris, for example. The Knicks might have stolen a first round pick from the Clippers because they had Morris for 12 games. He shot 44.2/43.9/82.3 in 43 games with the Knicks and then shot 38.6/28.3/81.8 with the Clippers. All that's good for New York.
Morris is the exception, not the rule, though. Elfrid Payton, Bobby Portis, Wayne Ellington, Arron Afflalo, Derrick Williams, and Mario Hezonja are just names that come to mind of players who were or will be in New York one season. They make me shudder. More exist.
I don't think signing players to one-year deals is a bad thing but I do believe signing selfish, low IQ players to those contracts and not establishing clear-cut roles has been this team's Achilles heel. I could easily see the Knicks using their financial advantage (i.e. cap space) to overpay players on one-year deals again. The difference would hopefully be that they sign players who would be starting-caliber on decent squads.
As the years go on and the Knicks continue building, the need for one-year players earning significant money will decrease. Barring a massive screw-up, I don't see the Knicks signing those types of players two to three years from now.
He does not. As a result, I would highly recommend trading him to the Suns for Frank Kaminsky and a future second round pick once Kaminsky opts in to his deal.
Honestly, I haven't seen enough of Griffin to make a fair assessment. I can't see the Knicks going for a more under-the-radar head coach. They're going to want someone who is proven from day one. Is that the right move? Couldn't tell you.
I like Mike Miller but let's be honest: If he were the interim coach of a bad team like the Cavs or the Bulls, and led them to a 32-win pace, Knicks fans wouldn't even entertain the thought of him as the next Knicks coach. He wouldn't be on anyone's radar. I really hope he stays on the staff in a different capacity.
The suspension should not have an impact on service time. RJ Barrett will be in his second year once next season begins, Mitchell Robinson will be in his third year, Frank Ntilikina will be in his fourth year, etc.
Can? Sure. Will? No.
I can sort of get onboard with trading for a 35-year old Chris Paul earning about one-third of the salary cap. I can't be talked into also paying a 36-year old Paul about one-third of the salary cap. As for Booker, he's under contract through summer 2024. The Suns are in no rush to trade him.
I'm skeptical that it is. A paragraph won't do this justice though. Not to be a tease again but I'll elaborate on this next week.
Shwin, we need you. Hell, I need you. I'm a mess without you. I miss you so damn much. I miss being with you, I miss being near you. I miss your laugh. I miss your scent; I miss your musk. When this all gets sorted out, I think you and me should get an apartment together.
Thanks for the questions, everyone! I'm sorry I couldn't get to all of them. If you're confused on anything or want more clarity, ask away on Twitter. Stay safe!