Mitch, Please
Appreciating one of the subtler ways that the Knicks best player has become a grown-ass man
Sticking to yesterday's weekly plan that I laid out, welcome to our first edition of…
FILM STUDY TUESDAY!
(If someone could kindly come up with a catchier title for this, please @ me)
What better place to kick off this segment than with the highest ceiling player on the Knicks, and someone who made a little news himself over the weekend:
Next time someone tells you that players don't care about statistics, just be ready to call bullshit.
(The funny thing is that Mitch legitimately didn't know he was in the running for Wilt's record as of a month ago. He doesn't care about stats, but I'm betting he sent out the tweet because everyone else had been making a big deal out of it.
At this point, Robinson seems like a safe bet to finish this season as the new record-holder, with a season-long field goal percentage of .742, besting Wilt's .727 mark he hit during the last year of his career. For those wondering, based on how the league calculated statistical leaders during past shortened seasons, yes, Robinson would qualify for the title if the season ended today (h/t Jason Fortin for cluing me in to that one).
I, for one, am happy to give it to him asterisk free. After all, it's not like the team did him any favors, at least not compared to the man whose record he broke:
I went back and looked at that Lakers squad, and as pathetic as it is to say, LA provided Wilt with far more room to operate than these Knicks did Mitch. Check out the field goal percentages of the top-five minute-getters on the 72-73 Lakers vs those of the five guys Mitch played with the most this year:
Happy Hairston - .482, Jerry West - .479, Bill Bridges - .479, Gail Goodrich - .464, Jim McMillian - .458

Julius Randle - .460, Bobby Portis - .450, Payton - .439, RJ Barrett - .402, Kevin Knox - .359
Yup…the worst high-volume shooter on a team that played nearly a half-century ago was nearly better than the best high-volume shooter on this one.
Ladies and Gentlemen, your 2019-20 New York Knicks!
It arguably makes Mitch's achievement even more impressive than Wilt's. One of the ways he was able to do it, and what I'm highlighting here today, is his dramatic improvement on the offensive glass.
It's tough to overstate just how poor of a defensive rebounder Robinson was when he first entered the NBA. Over his first 28 games prior to missing a month due to injury, Robinson averaged under two defensive boards per game in about 17 minutes a night, which is almost tough to do at his size.
On the offensive glass though, he came into the league already ahead of the curve. Over those first 28 games, when he was just relying on instinct and athleticism, Mitch was still grabbing 11.4 percent of New York's misses, which was 12th in the NBA among players seeing at least 15 minutes of action per game. It's easy to see why:
(BTW, kudos to Fiz for trotting out Mitch and Kanter at the same time on opening night last season. The signs…oh, the signs…)
That's a clip of Mitch's first offensive rebound as a pro. He still doesn't really know what he's doing, but right away we saw a skill that has become a running theme for Robinson, and arguably hit most important ability when it comes to dominating this aspect of the game: getting his hand on a ball and tipping it to himself.
Even with that otherworldly athleticism though, there were still times where Robinson was just kind of "there," and didn't assert himself in the way we've since become accustomed to: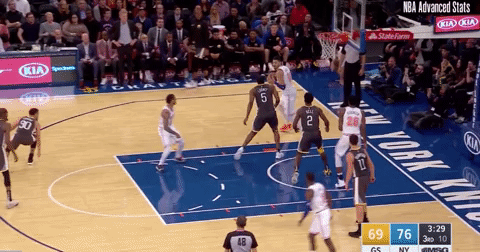 (In case you were wondering, Mitch shared the court with Kanter for a total of 50 minutes last season, and with DeAndre Jordan for eight minutes. Hey, the East is big, man…)
There were times last season when Mitch caught a lot of shit for getting bodied on the glass. Plays like the one above drove people nuts, and along with his foul woes, had many saying he was nothing more than a high-end backup.
As the season went along though, he started to get better, and after his return from injury on January 14, he upped his offensive rebounding percentage to 12.7 - good for fifth among 339 players (min. 15 mpg).
This year, almost from the opening tip, Robinson came out like a man on fire:
Check out where the video is paused the first time. Jared Allen (i.e.: "Big Hair Club for Men Who Might Not be Great at Basketball") has solid position in the lane. There's not really anything else he could be doing here. Joe Harris is also ready for the carom in case it comes off at a bad angle.
Neither makes a difference. As you can see at the second pause, Robinson not only uses his length, but times the jump perfectly, managing to tip the ball to himself and corral the rebound for the put back. It was plays like this that helped Mitch get atop the league in offensive rebounding percentage over this season's first two weeks.
Unfortunately, Mitch went down with a concussion in the eighth game of the season…and then played several minutes after initially going down. Good job, Fiz!
(I promise I did not start out this newsletter with the intent of shitting all over the former head coach. Alas…)
During the two months between when he came back and the All-Star break, Mitch was…fine.
But his games were marked by inconsistency more than anything else. He would go through stretches at either end where he simply looked out of it, fouling out of seven contests and picking up five fouls during six others during those 44 games. His offensive rebounding rate dipped to 10.9.
Leading up to the break though, we started to see signs of the beast we were promised, and from the break until play was called on Wednesday night, he'd been flat out unstoppable, rebounding nearly one out every six of his team's own misses since February 21 - second in the league for that time period only to Brandon Clarke.
In short, he's figured it out: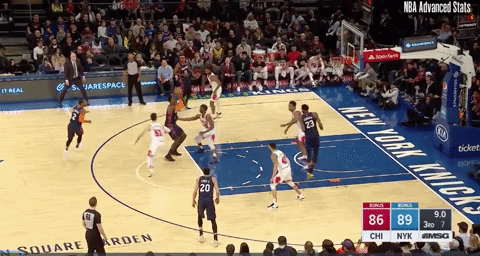 Wendell Carter Jr. - the man who Robinson subtly dislodges from his position under the hoop - is not a small man, nor is he easily moved.
Mitch does it anyway, and that extra effort is what allowed Robinson to secure the board - one of seven on the offensive glass he got against the Bulls on February 29. It was one of three times since February 9 that he grabbed that many offensive rebounds in a game.
Robinson probably doesn't have the physicality to make this play last year, or even earlier this season, but the fact that he can now is more than encouraging.
There' that tip again.
Of every stat I wish I could have access to in the NBA, it's "who leads the league in balls they tip to themselves and manage to come away with." I'm convinced Mitch would lead the league by a country mile.
That's the only way he's coming away with this ball over Steven Adams, one of the very best centers in the league at boxing out.
(And please, don't go by his past defensive rebounding numbers. There was always an implicit understanding that Adams would box out while Russ picked up the board. Don't believe me? Just check out his defensive rebounds per 36 minutes over the last two years: 5.0 last season, 8.0 this season. God bless Adams.)
This last one, from what may end up being New York's last game, might be my favorite.
Look at where Mitch is when Randle's shot goes up. He's completely out of the play, and outside the lane in fact. It makes no difference. Did Mitch judge the flight of the ball here as it was in the air and get position at the exact spot he'd know it would come down?
This might sound nuts, but notice how he keeps his head up and eye on the ball the entire time, and then slides to the exact spot - between two Atlanta bigs - to secure the rock.
It's a shame that the season might be over, because there's a real chance to lead the league in offensive rebounds per 36 minutes among rotation players. Old buddy Enes Kanter is at 5.7/36, but Mitch is at 4.7/36, with only Ivica Zubac, Andre Drummond and Derrick Favors standing in his way.
Here's betting that he gets there next season, whenever the hell that gets here.
That's it for today! See everyone for "What If Wednesday" tomorrow morning.