Mitch's Growth
A look at how far the Knicks young big has come (and where he can still go)
In this (late - sorry!) newsletter…

---
Not a ton of Knicks news today, so I thought I'd take the opportunity to do some of what gave this endeavor its name in the first place: analyze some film.
Specifically, I took a look at Mitchell Robinson's defense, and some of the less obvious things he's doing to help his team. In order to do that, I needed to check the play by play list from Monday's Rockets game. This is what greeted me when I opened up the page: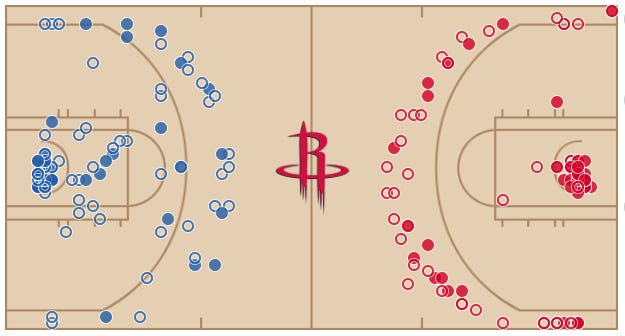 I mean…my God. That shot chart is a thing of beauty.
(The red one. The blue one makes me gag)
It reminded me of something I brought up as a guest on the Off the Ball podcast last night (feel free to check out the entire episode…lots of fun convo with Chris). For as much as this season makes me yearn for last year, when we at least got to watch the kids play more, there's one thing we never got then and we certainly still haven't gotten now:
A sustainable style of play that this team can identify with.
I'm not saying it has to be akin to what the Rockets do, but at some point, the Knicks need to actually pick a path and say "we're the team that lives and dies by X," whether "X" is ball movement, hoisting threes, penetration, or whatever.
I understand some of this is impossible to dictate without a "best" player to build around, and not having one certainly sucks, but it also doesn't men they can't do it.
Even right now, the Knicks "core" pieces are Mitchell Robinson and a bunch of guys who can handle the rock and (occasionally) get into the lane, including a few in RJ and Kevin Knox who play positions you don't usually get that level of ball handling from.
Maybe with more movement shooters and less Randle/Portis types, a drive, kick & lob team is their destiny. I have no idea. But seeing this chart made me yearn for the day when I can turn on a Knicks game, know what I'm going to see, and not get agita at the thought.
Anyway, on to the film…
Play 1
This seems like a routine switch, but pay attention to the angle Robinson has to take once he realizes his man is about to set a screen for Harden. One wrong step and Harden will take advantage, but Robinson keeps his feet active and prevents Harden from doing anything damaging.
(That Green ends up with a red carpet to the rim falls on Moe Harkless' poor awareness and Randle's utter refusal to be anything more than a statue in the paint. He's really good at this, as we'll see again later)
Play 2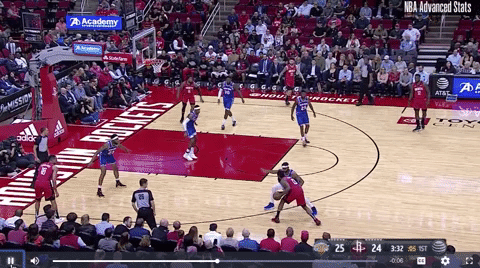 Robinson might not seem to be directly involved in this play, but again, his positioning and active feet are the key to making it happen.
On the play, Mitch can't completely abandon his man in the corner, and his timing has to be such that Harden doesn't have the kick out available to him as he starts his drive. Harden's hesitation as he goes towards the basket (which leads to the block) is likely due to Robinson's momentary hedge back towards his man - a small, subtle thing that probably makes the difference in this being a basket and not.
Play 3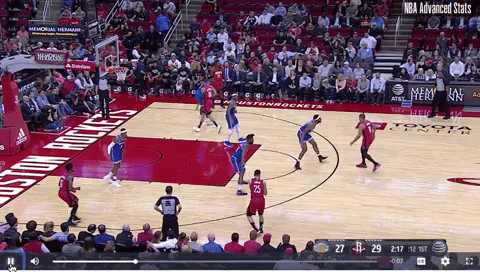 This is just Mitch straight up doing something that maybe five other centers in the entire league can do: play up close enough on a guard to prevent the three, and then being able to recover once that guard decides to drive the lane.
There was a moment in the second half when Miller called a timeout after Robinson gave a shooter too much room behind the arc, which is something he's done from time to time. It's clear that Mitch still doesn't fully trust his ability to recover and not foul 100% of the time, but the fact that he clearly has it in his bag is a good thing.
Play 4
Again, blink and you might miss it, but thanks to Julius Randle completely abandoning DeMarre Carroll in the corner, RJ needs to cover that assignment, thus leaving Mitch to essentially handle two men at once.
He realizes this, positions himself appropriately (still keeping a foot in the paint, because goodness knows Randle having moved over isn't going to deter Harden one iota), and uses his closing speed to distract Covington just enough for him to miss the shot.
Play 5
Again, just phenomenal athleticism that very few NBA players Robinson's size possess.
After coming in from the corner to help out (guess who!) Julius, he gets back out to make Gordon pump fake, and then uses an unreal second jump to block the shot.
Can't teach this stuff, folks.
For the year, the Knicks give up 3.7 fewer points per 100 possession when Robinson is on the court according to Cleaning the Glass, second among their yearlong rotation players behind only Frank (3.8, no surprise).
The biggest contributing factor to this is how much worse opposing teams are shooting with Mitch in the game: their effective field goal percentage goes down 4.2 percent, which ranks in the 94th percentile league-wide. By comparison, this number is only 2.0 percent for two-time reigning DPOY Rudy Gobert.
The obvious difference, of course, is that unlike the Knicks, the Jazz have a team full of high-level defenders, so it makes sense that the discrepancy wouldn't be as severe, but it's still notable. Before anyone starts drawing comparisons though, one look at the rest of Gobert's metrics shows why Mitch has a ways to go before he's in the conversation with the league's very best.
When Rudy is on the floor, Utah gives up 3.6 percent fewer offensive rebounds (94th percentile) and a whopping 6.2 fewer free throws per 100 possessions (98th percentile). Conversely, the Knicks give up 1.9 percent more offensive boards (24th percentile) and 1.2 more FT's/100 (35th percentile) when Mitch plays. Those differences are the reason why Utah's defensive rating drops by a staggering 8.6 points when Gobert plays and New York's only improves by 3.7 points when Mitch does.
This isn't to say Mitch can't get there. We read yesterday that Robinson has put on an additional 10 pounds this season. He already has a clear knack for grabbing boards (as shown by the Knicks' 4.2 percent improvement in offensive rebounding rate when he's in the game, in the 90th percentile league-wide), so a bit more added weight should help him hold up better on the defensive glass as well.
The fouling thing…is still an issue. But unlike some people who speculate that it's a basketball IQ issue, I see a kid still getting used to the tricks opposing players throw at him and who just needs to clean up his technique. Mitch is only 21. He'll get there.
Until he does, the New York's defense will continue to struggle. When Mitch picked up an offensive foul and had to sit with 4:20 in the first half, the Knicks were only down 56-49. Here was the very next play:
$18 million a year just doesn't buy you what it used to. But hey, 20 and 10!
James Harden then proceeded to score or assist on the next 15 Houston points, and a manageable game got out of hand by halftime. That Robinson wasn't in the game for that little "Cookin' with the Beard" infomercial was no accident.
Hopefully he can clean it up before the end of this season. It would nice if the Knicks' new front office could happily pencil in Robinson for next year's starting center slot when they start deciding on moves this summer, because God knows if I have to hear a single Andre Drummond rumor between now and June 30, I think by agita will get out of hand.
---
Player Spotlight
Before the All-Star break, I went into my dream world and highlighted Joel Embiid in this space, under the guise of "hey, if enough shit goes wrong in Philly, maybe, juuust maybe…"
A couple of things have happened since then.
For one, Embiid has been killing it since the break, and his PredictionStrike stock price has shot up from $2.83 to $3.36, thank in large part of a 49-point outing sans Ben Simmons on Monday night.

Second, and more importantly for our purposes, I was clued in my someone who would know that there is at least one damn good reason why an Embiid trade this offseason is highly unlikely. I'll have this person on the pod soon. Stay tuned.
In the meantime, with Simmons out for the foreseeable future thanks to a back issue, Embiid might be the best investment in the entire damn league between now and the end of the season. To prove it, I'm putting my money where my mouth is: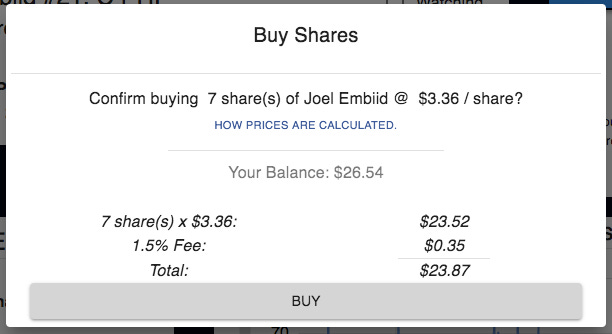 Giddy up, big guy.
(New to PS? Click here, use code KFS, get $10 extra towards a $10 investment)
---
News & Notes
compiled by Michael Schatz (

@mschatz99

)
Marc Berman had a nice piece about Iso Zo keeping himself ready

Ditto for Chris Iseman's column about the Rutgers coach who is killing it

Finally, Howard Megdal of SI.com has some thoughts on DSJ not getting his chance.
That's it! See everyone tomorrow!