Movin' On Up
The Knicks like LaMelo Ball, but he may be gone before they pick. If NBA history is any indication, this is nothing but a minor inconvenience.
Summer is officially here, and with it, the NBA moves ever closer to finalizing plans to resume this season.
Will the Knicks be invited to the party? My guess is no.
(For more on why, check out the latest episode of the KFS podcast right here)
One of the many reasons Jeremy and I discussed that makes it unlikely for New York to be in favor of playing more games involves the fact that they, like many teams at the bottom of the standings, seemingly just want to keep their lottery odds intact.
On a related note, SNY's Ian Begley posted another edition of his weekly Q&A series, and in it, he addresses the possibility of New York trading up to get their hands on LaMelo Ball. Notably, he says that others in Ball's camp besides just his dad want him in New York. He also closes with this thought:
It seems like it would be difficult for Ball's camp to coordinate his landing LaMelo in New York if the Knicks end up with the No. 6 pick. Maybe withholding Ball's medical information from teams ahead of the Knicks could lead him to slide down? But it seems unlikely that he slides all the way to No. 6. 
As usual, Ian is spot on. LaMelo isn't sliding to six. If the lottery balls don't move the Knicks up, they're going to need to move up themselves if they really want him.
Here's the good news (well, good if you're a fan of Ball, at least): History is on New York's side.
In more than half of the last 30 NBA Drafts, a top-five pick was traded either immediately before, during or shortly thereafter the night of the draft. Some of these trades were positively massive (the Steve Francis-to-the-Rockets trade in 1999, for example, involved 14 total players and picks), but in most of them, the essential parts of the deal can be boiled down to two or three names.
So I've done exactly that.
Below, you'll see all 18 trades where a top-five pick was dealt after the lottery order was set. Some of these are more relevant to the Knicks than others, and I've noted as much after each deal. By the end, we'll use the most analogous ones to come up with a vague outline of some potential trades.
From oldest to newest…
1991: Billy Owens (3rd pick) to the Kings for Mitch Richmond
Mitch Richmond had already showed signs of the Hall of Fame career he'd go on to have, averaging 23 points a game over his first three seasons as part of Run TMC in Golden State. Owens, meanwhile, made the All-Rookie First Team and had a productive three-year stint with the Warriors, averaging 15 & 8 before being dealt to the Heat for Rony Seikaly.
Relevance: Low. The Knicks have no one nearly as good as a 25-year-old Richmond.
1993: Chris Webber (1st pick) to the Warriors for Anfernee Hardaway (3rd pick) and three future firsts (1996, 1998 & 2000)
An unprecedented haul at the time, but then again, Webber might be one of the 10 most highly touted players to enter the draft in the last 30 years.
Relevance: Low. Webber was a generational prospect, while Ball may not even be universally considered the top player at his position in this draft.
1995: Antonio McDyess (2nd pick) to Denver for Brent Barry (15th pick) and Rodney Rogers
Rodgers was the 9th overall pick two years prior, and was coming off a season where he put up a dozen points per game. Even so, from LA's perspective, this trade stunk to holy hell even then.
Relevance: Low. NBA teams are rarely as dumb as the Clippers once were.
1996: Stephon Marbury (4th pick) to Minnesota for Ray Allen (5th pick) and a 1998 first rounder
The future first only ended up being the 17th pick and turned into Rasho Nesterovic, but still, this was a Doncic-like price 22 years before Luka went to Big D.
Relevance: High. It was the first instance of a team seemingly paying a fortune to move up just one spot for a similarly talented prospect. It would not be the last.
1997: Keith Van Horn (2nd pick) to New Jersey for Tim Thomas (7th pick) and Jim Jackson
There were six existing NBA players involved in this trade, but Jackson was the key figure. He was just two years removed from putting up 25 a night and came off a season averaging 16, 5 & 5 with the Nets. He was entering his age-27 season, and while the bloom wasn't fully off the rose yet, it was close.
Relevance: Very high. Julius Randle has some 1997 Jim Jackson vibes going for him, and the Knicks are more likely to end up with the 7th pick than any other selection. Ball, meanwhile, might be about the same level of prospect now as Van Horn was then.
1998: Antawn Jamison (4th pick) to Golden State for Vince Carter (5th pick) and cash
Similar to the Marbury/Allen trade, except the price was far lower. It seems like the Raptors always wanted Vince, and we eventually saw why.
Relevance: Low. Something like this would likely only transpire if the Knicks moved up to right below a point guard-needy team that had Killian Hayes ahead of Ball on their board.
1999: Steve Francis (2nd pick) to Houston for a 2003 first rounder, Michael Dickerson, Othella Harrington, Brent Price and Antoine Carr
The look on Steve Francis' face when he put on that Grizzlies hat said it all: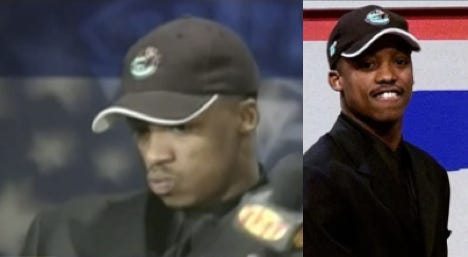 This trade was massive, involving Orlando and a bunch of other guys who don't matter (the Rockets somehow ended up with an Orlando first rounder that was better than the pick they sent to Vancouver), but it's the only trade I can remember where a guy overtly forced his way off a team he didn't want to go to. That said, it's not like the Grizzlies got scraps. Dickerson, picked 14th in 1998, was coming off an All-Rookie 2nd Team appearance, and Harrington could play. Still, this was shiesty.
Relevance: High. LaVar Ball is involved…what else do you need to know?
1999: Jonathan Bender (5th pick) to Indiana for Antonio Davis
I don't know what to make of this one. Bender never turned into anything, but he was taken after what was a strong top-four at the time (Brand, Francis, Baron Davis and Odom) and ahead of five straight picks that would range from solid pros to borderline Hall of Famers (Shawn Marion, Rip Hamilton, Andre Miller, Jason Terry & Wally "I really think the Knicks have a great chance of winning tonight if they score more points than the other team" Szczerbiak). Davis, meanwhile, was already 30, although he would go on to make his lone All-Star appearance with Toronto.
Relevance: Low. This was weird.
2001: Pau Gasol (3rd pick), Lorenzen Wright and Brevin Knight to Memphis for Shareef Abdur-Rahim and Jamaal Tinsley (27th pick)
It's hard to remember now, but Abdur-Rahim was not a bad player at the time. He was just 24 and a consistent 21 & 8 over his five years with the Grizzlies. He'd go on to make an All-Star team in Atlanta before getting dealt to Portland so 'Sheed could spend 10 days in Atlanta before heading to Detroit. Wild and wacky times, indeed.
Relevance: Medium. Randle is not looked at in the same light as SAR was two decades ago, but Wright and Knight were no slouches, so in terms of total value, it might be instructive.
2001: Tyson Chandler (2nd pick) to Chicago for Elton Brand
This was arguably ballsier than anything Sam Hinkie did over a decade later. Brand was a 20 & 10 stud entering his prime, and Chandler had just gone to prom. The Garnett comps were there, but still, this was nuts.
Relevance: Low. This would be like the Knicks trading both RJ Barrett and Mitchell Robinson for the rights to LaMelo Ball. The Knicks are not trading RJ Barrett and Mitchell Robinson for the rights to LaMelo Ball.
2004: Devin Harris (5th pick), Jerry Stackhouse and Christian Laettner to Washington for Antawn Jamison
Jamison was coming off a Sixth Man of the Year award during his one season in Dallas, and before that he put up 22 & 8 over four years in Golden State. He was legit. Stackhouse was 30 and had just about settled into the "helpful veteran reserve" portion of his career. Laettner was done.
Relevance: Medium. Harris was a level below where Ball is right now, and Jamison was a level above where Randle is right now, but Dallas also didn't give up a single draft asset in the deal. Again, in terms of total value, it's a potentially valid comp.
2005: Deron Williams (3rd pick) to Utah for Martell Webster (6th pick), Linas Kleiza (27th pick) and Detroit's 2006 first rounder (30th pick - Joel Freeland)
Webster was the Man of Mystery of the 2005 Draft, so this was Portland's swing for the fences. Walt Perrin had other plans.
Relevance: DING DING DING DING DING!!!!!
2006: LaMarcus Aldridge (2nd pick) and a 2007 2nd (Demetris Nichols) to Portland for Tyrus Thomas (4th pick) and Viktor Khryapa
Another Chicago Special. The Bulls wanted Thomas. Why they didn't just take him at two…who knows.
Relevance: Low. If only smoking lots of weed on draft night hadn't since been outlawed.
2007: Jeff Green (5th pick) to Oklahoma City for Ray Allen and Glen Davis (35th pick)
Some meaningless filler also went to OKC in the deal. The Thunder were resetting around KD while Boston was going for broke.
Relevance: Low.
2008: O.J. Mayo (3rd pick) to Memphis for Kevin Love (5th pick) and Mike Miller
There was some filler involved here too, but these were the main parts of the deal. Memphis thought enough of Mayo to go up and get him. Oh well. Minnesota, meanwhile, not only got Love, but acquired the more-than-serviceable Mike Miller, who was entering his age-28 season and carried career averages of nearly 15 points and 40 percent from deep.
The Wolves turned around a year later and dealt Miller and Randy Foye for the pick that became Ricky Rubio (and could have been Steph Curry)
Relevance: Medium. A player of Miller's value is about what you'd expect the cost to be to move up two spots for a player universally agreed to be a better prospect, but isn't so good as to be beyond reproach.
2017: Markelle Fultz (1st pick) to Philadelphia for Jayson Tatum (3rd pick) and a 2019 first rounder (14th pick – Romeo Langford)
This might wind up being the trade with the most far-reaching ramifications on this list.
Relevance: Medium. If the Knicks got the 3rd or 4th pick and some team wanted Ball first, they could execute a poor man's version of this trade. Remember that the extra pick going to Boston in the deal was never expected to be as bad as it turned out to be.
2018: Luka Doncic (3rd pick) to Dallas for Trae Young (5th pick) and a 2020 1st (10th pick – Cam Reddish)
Scratch that; this will have the most wide-reaching ramifications of any deal on this list.
Relevance: Medium. As Mike Vorkunov noted in a recent article, new Knicks Chief-of-Staff Brock Aller loves him some pick protections, and the Mavs were fairly careful about making sure this one didn't come back to bite them in the ass. Still, Ball ain't Doncic, so this isn't quite analogous.
2019: De'Andre Hunter (4th pick) and Jordan Bone (57th pick) to Atlanta for Jaxson Hayes (8th pick), Nickeil Alexander-Walker (17th pick) and Didi Louzada (35th pick)
Atlanta also took on a salary dump in this deal and gave up what will turn out to be Cleveland's 2021 & 2022 second rounders, while the Pels gave up a 2023 second. This reeked of Atlanta getting antsy, but it's too early to judge.
Relevance: Low. Hunter was a tier below the top three guys, so even assuming the Knicks ended up at seven, it's doubtful they'd be able to simply trade their entire draft and take on a year's worth of bad money to get Ball.
That's it! So, what have we learned?
For starters, none of these trades netted a championship cornerstone. While the careers of Doncic and Hunter are in their infancy, none of the top five-picks acquired won a ring with the team that went up to get them. That said, these trades often work out well for the team that moves up…if they get the right guy. Aldridge, Gasol, Williams, Doncic and even Francis and Van Horn can pretty clearly be marked as success stories for the teams that paid the premium. Of course, there are nearly as many times where the player taken with the lower selection turned out to have the better carer (Ray Allen, Vince Carter and Kevin Love all qualify, and Jayson Tatum is more than on his way).
Second, trading up (or in) costs a lot. Except for a few deals that either made no sense at the time (McDyess, Aldridge), contained a player who forced a team's hand (Francis), or involved Danny Ainge attempting to go from worst to first, teams trading for a top-five pick had to give up either:
A young-ish vet on track to be, if not a perennial All-Star, someone who would make a few ASG's (note here that Richmond, Abdur-Rahim, Brand, Jamison and Antonio Davis all made All-Star games following being swapped for a top-five pick) or…

A top-eight pick in the same draft plus other stuff.
We can ignore all the trades in category one because the Knicks don't have a player on their team who fits that bill unless they want to put RJ Barrett on the table, which a) they're not doing and b) might not even get it done, because he hasn't yet earned the designation of "likely future All-Star." Sorry.
Which brings us to category two, of which there have been eight examples over three decades. These trades are incredibly relevant because:
There is currently a 96 percent chance the Knicks will pick in the top eight, and

They have a ton of other "stuff" they'd likely be comfortable tossing in a potential deal. Roughly in order of value:

One of their own future draft choices (surely with strong protections, perhaps not unlike the "if not conveyed by X date, this pick shall convert to two second rounders" jobs that Aller specialized in while with Cleveland)

The unprotected Dallas 2021 pick

The top-ten protected Dallas 2023 pick

Kevin Knox, Frank Ntilikina and this year's Clippers' pick (your guess is as good as mine as to the order of these three in the eyes of opposing teams)

Detroit's and Charlotte's 2021 second rounders

Ample salary dumping grounds

This year's Charlotte second rounder

Julius Randle
Whether they have to take from the top of this list or the bottom depends on several factors, including but not limited to:
How far apart are they from where Ball is picked? Do they need to move up from 4 to 3? 6 to 2? 8 to 1? Of the eight deals where trades occurred within the top ten, the team moving up jumped an average of 2.4 spots, with the largest being New Jersey's five-spot leap to get Van Horn.

How close will Ball get to imitating the Steve Francis face if he's forced to put on the hat of a certain team?

Does the team in position to take Ball have any unwanted salary it needs to move?

Might said team have any interest in Julius Randle?
Soooooo, with that as the longest cocktease in the history of these newsletters, let's finish up by spitballing some potential trading partners in order of most to least likely:
Minnesota (3rd position)
The most obvious candidate. Not only are they set in the backcourt with newly acquired youngins D'Angelo Russell and Malik Beasley, but they have James Johnson's $16 million expiring contract on the books, a stretch big who could work alongside Randle, and no desire to tank next season, having traded away their (very lightly protected) 2021 first-rounder to Golden State.
If the Wolves landed in the top three and the Knicks stayed put, they could swap picks and exchange Johnson for Randle. This would only come down to the sweetener: a future Dallas pick? Knox? The Detroit second? Mr. Aller, please pick up the red courtesy phone.
Cleveland (2nd position)
It's nearly impossible to see the Cavs going into next year with Collin Sexton, Darius Garland and LaMelo Ball all on the roster. The bigger question is which one of the three they'd look to move.
The Knicks worked out Garland before last year's draft, but who knows whether that interest remains in the building after all the changes. Sexton would probably net the Cavs the biggest return, but that would get complicated because their asking price would be through the roof. That said, Obi Toppin is a local product and might be Cleveland's preferred choice anyway. If he's available when the Knicks are up, it could make things easier.
I kind of hope this happens, if only because Aller negotiating pick protections with the team he just left would be high comedy.
Atlanta (4th position)
As unlikely as the Cleveland trio is of happening, it's even less likely that Trae Young and LaMelo Ball ever share a backcourt. That said, the Hawks are already stocked with kids. Plus, if Edwards is on the board, one has to imagine they just take him rather than trying to hold New York hostage for Ball.
There's a crazy world where John Collins get involved here in some larger deal, but I'm not sure it's one I want any part of.
Chicago (7th position)
Yes, their odds are worse than the Knicks, but so were New Orleans' and Memphis' last year.
Like Cleveland and Atlanta, there's something about a Zach LaVine / Coby White / LaMelo Ball mix that doesn't quite sit right with me. There also isn't an obvious position of need here, so that makes this tougher.
I can't help but think Chicago would try to foist LaVine on the Knicks as some kind of a skid-greaser and then ask for the moon.
Charlotte (8th position)
We know they had trade discussions with New York last year.
Golden State (1st position)
My putting them so low may be wishful thinking.
Yes, they traded for Andrew Wiggins with the hope of rehabilitating him to the point that he could escape contract albatross territory, and maybe if they got really lucky, turn into a neutral asset.
But that was before the global pandemic. Suddenly, having $300 million in committed payroll over the next two seasons ain't so cute.
How's this for a trade: Wiggins and the Warriors pick for Randle and the Knicks pick?
(In case you were wondering, both Randle and Wiggins are repped by the same agent, Steven Heumann of…yup, you guessed it: CAA)
Want a worse headache? Wiggins and the Warriors pick for Mitchell Robinson, straight up. You could argue that Mitch on his salary has more value to Golden State than any team in the NBA, especially with an Anthony Davis-sized roadblock in LA for the foreseeable future.
I could keep going, but substack tells me most people read this newsletter in the morning, and even in quarantine, heavily drinking before noon is a poor idea (or so I've been told).
Do I think the Knicks would willingly take on Wiggins salary as a tax on getting the guy they want? Probably not, simply because I keep hearing how important financial flexibility remans for the organization. But I wouldn't rule anything else, depending of course on what their new front office thinks of Wiggins and how desperate they are for Ball.
Here's the point: if the Knicks really do have their heart set on bringing the Ball Circus to the Big Apple, there's going to be a way to do it.
Will is be a wise decision? As history shows us, a lot of that will depend on whether Leon Rose is as good a negotiator in this job as he was in his last one.
My bet: one way or another, Ball is the starting point guard for the Knicks whenever next season gets started.
Call it a hunch…with some historical precedent to back it up.