No Toppin This
The Knicks may have a tough decision to make at 8 if the perceived "safe" pick falls to them. Plus, some thoughts on Chris Paul & Fred VanVleet.
News & Notes
The All-NBA teams were announced yesterday, with Russell Westbrook's legacy nod over either Bradley Beal and Kyle Lowry being the most eyebrow-raising inclusion.

According to Ian Begley, the Knicks had a video call recently with RJ Hampton, the combo guard who failed to impress in Australia this season but came into the year as a top-ten prospect. It would be interesting to see what New York would do if he fell to 27, or close to it.
"Sources Say…"
There were a few Knicks nuggets floating around the interwebs yesterday, including a rumored offer to Fred VanVleet of over $22 million annually, as well as a hefty Chris Paul trade proposal via Scoop Robinson that includes both Knox and Frank, the 2021 Dallas pick (which he notes would be top-five protected), the '21 Charlotte second, and the fully guaranteed contracts of Elfrid Payton and Bobby Portis.
As JB noted yesterday, the Thunder don't necessarily need to take back contracts like Portis and Payton from the Knicks if the teams wait on consummating a deal until after the new league year begins (probably several days before Thanksgiving at this rate). Because New York will be able to non-guarantee (Taj, Elf, Ellington & Bullock) or decline (Portis) over $40 million in contracts, they can simply drop far enough under the cap to take Paul's contract into their open cap space if they wait until then.
In any case, I haven't heard much else on this front beyond what I reported two days ago, other than from one person with knowledge of the Knicks' thinking who would be surprised if the team ended up including Knox in a Paul trade. As I wrote, Knox and Randle were names being discussed internally, but (at the risk of undercutting my own reporting) that's a far cry from actually putting either of them into a trade offer.
(The biggest thing I'd take away from all the Paul noise right now is that, as I wrote earlier this week, we're not yet close to any official discussions happening. My guess is that every possible scenario is still being discussed, and this situation is fluid, so if you hear conflicting reports about who and what is going to be offered - even from me - that's why.)
As for the VanVleet number, $22 million wouldn't surprise me, as that (or something close) seems to be what it would take to pry him away. But putting this and the Paul rumors together, there's no way for the Knicks to afford to take on CP3 and sign FVV to a $22 million annual number unless they either a) dumped Julius Randle's salary outright or b) acquired VanVleet via a sign and trade for Dennis Smith Jr.
(dumping DSJ alone would still leave them a bit short of being able to offer FVV a deal that averaged $22 million, whereas a sign and trade with Toronto would allow the Raps to give VanVleet eight percent raises as opposed to the five percent New York could offer, thus allowing his first year salary to start lower, which would make it work under the cap. They could also theoretically send another asset back in the sign and trade and dump Smith Jr. in a separate deal)
More on all of this as it comes, which I'm sure it will. Speaking of Fred and Chris…
Ask Macri
This is kind of an impossible question to answer without knowing the price tag on each guy. If they can land Fred VanVleet for an annual number in the high teens and the Thunder's asking price is heightened by an unexpected influx of bidders? I'd say Freddie. If Paul can be had for something much less than today's rumored offer and VanVleet would break the bank? I go with Paul.
In a vacuum though, all things being equal, I think the Knicks would prefer Paul. That's just my guess, but it's based on a few assumptions:
Assuming Paul plays at or near the level that just got him voted to the All-NBA 2nd Team, he makes the team much better than VanVleet ever could (and this is no slight on VanVleet; Paul is just ridiculously good)

While Paul would cost roughly twice as much money this year, it's conceivable that the Knicks feel there's very little else worth spending their money on in November. That just leaves the 2021-22 salary, but there's always a possibility that Paul declines that player option in favor of more years at less money (and an under the table deal to join the front office upon retirement, of course).

Regardless, if part of the rationale behind either acquisition is to make the franchise more attractive to future free agents, I'm betting they think Paul will raise a lot more eyebrows than VanVleet.

If 2021 doesn't yield a big fish, Paul becomes an expiring contract, whereas VanVleet would still have three more years on his deal at a hard-to-move number should the Knicks have buyer's remorse.

Lastly, and perhaps most importantly, I do think there is something to gaining instant credibility around the NBA if Paul becomes a Knick. VanVleet is a nice player, and he would be an immediate upgrade over anyone else they have or could sign this summer (with the possible exception of Dragic), but Chris Paul is Chris fucking Paul, and that extends to off the court as well. I may be kidding about the under the table deal part, but I do think there's something to the long time partnership that he and Leon Rose share. Paul trusts Rose, and if both parties feel like they could benefit from a partnership that lasts beyond Paul's playing days, it makes sense to start that sooner rather than later.
Totally spitballing here, and I've gone back and forth on this over the last few months, but at this point I'd bet even money that they end up with one of these two before next season begins.
No doubt I'll feel differently tomorrow.
---
No Toppin This
Lew Alcindor. Pete Maravich. Bill Walton. David Thompson. Larry Bird. Ralph Sampson. Michael Jordan. Patrick Ewing. David Robinson.
13 times over the first 20 years that the Naismith College Player of the Year award was in existence, the winner would eventually wind up in the Hall of Fame (Walton and Sampson each won three times). Even some of those that didn't - guys like Marques Johnson and Danny Manning - wound up having good to great NBA careers.
My, how times have changed. Yes, there are still some winners from the past three decades that will have plaques in Springfield someday - Duncan and Durant for sure, AD if he keeps it up, Blake has a shot, and who knows with Zion - but by and large the award has been rendered meaningless, at least as a predictor of professional success.
Ever since the 90's when more and more players starting leaving school early for the NBA, guys that win this trophy tend to be older players with games that don't translate as well to the pros (because if they did, they'd have left school earlier). It might be because of their size (Jalen Brunson, Frank Mason III, Trey Burke), athletic limitations (Frank Kaminsky, Tyler Hansbrough, Doug McDermott) or just the fact that being a jack of all trades, master of none makes it is easier to shine at the college level (here's looking at you, Evan Turner).
For a long time, the notion of someone winning this and going outside the first few picks of the draft was absurd, but in between Anthony Davis and Zion POY honors, the Naismith guys have gone 9th, 11th, 9th, 6th, 34th, and 33rd.
Which brings us to the winner from this year's shortened college basketball season, Obi Toppin.
Thus far in the pre-draft process, there are a few talking points about Toppin that have taken shape:
He is a "safe" pick

He has a high floor as an offensive player

He's going to be the Rookie of the Year favorite, perhaps comfortably so

He can stretch the floor

His defense is terrible
At this point, I've seen him mocked as high as 4th to the Chicago Bulls and as late 10th to the Suns. More than a couple have him going 8th to the New York Knickerbockers. Perhaps most interestingly, Jonathan Wasserman of Bleacher Report reported yesterday that the "level of interest around [Toppin] seems to be growing and contagious," saying he could go as high as 3rd. I have also heard the term "obvious pick" used about him in connection to the Knicks thinking, although I can't tell if that means they think he's obvious for them, or just that others feel that if he's there, he should be the choice.
He is, if not a polarizing prospect, a somewhat divisive one. One one hand, it's hard not to believe in the good. For starters, the inside out offensive game seems very, very real, which, in the NBA of 2020, is probably a good place to start:
Stretch bigs come in all shapes and sizes. Sometimes, bigs are left wide open on an island and have the time to wind up and fire without anyone ever coming near them (think Julius Randle last year). Other guys, like Davis bertans, are ready to let it fly without a moment's notice, and from any distance.
As we see from the way Toppin takes very little time getting his feet planted and into his shooting form on one motion as a trailer on the fast break, he's closer to the latter than than the former. The form needs work and the volume isn't anything to write home about - just 2.6 attempts per game - but there seems to be good reason to believe in the shot as a real weapon at the next level.
That's not why you're taking this dude in the top ten though (should you be so inclined to do so)…
Moves like this aren't uncommon for Toppin.
Through mid-February (the most up to date accurate stats I could find - h/t to the great Spencer Pearlman), Toppin was shooting 69 percent on post ups and 74 percent on non-post ups around the rim. Those numbers are, frankly, absurd.
How much should we factor in Dayton's schedule, the fact that they play against A10 competition, and that Toppin pulled off a lot of these moves against guys who, as the great Lou Brown would say, will be bagging groceries in a few weeks? I'm not sure.
On one hand, not many guys, regardless of conference or age, have any sort of a face up game anymore, let alone one as advanced as Toppin's:
On the other hand, he won't have cats like this…

…to feast on at the next level.
(Sorry Bates Jones, whoever and wherever you are)
It's interesting to note that of the seven D1 players since 1992 who have had seasons with an effective field goal percentage over 65, a 3-point field goal percentage over 38, and who've averaged at least 18 points and one made triple per game, four attended mid-major schools:
If I were thinking of drafting Toppin, would I be troubled that Derrick Williams - another defensively challenged combo big who rose up draft boards during his sophomore season - is the only guy on here from a big time college (sorry Spencer)?
Umm…..yes. Yes I would.
Which gets us to the other major concern about Toppin aside from the validity of his shooting and the caliber of his competition: his defense. Take a gander at the guy with the ball, if you will: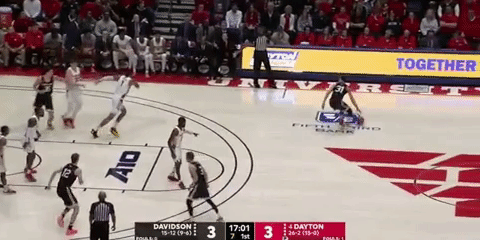 You'll notice that while Obi does contest the shot, his poor reaction timing makes it such that he might as well not have jumped at all. The attempt was already up before Toppin rose for the block, and sure enough, he doesn't deter a thing.
Obi averaged just 1.2 blocks per game this season. When you consider his vertical pop and his ability to rise quickly to contest shots, that's really not all that great. It's even worse when you consider the aforementioned substandard competition.
This also wasn't the case of Topping sacrificing individual statistics for the betterment of the whole. If anything, he rose for too many swats that he had no chance of getting, and his team suffered because of it.
And there are other issues as well:
Toppin's man starts out in the low corner here and slowly sidles over to get in place for a screen. You can see that Obi points in that general direction right before the pick gets set, but it's clear that he didn't do enough to make his teammate aware of what was coming behind him, nor did he think to come up and help cover the play himself.
It's little things like this that would be more easily forgivable for a teenager, but Toppin's advanced age - he's closer to 23 than he is to 22 - makes you question whether his awareness ever gets much better.
Here's one from his matchup with Anthony Edwards and Georgia: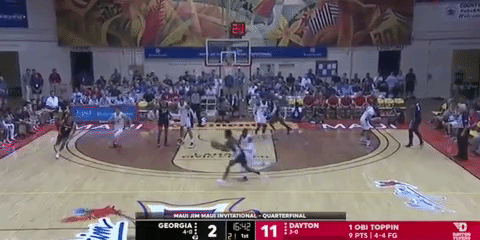 Again, this isn't something that stands out if you're not paying attention, and it didn't end up hurting Dayton on this possession, but watch how high Toppin comes up on the screen.
Not only does he get up all the way to the 3-point line as the ball handler has already started to make his move towards the basket, but Obi has completely blocked himself out of the play. In the NBA, something like this will result in the easiest pick and roll points an opponent will get all night long.
The most concerning thing is just…why? There's no rational explanation for why Toppin should get into this position on the play, and it makes me think that he's either unaware of where he's supposed to be or simply isn't placing enough value in being precise. I'm not sure which answer I prefer.
One more before we get out of here, back to the Davidson game for a sec:
Did you see it? No? Look at Toppin - in the midst of a killer game that his team is winning by 17 - at the top of the arc. After he doesn't get the pass, he drops his head and hangs his arms.
Is this a huge deal? Maybe, maybe not. But it caught my eye. As did the very next play after Davidson brought the ball up the court:
The dude who makes the steal has a 20-foot head start on Toppin for the layup…and promptly throws it backward so Obi can add to his stats.
Again, there's nothing inherently wrong with this. Toppin was in the midst of a NPOY campaign and his teammates no doubt wanted to support him in that effort. His dunks also got the crowd going nuts, so there's that benefit as well. Lastly, as David Jablonski of the Dayton Daily News told me on an episode of the KFS Pod dropping tomorrow, Toppin is one of the nicest guys you'll ever meet. That counts for something.
But if I've watched one player come through the Garden's doors hunting for stats, I've watched 100, and this back-to-back play combination didn't exactly scream out to me in a positive way.
At the same time, over the course of the two games I've clipped plays from in this column, Toppin went a combined 19-for-21, scored 48 total points, pulled down 16 total rebounds, and his team won both games. For all the concerns about other parts of his game, it's hard to pass up production like that at the 8th pick in a bad draft.
This is the conundrum that is Obi Toppin, and it's why for as much as he's deemed a safe pick, he's arguably the most confounding player in the top ten. We know what guys like Okongwu and Vassell will be. We know where the pitfalls lie with Ball and Edwards. We know where Hayes and Okoro need to improve. With Toppin, the nuances surrounding both his floor and his ceiling are the reason his draft range is what it is.
Do I want the Knicks to be the team to make that bet? I'm not so sure. I still have concerns about his on court fit with Mitch. If Toppin is in the dunker's spot, that neuters the effectiveness of Robinson pick and rolls. The offense would need to be extra creative whenever these two shared the floor.
Much of it would also depend on whether they can move Randle, as well as who ended up playing point guard. Getting back to Chris Paul for a second, between him, Thibs and the Knicks new development staff, I'd sure be a lot more intrigued about how much Toppin could improve in New York.
And maybe that's part of their thinking behind a Paul trade. Who knows. Either way, they better know exactly what they're getting into if they make Obi Toppin the pick - both for better and for worse.
That's it for today! See everyone tomorrow for a happy Friday. #BlackLivesMatter