Nonsense and Sensibility
The Knicks made a good move, but a less helpful one might be on the way
In this Newsletter:

---
Yesterday, I wrote a short treatise/novella on why the Knicks inquiry into Andre Drummond was a more disturbing sign than maybe met the eye. It was troubling enough to make me question not only the front office's aptitude for the jobs, but their motivations as well.
Today we digest two more bits of news - ones that aren't quite at odds with one another, but show that the organization is still attempting to fight a two-front war. Whether they're doing so with anything more than a few slingshots is up for debate.
First, the Knicks tore up the two-way contract they had previously given to Ivan Raab and seem poised to hand it to Kenny Wooten, which was an easier decision than taking away a pair of garden shears from my 3-year-old daughter and putting them safely back from whence they came (don't act like your kid has never gotten into the tool shed):
Wooten is a basketball acrobat, routinely pirouetting above the restricted area like a member of Cirque du Soleil, except with the controlled rage of guard dog who just wishes you'd take a step inside his zone. Taj Gibson has been a helpful piece in his own way and Bobby Portis has…two wild eyes, but there's a reason that teams shoot 9.4 percent higher at the rim when Mitchell Robinson isn't in the game.
Wooten is only 21 and is averaging five blocks per 36 minutes in Westchester this year. He can pass and shoot a little too. As our own Spencer Pearlman puts it, he's like a smaller Mitch in a lot of ways:
So that's all lovely. It would be especially lovely if Wooten, along with all the other first, second and third year players on this team got even more of a chance to do the heavy lifting over the second half of the season, which starts Thursday against Phoenix.
The Knicks schedule eases up considerably over those final 41 games, 24 of which come against opponents currently under .500 and 22 of which are at home. Throwing a bunch of kids onto the court can quickly become counterproductive though, especially without enough of the right veterans to keep games competitive. In a year where there's no surefire talent at the top of the draft and a lot of fluctuation in the top ten, it's not hard to argue that there's more value in eking out more wins than in tanking. Aside from simply generating positive vibes, it's a reminder to the young'ns that the hard work does actually pay off.
But there is a fine line to be walked there. Like I wrote yesterday, acquiring Andre Drummond at the expense of playing time for one of your best young players would tilt the scales too far in the wrong direction, as would continuing to rely too heavily on the veterans already here. Giving Kevin Knox 30 minutes a night carte blanche from here on in might not be the answer, but neither is playing him 13, which is what he was averaging in the five games before Marcus Morris got hurt.
That leads us to today's second piece of news. According to Marc Berman, "some members of the front office are leaning toward holding onto Morris at the deadline — unless they get back a star-type player in a large package."
He also notes - in a theme we've heard before a few times this season - that trading Mook for a first-round pick isn't worth it to the team's brass if it also means taking back salary that extends past this season, apparently because they want to maintain as much cap space as possible beyond this season in the hopes that it can grease the skids on a big trade.
But Berman also says the Knicks want to keep Morris around so they can re-sign him to be "part of their future."
Add it all up, and this report likely means one of two things. Either:
The Knicks are trying to walk the world's thinnest tightrope, both maintaining a certain amount of flexibility and putting win-now pieces in place, even if it costs them a pretty penny (remember, Morris allegedly turned down 3 years and $41 million from the Clippers this summer, and his value has only risen since then), all in the hope that the right star-trade presents itself and they're suddenly in a position to get real good, real quick (although theoretically, the assets obtained in a Morris trade would only aide their efforts in such a pursuit, so keeping him would also weaken their position on that front as well, unless they feel like they already have enough by way of young players and picks to swing for the fenc-
…
Sorry, I blacked out for a second…what happened now? Oh yes, option two:
This is classic posturing, they fully intend on making the best available deal for Morris, and this is all designed to drive up the price.
Far be it from me to assume that this front office is capable of playing 4-D chess, but it would make some sense here.
For one, there's likely a trade somewhere on the NBA landscape that wouldn't require the Knicks taking back bad money to get some goodies for Morris (and truth be told, none of his likely suitors – the Clippers, Lakers, Sixers would seem to top the list – even have that kind of negative asset to send back. Only Miami, who has no first round picks to trade until after Armageddon has come and gone and isn't going to move one of their prize kids for a rental, would qualify here).
More to the point though (and here's where I get perhaps a bit too presumptuous), if Morris is as sold on what the Knicks are building as he and the team would like us to believe, then he's free to sign the same contract here this summer that would otherwise be available to him if he stayed until the end of the season. Trading him doesn't prohibit them from bringing him back via free agency, and only prevents them from offering a fifth year, which…God help us all if they're even contemplating such an offer.
Against my better judgment, I'm going with Option B.
In the meantime, the Knicks close out their goliath of a first half with a road tilt tonight in Milwaukee, who has beaten them by a combined 9,000 points the last two times they've played. Marcus Morris is still out, but Frank Ntilikina is probable. Gumdrops and candy canes for everyone.
At this point, wins and losses are a secondary concern behind getting this team to February 6 without making a major blunder. If they surprise us all and make a few forward-thinking moves without going into full-on tank mode, even better.
23 days and counting.
---
Player Spotlight
Before we get to our player to watch tonight, a quick update on yesterday's poll:
You, the people, have spoken, and the winner is…
RJ Barrett!
Starting tomorrow, when you sign up for PredictionStrike as a new user and enter the code "KFSPlayer" you'll receive a complimentary share of Headband RJ himself to begin your portfolio with.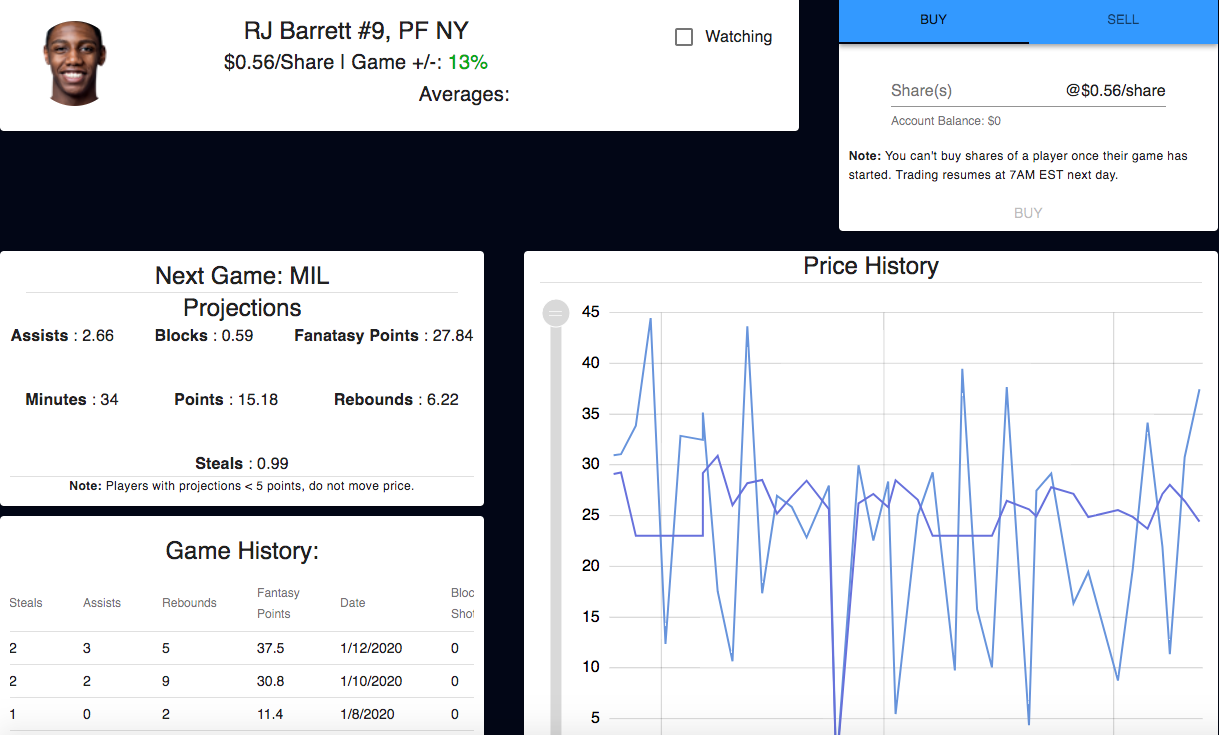 (C'mon guys, let's update this picture. The headband must remain)
For today, let's focus on a Buck to add before tonight's game.
Brook Lopez has had a quietly bad year for Milwaukee, at least when it comes to the thing he's become known for: his deep ball.
He's down to 29 percent on under five attempts for the year. As a result, his stock price is down to $1.12 a share after starting the year off at $1.28. He's only attempted eight threes once in a game this season, and he made half of them that night - also a season high.
That night came, unsurprisingly, against the Knicks, who have had their issues guarding the arc all year long.
I'd get in on Brook now (and if you're new to PredictionStrike and want to sign up today, make sure to use code KFS to get $10 towards your first deposit of $10 or more.
---
News & Notes
compiled by Michael Schatz (
@mschatz99
)
Mike Vorkunov wrote a really thorough piece about every Knick fan's favorite topic: the fact that the Knicks practice facility is nowhere near where they play the home games.

Look, I get no one wants to admit it, but this is a problem. As I've said many times in the past, all things being equal, would the practice facility being in White Plains take a free agent otherwise inclined to sign here and make them decide otherwise? Probably not.

But all things aren't equal, and the Knicks face an uphill battle on several fronts to getting the best guys here. They need every advantage they can get. And if the fear is that guys are going to party too much if the facility was in the city, JR Smith and Joakim Noah showed us all that where there's a will, there's a way.

Can we please make this happen guys, in my lifetime perhaps?

From the weekend if you missed it, but Lonzo Ball doesn't think his brother would have an issue playing under the bright lights of MSG.

Finally, Lauren Russell of SI.com writes about the arrival of Kenny Wooten.
---
On This Date: Knicks fire Don Chaney
The Don Chaney era came to an end on this date as Isiah Thomas fired him shortly before their impending game against the Orlando Magic. After going through a morning shootaround, Chaney and assistant coaches Brendan Malone & Lon Kruger received notice that they were relieved of their duties.