Not Quite Yet...
Yup, still not ready to move on.
A lot of times people will reach out to me in response to this newsletter and say that they're amazed how I'm able to come up with something new and vaguely interesting to write about every day.
Well, I'm sorry to disappoint all of you, but today I got nothin'.
It still doesn't feel like the time to talk about basketball. Things to look for tonight from potential Knick trade target Malik Monk, perhaps? I just don't have it in me. Not yet, at least. Not when I see something like this and still fall completely to pieces:
My wife - who I don't think saw Kobe play five times in her entire life - is even still shook. She said to me last night that this was like a glitch in the system, that some people just aren't meant to go when they do. There's never been a clearer example in my mind.
Hopefully tomorrow, after seeing a game played by players who are in a slightly more apt state of mind to take the court than they were on Sunday night, we'll all be able to begin to move on. But right now, I'm still not there.
Last night, as I was trying to think of what to write today, I was browsing box scores of Kobe's games against the Knicks. Why exactly, I couldn't tell you. But it was a fun walk down memory lane, remembering things you forgot you ever knew.
By now I'm sure you've come across the clip of Bryant's first career point - a free throw at the Garden - but in case you haven't:
But Kobe's first "big" game against New York wasn't until more than two years later. It was during the strike-shortened 1999 season. The Lakers didn't make a trip to MSG that year, and the only game the two teams played was in Los Angeles.
In what was one of the Knicks' higher-scoring affairs that season, New York lost 99-91. It was their seventh consecutive game scoring under 100 points, a streak that would wind up lasting 19 games. What a time to be alive.
Anyway, Kobe led the Lakers in scoring that night, the first time you could say that for a game he played against New York. The other LA starters that night besides him and Shaq? They would be Glen Rice, Dennis Rodman, and of course, Derek Harper (kudos to you if you remember his time as a Laker, because I sure didn't).
The prior season Kobe was still coming off the bench, and in two games versus the Knicks, he shot a combined 5-for-24. I think it's safe to say he made up for that futility later in his career.
Last one: Kobe's second game against the Knicks. February 23, 1997, in LA. The Knicks won, 127-121, in double overtime.
Patrick Ewing led New York that night, pouring in 34 points and 25 (!) boards in 51 minutes. New York's other four starters - Oak, Allan, LJ and Chris Childs - all played at least 42 minutes. Poor Scotty Brooks still couldn't get off the bench.
On LA's side, Shaq was out, in the midst of a two-month recovery from a left knee injury. In his place, the Lakers got a massive contribution from Elden Campbell, who put up a 40-spot, getting to the line 19 times. Three Lakers played at least 50 minutes: Eddie Jones, Nick Van Exel, and OAKAAK, Travis Knight, who had what was up to that point a career high 19 points.
Meanwhile, the Lakers' other rookie barely saw the court. Kobe played three minutes and 47 seconds, missing both shot attempts he took. He had turned 18 exactly six months prior.
Humble beginnings, indeed.
That's it from me, but before we go, I'm proud to finish today's letter with some words from our KFS Intern, Kris Pursiainen.
In case you've missed him on our mailbag pods, Kris is 17 years old, so not only had Kobe already completed his three-peat with Shaq by the time Kris was born, but he was already on the tail end of his career when Kris started really appreciating the game.
I found his words below incredibly moving, not only because it hit home how Kobe really was, to so many people, like Jordan was for me, but also simply because of the words themselves. I hope you enjoy.
---
What He Meant to Me
Anybody who knows me is aware of how much space in my heart is taken up by basketball, and that space will forever be home to his legacy and my memories of it. This has certainly been reflected in my actions relating to him: endless debates about him and other all-timers with friends fueled by his greatness; asking for his gold jersey for Christmas eight years ago; practicing his signature post-fadeaway jump shot every time I had a ball in my hands; loudly exclaiming his name every time I've sent something soaring at a trash can.
I may be only 17 years old, but the impact he has had on my life is more than apparent. It is just over 24 hours after the news of his death, but the event doesn't feel real in my head: it can't possibly be real. It's a tragedy by definition, and one that affects millions of people. My words here can only hope to capture my true thoughts on his legacy. 
His work ethic amazes me still today: most notably the story told by a USA Olympic trainer in which he received a 4:15 A.M. call and arrived to the gym at 5 A.M. to be met by a player drenched in sweat. This player did not leave the gym until the team's practice at 11 A.M. had concluded; he had put in more than seven hours of preparation for a scrimmage between teams comprised of members of the Olympic squad. The Mamba Mentality has taught me, as a student, how I can conquer each assignment I approach; it has shown me, as someone aspiring to have a paying job in sports one day, the fire with which I must approach tasks relating to my passion. I wish I could embody the Mamba Mentality to the same extent that he did, because it is a winning mindset and one that inspires success. I would hope that something we can collectively take away from this tragedy is a renewed memory of the way in which he approached everything he did, and perhaps strive to mirror it ourselves. 
His presence as a cultural icon reaches worldwide: everybody knows of him. At the least, people are aware that he was a great player. Some know more about him, such as his unstoppable drive to reach greatness. Some know stories such as the one I mentioned above that display that drive in action. Some know of his signature sneakers, or stories regarding them:
His ability as a basketball player speaks for itself. I do not need to recall any of his incredible performances, plays, or his love for the game for those reading this to remember who he was as an athlete and player. Watching YouTube clips and highlights, while reminding me how shocking and purely unbelievable it is that he's no longer with us, has helped me remember the extent to which he was a competitor over anything else; the determination that fueled these performances was possessed by no other. 
Him being the toughest and most motivated competitor any player had to face, and the accomplishments that the Mamba Mentality led to, are a large reason why the basketball community and the rest of the world are mourning his death. Simply put, he meant a lot to a lot of people. What is worth noting, for me, is that I am enamored with the love from the world for the side of him that I might appreciate most of all. His ability to switch from being a competitor first and foremost, to a dedicated and loving father to his girls makes me say, at 17 years old, that I aspire to be as good of a father as him, regardless of his achievements in the game of basketball.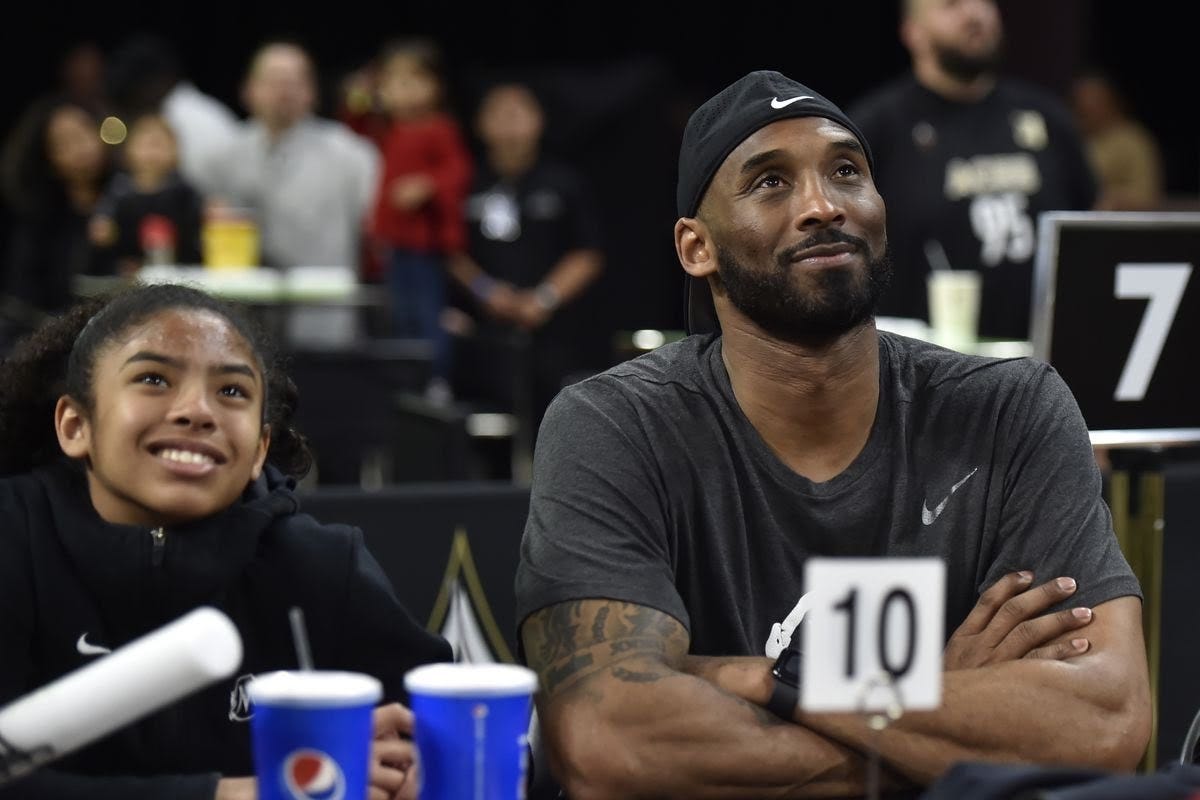 The concept of being a father is (and hopefully will be for some time) quite distant to me, but when I first read the news of his death, his role as a father of four was the first thing I thought of. Before knowing of GiGi's passing, the beautiful video of him coaching her on the sideline of a game played in my head over and over again; the thought of those four girls and their mother losing their father wrecking its way through my brain and heart.
Our memories of him as a father more than deserve a spot next to those of him as a player. His interview with Jimmy Kimmel in which he spoke of GiGi's inner fire to become a WNBA great, a path she was certainly on; the rekindling of his love for the game sparked by GiGi's passion for it; his reasoning for using helicopters to get around in the first place. All things to remember about him in terms of his legacy as a father. We know how his quest to be a great player ended. 
I look up to him as a basketball player, coach, father, and person. 
Two great human beings were lost this Sunday, and I can't imagine how broken Vanessa, Natalia, Bianka, and Capri's hearts are. 
Their family will forever be in mine.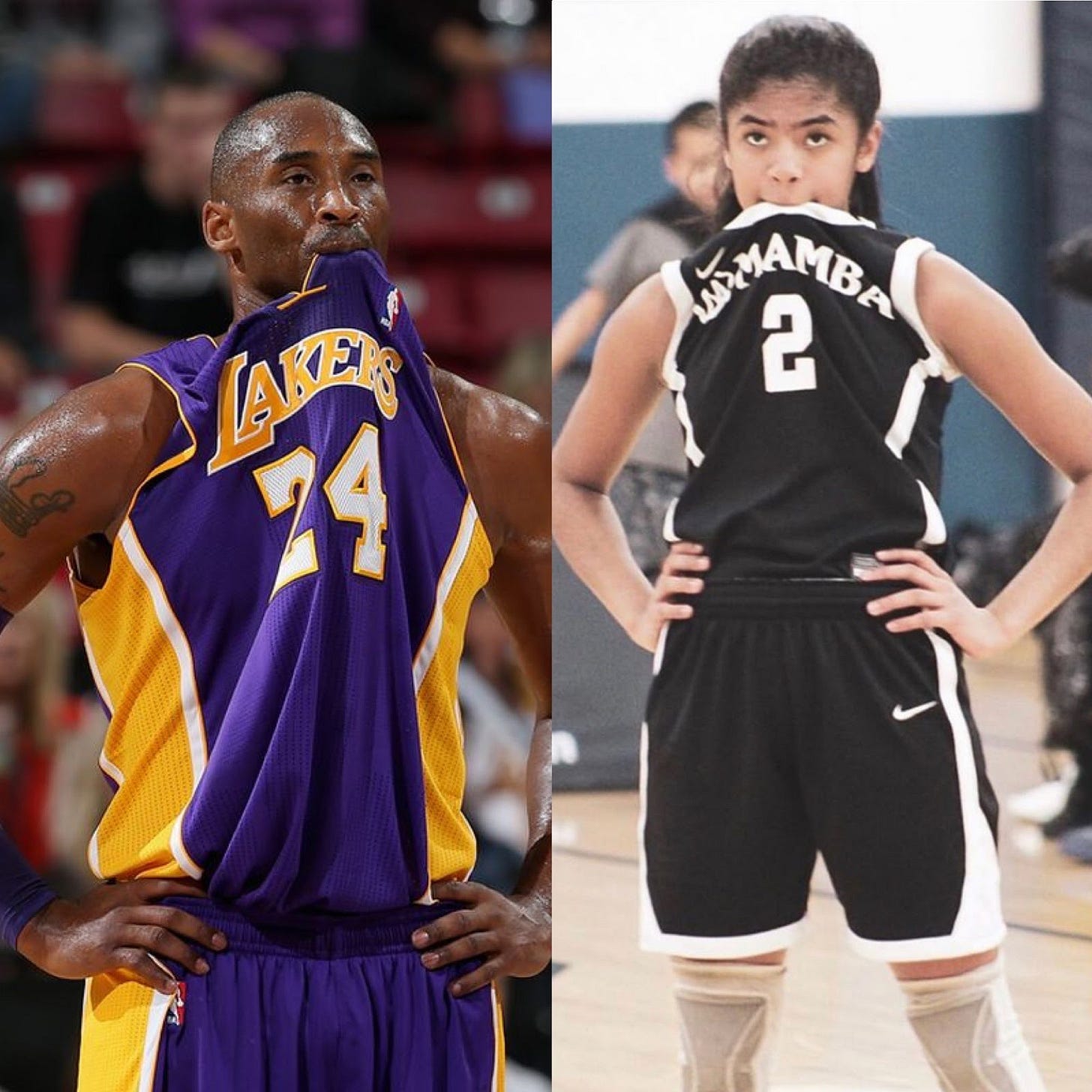 Have a great day everyone. Be good to someone today. And tomorrow. And every day after that. It's the least we can do.