Now What?
Grappling with whatever the hell is happening.
In this newsletter:

---
As someone who used to talk in front of juries for a living and currently talks at children all day long (not to mention hosts his own podcast), I'm rarely someone who is at a loss for words.
But that's exactly how I feel today.
I have the same routine every morning: get on the LIRR, pop open my laptop, and just start writing whatever comes into my disturbed brain. Today - as I look around me and notice a train with plenty of good seats still available - I stared at the screen for a screen for a solid five minutes. Nothing was coming to mind.
And then I coughed. I look around. Are the few people nearby me changing seats? Do I have this thing? It was just lovely to get asked by my wife as I left the house "You covered the Knicks the game after they played the Jazz…should you get tested?"
I don't really know what to expect moving forward, both from a real-life perspective (I'm scheduled to officiate a wedding for a good friend in six weeks…will that be considered a large gathering by then? Will we be allowed to even leave our house?) and from a sports one (Will the next Knick game be in October? Should I hop on the opportunity to get a cheap flight to Vegas for Summer League now, or will the NBA season get pushed back to the point that there won't even be a Summer League? If last night is the last game we play, does Julius Randle's performance make him easier to trade?)
So with more questions than answers, for today at least, I'm going to take advantage of the last game we might see for a while and analyze it, because really, what better thing is there to do? It was a fun game, with some cool stuff, so there are worse exercises.
If this is the end, let's go out with a bang.
One Big Thing
RJ Barrett is fine
Barrett ended the pre-COVID19 portion of the NBA season on a high note, with 26 points on 14 shots to go with five boards, four dimes, two steals and a block. Perhaps most encouraging of all, he finished 6-for-6 from the free throw line - the third time in the last month he's done exactly that.
Since the All-Star break, Barrett has 45/32/62 shooting splits - still not great, but a bump up from his 38/31/61 pre-ASG numbers. On free throws specifically, after a dreadful first 10 games as a pro, he's hit 67 percent from the line since. The Knicks have still been worse when he's been on the court (minus 5.9 net rating on, minus 2.8 off) since the break, but the discrepancy isn't as stark as before it (minus 9.9 / minus 3.8). All of this is trending in the right direction.
The biggest change has been Barrett getting better and better around the rim.
His struggles in the restricted area were noticeable early on, and still pop their head up occasionally. At the end of the game against Washington two nights ago, Bradley Beal swatted away a driving attempt by Barrett almost too easily: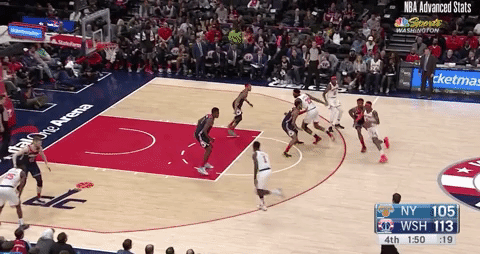 This still happens when RJ gets frustrated and forces the issue. The good news is that he hasn't been forcing it nearly as much, and instead is more and more comfortable getting to his spots and having success.
Since the All-Star break, according to Cleaning the Glass, Barrett is shooting 61 percent on shots at the rim. That's still not great - just the 42nd percentile league-wide for wings - but it's vastly better than his pre-break conversion rate of just 51 percent (17th percentile).
Better yet, he's not getting to the rim any less (49 percent of his shots came in the restricted area before the break; it's been 48 percent since) and his overall usage rate has gone back up to where it was early on, when Fiz had him handling the ball far more (26.5 usage since the ASG; he was at 22.9 before).
Take a look at this move from last night:
Jeff Teague is 6'3", 195 lb, which is about the size of player who's going to wind up guarding Barrett throughout his career for as long as he plays the two, what with guys like Beal moving up a position more and more as the league gets smaller.
Plays like this provide the argument for keeping Barrett at shooting guard, and although he's had some growing pains this season because of the Knicks' severe lack of spacing, long term, it still makes the most sense.
(Hey, Leon: instead of signing DeMar Derozan – who has made 15 threes over the last two seasons combined - to flank RJ, how about you go get Joe Harris and Christian Wood for what will likely be the same total cost? Just sayin!)
Whenever the Knicks do resume playing games, I'll probably be most excited to see how Barrett continues to develop. He might still only be scratching the surface.
Stat of the Night
+3.5
Speaking of post-All-Star surges, in the 178 minutes Kevin Knox has been on the floor since the break, the Knicks are outscoring teams by 3.5 points per 100 possessions.
It's an incredibly small sample size, but it also speaks to a trend.
In the 21 games he played under Fizdale this season, the Knicks got waxed whenever Knox was on the court to the tune of a negative 15.3 net rating. From the day Miller took over until the break, that number rebounded to minus 4.6, and recently it's been outright positive.
This has a lot to do with who he's on the court with (Mitch and Frank make his life on the defensive end so much easier), but that in and of itself is progress. Knox is no longer a weak spot that teams can target relentlessly.
His three 3's last night will get most of the attention, but here was my favorite play: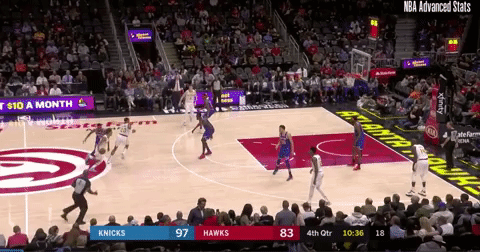 As this pick and roll is developing, Knox has to realize that his assignment is changing from guarding his man behind the arc to also now covering Dedmon, with Mitch sliding over to protect the paint. Knox not only has to position himself correctly, but be aware enough to jump one way or another depending on where the pass goes.
He does exactly this, and gets rewarded with one of his two steals on the night.
Bonus stat: Knox has had a steal or a block in five of his last six games. Progress!
Made Me Smile
Can we take a second to appreciate a guy who probably looks around the locker room on some days and wonders "what the f—- am I doing here with this bunch of clowns?"
If you can remember a time this season when Gibson made a blatantly incorrect basketball decision or was selfish or didn't give full effort on a play, let me know, because I can't. He makes life easier for everyone around him and he takes his role as a veteran mentor far more seriously than some other players brought in this summer who shall not be named.
Last night, Taj had a sequence that began with his best Mitchell Robinson impersonation…
…and then followed that up with an elbow jumper after a Randle near-turnover. He then blocked a Trae Young driving attempt on the next Atlanta possession (the second clip in the tweet above).
A couple plays later, he threw down this bad boy:
We pay so much attention to Mitch's exploits, as we should. He's first in the league in effective field goal percentage among the 350 players who have played in at least 30 games.
But Taj is 45th on that same list, and he's usually playing with less spacing than perhaps any big man in the league.
If last night is the last we'll seen of him in a Knick uniform, his time here will be remembered fondly.
Which is more than I can say for a few other guys. Speaking of which…
Doghouse (not Doghouse)
Let's be clear: the Knicks don't win last night without Julius Randle.
He was a go-to guy down the stretch, scoring 16 points in the fourth quarter and overtime, and many of those isolation possessions came during moments when it didn't look like anyone else had any particular interest in taking the big shot. His three to start off overtime calmed everyone's nerves, and was probably the biggest shot of the game:
You need guys like Randle to win close games - players who will take (and occasionally make) big shots when defenses (and sphincters) tighten up.
And I'm still putting him in the doghouse this morning. Why? Here's why: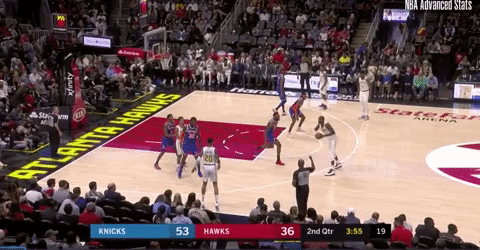 (and this was the less egregious of the two times last night when Randle decided simply not to guard his man behind the arc)
There are maybe seven guys in the league who can get away with this nonsense, and Randle ain't one of 'em. For all the good he does during games like last night, there is nothing he could ever do to make up for plays like this to the point that I'd want him on a roster full of impressionable young players. I don't care that the team will likely be worse without him. Process over results, always and forever.
Maybe that's unfair of me, but so be it. I'd deal with him if he was the third or fourth best player on this team (like he should be) and the coach had the wherewithal to bench his ass the moment he pulls something like this, but that's never going to happen here. Some genies can't be put back in the bottle.
If this is the last game of the season, hopefully it's the last game Randle is a Knick as well.
Final Thought
Maybe it's fitting that yesterday was the end, because it marked the moment when Mike Miller coached exactly twice as many games as David Fizdale did this season.
Miller, of course, has more than four times as many wins as Fiz, and if you extend his 44-game sample size over a full 82-game season, it's close to a 32-win pace, which is about as good as any (realistic) person hoped this team would be. They have not skipped a beat since Marcus Morris was dealt.
Some of his rotations have been incredibly frustrating (whether they are solely of his choosing is a different story), and he continues to lean on certain players more than we'd like (again, this too is not completely up to him), but the man can coach.
If this is the last we see of him as the man in charge of an NBA team, like Taj, I'll have far more good memories than bad. He righted a ship that had a colander for an underbelly. That deserves a tip of the cap, if nothing else.
---
Player Spotlight
Well, it seems as if we've run out of games during which players can increase or decrease their value.
So I'll use today to highlight how my own PredictionStrike portfolio has done over the course of the year. Why the hell not.

So far this year, I've spent $47.33 and my total portfolio is worth $54.53. Why?
FRENCH PRINCE, BABY!!!
If this is the end of the 2019-20 NBA season, I will always think of it as the year that Frank Ntilikina (even though he's barely old enough to drink) bought me a beer.
Cheers, buddy.
---
New Podcast with Yaron Weitzman
Had the pleasure of speaking with Yaron last night before all hell broke loose. It was a blast. We dove deep on his new book, "Tanking to the Top: The Philadelphia 76ers and the Most Audacious Process in the History of Professional Sports."
This is a Knicks podcast and this is a book about the Sixers, but as you'll hear, Yaron's reporting has everything to do with the NBA as a whole, including the team we root for. It was a great convo, and it's an even better book. Click here to order - I can't recommend it strongly enough.
---
News & Notes
compiled by Michael Schatz (

@mschatz99

)
That's it. I'll see everyone tomorrow. For what, I cant tell you. But I'll figure something out.