Perception vs Reality
Every Knicks fan has good reason to love with Mitchell Robinson. We just have to make sure to keep things in proper perspective.
My 3L year of law school.
I was in the trial ad team office, busy not doing my work and shooting the shit about the Knicks with my buddy Bernard (of KFS Podcast fame). We were talking about the trade value of my newest favorite Knick, Danilo Galinari.
This was in the heyday of Bill Simmons' old trade value columns, and Gallo was in the midst of kick-ass sophomore campaign, putting up 15 & 5 while hitting 38 percent from three on six attempts per game. He looked the part, especially at the ripe young age of 21.
If memory serves, this conversation took place shortly after Gallo went mano-a-mano with Melo at the Garden, a game in which Anthony outscored him 36 to 28 but New York came away with a five-point win. Gallinari played 40 minutes, got the line 10 times and was a +12 overall. I had always smoked that good ish on the Rooster, but never was my high higher than after that one.
Thus was the backdrop for the following statement: I would not trade Gallinari for any player in the NBA outside of soon-to-be MVP, Derrick Rose. In essence, he was No. 2 on my personal trade value list. Insanity, thy name is Macri.
That's right…not for LeBron, Wade or Anthony himself (all too close to free agency), not for Russ (can't shoot), not for CP3 (too small), not for Dwight (diva)…not for anyone. I don't specifically remember what my argument was for Gallo over KD, but I'm sure I came up with something.
I was thinking of this now decade-old conversation yesterday afternoon as I read the replies to my crazy 4-team Joel Embiid trade proposal, and it reminded me of two important truths:
Young, almost-lawyers will find any blessed thing to argue about, and…

Knicks fans almost always overvalue their own players
A refresher: on Monday, I pitched a trade where New York would end up with Embiid (and other stuff to make salaries work) and give up Mitch, Knox, DSJ, their first round pick this year, and both their own pick and the Mavs' pick in 2021.
It's a massive price to pay for anyone, and if you think Embiid is nothing more than an injury-prone, out of shape blowhard, well…you were probably in my replies.
The interesting thing to me was that most of the people hating the deal seemed to take issue with it for the same reason: Why would we give up on a young center like Mitch to take on such a risk like Embiid?
It makes some sense. The picks aren't nothing, especially if this year's selection ends up at the top of the draft (in which case I'd agree this might be an overpay), but any Eastern team with a healthy Embiid and several warm bodies - preferably ones who can shoot - will be above .500. We know Dallas' deal. Knox is a lotto ticket at this point, and to be honest, I don't know that he makes or break this deal anyway.
And that, in turn, gets us back to my Gallo take. Nothing is quite so intoxicating as a young player growing for the team that drafted him. When that young player has the personality and eye-popping highlight reel of Mitchell Robinson, it makes it very hard to emotionally embrace the thought of trading him straight up for anyone, let alone along with all several draft assets. I mean, look at the kid:
In theory, he's a cheat code.
Key words: In theory.
Like every Knicks fan, I hope (and believe) he reaches and even surpasses a point where he's not only the biggest difference-making rim protector in the league and equivalent cheat code at his own basket, but can also flash enough playmaking and shooting to make him more than just an elevated version of the archetypal rim protecting roll man.
But that is, in no uncertain terms, a hope. Just like a decade ago, I hoped Danilo Gallinari would continue ascending to be a better shooting, better defending version of the man who he'd eventually be traded for (albeit with less one-on-one scoring punch).
Now that looks utterly ridiculous. Gallo's value arguably topped out after that game against Denver, which brings us back to Mitch. There's a case to be made that his value will never be higher than it is right now.
To wit: Robinson will make $1.6 million next season, making him one of the best pure bang-for-your-buck assets in the league. The year after that, there is a team option for $1.8 million, but any team he's on is almost certain to decline that. Doing so makes Mitch a restricted free agent after the 2020-21 season, as opposed to if he plays out that final year, in which case he would become an unrestricted free agent.
No one is going to take that chance (a'la the Nuggets and Nikola Jokic a few years ago), so in essence, Robinson is a year away from getting seriously paid. How serious? Let's take a look at how much the most expensive bigs in the league are currently making: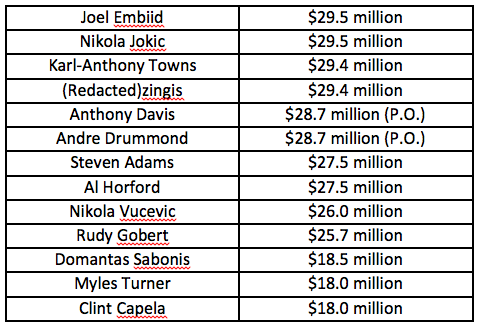 One of two things is going to happen next season:
Mitchell Robinson plateaus, or worse, regresses, the foul woes continue, he doesn't advance as a playmaker or a shooter, and the idea of him being the centerpiece in a trade for a guy who finished 7th in the MVP voting a season ago becomes laughable, or…

Robinson grows his game and makes good on the promise of what we see in these fancy offseason highlight videos.
If Scenario No. 2 happens, what do you think the asking price is going to be from Klutch Sports, the agency that once turned down a 4-year, $70 million extension offer for Nerlens Noel (yes, that Nerlens Noel)?
To be clear: if you're the Knicks and this happens, you're thrilled. The decision about how much to pay really good young players would be a first world problem for a team that has had very few such queries.
But it is a problem nonetheless. Look again the above list. In an imaginary world where there is no cap on max salaries and every player in the NBA was a free agent, who among those bigs would get paid more than their current price tag in a $115 million cap landscape? The only four guarantees are Embiid, Jokic, AD and Towns, and I'd wager that Embiid would rival Davis for top billing, perhaps something in the $40-45 million average annual value range.
Why? Because in a league that has completely devalued the center position to the point that one contender feels they no longer need a big man in their starting five, these four offer you something incredibly rare. In Jokic's case, it's playmaking. With Towns, it's an otherworldly offensive repertoire. Davis and Embiid are two-way bucket getters of the highest order, with one key difference: Embiid has already done it on the biggest stage and against the best opponent.
It's still staggering to me that the Sixers outscored the soon-to-be-champion Raps by 89 points in the minutes Embiid played during their series last year, but that actually happened. It was confirmation that when he wants to, Joel Embiid can dominate any series, any time. Even in theory, the very best version of Robinson can't sniff that reality.
There is nothing theoretical about Embiid, unlike, say, KAT, or KP, or Gobert against high octane offenses, and certainly Mitchell Robinson. We see Robinson's ceiling as a more versatile Gobert who is a poor man's Davis on offense; opposing teams just see a talented but one-dimensional big who can't stay on the court. The reality is likely somewhere in between.
This is why fake trades always get me in hot water. You can't put your personal belief about a player into a trade; only the reality goes on the block. And the reality is that there's a very good chance Robinson reaches a decent enough level to get seriously paid in 12 months but never advances his game to the point of being an All-Star, let alone a perennial All-NBA guy in the running for MVPs.
That, of course, doesn't mean you start seeking out trades. But it does mean you keep your ears and eyes open. If I've said it once I've said it a hundred times: the NBA is like any market place, with the goal being to buy low and sell high.
As Leon Rose moves forward, he's going to have to make difficult choices about valuation, and in the same vein, about perception vs reality. His first job has to be to fairly assess every player on his roster, including Robinson. There likely won't be a deal on the table like this one, and Mitch will still be here to get paid a year from now.
But every option has to be on that table. Even if it hurts to admit.
---
ICYMI…
---
News of the Day
As I wondered aloud yesterday, the Knicks will indeed be able to make roster moves very soon.
Of note:
"Eligible replacement players probably will have had to be signed in the NBA or G League or be on training camp contracts this season, sources said. Under these restrictions, for example, no team could sign veteran Jamal Crawford -- who went unsigned all season -- or an international player."
Some questions still unanswered:
If the Knicks convert Kenny Wooten's two-way deal to a full NBA contract, does that go for next season as well, or would it convert back to a two-way?

If it does convert next season's deal as well (my guess), does that leave them open to sign another two-way deal to replace it, and would that two-way deal be eligible to go into next season?

Can these "replacement players" be signed to contracts of normal length, or are they just for the rest of this league year?
More details to come, no doubt.
That's it for today…see everyone later this week! #BlackLivesMatter