Playing the Long Game
In the latest installment of his Knicks cap series, Jeremy Cohen looks at the ramifications of spending big this offseason
We're back! Today, Jeremy Cohen continues his in depth look at the Knicks salary cap and the options Leon Rose has in front of him with a deep dive on what happens if New York signs two long-term contracts this offseason. Enjoy!
Coming Up Roses, Part 2
by Jeremy Cohen
Another week goes by and still no basketball. I would listen to Marv Albert doing play-by-play while Reggie Miller and Chris Webber talk over each other as color commentators if it meant seeing a ball go in a hoop again. That's how much I miss life not having some semblance of normalcy.
Since we're still in a holding pattern, I'll use this opportunity to continue breaking down the Knicks' salary cap options. This week's exercise: What happens if the Knicks used their cap space this offseason to sign multiple players to long term contracts?
For the sake of clarity, I consider any contract longer than two years as "long term." The CBA has capped the number of seasons a player can be signed for over the years. What's more, superstars are frequently manipulating contracts to get them to various trigger dates for bigger deals. What does that mean? Well, a superstar with eight years of experience is eligible for a max contract equal to 30% of the salary cap while a superstar with 10 years of experience or more can get a max of 35% of the salary cap. So if you're Kawhi Leonard, you sign a three-year deal with the third year as a player option for multiple reasons. First, you're eligible for a 35% max contract the same year you can get out of your contract. Second, the salary cap is expected to go up from when he signed the previous contract. And third, he has an exit strategy if things go south.
The Knicks, as you're well aware, have had somewhat of a chicken and egg problem. The team hasn't been able to sign superstars without developing a superstar, and the team hasn't developed a superstar because of bad luck, poor decision, and being too busy chasing superstar free agents. How different does life look if Kristaps Porzingis has an additional year on his rookie contract, instead of hitting the restricted free agent market and carrying a $17 million cap hold? Who knows, and honestly, who cares at this point.
You can find a star through the draft but that's often a crapshoot. You can trade for a star but you have to factor in the level of talent for that star, his availability, what he would cost, how you would build around him, how old he is, and more. You can sign a star in free agency but it needs to be the right one (not an Amar'e Stoudemire type) and you need to offer him a viable path to contention.
It's no secret that the Knicks need at least two top-25 players at the same time to contend for a title. If you believe RJ Barrett can be that, I won't stop you. If you don't believe RJ Barrett can be that, I won't stop you either. Let's say he won't be for the purpose of this exercise, not because I don't think he will be one, but because the worst case scenario is we have now accidentally planned for three top-25 players instead of two.
So, how are the Knicks going to get two top-25 players?
Other moves will obviously be made but this is a snapshot of the effect that two fairly sizable, long-term contracts would have on the team.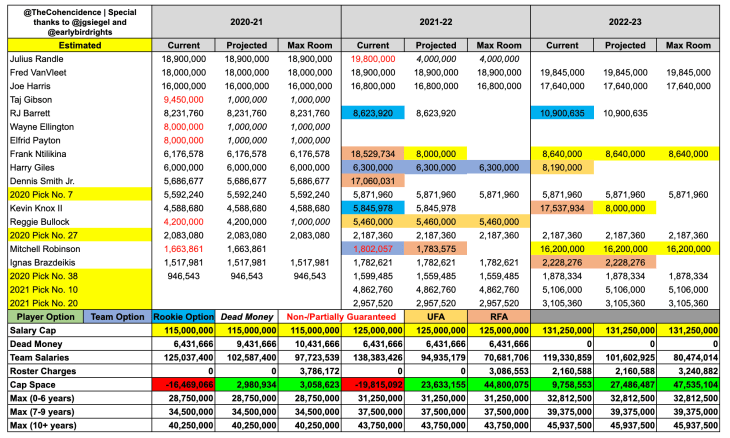 The free agents I chose are not so much recommendations as they are simply putting a name to a deal. Even if you swapped them out for potentially better value on the free agent market, you're still finding a couple top-50 players at best.
The general takeaway here is that if the Knicks go down this route, they're basically committed to finding a star through the draft or through the trade market. That's not so much a negative as it is a fact, unless the Knicks were to dump salaries and clear cap space, which is harder to do with multiple long term deals.
It's more likely that the Knicks will try to get better this off-season than it is they try to get worse. Trades and free agency accomplish that task, whereas the draft is more about the long term. Players like VanVleet and Harris accomplish the goal of improving, but what's the ultimate goal here? You're raising your floor but not raising your ceiling that high. However, that doesn't mean you're lowering your ceiling permanently either.
Are you paying Fred VanVleet to start for three years, or are you paying him to start for half of that if the expectation is you have another lead guard ready to take the reins soon? There's nothing wrong with paying for a VanVleet or a Harris while your young players are on their rookie scale deals. It may not be the best move long term but it's not a bad one per se. It's adding a second contract that's similar in length and salary with the likely end goal of trading them where things could go awry.
Something we have to consider is that, while no player should be untouchable, some young Knicks are in line for extensions sooner than one may think. It's one thing to pay starters long term; it's another to pay starters long term and have to pay your own players soon too.
Shwin and Drew touched upon this on The Posting & Toasting Show, but one advantage of signing young players to extensions, even if the deals are somewhat bloated, is you have them under contract for about seven, eight, or nine years straight, as opposed to four years, then letting the player hit free agency, then re-signing him. This is significant because if a deal hasn't been struck, life gets much more complicated.
If, for example, a contract extension with Mitchell Robinson has not been reached before the 2020-21 season starts, he will be a restricted free agent during the 2021 off-season. Much like with Porzingis, the Knicks could trade Robinson up until the trade deadline and couldn't deal him after that. The Knicks also couldn't sign and then trade Robinson wherever they want to, unless it's part of a sign-and-trade that he specifically agrees to, which is a challenge.
All of these headaches are eradicated if the team signs Robinson to a deal before the 2020-21 season begins, ensuring he's under contract, with no gaps in between contracts. Robinson can then be kept or he can be dealt without New York worrying about extra steps.
The trouble then with Robinson is he can receive a lot more money if he waits to hit free agency in 2021 than if he were to sign an extension in 2020. While New York can go over the cap to re-sign Robinson, him not being under contract during that "gap" could wind up being an issue for the Knicks. All of this is like getting married and renewing your vows versus getting married, separated, and back together, or versus getting married, separated, and divorced. It's much easier to just stay married and commit to one another long term.
This impacts the Knicks because signing players long term doesn't throw any wrenches in plans that can't be easily fixed. Overpaying Kevin Knox by a few million dollars is easier than losing the right to trade him at any given point and then signing him for a smidge cheaper. And if the Knicks make the deal knowing Knox' contract is going to be salary filler in a bigger trade anyway, the extra money shouldn't have an effect. It's a risk compared to not signing the player at all but you're paying a slight premium for total team control.
That may feel hypocritical. "You're in favor of locking up multiple young players who aren't as proven, but you're against locking up better veterans?" Correct – sort of. Signing multiple free agents to bigger deals is a little too rich for my blood. It's easier to move two young players whose salaries add up to $18,000,000 than it is to move one veteran whose salary is $18,000,000. You're not diversifying your risk with the free agent signing; in fact, you're adding more risk by putting all your eggs in one basket.
I do have good news though: You can still sign two starters in 2020 and have room to sign a star in 2021.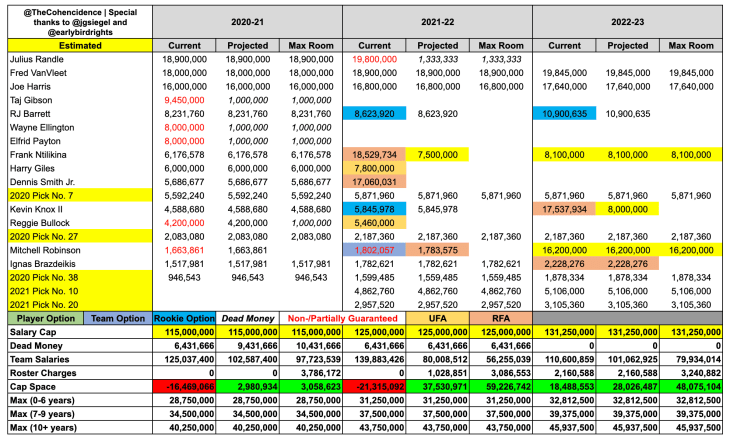 The differences between this sheet and the previous one:
waiving and stretching Julius Randle's contract

not signing Harry Giles to a second-year

renouncing the cap holds of all free agents except for Ntilikina, and then…

signing Ntilikina for $500,000 less annually.
The trouble is getting a genuine superstar to join your team. Why would Giannis Antetokounmpo leave the Bucks to join this squad? And if not him, what truly elite free agent leaves to come to the Knicks? There's unlikely to be another one on the free agent market next year.
A different scenario is if the Knicks sneak into the playoffs and Antetokounmpo is intrigued. He's curious, but he wouldn't want to come without another star. The Knicks would move heaven and earth to make this happen but the team may have trouble trading those contracts. At a certain point, the deals might become too hard to move, and Antetokounmpo may not want to wait any longer.
And what happens if in the following off-season, two star free agents want to link up and join the Knicks. They can't do that easily because of money on the books. Trades are by no means impossible, they just complicate things quite a bit. And yes, New York would be trading valuable deals, but it's far easier to trade one of those players instead of two of them. It's also easier to take on a traded star's salary than having to send potentially unwanted salary in return.
It's important to convert your cap space into value. Signing multiple starters is how you build a good basketball team. Signing multiple starters to long term deals is how you stay a good basketball team but it doesn't get you to being a great basketball team – unless the cheap talent on your roster drastically exceeds expectations. And yes, you can try to use those signed free agents in a trade for a star, but the risks of injury or regression make it more of a fingers-crossed situation than it needs to be.
Take Philly's trade for Jimmy Butler. The Sixers traded an undrafted free agent on a cheap deal as the centerpiece in Robert Covington, a former first round pick on his rookie contract in Dario Saric, Jerryd Bayless on an expiring contract for matching purposes, and a 2022 second round pick for 67 games (regular season and playoffs) of Butler (and three games of Justin Patton). Covington is a valuable piece for a contender but that was a phenomenal trade in terms of what Philadelphia relinquished.
What can we learn from this excellent deal? For starters, develop your own talent. Secondly, extend them if and when the time comes. Third, Covington was a better asset (both from playing and salary standpoints) than probably any player set to hit free agency this off-season. Fourth, stars aren't as expensive as they used to be, so get ready to strike when the time is right.
If you build your team through the draft, develop the players accordingly, and make shrewd moves by trade and via free agency, you will be able to put yourself in the position to acquire an elite player. Signing two middling free agents to longer contracts isn't a death knell but it is a half measure. The trouble is that it means most of your payroll is going to good but not great players. That's palatable in the interim but not in the long term.
It also indicates that, while you can trade players depending on their salaries, there doesn't appear to be a long term plan in motion. That's not to say there isn't one, it's just that everything is a bit less linear. And that's fine, so long as there is a plan, as fans shouldn't know every move that's coming anyway. If we did, that would mean the front office is extremely dumb and/or transparent.
Purely on the surface though, this would be the type of team that turns you into the Orlando Magic of the present. You have some talent on your roster but no established stars and the pieces don't fit that well. Your best players are making too much money, leaving you with limited flexibility. Your ceiling is not getting swept in the first round. Fortunately, the Knicks would have the assets and some money to make the improvements that Orlando cannot, but you're in a precarious position nonetheless.
There's no need to fall in to this trap. It's crucial that a team doesn't use its payroll to improve in the short term and worry about the long term later. After all, scared money don't make no money.