Predictions, Round 2
I didn't do so well in the first batch of these. Let's try to do better.
In this newsletter:

---
The Knicks open the second half of the season tonight at home against the Suns.
As usual, there's far more that's unknown about this team than is known, but isn't that always the case 'round these parts.
Before we get to my predictions for how the second half of the season is going to play out, let's check in on the 17 (lightly) educated guesses I made before the year started:
1. Mitchell Robinson will emerge as a Star & foundational building block: Hasn't happened yet, and he's mired in perhaps his worst funk of the season, but he's also had some brilliant stretches mixed in. I'm not calling this either way yet.
2. Julius Randle averages 25, 10, 5…and 5: This was admittedly absurd at the time, but hey, you miss 100% of the shots you don't take. Right now Randle is averaging 18.8 points, 9.2 boards, 3.3 dimes and 2.9 turnovers.
3. Allonzo Trier establishes himself as a helpful NBA rotation player: Umm, moving along…
4. One of Frank or Dot is not here past the trade deadline: Happy as hell to be wrong about this so far, but not marking it down as a loss yet.
5. Frank gets a real chance: Might have happened by default, but we don't need to call bank in this game. It's a win.
6. Dot gets traded: TBD.
7. RJ Barrett will be bad...and no one will care: Yesterday I spent 1000 words in this space singing the praises of RJ, but I also don't think I was wrong here. He's shooting under 40 percent from the field, so I'm not sure you can say he's been good, at least not by normal NBA standards. As a rookie though, he's doing perfectly fine.
8. DSJ isn't the Knicks long term answer at point guard: Wish I was wrong here.
9. Marcus Morris will be everyone's favorite Knick by November: I mean, he has been the best Knick, and there are a ton of you that don't want them to trade his expiring contract, soooo…win?
10. The early season rotation leaves a lot of people upset: Big Win!
11. The Knicks are a top five team in free throw attempt rate: They're 11th right now. Fiz was huge on getting to the line, even at the expense of better offense, so this kind of went out the window when he got canned. For what it's worth, they were 4th the day he got fired. I'm taking a half point.
12. They still finish near the bottom of the league in assists: Another one that was hurt by Fizdale's ouster, but not too much. The Knicks were 27th in assist rate on December 6, and have been tied for 25th since.
13. The Knicks will finish in the top 12 in transition points per 100 possessions: Easily my worst prediction, which is my fault for buying into the fool's gold that was the early preseason. They rank 29th in this stat, both under Fiz and since.
14. There will be another media dustup: Sending out the President and GM for an impromptu postgame presser after the 10th game of the year wasn't quite what I had in mind for this prediction, but the hell if I'm not taking credit for it.
15. Fiz will start running the offense through RJ Barrett by Valentine's Day, if not Christmas: Little did I know that RJ Barrett would be the team's starting point guard on Opening Night! Fizdale ran the offense through Barrett early and often, to the tune of a 24.4 usage rate. It was too much, too soon. Less has been more for the Knicks' rookie since Miller has taken over, as his 21.9 usage rate since December 6 shows. I would like to see this tick back up before the end of the year though.
16. The Knicks power structure (Mills, Perry & Fiz) survives the season: Oh well!
17. The Knicks win 33 games: Anyone think this team is going 22-19 from here on in? Beuller? Beuller?
My my count, I went 7.5 for 14, with three TBD's. That's a better winning percentage than the Knicks, so I'll take it.
Let's see if I can do any better with these:
1. Marcus Morris gets moved by the deadline.
I flip-flopped on this a few times. Hell, last night on the podcast with Andrew Claudio, I said if you gave me even money on Morris staying or going, I'd bet that he was staying. As I type these words, I already think this will turn out wrong.
I think the front office genuinely wants to keep Mook, and I really don't think they care what the reaction will be if he's here past the deadline. I think they are approaching the rest of this season with the mindset of trying to win as many games as possible without doing something that will be an obvious mortgage of the team's future (RJ Barrett for DeMar DeRozan is the only blatant example that comes to mind).
But I also have to trust what I've heard, which is that for as much as Mook loves the organization and means what he's said about wanting to be a part of this over the long haul, he also wouldn't mind playing some meaningful basketball between now and June. And who the hell could blame him for that.
If nothing else, this organization likes to cater to its players, and I think there will be a good enough deal on the table that they can't say no to. Miami or Philly would be my guess.
2.     The team under Miller finishes top-ten in the NBA in pace.
Right now, under Miller, they're exactly 10th, and hundredths of a percentage point behind the Nets in 9th. As younger players get more time as the season continues, this should only go up.
3.     Bobby Portis and Dennis Smith Jr. get traded.
I feel more strongly about Smith Jr. than I do Portis, mostly because I'm not sure what playoff team thinks Bobby is an upgrade on whatever they have currently, but he has hit 40 percent of his threes since starting the season 0-for-7, and that has real value, especially on a roster that can cover up his defensive shortcomings.
DSJ and Portis for Jeff Teague and a second-rounder still makes the most sense in my eyes. I'm sure they'll also kick the tires on Dennis Schroder, but my guess is that OKC asks for Knox, and the Knicks balk.
4.     RJ makes the All-NBA Rookie First Team
This isn't as much of a layup as it seems. Morant is a lock, but Tyler Herro, Kendrick Nunn, P.J. Washington and Brandon Clarke all have real cases. Someone else might emerge (including Zion, who will allegedly make his debut next week. He could Embiid his way into the conversation, especially if he leads a Pels playoff push).
I don't think RJ gets edged though. Even with a further dip in efficiency, the counting stats will be good enough such that even more analytically-minded folks won't be able to ignore the numbers.
5.     The Knicks acquire a name.
Maybe it's only Jeff Teague, who I guess still technically counts as a name because he made an All-Star team once upon a time (a fact I'm sure will be made clear to Dolan when they go to get his signature on this deal).
But…I don't know. I can't shake the feeling that there's going to be someone bigger coming along as well. Maybe it's Drummond, if only because I don't think anyone else in the league is going to want to give up anything of value for his services.
My guess is Kuzma. It would have to be a 3-way deal, because of salaries and because none of the Knicks' kids are what the Lakers need right now. But I wouldn't be surprised if something happened, which leads us to…
6.     The Knicks deal one of their young players.
Either Frank or Knox would be my guess, to a team that would then send a win-now piece to LA, with Kuzma coming back to New York. The Knicks would also send out the unprotected 2021 Dallas pick in this trade, and maybe the protected '23 pick as well.
The problem is that their aren't many good players who a) don't make a ton of money and that b) their teams would be OK moving for an unproven prospect. Maybe Sacramento ends up moving Bogey, but I have to think they'd want more than Kevin Knox in return. I also don't think he's the type of guy LeBron wants. The Wiz want to hang onto Davis Bertans, according to reports, so that's probably a no go.
My prediction: Derrick Rose.
How poetic would it be if the man who interrupted James' five-year MVP run becomes the final piece of LA's championship puzzle. He would be perfect to prop up non-LeBron units that feature AD (the Lakers have been getting outscored by 2.5 points per 100 possessions during those minutes, according to Cleaning the Glass).
More poetry (the type that would leave me crying): Frank Ntilikina, the man drafted to replace Rose in New York, is the piece going back to Detroit in the deal. His fellow countryman Sekou Doumbouya is there (and fresh off a career high last night), and the two Frenchmen share an agent. The Pistons are clearly ready to rebuild.
This almost makes sense on too many levels not to happen. The Knicks love names, and Kuzma is a name. I don't think anyone else in the league is clamoring for his services. Nor, for that matter, does any other contender need Rose as much as the Lakers do. LeBron loves himself some names too. The Knicks have been trying to get rid of Frank almost since the day they drafted him, and while I'm sure there are some within the organization who are encouraged by his recent stretch of strong play, I'm sure there are others who think it's the perfect time to sell high.
There would be haggling over who gets what picks, but I have zero doubt that New York would put at least one Dallas pick on the table here, if not both.
I'm not sure there's enough brown liquor in the world to get me through the day this inevitably takes place, but don't say I didn't warn you.
7.     New York get to 30 wins.
Under Miller, the Knicks are 7-12. Using that pace, the Knicks would end up with 15 more wins, which puts them at 26 for the year. If trade season goes like I think it will, the Knicks will be taking one step forward in the short term even if it does mean multiple steps back in the future.
(Is that the way it's supposed to work? I feel like no…)
If they end up keeping Morris, it only makes this prediction more likely.
8.     The front office stays.
If New York gets to 30 victories, that means they'll be able to go to James Dolan and say the following:
"Hey Jim. You doing good? Great. So check it out: We went 26-34 under Mike Miller even though he had no training camp with the roster. That's a 35-win pace, which would have put us in the playoffs this year. Next season, our entire young core, including the recent additions, profiles to be even better, and we have another top-eight pick coming our way in what we're hearing is a very strong draft.
(Cut to Spencer crying)
We also have max space this summer, and while I know the names aren't as well known as last summer, we're confident that we'll be able to acquire someone who will help round out this core for years to come."
"So what'aya say? Can you give us some more time to Make the Garden Great Again?"
I say it works, and they get to come back for another year…
…unless Masai Ujiri makes it known through back channels that he wants the job, in which case, all bets are off.
The rest of the season starts tonight.
Giddy up. It's going to be a bump ride.
---
Player Spotlight
The Suns are in town, and the last time these two teams got together, they combined for 232 combined points, which feels like a lot.
I wrote about Kelly Oubre Jr. as a good candidate to buy before the game two weeks ago, and he responded with 29 points on 16 shots. His stock price was $1.63 then, and he's up to $1.70 now (and that's after a bad effort in his last game that caused a 14 percent dip).
The message, as always: I am a master of prognostication.
Tonight, I hate to do it, but with Mitchell Robinson struggling I'm going with Deandre Ayton. He's trading at just $0.45 a share, and he put up 15, 13 & 5 the last time he faced off against his draft counterpart.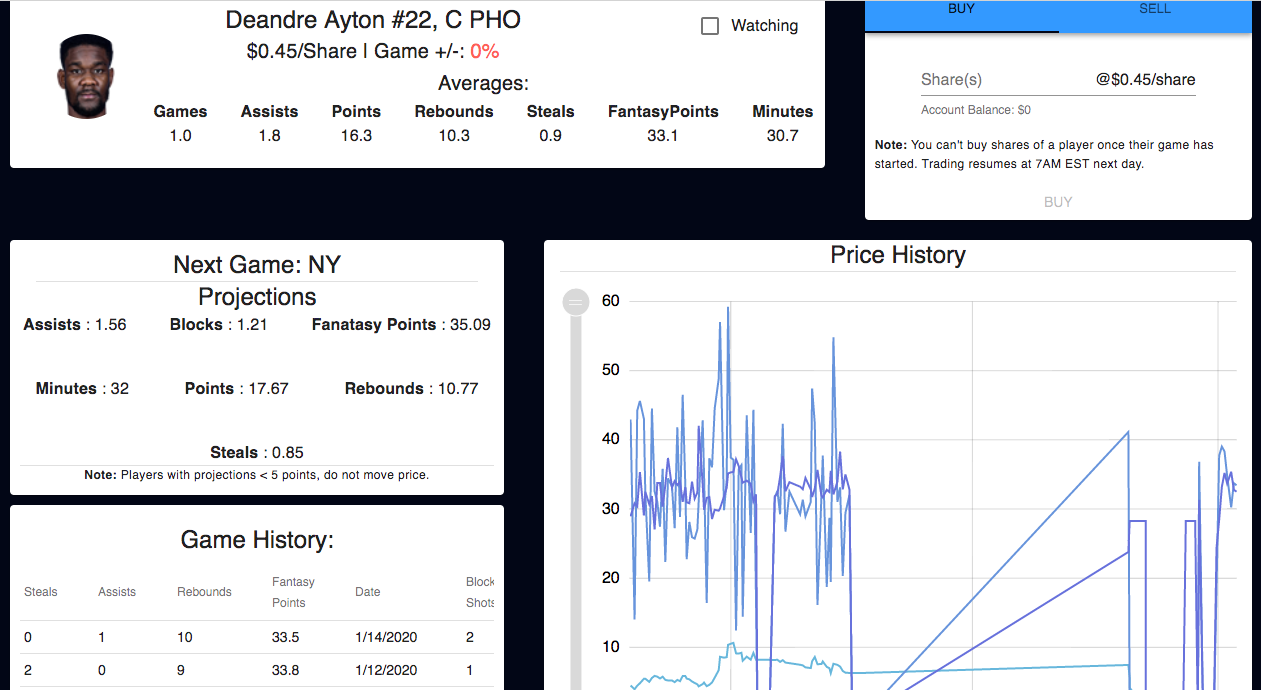 I hope seeing the guy that went 35 picks ahead of him snaps Mitch out of his funk, but the price is right to invest in Ayton now, even if it is just as a hedge. He started the year off at $7.52, so he's essentially bottomed out after being injured for most of the season. No better time to get in.
Hopefully you got your free RJ stock yesterday, but if you still haven't signed up for PredictionStrike, click here and use code KFS for $10 added to your first investment of $10 or more.
---
New Podcast!
I shot the shit with Andrew Claudio, who I'm sure many of you remember from the Nothin' But Knicks pod on the Gotham Sports Network. This was fun.
---
On This Date: Knicks beat the Cincinnati Royals
The Knicks blew out the Cincinnati Royals 132-106. The Knicks had 8 players in double figures as Willie Naulls led the way with 23 points and 11 rebounds. Jack George scored 20 points, Richie Guerin scored 16, and Jim Palmer scored 15 as well to lead the Knicks quarter.
That's all she wrote! See everyone tomorrow for the Friday edition, hopefully after a home win.