Raise the Roof
The Knicks draft choice is likely going to come down to drafting for floor versus ceiling, where two players from the same school may represent the furthest ends of that spectrum.
News & Notes
For the second consecutive year, the Eastern Conference will be represented in the NBA Finals by a team:

Without a prominent player originally taken at the top of the draft (Andre Iguodala, who has averaged under 20 minutes per game this postseason and was taken 9th overall, comes the closest)

Whose nominal best player is in his first year with the franchise, and

Who will be a significant underdog in the Finals (+365 to win)

Does this mean we're about to see a repeat of last year? Golden State's lack of depth was exposed a season ago, and the Lakers are as top heavy as any finalist in recent memory. Also like the Warriors run in 2019, you could argue that LA hasn't faced a single elite team yet, let alone one with the defensive upside of the Heat.

Not saying I'm running out and betting the mortgage just yet, but, well…I'm excited to see if Miami can exploit LA's lack of outside shooting more than any of the teams they've faced thus far.
Tom Thibodeau had another post-practice Zoom call on Friday, with the only nugget of note being that there would be more assistant coaching hires to come. I mentioned something to this effect a few weeks ago, and that the team would take their time filling out the rest of the staff. Seems like this is coming to fruition.

Don't expect any other high profile hires though. My impression is that these will be more behind-the-bench type dudes, probably with a player development focus.

The NBA Draft Combine participants list was released. Of note for Knick fans: LaMelo Ball, Killian Hayes, Tyrese Haliburton, Kira Lewis Jr and Isaac Okoro will be present, whereas Devin Vassell, Cole Anthony and a few other notables will not.
Listen Up!
Jeremy and I answered your Twitter questions on the latest pod. For those we didn't get to, I'll be doing a mailbag edition of the newsletter later this week, likely on Wednesday, to answer them.
"Sources Say…"
Over the weekend, Marc Berman noted that the Knicks have "strongly considered" Isaac Okoro with the 8th pick in the draft. It's the latest crumb we've gotten from the beat as fans try to decipher what the Knicks are thinking heading into draft night, in addition to their well documented love affair with LaMelo Ball and Ian Begley's earlier report that Devin Vassell "has some fans" within MSG.
For what it's worth, I've heard a lot of names tossed around, all with varying levels of interest. Putting everything together, here's the best summary of where I think the Knicks are at right now (and please, take all of this with several grains of salt):
If Obi Toppin is available at eight, I think he will be the pick. One league source I spoke to feels that if he's there, he is "100%" going to be the choice, but it also seems like he will be off the board, just reading the tea leaves.

I have no idea how Killian Hayes being available at eight would impact this. I was told by someone a few months back that the Knicks liked Hayes, but haven't heard anything in regard to their level of interest - for better or for worse - recently. Maybe they're sure he'll be gone, or maybe they have no interest. I genuinely have no clue. Sorry.

I think if Toppin is off the board, it will come down to Tyrese Halliburton, Devin Vassell or Isaac Okoro. I continue to believe Vassell would get the nod, but that's only because I'm surest about the fact that they have interest in him, as opposed to their level of interest. But they like him, as they should.

I've also been told by multiple sources that they have interest in both Cole Anthony and Kira Lewis Jr., but my impression is that these two may be in a tier down at this point. Patrick Williams is someone else they have done their homework on, according to a source.
I expect more info to seep out over the coming weeks, and some or all of it my be complete smoke. This draft is so all over the place that nothing would shock me (although if they traded up for Ball at this point, I'd be more than a bit surprised).
---
Raise the Roof
Having two players from the same school both be taken in the lottery isn't exactly a rarity. In the last three years alone, it's happened eight times.
But it's usually the bluest of blue bloods that wind up double dipping - Duke and Kentucky, specifically. The Knicks have ended up with half of a lottery duo from each school, both last season with RJ Barrett and the previous one with Kevin Knox. In each case, the consensus now is that they missed out on the better guy (Zion & SGA, respectively).
But Zion was gone and Shai was never really on their radar. The situation that could be facing them on draft night a month and a half from now will be different. The team in question this time is Florida State University, and the players are Devin Vassell and Patrick Williams. As it stands, most mocks have Vassell being available at 8, whereas none I've seen have Williams going any higher than that. Based on what I've heard, both are squarely on New York's radar, with Vassell my guess as to their preference.
To say that either player would represent a departure from Scott Perry's brief drafting history in New York is an understatement. Knox and Mitchell Robinson were the 10th and 11th ranked recruits in 2017, respectively, whereas Barrett was atop his class in 2018. Williams was ranked 28th last year, higher only than Isaac Okoro (40th) among players currently being talked about for the lottery. Unlike Okoro though, who started every game as Auburn's de facto top dog, Williams was a sixth man, and much more cog than engine.
Vassell, meanwhile, was barely in the nation's top 200 ranked players when he committed to FSU (and according to what Charlton Young - the man who recruited him to Florida State - told me on this week's upcoming KFS Pod, even that ranking was generous).
Vassell also wasn't on anyone's board after a freshman season which saw him average 4.5 points in barely 10 minutes a night. Prior to this season, pegging him as someone certain to be drafted, let alone a lottery pick, was a stretch. Even in mid-December, after Vassell had already played 10 games, he only checked in at 51 on Sam Vecenie's initial big board for The Athletic.
Six weeks later he was at 37, then up to 16 a month later, and then up to 10 two weeks after the shut down, which is roughly where he's remained. It is as meteoric a rise as we have seen any player make over the last 12 months, and on par with anything that's been pulled off by a prospect in some time.
The big question about Vassell (and to a lesser extent Williams, who was a borderline first round prospect for much of the season as well) is whether the Rise of the Seminoles has more to do with the players themselves or the draft as a whole. The answer is a little bit of both.
Let's start with Williams, whose tantalizing ceiling has caused his draft stock to rise in the last several months from a late-middle first rounder to late lottery and maybe even the top 10. As the second-youngest American-born prospect in the draft (he was born the day after possible top pick Anthony Edwards), Williams is still raw, but has already shown enough at both ends of the court to give you confidence that this might just be the tip of the iceberg.
I went back and watched the Seminoles visit to Cameron Indoor Stadium to see how one of the youngest players in college basketball would react to playing in the toughest of environments. His first bucket showed the combination of a handle, burst and finishing that isn't all that common to find in a 6'8", 225 pound frame.
As a proportion of his total buckets, moves like this weren't a rarity from Williams. The problem is that he barely put up seven shot attempts per game, so the sample size isn't terribly large.
This was due to the way head coach Leonard Hamilton runs the show, requiring max effort on defense at all times from his players. To accomodate those hefty demands, Hamilton's rotation would run anywhere from 10 to 12 players deep. Only senior point guard Trent Forrest played over 30 minutes a night, and no player averaged double digit attempts from the field.
As a result, the tape on Williams is less voluminous than what you'd expect from a normal top-30 recruit. If he was given more opportunities, there's a decent chance we'd be talking about Williams in an entirely different class of this draft.
On the bright side, in the 22.5 minutes per game he did play, Williams showed a defensive potential and versatility that belied his years.
Here, we see Williams (No. 4) start out as the point of attack defender. "Switchability" has become such an NBA buzzword that we require a bit more exploration whenever it's used. Williams isn't someone you want on an island against a speedy, smaller guard, simply because his massive upper legs don't quite allow him the lateral movement needed to corral these pests on the regular (h/t Spencer Pearlman).
But the way Williams glide-hops around here - always in proper position based on the placement of the offensive players - gives him the chance to make the steal and ignite a fast break that he ends up finishing with authority.
Williams' off-ball defense is still a work in progress though, as should be expected for someone his age: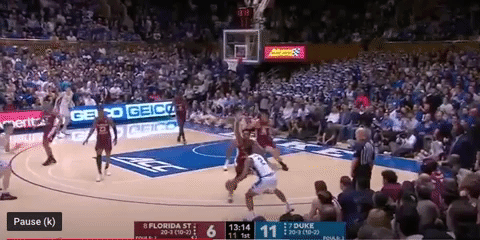 Florida State is so active and commits to helping so much that occasionally Williams overdoes it, like he does here when his teammate has already moved to double the massive Vernon Carey Jr, but Pat abandons the lane anyway, opening up the backdoor cut for Cassius Stanley.
Of all the possible problems you might have to deal with concerning someone who is barely 19, weeding out the occasional over-helping as as good a one to have as any. His defense, while it may take some time to smooth out, will be good in the long run. He was one of only seven freshman in the country this year to average at least a block and a steal per game, and the only one to pull it off while committing under two fouls per contest.
The bigger question is what kind of offensive player he's going to be long term.
Again, because of the lack of opportunities, it's tough to tell how big of a deal to make out of the bad stuff, like his lack of a counter on well-defended drives, as we see above.
His outside shot came and went (he went six straight games without making a three at one point), and while 83.8 percent from the line is an encouraging sign considering the 32.0 percent he shot from deep, it's unfair to assume the 3-point shot is a given. He also doesn't seem to have a point-forward ceiling, although his passing touch is more than encouraging.
But there is some stuff he's shown that makes you want to think really, really hard about betting on the upside:
Ultimately, like so many other interesting possibilities in this draft, a bet on Williams will likely come down to the shot, and how well he can put the ball on the floor and create offense for himself when bulldozing to the rim isn't an option.
The Knicks already have one such player in RJ Barrett, although his playmaking upside offers its own level of promise. Still, the conversation about Williams isn't all that different from the one about Isaac Okoro, who seems like the safer play of the two.
Still, I can't help but watch a play like this…
…and think that there may be something more to the comp that Charlton Young made to me about Williams over the weekend than an overzealous coach supporting his guy.
(I'll make you wait and listen to see who it was, because I am nothing if not a shill for my own content)
In the end, I don't think the Knicks would reach for Williams at 8, but if he started to fall farther than he should, I could see them making an aggressive play to try and trade up to get him.
My guess is that doesn't happen though. In a draft without a ton of significant upside after the first few picks, Williams is as good a lottery ticket as any. In that sense, he's the polar opposite of his teammate - the player who, if I was a betting man, I'd wager New York ends up with on draft night after all is said and done.
But I'll save my extended thoughts on Devin Vassell, and why the more I watch, the higher on him I am, for tomorrow in Part 2 of my look at FSU's intriguing pair of prospects.
That's it for today! Thanks for reading, as always. #BlackLivesMatter