Re-litigating Randle, Part 2
Yesterday I looked at the stats behind Julius Randle's miserable 2019-20 season. Today, we see what the film can tell us.
News & Notes
A few items of significance yesterday…
Seems like the commish is betting on January for the tipoff of the '20-21 NBA season. MLK Day debut, anyone?

The Nuggets almost blew a 20-point lead but had enough gas left to pull out a victory against the Lakers last night. That series is now 2-1 LA.

Billy Donovan has agreed to be the next coach of the Bulls. I'd assume this might nudge them up as favorites for the eighth seed next season, Chris Paul's next destination notwithstanding.

Bold prediction: Golden State swings a trade with Chicago on draft night, with the Bulls moving up to get Ball, and the Warriors moving down to grab Deni (while picking up Lauri Markkanen for their trouble).

Lastly, according to Marc Berman of the NY Post, RJ Barrett has been working a lot with new Knicks associate head coach and Donovan Mitchell whisperer Johnnie Bryant. Can't hurt.

Speaking of workout pairings…
"Sources Say…"
According to someone familiar with how New York's practices have been going, new Knicks assistant Kenny Payne has been working "almost exclusively" with Julius Randle, Kevin Knox and Mitchell Robinson.
This shouldn't come as a surprise to anyone for a few reasons. For one, Payne is known for his work with big men. Second, and just as importantly, he's coached both Randle and Knox during their time at Kentucky. Also, don't forget what Matt Jones of Kentucky Sports Radio told me on my podcast about Mitch sneaking up to Lexington a few times to work with Payne during Robinson's brief time at WKU. It's one big happy family reunited, apparently.
As for Thibs, the word is that he's been overseeing practices while letting his assistant coaches work with the players. Said the source of the sessions, "it's just been fun."
Tweet of the Night
(Did I have a brief text conversation about whether Wooten meant "a part of" or "apart from"? Yes. Yes I did.
Grammar, kids. It's your friend)
Ask Macri
This isn't really a question, but I find it interesting that those who don't want to trade for Chris Paul seem to fall pretty evenly into one of two camps:
CP3 will make the Knicks too good to get a great draft pick in a loaded 2021 draft

CP3 will break down due to age and wear & tear, and the team will stink
The irony here is that if the Knicks swung a trade for Paul, scenario two is probably the ideal outcome for people who worry about scenario one, and scenario one is the ideal outcome for those who worry about scenario two.
In the end, if the Knicks trade for Paul, there's a very high likelihood that at least one camp of people is going to end up very, very happy.
(well, in theory. In reality, Paul comes out guns blazing, but he breaks down late and the team looks inept without him, but not before winning too many games to screw up their lottery odds.
Knicks Fans: Imagining Worst Case Scenarios for Nearly Two Decades!!!)
---
Re-litigating Randle, Part 2
March 4, 2020.
Coming off their exhilarating win versus the Houston Rockets, New York fell behind Utah by 14 midway through the first quarter. Although they kept it somewhat close until the fourth, you just knew this wasn't a game they were ever going to win. Even worse, Mitchell Robinson - just a few nights removed from a season-high 23 points - missed the matchup with Rudy Gobert thanks to a bum hammy.
It was as forgettable a game as the Knicks had in a forgettable season.
Well, except for one guy, who had himself quite a night…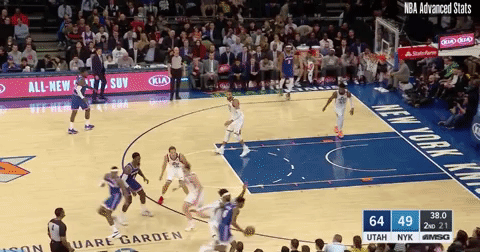 Julius Randle scored at least 30 or more points eight times last season, but that number should really come with an asterisk. Five of those outings came against the Wizards, Hawks or Cavs (aka, the three worst defenses in the league).
The Jazz game was one of the three times he pulled off the feat against a real team, and there was nothing fluky about it. This wasn't Randle getting hot from deep, as he did when five 3-pointers helped him net 33 against Brooklyn.
No, on this evening, Julius took it to the reigning two-time Defensive Player of the Year, and he took it to him hard.
The above plays are accurate snapshots of an evening where Randle finished 12-of-21 from the field and got to the line eight times.
Every one of Randle's 10 2-point field goals were at the rim, and every one of them was over, around or through Rudy Gobert.
A couple of things stood out to me about Julius Randle's evening, which I went back and watched in full:
He rarely faced double teams. Utah, unsurprisingly, allowed Gobert to try and stop him one-on-one almost every time.

As mentioned, Mitchell Robinson missed the game. This resulted in Randle playing 13 minutes with Taj Gibson and 19 with Bobby Portis. Whether it was Gibson setting a high screen for him (like in the second clip) or Portis spacing the floor (as we see in the first), the lane was mostly open for Julius to work. That was also the reason why Randle ended up being matched up so frequently with Gobert, who stays close to the rim in Utah's scheme.

Randle got many of his buckets on the move, either on dribble drives himself or on cuts. There were a few times where he stopped his momentum and used a move or to, but none of his successful baskets came from any straight post-ups, where an entry pass was made with Randle already in post-up position.

His finishing all night was, in a word, exquisite.
He was also a team-worst minus 16, although this figure is a bit skewed. Randle was pulled when Utah was up 17 with under four to go, and the Knicks scored several meaningless baskets late to cut the final margin to eight. No Knick was particularly good on defense in this game.
Even with that caveat, zooming out and looking at what this game tells us from a big picture standpoint, it sets up an interesting dichotomy: the Knicks need Mitchell Robinson on the court for defense, but his presence doesn't do any favors for the team's spacing if Randle is also out there.
Putting aside the Mitch issue for a moment, another interesting observation was how attacking an uncluttered lane on the move allowed Randle to defeat even the mighty Gobert time and time again. It is perhaps unsurprising that among 101 players who had at least one "cut" to the basket per game last year, Randle's 1.49 points per possession on such plays ranked 11th. When he gets going, he's really tough to stop.
Which brings us back to yesterday's discussion about the benefits of having a point guard who can put Randle in a position to use his many talents to the fullest.
Sometimes, this happened last season:
Here, Robinson's presence - and three Orlando bodies around the basket - didn't prevent Randle from nabbing one of the easiest buckets he had all season.
Julius got tagged with the dreaded "low B-ball IQ" label by some fans, but anyone paying attention would have to admit that it was wholly misapplied. Randle may make selfish decisions that evoke a lack of trust in certain teammates, but he's one of the more opportune players you'll find. He also has the timing to pull off little acts of larceny like the one above.
Sadly though, that's often what it took for Randle to get his easiest buckets.
Nifty plays like this - with Dennis Smith Jr. hitting Randle in stride on a cut to the hoop - were a rarity.
Such a thing obviously takes a good deal of skill: DSJ breaks down his original defender, pulls the center away from the hoop, and then times the pass to Randle perfectly, who himself waited for the ideal moment to make his move.
To say this was an abnormality is an understatement. On this particular evening, Smith Jr. had a little extra pep in his step as Frank was in the midst of a three-game absence. It was a departure from the malaise which seemed to affect him for most of the year.
Ntilikina, for all the positive qualities he brings, never got on the same page with Randle, and their numbers together reflected as much (New York was a nifty +2.3 with Frank and no Randle, a not completely terrible -3.4 with Randle and no Frank, and a dreadful -8.1 with both, all according to Cleaning the Glass).
And Payton, well…him and Randle clearly had decent chemistry, but the fact that defenses knew they were dealing with a point guard who took two thirds of his shots from within 10 feet and was positively atrocious outside of that range made it easy to pack the paint and take away any driving lanes that otherwise would have materialized.
Check out this almost comical shot distribution during the possessions when Randle and Payton shared the floor:

The rim/three discrepancy is beyond staggering, and speaks to just how much these lineups leaned into their obvious strengths. Sadly, as the effective field goal percentage shows, it didn't work out so hot.
The obvious solution is the one I was angling towards yesterday: If the Knicks put CP3 on this roster and force defenses to fear a primary ball-handler who isn't a complete zero from outside the paint, it would go a long way.
How long? Remember those decrepit Knicks pick and roll ball-handler stats from yesterday? Compare them to Paul, who was one of preeminent P&R BH's in the NBA last season: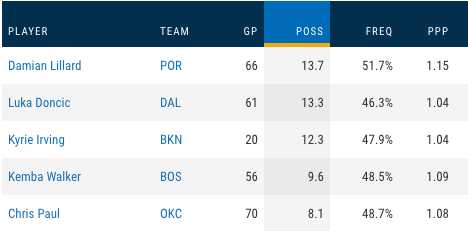 CP3 was one of only five point men to average over a point per possession on at least eight such plays per game. Newsflash: he's pretty good.
But he also may not be in the cards for all the obvious reasons we've discussed. If he isn't, but a lesser point guard (who can still shoot) could be obtained instead, would getting rid of Randle still be so imperative?
Maybe not.
Moe Harkless doesn't have what anyone would call surgical precision, but following the Knicks swapping out Morris for Moe, it was amazing how much better the Knicks lineups gelled. Whereas the Payton/Randle/Morris trio scored 112.5 points per 100 possessions, the Payton/Randle/Harkless one rose to 118.6.
In fairness, this was on a fairly small sample size of 376 possessions, and those lineups hit nearly 44 percent from midrange, which is a high number for any team, let alone this one.
Still, removing the dangerous but primarily self-serving Mook for the more giving Harkless seemed to work wonders:
Going back and watching Randle's makes at the rim from the end of last year, it was amazing to me how many came off dimes from Moe. Over New York's last 10 games, only Elf and RJ passed the ball to Julius more than Harkless.
(In an even more limited sample size of 109 possessions, the Payton/Barrett/Harkless/Randle/Mitch quintet had a whopping 139.4 offensive rating)
Harkless wasn't the only midseason addition who helped Randle at least peak out from behind the corner of inefficiency and venture into more pleasant grounds. Reggie Bullock, like Moe, is no one's idea of a playmaker, but he knows how and when to make the simple pass, even when he's on the move.
This is a simple designed play that doesn't require much from Bullock. He only needs to take one dribble before delivering the pass which, thanks to the switch, needed to clear only the more diminutive Collin Sexton.
The hard part of this play is Randle's task to navigate, as he needs to gather, rise and convert - in one move - over the vertically challenged but still present Kevin Love making the (slightly late) help rotation. But it bears mentioning again: if you give Randle even a short runway to the hoop, he can take care of the rest.
Neither Bullock or Harkless are guarantees to be back with the team. If they're not and Randle is, regardless of the point guard situation, the Knicks had better make sure they put more people into the rotation who are just as adept at making the simple, unselfish pass as they are at attempting and occasionally converting the difficult shot - a quality that Scott Perry has always seemed to value a wee bit too much.
Randle, for all the faint praise I've tried to defer his way over the last two days, also needs to be far less bone-headed with the ball (although in fairness, after Mike Miller took over as coach, Randle's effective field goal percentage rose from .474 to .500 and his turnover frequency dropped from 17.0 to 13.0 percent - h/t Basketball Reference)
He also need to try…like, all the time on defense. The hope is that Thibs sorcery helps here. The acquisition of Paul would also go a long way in holding Randle accountable at both ends in addition to all the help he would offer as an offensive engine.
He's also perhaps the most adept playmaker in the league at potentially figuring out how to make the Randle/Robinson pairing tenable. Last season, Paul regularly spearheaded offensive attacks with multiple non-threats from the outside on the floor. He fared just fine: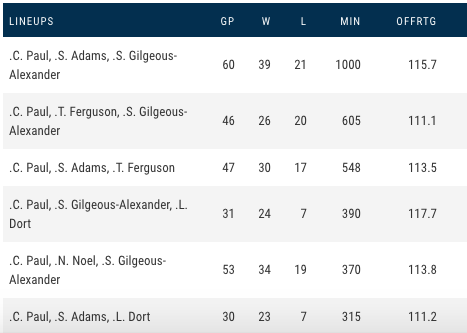 But there is one last piece to the puzzle, one that isn't going anywhere.
Given how quickly RJ Barrett vibed with Mitchell Robinson on lobs last year, it's somewhat astounding that he was never able to develop any chemistry with a differently abled yet still uniquely gifted chess piece like Randle.
Both are smart. Both move well enough for their given positions both with and without the ball. And both showed the propensity to use their physical gifts to overpower smaller players at the rim. You'd have thought there was a world where they could make some easy listening together, if not beautiful music.
And yet, when they shared the court (which was a lot) the Knick only scored 107.5 points per 100 possessions. For the Knicks to do anything at all next year, they need to figure out how to get past whatever was holding them back.
(My theory? The pissing match about whose team it was never got resolved. Again: trading for Chris Paul would help solve this problem in a jiffy).
In the end, if I have the choice to hang onto Julius Randle or dump his salary for essentially nothing, I think my answer depends on whether the Knicks can get CP3. If they do, I think Randle on an expiring contract, alongside the Point God, will be just about as good a use of their cap space as anything else (barring another team offering something truly silly for the right to use New York's space as a dumping ground).
If they can't get Paul though? I just don't trust Randle enough to be corralled at either end of the court to make it worth keeping him around, even considering how bad last year's situation made him look.
(OK Julius…I've just been mostly nice to you for two straight days. Unblock me fam.)
That's it for today! See everyone with another edition tomorrow. #BlackLivesMatter