Relationship-building
The Knicks newest hire follows their recent trend, and it couldn't come at a better time.
When it was announced that Scott Perry would be retained as general manager for the upcoming season, you may remember that I was not a happy camper.
It wasn't that I thought he should be let go, or that we knew for certain he'd done a bad job, but I felt like we knew enough to say he didn't do a great one. If he was given a different title at his same salary, I didn't think he'd have had the leverage to turn it down. This would've allowed them to keep his institutional knowledge, albeit in a lesser role.
Instead of Perry, I wanted the Knicks to either hire one of the best No. 2's on the market - someone like Troy Weaver, who is now the top candidate for the Pistons job according to Marc Stein - or, if everyone of that ilk said no, simply go out and hire a fresh face. I wanted someone who was young, innovative, and would have been swayed by the allure of holding a bigger title in New York. I was convinced it was a missed opportunity.
Since then, two things have happened:
Someone I trust reached out and reminded me that New York's relationships around the league were dogshit by the end of Phil's time here, and Perry played a massive role in repairing them.

Leon Rose has been a busy man.
First Brock Aller - the one hire Rose made before Perry's retention - and then Walt Perrin, Frank Zanin, and over the weekend, Alex Kline.
Kline, as you may have heard, is something of a boy wonder. He's exactly the type of fresh face I wanted them to bring in, and while he's a little too fresh to take on a role like GM, that he's here at all is a good sign.
That said, looks may be deceiving.
Young front office blood comes in all shapes and sizes, but the analytics-driven nerd is by far the most popular archetype. From the outside looking in, glasses aside, Kline doesn't appear to be that. He graduated from the Newhouse School of Communications at Syracuse University, arguably the best school for broadcast journalism in the country. Two years before 'Cuse, he'd started the Recruit Scoop, "an exposure platform giving high school basketball players exposure to college coaches and fans around the world," which he ran for six years. That's very different than, say, a site that developed a new analytics tool for analyzing player performance.
His biggest claim to fame, however, is arguably the Mary Kline Classic, a charity high school basketball tournament he created at the age of 16 in the memory of his mother. As Adam Zagoria noted in his excellent Kline profile over the weekend, this allowed him to meet and mingle with the likes of Karl-Anthony Towns, Donovan Mitchell, Markelle Fultz, Michael Porter Jr., Jamal Murray, Derrick Jones, Isaiah Whitehead, Ryan Arcidiacono, Mikal Bridges, Phil Booth and De'Andre Bembry.
Also in Zagoria's piece was this note from Hoop Group President Rob Kennedy:
Alex has really good relationships with a lot of people and he's very well-liked but he's got some real deep relationships with people — with certain players but also with AAU coaches, college coaches, so Alex is a relationship-builder.
Sound familiar? Even though Walt Perrin graduated college two decades before Kline was born, we heard much of the same when he was hired - that his relationships in and around the league were second to none. Perry, as I noted above and is no secret generally, is nothing if not well connected. No one seemingly has a bad word to say about Frank Zanin either, who brought a connection with Kobe Bryant with him into the NBA.
And then of course there is Rose, who has arguably had more high profile relationships than anyone in the league over the last two decades.
All signs point in the same direction: the Knicks want to be as well-connected (and well-liked) as any team in basketball, at least where their front office is concerned.
That's not to say they won't place a large emphasis on internal development or embrace analytics to a point we have yet to see at MSG, but with Brock Aller's cap wizardry looming over all of this, it's hard not to think the Knicks won't go big-game hunting at some point sooner rather than later.
This, of course, runs counter to the notion that no one in the NBA wants anything to do with the Knicks, a topic I touched on last week in the wake of Brian Windhorst's claim that New York's approval rating is at an all time low. Luckily, human beings by their nature have short memories. The further we get away from this latest Dolan disaster, the less people might remember it.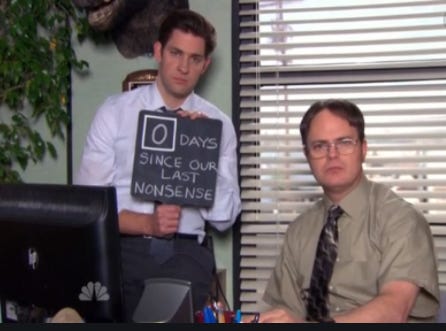 But as former Knick Ronnie Brewer told me last week, Dolan still has work to do, either in the form of a revamped statement or a roundtable-type sit down with players and other black MSG employees. If he does that, maybe all won't be forgiven, but a lot very well might be.
If he doesn't, there's a chance that all the boy-wonder hires in the world won't be enough to wipe this particular stain off the franchise. All weekend long, we've seen players on social media grapple with how best to keep the spirit of Black Lives Matter at the height of the public consciousness. As they should.
If this truly will be a watershed moment in NBA history, with players taking the type of stands they previously avoided, who's to say that when basketball is finally back, players won't continue to hold this issue against Dolan and the team he owns?
There's no time like the present Jim. Give all these new front office guys a chance to put their relationships to good use. Do what you have to do to make this right.
---
New Podcast!
---
Ronnie Brewer Interview
Former Knick Ronnie Brewer was nice enough to not only join me on the pod last week, but was incredibly thoughtful and forthcoming with his thoughts on several matters, including Dolan, Thibs, Mike Woodson and Melo. Unfortunately, his phone connection wasn't the best, so below is a transcript of the interview, edited for clarity.
First and foremost, so much is going on right now…are you safe and healthy with all that's happening?
Yes, I'm safe and keeping my social distancing in the best way I possibly can. It's kind of crazy down south with everything that's going on. In Arkansas we have a lot of cases that are being confirmed for COVID-19, and with George Floyd's passing, there's been a lot of protesting down here so I'm just trying to say safe and do my best to advocate and do the best I can to be a figure in the community.
You're an activist, having started the Ronnie Brewer Foundation to support communities in at-risk situations. You're also a member of the media, with a radio show and a degree in journalism. With those different hats, what has the last two and a half weeks been like for you?
It's been kind of crazy. First, I also own a hair store [Hair Couture] in Fayetteville, Arkansas and a trucking company, Brew Crew Transportation, so with COVID-19 hitting, it's been kind of difficult to maintain the companies and keep them successful, so shout out to all my employees, [including] my mom and my sister running the hair store. On the other side, with the Black Lives Matter movement and the killing of George Floyd and the protesting down here in the south, there's a lot of racism down here, more than anywhere in America, so it's been a lot heavier and a lot more active down here. For me, [I've] just been trying to be a voice for people here, be a positive person, and just educate a lot of people.
A lot of people think that it's black and white, or it's us versus them, or us against the police. It's just about educating people to show them how, when people say "Black Lives Matter," and others come back and say "all lives matter," it's like the analogy where a house is burning down in a neighborhood, the fire department doesn't come in and spray all the houses. Yes, all the houses do matter. People put their hard earned money into buying those houses, but when the first department comes in, they spray the house that's burning, which is what's going on with the Black Lives Matter movement right now. Black people are being oppressed, and there's a lot of violence and killing in the black community but also with police officers killing unarmed African Americans.
So to bring light to that, you've got to advocate because a lot of people don't understand it and don't get it. You've got to have that conversation, you've got to educate, you've got to have some kind of interaction with people and just let them know that what you're feeling – that uneasiness – that's what's happening every day for African Americans. When a police officer gets behind you when you're driving, what you see on the news and social media…it's real. It might not affect you and it might not affect your community, but if you allow it to go on in one place, it can go on anywhere. That's why you have to be an activist in your community, to make sure you take care of at home first and then work your way out.
You were recognized a few years ago [at the Education Innovation Summit in Arkansas], and education has been a big part of your life…do you think the answer to some of these problems can be found within schools? Where do you see the answer coming from ultimately?
I think it comes from a lot of places. It comes from your politicians passing legislation, it comes from your teachers in schools, it comes from church, it comes from community leaders, at Boys & Girls Clubs…if in even one facet of your life you're not trying to bring education and educate people on certain matters, we're going to continue to be in the same place we've been in for a long time. You're asked to go to school, from preschool to kindergarten to 12th grade and they'll educate you on certain matters to be prepared in life, but you have to add some curriculum on these [other] matters to educate everybody so everyone understands racism, so everyone understands equality, so everyone understands what injustice is. If you're not educating people, people are going to continue to be uneducated.
Recently James Dolan has come under some fire because he took a while to speak up on behalf of the Knicks. At the same time, one of your former teammates Tyson Chandler has said James Dolan allowed him to use his private plane to visit his mom when she was sick, and we know his history with hiring black executives, but we're also hearing that there's a lot of players in the league that aren't happy with how he's gone about this, and some of those players may even be in the Knicks locker room. You were a black player in the league for a long time…how do you take this as someone who also knows James Dolan?
It's hard to say that just because James Dolan didn't put out a statement, he's racist. But I do think that because the NBA employs a majority of African Americans, I think it's your right and your duty to speak up for your employees. A lot of people that work at Madison Square Garden are African Americans or other ethnicities. You owe it to them to speak up and have their back. He has employed African American coaches, he has employed African Americans in the front office which is a rarity in the NBA. I can't bash him for that, but I think that him, and a lot of other organizations, and even organizations across the board [like in] Major League Baseball, NFL, those owners employ a lot of African Americans…they make up your team and your organization year after year. I'm not saying that [James Dolan] is racist, but he could have put together a better statement on behalf of the Knicks, Madison Square Garden and all of his employees across the board.
With the statement he put out and the time it took him to get it out there, if you were still a member of the team, would you want to hear from him face to face before you felt comfortable playing another game for the team?
I would want to contact the GM and see if there's any way we could have a positive forum, or a roundtable, or a talk just to say "we're all on the same page." I'm not going to jump to conclusions and be livid, but I would rather talk with him and explain to him why I feel so violated. And not only myself, but a lot of other people feel the same way because silence is just as much of a crime…To me, Jim thinking that, "hey, I'm not going to speak on this matter," I don't think that's the correct way to do it. With this, like a lot of things, you take your time and you think it through. I think the reason that people are so mad is he did take time, he did think it through, and that's the statement he came up with, and that's what sparked so much anger and backlash.
I also think that you can't [fix it] too soon, because [if and] when he comes back and he makes a [new] statement and he understands [what was wrong], I think, to me, that makes it alright. I think a lot of people got on Drew Brees' back because of his opinions about not disrespecting the flag. I think that a lot of his teammates reached out to him and had serious conversations about why that statement was not OK, and I think he doubled back and made a statement [acknowledging why] his original statement was disrespectful. If Dolan does that, I think that people would accept it. In the back of your head, you'd remember he did come out with a different statement at first, but if he comes back with another statement fixing the first statement, I think that players would be willing to go back, but if doesn't go back and fix the statement, I know I'd still be upset about it. And no disrespect, but the Knicks need to get it right, they need to be unified, they need a solid coach, they need solid players, to get the fans back behind them, they need Madison Square Garden to be the Madison Square Garden of the past and right now is a great time to get on the right track.
You played for Tom Thibodeau in Chicago, and actually had two stints with him. What can you say about what it's like to play for Thibodeau?
Man, it's great. Coach Thibs gets the short end of the stick because of comments that come out that say he's hard on players and he pushes players too hard, but that's what you want from a head coach. That's what you want for your team and your organization, you want someone who's going to get down and grit and grind and fight for everything they can get. That's what Coach Thibs is all about. He'll get you to defend, and he wants teams to get up and down the court…He's one of the better defensive coaches, he's great with personnel, he's a player's coach, but he's tough, and if you're a tough player and you're tough minded, you're going to be able to thrive in his system. He's going to trust you and allow you to reach your maximum potential.
One of the knocks on Thibs is that he's not good with development. You were in Chicago when Jimmy Butler, Derrick Rose and Taj Gibson were young players. Do you buy the knock that he's not good for a young team?
I don't buy that. I see why people might say that because as a young player or as a rookie, he might entrust or have more faith in an older veteran, but that's part of the game in the NBA…You want to go with a veteran who knows the ropes. I still think the way that we practiced, it makes it impossible for you not to develop. When you come to work every day, you bring your lunch pail. He's going to push you more every day. He also pushes the assistant coaches of the individual positions that they're assigned to. When I was in Chicago, coach Adrian Griffin was my position coach. He had me, Luol Deng and Jimmy Butler and then we got Rip Hamilton. We were war ready against every team. We fell a little short against the Heat, with LeBron, Wade and Chris Bosh, but everybody else, we were ready for them as soon as they stepped on the court.
You were also part of the 2012-13 New York Knicks and you played for Mike Woodson, who I feel like gets the short end of the stick sometimes. What was your experience like playing for Woodson?
Playing for Coach Woody was great. We loved playing for Coach Woody. We had a great nucleus…a great group of guys. We had great veterans like [Jason] Kidd and Marcu Camby and Rasheed [Wallace] and Kurt Thomas, then you had the young guys, myself, J.R. Smith, Iman Shumpert, Raymond Felton, Melo, Amare Staudemire, James "Flight" White, Chris Copeland...we were very diverse, of all backgrounds, and a lot of different experiences. [Coach Woodson helped us] gel together, play together, find a way to win and defy the odds, and he definitely gets the short end of the stick because he did a phenomenal job in New York and maybe we didn't win as much as they wanted us to.
There's a lot of speculation that Carmelo Anthony will be back in the Garden for a retirement tour next year. What would you think of that and what was your experience like playing with Anthony?
Melo is phenomenal. I've never really played with a guy that, no matter the situation, he always took the burden or the blame. Melo could come out and have 30 or 40 points, and we would lose, not because of his play - maybe we didn't play well collectively as a group – but he would take the blame and say he needed to do more. It burned me, what so many people were saying in Houston and when he wasn't getting time like he couldn't play basketball…he's still phenomenal and he still has a lot left in the tank, and I think it'd be great if he had another opportunity to play in New York. Whenever he does decide to retire, I think he needs to be a Knick when he does it.
Lastly, you're coaching high school ball in Fayetteville. Where does the future lie for Ronnie Brewer?
The sky is the limit. I love working with the youth, I love being a mentor, I love teaching the younger kids that it's about more than just scoring the basketball, that you have to defend at a high level. I love coaching at Fayetteville High School. It's my alma mater, and I get to coach alongside a former coach of mine and one of my best friends. If an opportunity is there, I'm hungry for it, whether it's at a high school, college, or the NBA.
---
Tweet of the Weekend
That's it for today! See everyone with another newsletter soon. #BlackLivesMatter