Risk vs Reward
With an under-30, 2-time All-Star potentially set to hit the trade market this offseason at a reasonable cost, how big a bet does Leon Rose want to make?
News & Notes
2020 simply won't let up, as we lost Chadwick Boseman to colon cancer at the age of just 43. The outpouring of sorrow came from across the NBA universe and the world on Friday night for the man that had already cemented his place as one of the singular talents of his generation. Several Knicks, including Kevin Knox, Julius Randle and Bobby Portis Tweeted their condolences.

Boseman's connection to the sports world started earlier this decade when he stared as Jackie Robinson in 42 and then played a key supporting role in the NFL drama Draft Day, but he became a worldwide phenomenon when he first appeared as Marvel's Black Panther in 2016. It was a role he would reprise three more times, all of which resulted in films that rank in the top-12 in all-time box office, and all of which were filmed after Boseman had been diagnosed.

A hero on and off the screen, pictures of Boseman visiting young cancer patients flooded Twitter on Friday night. I'll never forget taking a group of eighth graders to see Infinity War and watching their good time at the movies being positively ruined the moment Boseman's Panther turned to dust. The world is never a fair place, but sometimes it can be more unrelenting than others.

Longtime NBA veteran Clifford Robinson also passed away. He is 50th on the all-time NBA scoring list and was a stretch big well ahead of his time.

Kristaps Porzingis was revealed on Friday night to have torn the meniscus in his right knee early on in the Mavericks series against the Clippers. He missed Sunday's elimination game, which the Mavs lost.

Jeremy and I spoke about this a bit on Sunday's pod, and I started writing some more extensive thoughts for this newsletter, and then one paragraph turned into another, so I just decided to make it a feature for later in the week. Stay tuned.

MSG will serve as a polling location for both early voting and Election Day in the 2020 Presidential General Election. There was reporting that the players, following Wednesday's wildcat strike, required that every NBA arena serve as a polling site, but according to the NYC Board of Elections, the Barclays Center in Brooklyn won't be taking part. Ditto for the Chesapeake Arena in Oklahoma City and the TD Garden in Boston.
Read This
Spencer Pearlman and I went back and forth about the draft in last week's Macri's Missives for the Strickland. It was fun.

If you want more on Chadwick Boseman, Bernard Ozarowski (of KFS Podcast & Final Score fame) did a unique career retrospective for Loud & Clear Reviews. Highly recommend taking a look.
Listen Up!
Jeremy and I are back at it with a new episode. Keep those subscriptions/ratings/reviews coming!
"Sources Say…"
According to J. Michael of the Indy Star, the Knicks are interested in a reunion with swingman Justin Holiday, who is about to be an unrestricted free agent. Michael suggests that the oldest Holiday brother wasn't completely happy in Indiana this past season, and although he might stay if the Pacers make him a competitive offer, potentially around the midlevel exception, he may look to seek a new home.

Staying in Indiana for a moment, fresh off reports of an unsettled locker room and one Eastern Conference executive betting that the Pacers trade two-time All-Star Victor Oladipo before next season, I heard from a league source that "he wants out," and that there are whispers of the Knicks being a potential trade partner.

On that note…
---
Risk vs Reward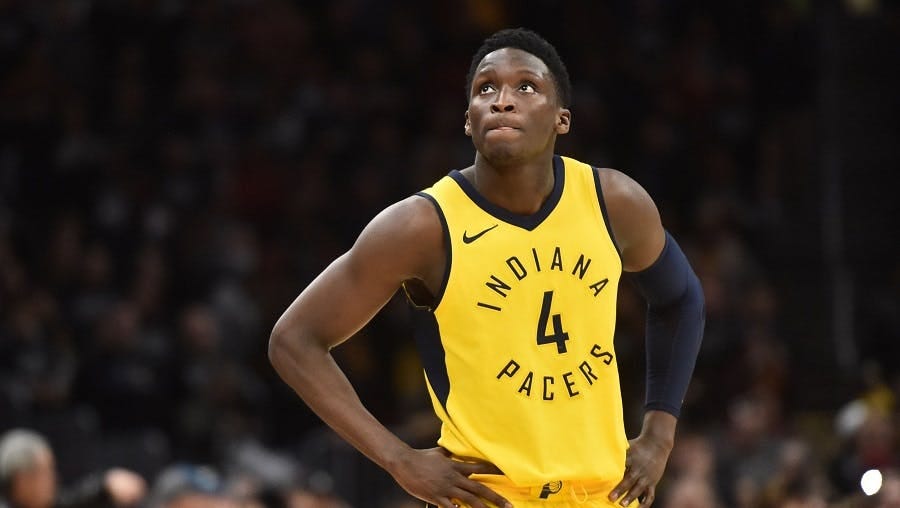 Two and a half years ago, I was trying to make my way in the biz and blogging for a site that covered the Pacers, proving yet again that God has a sick sense of humor. In March of 2018, I wrote a piece about how Victor Oladipo was arguably having the greatest season in Pacer history since they joined the NBA (George McGinnis, kids…look him up).
Oladipo was unreal. Aside from being named the NBA's Most Improved Player and making the All-Star team, Oladipo made the All-NBA 3rd Team, and probably should have made second team over Russ. He even garnered a few MVP votes. He also finished 10th in VORP after LeBron, Harden, Dame, Russ, AD, Giannis, KD, Jokic and KAT. Not bad company.
For that one season, 'Dipo did what the best of the best do: he combined an insane usage rate (30.1 percent, 14th in the league) with high level efficiency. His .577 true shooting percentage wasn't in the realm of your Steph's, Harden's or Kyrie's, but was close to Dame and exceeded Beal, Booker, and Kemba. He was undoubtedly a member of The Club.
The biggest reason why, at least in comparison to Oladipo's previous four seasons in the league, was his deep ball. Victor shot 37.1 percent from deep, and as opposed to the open catch & shoot looks he got playing alongside Russ in OKC (where he shot a respectable 36.1 percent), these were much higher degree of difficulty shots that came while essentially running the offense.
Then things went off the rails. Oladipo ruptured his quad in January of last year, and he really hasn't looked the same since. But even if we assume a two-year recovery timeline, his numbers dipped across the board before the injury, as he went from a .477/.371/.799 slash line during his All-NBA year to .423/.343/.730 in the 36 games pre-quad.
That later slash line is much closer to the numbers he put up during the first four years of his career (.434/.346/.800), so there's a legitimate question as to which Oladipo is the real one.
But that's only half the problem. As we know from many painful years of poor Knicks roster management, the only thing worse than a bad player is a decent one getting paid like a star. Given the fact that Oladipo allegedly turned down a four-year extension worth $80 million, we know he's going to want to get paid.
How much? When 'Dipo hits free agency in a year, he'll be eligible for a 7-9 year max, which equates to 30 percent of the cap, which will probably wind up being the same $109 million that it is now. That means his max will start at $32.7 million, and given 8 percent raises, a five-year deal can be worth $180 million. Yikes.
If he has a great year next season and looks like the Oladipo of old, there's no question that's going to be the starting point in negotiations. And to be clear, if he actually is the Oladipo of 2017-18, he's absolutely worth every penny. But given what are now significant injury questions, no matter how good he may look in the immediate future, it's a significant risk.
And we haven't even gotten to the biggest question of all, which is what New York would need to give up for the right to see that one-year audition in person. No matter how much Oladipo wants out or how convinced the Pacers are that they're not going to be able to keep him, Kevin Prichard is not going to give him away for pennies, especially since some other win-now team would likely give up a half-decent package. Even if he walked in a year, Oladipo might be able to help the right team enough to make that one season worth it.
Oh, and it's worth mentioning that thanks to current CBA rules, New York wouldn't even have the option of doing an extend and trade or extending Vic as soon as he got here. The most Oladipo can sign for in an extend-and-trade scenario is for two years at 5 percent increases over his current salary, which equates to roughly $21 and $22 million. You're also not allowed to extend a free agent until six months after you trade for him, which means New York would never have that window open to them before he hits unrestricted free agency.
The totality of the circumstances dictates that the Knicks best four assets - the 8th pick, RJ, Mitch and the 2021 pick - should all be off the table. Given how little else they have to offer, that might be the end of the conversation.
Or maybe not. There are three things that could benefit New York here, and why the conversation about trading for Oladipo is probably worth having:
Oladipo is represented by Verus Basketball..and used to be repped by Leon Rose. Verus currently only has clients on five NBA teams: the Heat and Hawks (one each), the Hornets (three clients, plus a 2-way), the Pacers (two clients, plus a two-way), and the Knicks, who employ Verus signees Kevin Knox and the recently acquired Jared Harper. They also rep possible New York draft target Kira Lewis.

Before going to Verus, Oladipo was with Rose and CAA. There's no indication he left on bad terms, although his stay was short - just three years - and Rose negotiated what was seen at the time as a player-friendly deal for four years and $84 million when Oladipo was nowhere near the star he would become.

Its also worth noting here that Verus' VP of Scouting is Sedric Toney, who just so happens to have been the Knicks Director of Player Personnel for four year under Scott Layden.

If the Knicks had the inside track on re-signing Oladipo, given these connections, Leon Rose would likely know about it.

Herb Simon, the Pacers's owner, has reportedly seen his company's stock decrease by $25 billion (with a "B") in total value since January. Indiana's payroll, meanwhile, sits at $125 million for next season. Assuming Oladipo re-signs for a first-year salary of $30 million, that means just Vic, Malcolm Brogdon, Myles Turner, Domantas Sabonis, TJ Warren and Jeremy Lamb alone would run them $111.6 million in 2021-22, when the salary cap may very well still be at it's current number of $109 million.

If ever there were a team that could not only use both immediate cap relief and cheap labor for the foreseeable future, it is the Pacers. Speaking of which…

Indiana only has one pick (54) in the upcoming draft. We've heard reports of late firsts potentially being up for sale, but with the money troubles the Simon is facing, would that really be an option?
Given these caveats, I wonder if Indiana would be up for the following trade:
Dennis Smith Jr., Reggie Bullock, the 27th pick and cash for Victor Oladipo and Jeremy Lamb
The immediate response should be that surely someone out there would be able to beat this offer. And if the Pacers would be willing to take on commensurate salary and not prioritize salary-dumping Lamb (who tore his ACL in February and has two more fully guaranteed years left on his contract at $10.5 million annually), you'd be right.
But if cutting salary was a priority? As detailed by Keith Smith back in March, only six teams project to have cap space if the cap stays flat at $109 million:
The immediate questions:
How willing would Atlanta be to give up one of their secondary young pieces - Huerter, Reddish or Hunter - to get a guy who might very well walk in a year? They're one of the teams that has a Verus client (Brandon Goodwin), so they might have a clue about their chances. My guess is that Huerter would be on the table, but there's no other draft compensation they could send, assuming the sixth pick isn't on the table.

Does Indiana have any interest in Terry Rozier (another Verus client) or would they be scared off by the remaining two years and $39 million left on his deal?

Would this be the Suns "all in" move for a playoff push next season, and would they be willing to put the 10th pick (along with Kelly Oubre Jr.) on the table to make it happen?
With all due respect to these three teams though, the biggest threat to trade for Oladipo is Miami (who employs Verus client Derrick Jones Jr). The Heat could send Kelly Olynyk (assuming he opts into the final year of his contract, worth $13.6 million), the 20th pick and Kendrick Nunn. I'm betting they would, happily.
That package beats my Knicks offer, which then begs the question of how much higher Leon Rose could (or should) go. Would he put Kevin Knox on the table and dare the Pacers to turn his career around? Would they include the 2021 Dallas pick, and what, if any, protections would they want on it?
It's easy to say "no way" to one or both, but the notion that Rose has the luxury to turn his back on a guy who was undoubtedly a top-ten NBA player just two years ago is foolish. Trading for Oladipo would also give the Knicks the luxury of drafting Tyrese Haliburton, who makes little sense on a roster without a primary initiator but would be the ideal point guard to slot in alongside someone like Oladipo.
And then, of course, the Knicks would be a solid year away from potentially interjecting themselves into the 2021 free agency sweepstakes. No, Giannis ain't happening, but thinking that they could be very real players for Anthony Davis isn't nuts. Even with Lamb, RJ, Randle's stretched $4 million in dead salary, cap holds for Oladipo and Mitch, and required salary slots, New York would have space for a 10-year-max, which AD would be eligible for.
They'd also be in a better position to swing a trade for a disgruntled star. Mitch, RJ, Knox (if he's here) and whoever they take with the 8th pick would all (hopefully) increase in value over the next year. Some combo of those and New York & Dallas' 2021 picks (which would be less of an uncertainty by then) might be enough to entice the right team.
Joel Embiid is the obvious name here. The Sixers aren't ready to break up the Big Two right now, but depending on how this year goes, they might be in 10-12 months. Embiid will be able to sign an extension in a year, and maybe even a Designated Veteran Extension, depending on if he can meet certain year-end award criteria in 2020-21.
If he lets Philly know that he has no interest in doing so, he may be able to force their hand - and that's even if he doesn't make his desire to end up on the Knicks public, which is something that would shock precisely no one if he did.
I'm getting ahead of myself here, but if you don't think this sort of forward planning is happening within the Garden as we speak, you're nuts. Which is why, when the chance to get a 28-year-old two-time All-Star in your building presents itself, you take it very seriously, even if the situation isn't ideal (because - duh - if the situation was ideal, it wouldn't be presenting itself in the first place).
Will they get involved? My guess is that we'll find out by draft night.
That's it for today! I'll have more on 'Dipo coming later this week with the newest Macri's Missives for the Strickland, featuring a special guest who covers the Pacers. In the meantime, I'll see everyone with a fresh newsletter tomorrow. #BlackLivesMatter