Safety First
A few days away from the bouncing lottery balls, we can already see a tough decision brewing for the Knicks.
Ahh, lottery week…the Knick fan's equivalent to Christmas, except if Santa took a hot, wet dump all over the presents before he shimmied his fat ass back up the chimney.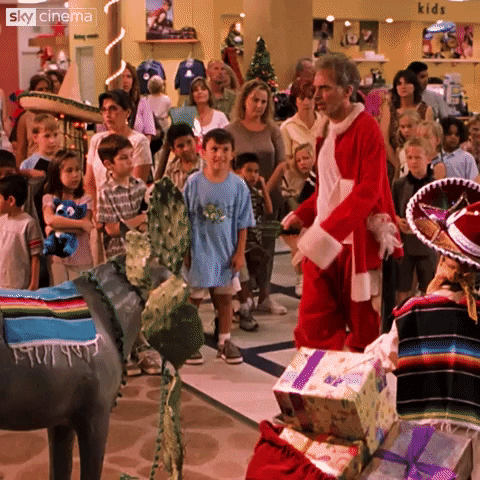 I'm sorry. I know this is where you come for hope and the promise of what might be, but I'm nothing if not a student of history, and the Knicks history in the draft lottery is, well…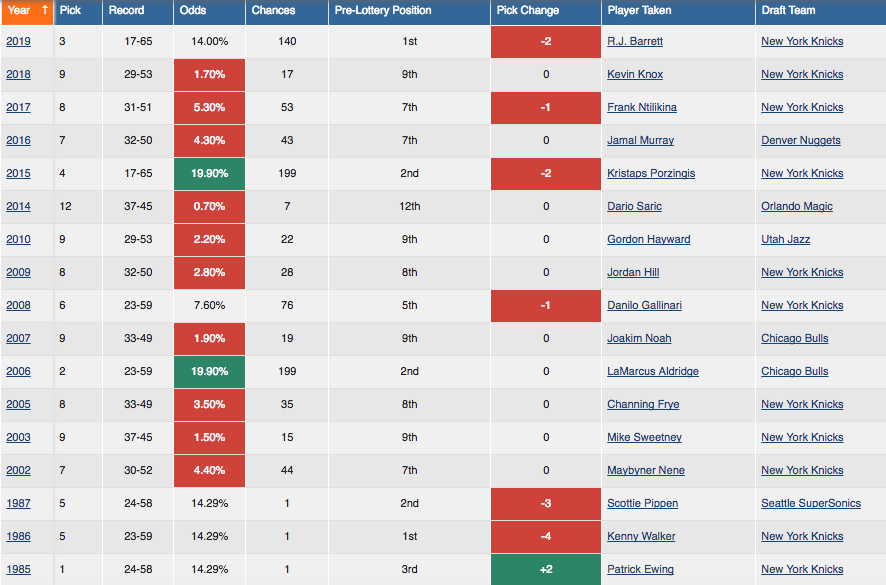 …not great.
(Chart is courtesy of RealGM.com, still one of the more underated hoops databases around for all manner of NBA minutia)
Before we get to the crux of today's newsletter (as well as an interesting tidbit I got from a league source regarding the coaching staff), a few observations about the Knicks experience playing lotto:
Of the Knicks last 15 lottery selections, nine were made by New York and six by franchises who we'd previously traded those picks away to (and really, it's more like eight and seven, because the McDyess/Nene swap was agreed to on the night of the draft)

Total number of All-Star appearances for those 6 outgoing picks: 17

Total number of All-Star appearances for the 9 selections we kept: 1

Yay.

You may notice there's a gap between the third year from the bottom, 1987 - the year we would have been in a position to draft Scottie F—— Pippen if we hadn't previously dealt away the rights to that pick to Seattle for Gerald Henderson and the rights to the pick that became Mark Jackson - and the next year New York had a lottery pick, 2002.

That's because once upon a time (are you sitting down?) the Knicks didn't stink. Believe it kids. The Spurs' streak of 22 straight years in the playoffs that just ended? The longest one prior to that one belonged to the Utah Jazz, who made the playoffs for 20 straight seasons during the Malone/Stockton era. But the second longest streak before this one? That would be the one belonging to the New York Knickerbockers, who made it 14 straight years, from 1988 to 2001.

High times, they were…

Speaking of the Spurs, they're the only team in the NBA that has improved their draft position every year they have been in the lottery, which seems inconceivable until you realize how few times they've been there, and even less so when you see who they've gotten when they've been there:

They will once again have a chance to move up this year, albeit with only a 7.2 percent chance of jumping the line. I swear…

On the opposite end of the spectrum, the Knicks, as you can see from the absence of green shaded boxes in their "pick change" column, have never moved up from their place in the lottery order, although that doesn't mean they've never beaten the odds.

Just last year, the Knicks had a 59.9 percent chance of landing at either 4th or 5th, and winded up at 3rd. Perhaps this means things are trending in the right direction. On that note…

We are, if nothing else, more than due.

The only teams with longer streaks of not moving up are the Mavs, who have never improved their position in 16 tries, and the Wolves, who really don't count because even though they've never moved up in 22 tries, the one year they had the best odds of the first pick, they got it.
Which brings us to the present. Just to make sure we're all on the same page, here's a look at the Knicks odds of landing at each pick, along with the odds of the teams ahead of them, courtesy of Tankathon.com:

There will no shortage of debate about what New York should do regardless of whether they move up or land, as the math dictates, at either 7 or 8. Given the paucity of elite talent compared with what we'd usually see, there will no doubt be opportunities to trade up, trade down, or trade out of the lottery (or the draft) altogether.
I'll save some of those hypotheticals for after we find out where the Knicks end up. For right now though, I want to more closely examine a popular idea I've seen come up repeatedly over the last few weeks: drafting Devin Vassell.
Questioning Vassell is antithetical to my soul as someone who has watched this team stumble around in the darkness for the last two decades - constantly eschewing singles and doubles for big swinging strikeouts, the NBA franchise equivalent of Chris Davis - for the same reason that Vassell has become such a popular option amongst the fan base: he is, without question, the safest option in a draft taking place in the year of our Lord 2020.
I specify the date because while Onyaka Okungwu has an argument for having the highest overall floor as a player, he is a center. Aside from the Knicks already having one of those, the position as a whole carries less value than at any time in the history of the league.
Vassell, on the other hand, is the personification of the one thing every team in the NBA needs: a true 3 & D wing.
For those unfamiliar with Vassell:
And…
Also…
As for his range, here are the numbers for Vassell (who is about to turn 20) from last season, courtesy of Tankathon:

Between the 3-point percentage and the attempt rate, not to mention the projected percentage from the NBA's 3-point line, we're looking at the very definition of a 3 & D wing.
That term gets thrown around a lot these days, and with a few exceptions, incorrectly so. For one, there is 3-point shooting, and then there is 3-point shooting. Guys like Robert Covington and Marcus Smart (who I examined the notion of trading for last week) are each All-NBA caliber defenders who rank 30th and 35th in 3-point attempts per game, but because of below-league-average conversion rates, a possession that ends in either one of those dudes firing away from deep is more likely than not a win for the defense.
Conversely, losing sight of the likes of Davis Bertans, Duncan Robinson, JJ Redick or Joe Harris is the equivalent of signing your own death warrant, yet none of those players are what anyone would call plus defenders. You survive, rather than thrive, when they are matched up with a dangerous offensive player.
All of these guys are worth somewhere between $12 and $18 million in the league today, with the later group in a slightly higher tier than the former.
Trying to value a real 3 and D wing is more difficult, because almost all of the guys that do both are also elite shot creators, which brings their valuation to a new level (that includes Khris Middleton, who hopefully no one still tosses into the 3 & D bucket). You can bring up Jaylen Brown, but even that's a bit of a misnomer as both his 3 and his D fall slightly below elite levels (not to mention he's also become something of a shot creator in his own right). Klay Thompson, when healthy, is perhaps the ultimate example, but his shooting is so off the charts as to elevate him to a different category above mere mortals.
Perhaps the recent almost-Knick Mikal Bridges is the best example of the regular humans. He's quickly becoming one of the better wing defenders in the league, and while he's struggled at times with his shot since joining Phoenix, he hit 40 percent on 4.4 attempts per game in the bubble.
Projecting that dude on next year's Knicks, in a Thibodeau scheme, with Frank at the point of attack and Mitch at the backstop, is the stuff wet dreams are made of. Getting him on a rookie scale contract when within a year or so he could be providing anywhere from $12 to $20 million of value annually? Priceless. In short, you need guys like Vassell if you have any prayer of doing anything worthwhile in the league today.
And yet, for as happy as I would be if the Knicks ended up with Vassell on draft night (mostly because it is the type of thing they never, ever do, and would represent a departure from the perception of how people think the Rose regime will operate), there will be a part of me wondering if it represents the best move for them to make.
Why, after everything I just said, could that possibly be the case? Three reasons:
The Knicks, as has been detailed in many forms and fashions in this space over the last several months, are shorter on top end talent than any team in the league with the exception of the Pistons. Drafting Vassell, while possibly the right move for several reasons, would not change that. In other words, the number of All-Star appearances from Knick draftees is not likely to go up because of him.

Take a look at the top 20 guys in made threes during the bubble, through Thursday night (and peep the percentages while you're there):

Some of these guys, obviously, are not readily available at your corner gas station. But only 9 of 20 were lottery picks, and former 7th overall selection Ben McLemore was available on the scrap heap for anyone who wanted him. Trent Jr, Clarkson, Crowder and Harris were all second round picks, while Duncan Robinson went undrafted.

Of all of the guys on the above list, less than a handful are above average defenders…but almost all are serviceable enough not to get played off the floor, even if you do need to slot them onto an easier offensive assignment.

Point is, you can find shooting that you can play 25 to 30 minutes a night if you look hard enough. Even if you don't get lucky enough to pull a rabbit out of the hat, floor-spacers come on the market every summer. Will you have to overpay to get one? Out the nose, yes.

But they're out there to be had.

Top-half-of-the-league, shot-creating ball-handlers and big, playmaking wings aren't out there to be had, and if they are, they're automatic max players and there is ample competition for their services.
And with those thoughts, here is the math problem / equation / conundrum to consider, assuming the Knicks don't move up and LaMelo, Edwards, Hayes and Deni are off the board:
If the chances of a Cole, Kira, Okoro or Maxey hitting big are somewhere between, oh, I don't know…20 and 35 percent, is that enough to bypass the chance to draft a less valuable but still incredibly important player archetype who around double the chance of panning out?
Making matters more complicated, looking at the above list, how important is it to use valuable draft capitol to nab a highly effective floor-spacer with potentially elite defense when perfectly serviceable defenders with the same range can be had via other means?
And for added fun: how much does New York's unfortunate roster situation impact which way their decision should go? As in: if taking a big swing is even less likely to work out, at least initially, because of a lack of complimentary parts to make the rookie's life easier, how much more should that make you want to take the guy who will make life easier for everyone else already on the roster?
The Knicks had a similar choice two years ago, and bypassed the aforementioned Mikal Bridges for Kevin Knox. How much would they like a do over on that one?
Then again, Mikal was nearly 22 the day he was drafted. Knox turned 21 last week. Is it possible the big swing might still pay off? We'll probably get our answer this season, when the Knicks have a real development program and staff in place, something that was sorely lacking the last two years.
Which brings us back to this draft. If the Knicks really are going all in on developing the young talent they do have, then wouldn't it be wise to go for the higher ceiling prospect? Before you answer, consider:
They just hired Kenny Payne, one of the premier development coaches in college hoops, and will be paying him $1.5 million a year to play a massive role in their development program.

I'm hearing that the Knicks are going beyond the level of due diligence, and will be taking the next month or two to conduct interviews across the league to fill out the assistant coaching staff. 10 or so interviews either will be or already are on the docket. As has been previously reported elsewhere, many of these new hires will focus exclusively on development.

I'm also hearing that a holdover or two from the previous staff is likely, as there's some thought to not having the players walk in and see nothing but entirely new faces. My money is on Kaleb Canales coming back.

I still expect Mike Miller to remain, and remember: Miller was the head coach of the Westchester Knicks before coming up to the big club last year.
Should New York theoretically becoming a team that makes imperfect prospects better sway their decision? Or is this just a reason to take a guy like Vassell, and attempt to build up the skills missing from his already solid baseline?
I don't pretend to know the answer, and honestly, I'm not even sure which way I lean. In the end, this comes down to trusting Walt Perrin, the man whose track record was as good as they came in Utah, to make the right call. Leaning on analytics might also not be the worst thing in the world to try and make the right decision.
Or maybe, for the first time in three and a half decades, we get lucky.
Merry Christmas to all, and to all a good night.
---
New Podcast!
Jeremy and I get you prepped for lottery week.
---
Knicks "Will Smith Face" Bracket Update
We're down to the Willite Eight…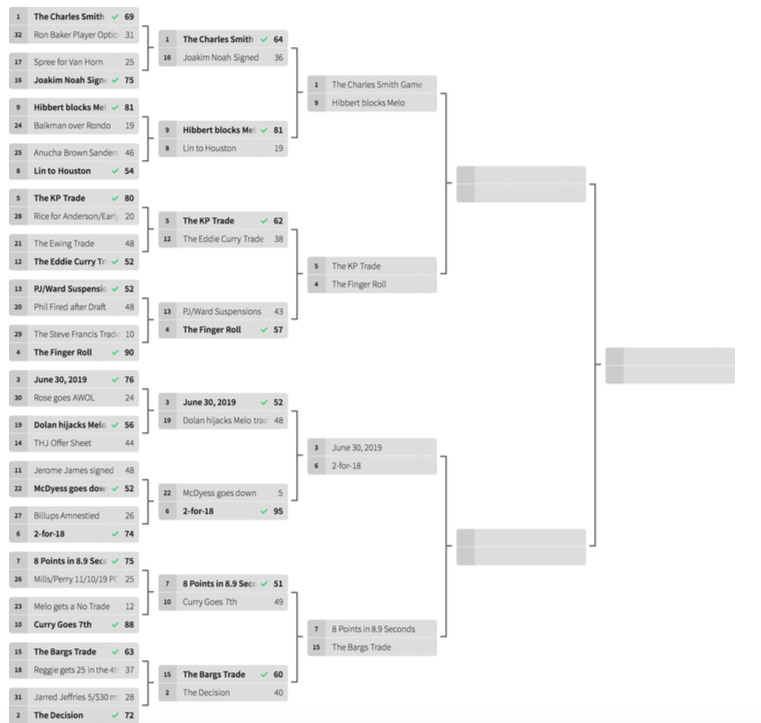 Here's the schedule for the rest of the week (as usual, I'll pin all games on my Twitter profile), with poll length shortened to 6 hours to accomodate all the matchups:
Monday
8 am: (1) Charles Smith Game vs (9) Hibbert Blocks Melo

4 pm: (4) The Finger Roll vs (5) The KP Trade
Tuesday
8 am: (3) June 30, 2019 vs (6) 2-for-18

4 pm: (7) 8 Points in 8.9 Seconds vs (15) The Bargs Trade
Wednesday
8 am: Final Four Game 1

4 pm: Final Four Game 2
Thursday - 8 am (12-hour poll) - Championship Game
That's it for today! See everyone later this week! #BlackLivesMatter