Second Trimester Report Cards
I was...not kind.
In this (late - sorry!) newsletter:

---
There's nothing I hate more than giving report card grades.
Inevitably, you have kids who are smart and give somewhere between 25 and 50 percent effort, and you have to give them a decent grade. Then there are kids who maybe aren't as gifted and try their asses off but who you barely end up passing - or worse - simply because they're incapable of doing much better.
And with that, I think I explained my undying love for Frank Ntilikina in a nutshell.
Anyway, the Knicks have played 54 games, which is roughly the 2/3 mark of the season, so it's time for me to do the task I hate and give out some second trimester grades.
This is only for current Knicks who are actually playing. Our top student realized he was way too good to be here and transferred to another school. In exchange, we got a set of spiral notebooks to be named later.
BTW, can I get extra credit for sending out the following tweet - which I caught a ton of shit for - the day Marcus Morris was signed?
Thanks, I need all the gold stars I can get. Anyway, without further ado, in descending order…
Mitchell Robinson - B+
That's right…no one gets an A. The team is 21 games under .500. Nothing getting put on the fridge for that.
But Mitch comes closest. He has a 73.0 eFG%, which is highest of the 239 players seeing at least 20 minutes of court time per night. He's also ninth in offensive rebound rate amongst that same group, and is one of three players (along with Anthony Davis and Brook Lopez) averaging at least four combined blocks and steals per 36 who have played at least 1000 minutes.
In terms of overall impact, according to Cleaning the Glass, the team's overall scoring margin increases by 6.1 points per 100 possessions when he's played, which is second overall to Elfrid Payton. He's also one of only two Knicks to help them score at least two more points per 100 and give up at least two points less per 100 when he's out there. His screen setting is night and day from last year.
He's been far from perfect. He still hasn't taken a jump shot, and although he's gotten better at reducing the silly fouls, he still commits 5.3 per 36 minutes, several out of frustration. We saw one on Wednesday night, which prompted a tech, a seat on the bench, and an inevitable Wizards run.
But the reason that run was expected is because, more than any other player on this team, he's the one you feel like you need on the court the most in order to be successful. For a 21-year-old kid who is still incredibly raw by any measure, that alone means he should be at the top of this list.
Julius Randle - B-
I don't want to put Julius Randle here any more than you want to see him here, but by any metric, he simply has to be.
He's the other player besides Mitch who's had a +2 net rating on both offense and defense, and his overall positive impact is plus 6.0 points per 100 - a smidgen behind Robinson.
All of his faults - we're getting there, don't worry - tend to make us forget the positives that he brings, if only because we're constantly reminded that Randle could be one of the very best players in the league if he just took his head out of…the clouds (I erased what I had originally written there). Like, I don't ever need to see the following again:
a spin into three defenders

him complain to a ref after turning the ball over following said spin

him jogging up the court as the other team fast-breaks after the refs don't want to hear it

possessions where he tries to leak out in transition, only to realize the opponent has secured an offensive rebound, but in Randle's mind it's too late to do anything about it, so he does nothing; and my personal favorite,

any non-corner 3-pointer, ever.
On that last one, he's currently shooting above the break threes at a 25 percent clip, which wouldn't be so bad if he wasn't taking over three per game.
All of this being said, he is still the best player remaining on this team by a healthy margin. The fact that neither I nor many fans want to build around him going forward due to all of the above flaws doesn't curve what has to be a fair grade for his performance thus far.
Sure, his 52.9 true shooting rate is fourth lowest among 47 NBA players with at least a 25 usage rate (min. 15 GP/15 MPG), but then again, it's really hard to have a usage rate that high and be efficient on a terrible team unless you're a star.
Randle was brought in to be a star, but that gross miscalculation by the front office shouldn't be held against him here.
Elfrid Payton – C+
His grade would be much higher if he hadn't missed a third of the season, but the most important ability is availability.
Payton, like Randle, tends to bother us so much because of what he isn't doing, to the point that we overlook the good. Unlike Randle, his greatest flaw – the complete lack of ability to shoot a basketball – isn't his choice. He's just bad at it.
As a result, on an offense in which he has to play alongside two, three and sometimes four other non-shooters, it makes for tough sledding all around.
His 1.7 steals per game, which would be top-ten in the NBA if he'd played enough games to qualify, help offset his other defensive miscues. Why he so often flatly refuses to put a hand up in the vicinity of a shooter remains one of life's great mysteries.
All that said, every advanced stat available says he's been the most valuable Knick. That can't be ignored.
Taj Gibson - C
Unlike with Mitch, Julius and Elf, the Knicks scoring margin dives off a cliff when Taj is in the game, to the tune of 9.3 fewer points per 100 possessions.
I don't care. Sometimes, numbers just don't pass the smell test, and this is one of them.
In truth, Taj is a man without a real position in the game today. He's lost enough of a step such that he can't defend opposing fours but also lacks the rim protection needed to play the five. His 3-point range is still largely theoretical.
But my God, on a team with guys left and right doing shit that so clearly do not equate to winning basketball, all this dude does is his job to the best of his abilities.
That alone means I can't give him a grade below average.
Damyean Dotson – C
This should probably be higher. It's not Dot's fault that he's 10th on the team in minutes played.
But the less you play, the more you have to do in the minutes you get to get a high grade, and Dot simply hasn't cleared that bar. He's almost exactly league average from deep (although he's probably made more tough 3's than anyone still on this team).
His defense has improved, but is almost comically dependent on whether he plays with his draft-mate, Frank Ntilikina. Via Cleaning the Glass:
Knicks defensive rating, Dotson & Frank on court: 101.7 in 485 possessions

Knicks defensive rating, Dotson on court, Frank off: 116.1 in 944 possessions
In other news: play this duo more, you idiots.
Speaking of my favorite pairing…
Frank Ntilikina - C-
I can't give a player with a .444 eFG% - more than eight percent below league average - a grade higher than this, no matter how much I love him.
He's the fourth highest Knick (after Mitch, Julius and Elf) in on/off differential that's been part of the rotation all year, and the one responsible for the greatest defensive improvement - 3.2 fewer points per 100 possessions, even stingier than Mitch.
Despite his modest averages, the Knicks are better at pretty much everything when he plays. There's not really any disputing that at this point.
But there's also no disputing those modest averages. Frank Stans push back on those fans who delight in posting how little he fills up the box score, but those numbers are real.
Sure, there is a value in unselfishness, perhaps more so on this team than any other, but the Knicks have the second worst offensive rating and third lowest effective field goal percentage in the entire league, and he is not helping either of those numbers.
RJ Barrett - C-
This is not a knock on RJ's rookie season. I repeat: This is NOT a knock on RJ's rookie season.
Rookies are supposed to be bad. Very, very rarely do first-year players who have as high a usage rate as RJ (22.7 - fourth among rookies that are averaging over 15 minutes a game) help their teams in any discernible way. It just looks bad this year when the two guys who happened to get picked ahead of him are killing it so thoroughly.
RJ's true shooting percentage (which encompasses field goal percentage, 3-pt percentage and FT percentage) is 46.6 - worse than Frank. It's also more than 10 points below Morant and 15 below Zion. Again, is it fair to compare? No. But does it justify this grade? Absolutely.
His defense has been better than expected, but his early playmaking responsibilities have been scaled back significantly under Mike Miller. His 17.9 assist percentage under David Fizdale has been more than cut in half under his new coach.
One more time: not really his fault. But if we're grading how helpful he's been, it counts, as does the fact that his on/off differential on Cleaning the Glass is minus 7.3, among the lowest on the team.
Wayne Ellington - C-
Like Dot, it feels wrong to put him here.
His 3-pt percentage has rebounded somewhat to nearly 35 percent, and his overall defensive metrics are outstanding, although in a limited sample size that is probably too noisy to take much from.
I still wonder what might have been if he'd played consistent minutes all season long.
Kevin Knox - D+
His per 36 averages are roughly the same as last year - fewer points, a few more dimes - but his shooting numbers are down across the board. His on/off differential is negative (-3.4) but not anywhere near the seventh-circle-of-hell levels they were a year ago.
The Knicks have actually defended at a stingier rate when he plays - not a complete misnomer, as for every glaring blow by, he has another few steady if unspectacular moments where at least he isn't a negative. The occasional block and steal have been nice, and further evince the fact that he should be playing the four a great deal more than he is.
But he is not a helpful NBA player, not yet…not even close. If some of the shots start falling, that could turn around in a hurry, because there's a world where he's a stretch four next season and more than holds his own on defense in that capacity.
I'm not giving up yet.
Reggie Bullock - C-
Has only played in 21 games and is only hitting one out of every three from deep. The on/off numbers are solid though, and I look forward to him being a valuable contributor on next year's team as well.
Bobby Portis - D
This is probably being too kind. I do have eyes, after all.
But his effective field goal percentage is actually a hundredth of a point higher than Julius Randle. His offense has won them a few games, and like Taj, it's not his fault that he's essentially a man without a position on this team.
That said, it would make me very happy if the Bobby Portis Experience ended in 27 games.
Dennis Smith Jr. - F
Let's start here:
325 NBA players are averaging at least 15 minutes per game this year. Two have an effective field goal percentage lower than DSJ's 38.7.
Or here:
His on/off differential of minus 12.8 is in the fifth percentile league-wide according to Cleaning the Glass.
Or here:
His turnover ratio of 15.4 is highest in the league among the 166 guards who have played at least 15 games and 15 minutes per outing.
In short, he is about as actively detrimental to winning as an NBA player can be. That his demeanor evokes someone who is inconvenienced by the mere fact that he has to be playing at all doesn't help.
That's it. Sorry if your favorite player got dinged. Extra credit assignments will be available after the break.
---
Player Spotlight
No games for a while, but I did want to quickly highlight a cool feature for all my PredictionStrikers that want to make a pre-ASG investment: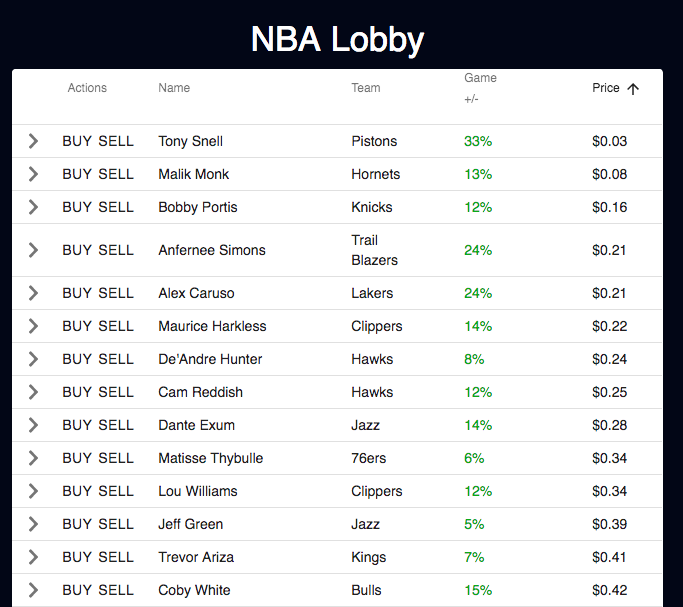 If you go to PredictionStrike (remember, use code KFS for new sign-ups), go to the NBA lobby, and sort price from lowest to highest. It'll give you all the players who are trending up from recent games but you can still buy at a cheap price.
Some names I like:
Malik Monk: The Hornets are out of it and have no reason not to give him time.

Cam Reddish: Should be getting more comfortable by the day now that he's back from injury.

Coby White: Ditto, minus the injury part (although the Bulls' other injuries should help him get more time)

Matisse Thybulle: Just because he is awesome.
---
New Podcast!
Chris Iseman and I chatted for an entertaining 40 minutes. Check it out.
---
Lastly…
I'm taking a few days off for the break to catch my breath and enjoy the Florida sun with my family. Next newsletter will be on Thursday. See everyone then!