Semantics
What happens when technicalities don't matter?
In this newsletter….

---
Let's get the ugliness out of the way first…
(and, like yesterday's corollary, if you don't want to read about off-court buffoonery, feel free to skip to the first bolded heading)
A small group of fans were kicked out of the game last night for chanting "Sell the Team" towards the end of the Knicks loss.
Or they weren't, depending on who you believe.
According to Stef Bondy of the Daily News, the fans "were leaving when they began to yell…and a security guard quickly approached them to make sure they left."
So no, the Knicks did not technically kick anyone out of the game.
But as Ian points out, this is semantics. It's another version of the Spike handshake photo and the "he said, she said" is ultimately meaningless when it comes down to it.
If you're view is "good riddance" to the fans, or you think they're not really fans at all and just attention-seekers, that's fine. You're well within your right to do so.
Personally, just like with whether Spike Lee did anything wrong, I don't particularly care. It's a horrible look that is terrible for the perception of the franchise regardless of who is in the right and who isn't. And of course both incidents stem from the same place: the insecurities of a man who needs to feel like he is in control at all times (and at any cost).
Lastly, please stop with the idea that this, like the Spike thing, is a media-driven story. Whether it is or isn't is wholly irrelevant. Sensationalism has always sold, and always will. Attempting to pick and choose which stories are and are not newsworthy is futile. Plus, this isn't a case of reporters digging up dirt and spreading it over an otherwise clean canvas, because there's been swaths of shit on this sucker for a long time.
Let's get to the game.
One Big Thing
In case you hadn't noticed, the Knicks have improved a good deal defensively under Mike Miller. After finishing 26th in defense last year and starting the year ranked 25th over the first 22 games, they've been 21st since, and are a tenth of a point away from being 18th.
This is part of why the Knicks are 15-25 under Miller - a 30+ win pace that is about where most optimists pegged them before the season began - and can stay in games more often than not.
They've gotten there by simplifying Fizdale's scheme and selling out to protect the paint in a way that (usually) does the trick. They still aren't a very good defense, but more often than not, they accomplish their stated goal. Under Miller, the Knicks are 10th in frequency of opposing looks at the rim according to Cleaning the Glass.
The problem is that for the math to work out in their favor, they either need to limit the number of threes teams shoot against them (which, somewhat by design, they don't; only six teams give up a higher frequency of threes than the Knicks under Miller) or hustle their little heinies off to make sure opponents at least feel the heat coming from around the corner.
This is where they often fall short, as shown by the fact that only three teams have allowed a higher conversion rate from deep since December 6 than New York's 38.6 percent.
The issue was glaring last night for two reasons:
The Jazz are the second most accurate 3-point shooting team in the league, and…

Without Mitchell Robinson, the Knicks needed to help off of shooters to protect the paint even more than usual.
Utah only shot 10-of-36 from deep, but did enough damage from downtown early, hitting on four threes in the first six minutes and were fouled on another deep attempt, converting all three free throws.
Looking at the four shots, it's easy to see what went wrong: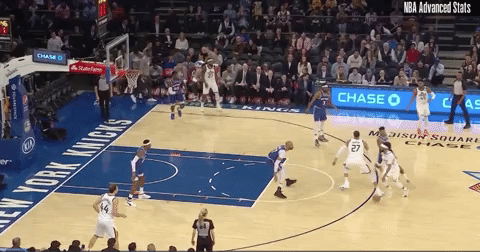 On the first make, Randle leaves his man Royce O'Neale (currently hitting 40 percent from deep on the season) in the corner to help wall off the paint. Technically, this is what he's supposed to do.
The only problem is that, like everything he does, Randle torpedoes into the paint like a bull in a China shop and gets himself completely out of position to revert back to his man. That he does this unnecessarily (Gibson is in good position to handle the rolling Gobert) makes it all the more frustrating.
This was a Utah shot that didn't go in, but it still shows the flaw in this system.
Once again, Randle commits too hard and too deep into the pain (again, in a way that's not really necessary) and leaves his man completely unoccupied.
Julius shows more urgency on this recovery, but it's too late. That O'Neale missed the shot shouldn't distract from the error.
Aside from Randle, RJ Barrett has low key been the most egregious violator of the "hustle your ass off and don't get lost on the play" rule that everyone needs to follow to make this defense work.
Here, he digs too far into the paint to deter a driving Mitchell, and his positioning/footwork is such that he can't get back to his man in the corner.
(You'd still like to have seen him try, although defensive effort really hasn't been an issue for RJ this year, so I'm willing to give him a pass. Also, he's 19.)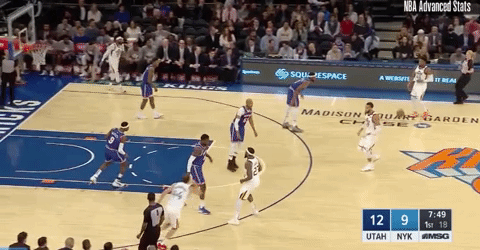 Last one: RJ again, this time falling asleep in the paint as his man evacuates the corner and comes to the top of the arc for a wide open look.
The Jazz would get one more three in the quarter to go up 23-11 with just over six minutes go, which was followed by a predictable Mike Miller timeout (during which RJ was pulled). Knicks would outscore Utah the rest of the game, but the damage was done.
After a bad defensive performance, you often hear Mike Miller talk about the fact that "we took nothing away," and that's kind of what happened last night. The Knicks improved defending the 3-point line from the mid-first quarter onward, but also gave up a ton of points in the paint (54), at least for them.
Again, without Mitchell Robinson, they were left to pick their poison. They ended up dead regardless, but moving forward, they need to make sure the young players improve their awareness and technique if they continue to run this scheme (and find free agents with the hoops IQ and effort necessary to lead the charge).
Made Me Smile
Now that I've bashed him, let me shower some praise on the man I've said repeatedly this year that I'd like to see star in the sequel to The Martian.
I don't feel too bad, of course, because I haven't been alone in my criticism of Julius Randle. Part of that has to do with plays like the ones above, where he doesn't display the urgency you'd ideally want from your supposed team leader. Part of it also has to do with the half a dozen infuriatingly bad shots/turnovers he seems to have every game.
Put together, there's ample reason for me to give Julius a place on my Mount Rushmore of frustrating Knicks, as I did on Tuesday's podcast (Enes Kanter is indeed the George Washington of the group, with Derrick Rose and late-career Carmelo Anthony occupying the other two spots).
The one thing all those dudes have in common (other than being incredibly damaging to my poor, poor liver) is that they all had immense talent during their time in blue and orange. I was never once frustrated by Andrea Bargnani or Jerome James. Why? Because those guys stunk.
But like his maddening predecessors, Julius Randle reminds you nearly every game why so many people were so excited to find out if New York was the place where he could put it all together. Like, you can't teach this:
For as many open men as Randle has missed/ignored this season and for as many spins into oblivion he's made, the Knicks have also done him no favors by using him in lineups with one or zero plus shooters (like, oh that's right…this starting five!)
We've had the same complaint about their use of RJ Barrett, which is why any discussion of Randle inevitably results in the conclusion that as long as Barrett is here, Julius probably can't be, at least not if the Knicks ever want to loosen the collar on an offense that is a sweaty mess far too often.
Even so, games like last night make me feel like Randle may just yet have a relevant moment in this league.
And who knows…if Barrett keeps working on his deep ball and the Knicks acquire a point guard who can actually hit an outside shot, maybe that moment will be here.
Humble Suggestion
It came during meaningless minutes when the game was already decided, but the Knicks closed the game with a lineup of Elfrid Payton, Wayne Ellington, Reggie Bullock, RJ Barrett and Kevin Knox.
Seeing that quintet reminded me of an (admittedly ridiculous) suggestion I once made to Clarence Gaines on Twitter about Knox moonlighting as a small-ball five later in his career.
It doesn't look like he's going to have quite the level of skill, feel or physicality to ever make such a gambit work, but it doesn't mean I wasn't pleased to see Miller end the game by trotting out his own version of the Pocket Rockets.
Would we have seen that grouping if Mitch was healthy? Probably not. Does it mean I don't want to see it again? Not at all.
The notion of surrounding Barrett with three shooters and someone else who can handle the rock has always been interesting to me, and as far as I can remember, this is the first time it's happened.
There are 20 games left and the team is 19-43. Really, what do you have to lose by trying it out a few more times?
Final Thought
I hope yesterday reminded everyone (including the Knicks) how important Mitchell Robinson is to the success of this team.
I say that because last night, we all had to witness KP go bonkers, a sight which I think we should all get more comfortable with. He's not here anymore in part because the team didn't do a good enough job of making him feel like a valued member of the organization .
(Yes, I know there were a hundred other things that went into it, but still…)
Mitch recently switched agents to Klutch Sports, an agency that is notorious for holding its clients' value in high regard (sometimes too high).
My point is this: Among Leon Rose's many early tasks has to be to make sure that Robinson never becomes disenchanted with the team like Porzingis did. I don't really care what it takes. Just do it.
The revolving door has to stop swinging at some point, after all.
---
PredictionStrike Contest Starting MONDAY!!!
We'll have one more PSA on this tomorrow which will include some specific instructions on how to enter, but consider yourself reminded that starting on Monday, all PredictionStrike users will have a chance to win $50 worth of cold, hard, investment cash.
Here's how it'll work:
If you don't already have one, click here to start a PredictionStrike account and enter code KFS to get $10 off the bat on your first investment of $10 or more.

Build (or add to an existing) portfolio of players.

You'll send in a snapshot of your portfolio, including the total value, and..

Whoever adds the most dollars in value over the course of one month will get $50 in investment cash.
That's it. As an added bonus, watching games becomes a lot more fun (did you take my "buy" advice on Donovan Mitchell last night? If you did, you made yourself five cents a share. SHOTS ON ME, B*****S!!!)
---
News & Notes
Marc Berman with a few goodies today, one about how Emmanuel Mudiay hopes the Knicks can put this Spike Lee thing behind them (don't we all), and one about the Knicks learning the ways of the coronavirus.

Here's Lauren Russell with a recap of last night's game for SI.com.
That's it…see everyone tomorrow.