Shopping the Bargain Bin
With all the attention on the big names, here are some under-the-radar possibilities for the Knicks this offseason.
A little less than a year ago at this time, I wrote some 3000 words defending the offseason that Steve Mills and Scott Perry hoisted upon us. There's enough in there to get me permanently disbarred from the blogosphere, but I did get one thing right:
The Knicks acquisitions may work out, or they may not. Bobby Portis may finally make good on his unique set of talents, or he may continue to be the same maddening player who takes as much off the table as he puts on. Ditto for Elfrid Payton, and to a lesser extent, Julius Randle. Maybe the other vets languish on the bench and don't rub off on the kids as intended, or worse, garner more playing time than anyone intended. Maybe the whole thing blows up. Better laid plans certainly have.
Spoiler alert: it blew up.
What's funny is that despite all the time we'd had to think (and overthink…and overthink yet again) all things Knicks since the pause button got pressed on this season, we haven't spent a ton of time thinking about why this year left such a sour taste in so many of our mouths.
This is probably because it seems so obvious (and also, who the hell would want to relive that). Still, it's worth spelling out a few reasons in black and white:
The five primary engines behind New York's offense - the three point guards, Julius Randle and RJ Barrett - combined to shoot 201-for-688, or 29.2 percent, from deep

Despite theoretically having a lot of shooters (Ellington, Bullock, Portis, Knox, Dotson, Trier and Morris), very few Knick lineups actually featured at least three floor-spacers on the court at once, thanks mostly to the bricky point guards, Randle's 3-point regression, and one of Mitch or Taj being on the floor 77 percent of the time (FWIW, over 369 possessions, lineups featuring Elf, Randle and Portis had a scorching 120.1 offensive rating…and a 120.6 defensive rating).

The defense fell off a cliff when Mitchell Robinson (and to a lesser extent, Frank Ntilikina) exited the game.
Most of all, the Knicks could never properly thread the needles of development and winning with the same piece of yarn simultaneously.
(if there are any sewers out there who can tell me whether this analogy makes any sense whatsoever, please feel free to @ me)
Elf and Randle worked well enough (+0.9 net rating), but their two-man game always seemed to marginalize RJ Barrett. Last year's lottery pick Kevin Knox, meanwhile, never seemed to be anything more than a release valve. Mitchell Robinson broke the damn record for field goal percentage in a season, and yet he finished 428th in the league in field goal attempts per 36 minutes - two spots below OAKAAK Noah Freaking Vonleh. Youngsters Damyean Dotson, Alonzo Trier, Iggy Brazdeikis and Dennis Smith Jr. were out of the rotation entirely for all or part of the season.
More than anything though, other than maybe Taj Gibson - he of the cinderblock screens and locker room charm - it's hard to come up with one Knick vet to complete the following Mad Lib: "Boy, (Young Player X) had himself a few nice moments, but his game was never better than when he was on the court with (Helpful Veteran Y). Thank goodness we signed that guy!"
What's the point of my little preamble here? Simple: it's a necessary backdrop to a dicy offseason question: How to fill out the roster?
I'm not talking about headline players here. Yes, who the best player on this team is next year will go a long way in determining, well…everything, but this season showed us that the margins matter just as much. Here are some things that the wrong supporting cast on a young, developing team might do:
clog the court

monopolize touches

demand/require playing time at the expense of younger players

disrupt the flow of the offense

be a sieve on D
Speaking of the wrong supporting case, it figures that much of the guys we saw this year will be gone by the start of the '20-21 season.
Everyone seems ready to jettison Bobby Portis and his $15 million team option. Ditto for Wayne Ellington at $8 million. No one loves Taj more than I do, but he is worth nowhere close to the $10 million he's due. I wrote over the weekend why I thought Elfrid Payton would be back, but even that is a 50/50 proposition. Damyean Dotson and Alonzo Trier are both entering restricted free agency. It would be a mild shock if either was back, let alone both.
All this is to say that we're right back at square one from June 30, 2019: Spots to fill and money to burn.
The money, of course, could go down significantly with a Chris Paul trade or a splashy free agent signing or two. But we've spent plenty of time discussing such moves and will discuss them plenty more in the weeks and months to come.
Today, I want to use our Friday Top Ten to highlight 10 names that may not be on your radar, but for one reason or another, will make more sense as free agent additions than most of last year's investments did. I'm using the room exception as an approximate ceiling (as in, if I think the guy is getting much more $5.023 million in average annual salary, he wouldn't appear below).
A couple caveats:
This isn't an exhaustive list, and there may very well be a player or two I missed, so treat this more as a list of 10 guys I think make sense for the Knicks for one reason or another, roughly in priority order.

There are better players out there who can be signed for roughly the same cost, but who (again) for one reason or another I don't love for New York. For example, MCW revived his career in Orlando, but I'd rather invest those backup point guard minutes in Frank. Josh Jackson is another one, but he seems like a guy who needs a super-stable situation to thrive. I'm sure there are plenty others I'm missing, but you get the gist.

Speaking of my reasons, there are three archetypes I pegged, all of which will hopefully eliminate some of the issues we saw this season:

Young players who actually have a chance to be a part of the core moving forward

Plug-n-play vets who don't require the ball to be effective, serve a specific purpose, and who won't mind being out of the rotation

Hard-working, end of the bench grunts with upside
As always, feel free to send your thoughts as comments to KFSMailbag@gmail.com
10. De'Anthony Melton (21 y/o, restricted)
John Hollinger recently did a nice write-up for The Athletic on Melton, a part of which contributes to why I have him so low here:

Translation: if a team wants Melton, they're probably going to have to do it via poison pill offer sheet (a'la Tyler Johnson, like Hollinger mentions, or Jeremy Lin once upon a time).
Why would that be an issue, especially with Melton being young and damn good? Simple: he's not a point guard, and he can't really shoot (although as Hollinger points out in the piece, there are signs of optimism on that front). The one quality possessed by every player New York signs (who it actually intends on playing regular minutes) should be shooting.
9. Jevon Carter (24 y/o, restricted)
Individually, Carter showed some promise in key areas this season.
He hit 39.3 percent from deep on 5.6 attempts per 36 minutes, and 57 percent of his looks came from behind the arc, including 18 percent of them from the corners. His .512 effective field goal percentage was a marked improvement over the .395 he put up as a rookie, and his steal rate of 2.2 percent is unsurprising given his rep coming out of college.
Looking deeper though, there are flaws. As a Sun, Carter has had a comically low usage rate for combo guard - 13.7 percent, which falls in the 3rd percentile of everyone at his position league-wide according to Cleaning the Glass. If he was helping Phoenix on the margins, this would be fine, but he had one of the worst on/off differentials on the team, and the Suns actually defended worse when he played (the same was true in Memphis during his rookie season, to an even greater degree).
Sure, Phoenix scored a bunch when Carter shared the court with Devin Booker, but the Knicks have no one close to Booker, so really, who cares. Simply put, Carter is a nice piece to have if you have a star-level engine alongside him in the backcourt, but otherwise is a liability because of what he can't do on offense.
I'm still putting him on the list. He's a worker, and if his worst trait is being too unselfish, then perhaps the Knicks are the best team in the NBA to inherit that flaw.
8. Kyle O'Quinn (30 y/o, unrestricted)
I just want the big guy back.
(Don't say I never did anything for you Yash)
7. Wes Iwundu (25 y/o, restricted)
If you thought Frank Ntilikina had his haters, wait till you get a load of this guy.
Iwundu, like Frank, was taken in the 2017 draft, and also like Frank, is not much for counting stats (4.6 points, 2.5 board, 1.0 dimes in 17.5 minutes over his first three seasons). He's also on the older side considering his NBA service time, and is a 3/4 hybrid who hasn't shown any semblance of a reliable jump shot.
So why the hell is he here? Simple: he'll come cheap, is a heck of a defender, and good things seem to happen whenever he's in the lineup. Sound familiar?
Here's what Aaron Goldstone of Orlando Pinstriped Post had to say about Iwundu after Steve Clifford unexpectedly yanked him from the starting lineup after the All-Star break:

The numbers back up this assessment, as Iwundu was one of Orlando's more helpful players according to Cleaning the Glass' efficiency differential metric. As a bench cog who brings energy alongside guys who can bear the scoring burden, New York could do worse, especially given the (faint) possibility of untapped potential. Take it from my man Chip Murphy, who watches a ton of Magic games:
6. Marvin Williams (33 y/o, unrestricted)
Go ahead…roll your eyes.
But from 2015 to 2019, Marvin Williams, shot 38 percent from three on close to five attempts per game.
This season (which he began in Charlotte before signing with Milwaukee after a buyout), those numbers dipped a bit as Williams' playing time decreased, but he's a pro's pro who knows his role (nearly 70 percent of his field goal attempts with the Bucks have been from deep) and shouldn't mind not being a permanent fixture in the rotation. More importantly, his shooting at the four could be useful in a pinch for Knick lineups that desperately need a punch of spacing.
5. Gary Payton II (27 y/o, unrestricted)
Is he on this list because he happened to play his two best games as a pro against the Knicks last year, and I'm nothing if not a sucker for first impressions?
Yes. Yes he is.
But Payton II was relentless in both of those games, swiping six steals in each. As a combo guard who can't really shoot (28 percent from deep on 46 total attempts this season), does he have a role as a rotation player on a good team? Probably not. But as we've covered, the Knicks don't necessarily need guys who deserve spots in the rotation, just players who push the guys that do and can step in when those players aren't living up to the challenge. GPII fits that bill.
4. Meyers Leonard (28 y/o, unrestricted)
Bobby Portis without all the unsightly Bobby Portisness.
Leonard is the best shooting center in the NBA, hitting nearly 44 percent from deep over the last three seasons. Better yet, he takes more than half his looks from long range, and is smart about any shots he takes from inside the arc (he has a .645 effective field goal percentage over his last three seasons).
His defense was always the main concern, but Miami figured out a way to hide him this season, and they've given up 4.3 fewer points per 100 possessions when he's played than when he hasn't.
The Knicks almost certainly won't be able to do the same, but then again, it's not like Portis at center is any better. Leonard tries, which, for a backup five on a young team, is all you want. If the goal is to get someone who can space the floor and not gobble up inefficient post-up possessions, Leonard is a fine choice.
3. Stanley Johnson (23 y/o, player option)
You never know when the lightbulb is going to turn on.
It seems like forever ago that Johnson was picked one spot after Emmanuel Mudiay in 2015, but dude is still just 23. He has a $3.8 million player option with Toronto that his numbers would dictate he should pick up (he's appeared in just 20 games, making one out of every four field goal attempts while averaging 1.2 points).
Obviously there's nothing in those stats that screams "hidden gem" but perhaps this was his rock bottom and he saw firsthand how you have to play and prepare to see time for an elite organization. Is it worth something north of $3.8 million to find out? Depends on who else is out there.
2. Harry Giles (22 y/o, unrestricted)
After averaging 10.4 points, 6.5 boards and 1.4 dimes over his last 14 games with the Kings, including 13 starts, Giles is probably going to be in high demand this summer. The Athletic's John Hollinger recently spotlighted him as a possible target for Washington's midlevel exception.
It's not hard to see why. Bigs this young (he turned 22 in April) and this skilled don't hit the market very often. Throw in the fact that the Kings won nine of those 14 games, and that Sacramento really had no good reason to decline Giles' fourth-year option in the first place, and several teams will probably be calling when the time comes. Given that he's a Scott Perry player to a T, it wouldn't be surprising if the Knicks were at the front of the line.
All that said, there are reasons I'm not putting him first here. For one, Giles isn't yet, umm…what's the word? Oh, that's right…good. During that 14-game sample size, the Kings' net rating was 15.4 points higher without Giles than with him. Almost all of that is due to Giles' defense. Sacramento gave up 119.3 points per 100 possessions when Giles played during that stretch and only 101.9 when he sat.
Part of the reason is because Giles is a foul machine. You thought Mitchell Robinson and his 4.9 personal fouls per 36 minutes this season was bad? Giles averages 6.2 per 36 - more even than the 5.7 per 36 Robinson averaged as a rookie.
Giles also can't hit threes, so some sort of twin towers idea with Mitch is a pipe dream. He'd be coming here as a backup. Maybe worst of all, Giles is a big fan of inefficient shots; 36 percent of his shot diet this season came from between 10 feet away and the arc.
But this guy was the top prep player in the country once upon a time, and by all indications he seemed to get his shit together this season in Sacramento. There are worse investments you could make.
1. Chris Boucher (27 y/o, restricted)
Stay with me now, because Boucher is an interesting story.
He got a late start, picking up the game as a teen and starting in a JUCO program at 20 before eventually landing at Oregon, where he spent two seasons before tearing his ACL in the Pac-12 Tournament semifinals. This helped him go undrafted, and he signed a two-way with Golden State. After failing to catch on with the Warriors, he took one of Toronto's two-way spots before the 2018-19 season.
He popped a little bit in 2018 Summer League, but otherwise had a forgettable first season with the Raptors. Last year in Las Vegas however, he was arguably the best player who saw a full slate of games, averaging 23 & 10 - the only guy there to finish top ten in both categories.
Before you laugh at older retreads popping in Vegas, take note of another lanky big man who made the All Summer League 1st team in 2018 by the name of Christian Wood. The bet here is that Boucher, while a bit on the older side (he turned 27 in January) is Christian Wood before he became Christian Wood.
Boucher appeared in 55 games for the Raps this season and averaged 17.3 points, 12.0 boards, and 2.6 blocks per 36 minutes on a .512 effective field goal percentage, including 28 percent from three on nearly 100 attempts. Is that good enough for him to be a full-time four? No…but he can get spot minutes there in a pinch.
The prospect of his shooting isn't all that makes him enticing though. For one, Boucher may be a twig, but he has serious defensive upside: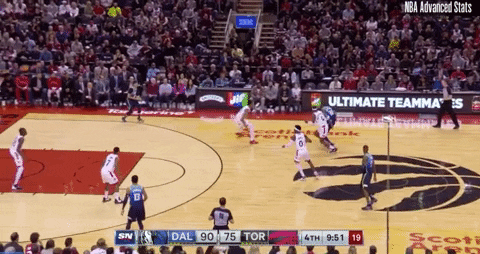 Look familiar?
Boucher also moves his feet exceptionally well for a player of his size, and while he'll get bullied on the block by bigger fives, really, as a backup center, is that so much of a worry?
He's also shown a bit of a penchant for moving with the ball, at least enough to keep defenses honest if he does play alongside a traditional center:
My guess is that Toronto will not want to let their latest pet project go for nothing, and it will take an aggressive offer in terms of years and dollars to get Boucher, but to borrow an old Bill Simmons analogy, if signing Wood to a fat new deal is the Sonny Corleone move (and signing Bobby Portis for $15 million was the Fredo Corleone move), doing what it takes to get Boucher is the Michael Corleone move.
Speaking of Machiavellian, could the Knicks use a Boucher offer sheet to make Toronto more likely to let Fred VanVleet walk (or alternatively, put an offer on the table for VanVleet that opens the door for them to swipe Boucher)?
I'd sure like to find out.
Take that, Masai.
Have a great weekend everyone, and Happy Mother's Day to all the moms out there!